Indian Football's Clarity At the Top Must Not Distract Us From Problems At the Grassroots
The cancelled season, as approved by the AIFF, will cause a domino effect across all levels of Indian football and will impact youth football the hardest. Distributing prize equally among the I-League clubs was admirable, but it is too little. That, after all is the tip of the Indian football iceberg. More needs to be done to prevent disaster at the grassroots.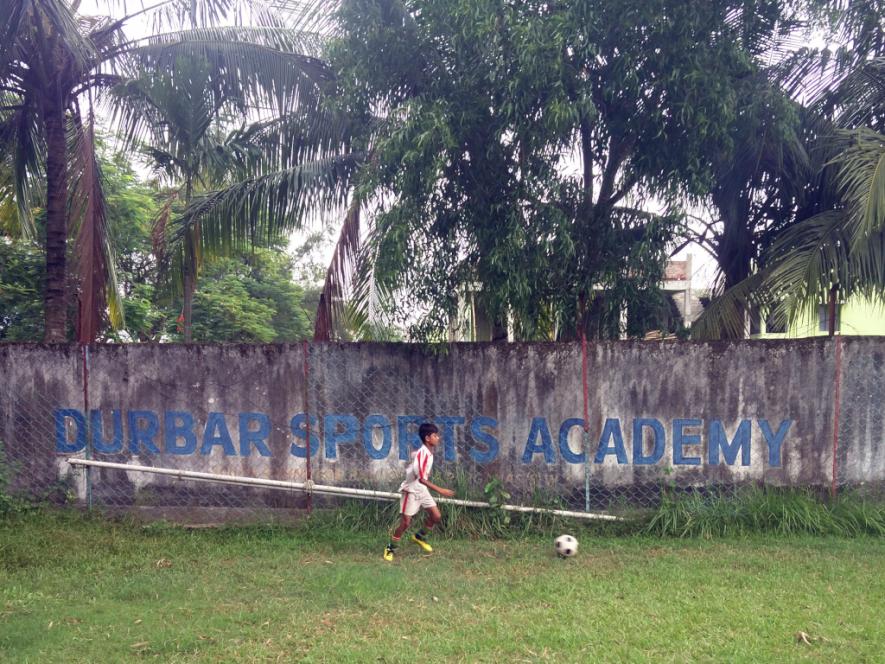 The Durbar Sports Academy, located in Baruipur, offers children of sex workers, daily wagers and domestic helps a platform to play football. For many kids there, the game provides a home away from home. (Pic: Vaibhav Raghunandan)
Bishwajit Majumdar was a hugely disappointed man last Saturday. The All India Football Federation's (AIFF) decision to bring down a premature curtain down on the 2019-20 season has truly upset his plans.  
Bishwajit is a little known coach of a little known team in the under-13 Sub-Junior I-League. His club, the Durbar Mahila Samanwaya Committee (or Durbar Academy) were on the verge of qualifying for the final rounds from Kolkata Group A when the country came to a screeching halt because of the Coronavirus pandemic.
The Durbar Academy is a team with an unconventional approach towards player recruitment. Their players belong to the lower stratas of the society – children of sex workers, domestic helps or daily wagers. Some of them are Adivasi from Amlasole in West Midnapur district of Bengal. The place has often been in the news for a series of starvation deaths. 
"We have no money, no backing of big sponsors. We depend mostly on charities though some help does  come from Samata Cooperative Bank and few individuals," Bishwajit says. "For these kids, football is more than a sport. It is like a window to freedom, a journey of survival."
Read More | Global Virus vs the Global Game: How Will Community Football Clubs Survive?
In the preliminary league, AIFF offers no financial help to youth I-League clubs. Only those who make the final round receive money to cover their travel costs. The champions receive Rs. 5 lakh as prize money. Durbar Academy were looking forward to earn some money this season having raised a decent squad capable of big things. 
"AIFF could have kept the sub-junior league suspended till things normalised. That would have helped us," Bishwajit says. "If we did well, we would have attracted some sponsors for the next season. To run a team like this is never easy."
This though, is only one side of the story. The AIFF  was within reason to cancel the junior leagues. In several other youth league teams, parents of the players had demanded immediate cancellation of matches. It was dangerous to compromise the health of young kids. 
To put it bluntly, the Durbar Academy's dedicated bunch of officials may be greatly disheartened, but there is no guarantee when the ball would actually start rolling again for the 2020-21 season. There is a bumpy road ahead.
No amount of pretentious roadmaps or backroom politics with the continental body the Asian Football Confederation (AFC) will kickstart a rescue job. There could be too many problems in the future; money, sponsors, scheduling, foreign signings. Starting from the cash-rich franchise league, the repercussions will trickle down to the Durbar Academy's selfless efforts. 
"The cash flow could be a problem," predicts a franchise official, who doesn't want to be identified for obvious reasons. "The financial cap for spending on players' salary may stay the same, but a kind of reluctance may set in. The shrinking market may force people to spend less, even if the season starts a few months later than usual," he predicts. 
To say it publicly, however, will cause mayhem. The PR machinery will start working in full swing. Considerable time and money will go down the drain to prove how hunky-dory things are.
An I-League official chose to look at things from a different angle. There is a positive side, too, he feels and spells it out in no uncertain terms.
"If the Corona crisis hits the next season, it may work in favour of few market corrections. There may be a dozen Indian players, who command close to eight-figure seasonal salaries. There are several footballers, who annually take away 50, 60, 70 or 80 lakh home," The official said. 
"Some club owners may suddenly find the salary market over-priced. They may call for so called corrections. The moment a franchise or a club starts talking about it, others would follow. Willingly and happily. Mark my words," he claims. There could be some truth in it since footballers across the world are agreeing to random salary cuts. Indians, too, may have to fall in line.
Read More | Caste, Creed, Corporation: A Brief History of Bias in Indian Football
An AIFF official thinks the season's biggest challenge could be the recruitment of foreigners. Lots of foreign footballers are currently stranded in India because of lockdown. But once they return home, will they come back? Will the government allow them to return, remains the question.
"This crisis may automatically bring too many restrictions on granting visas. The norms could be far stricter. Movement could be restricted. At the same time, travel will get costlier. A club may have to spend more on foreign footballers and travel," he points out.
Post 2014, the glossy side of Indian domestic football is largely about foreign recruits. They earn far more than the locals because they play the lead roles, score more goals. Titles are won and lost because of them. Indian footballers now play the second fiddle. Asking them to reverse roles could pose problems. It may even hamper the reputation of certain tournaments. 
Financial help has to be pumped in to overcome the unexpected economic hardship Indian domestic football is likely to face next season. True, the national federation doesn't have deep pockets. But something has to be done in the near future to save the industry.
To distribute the prize money of the unfinished I-League among the clubs was a commendable effort. A similar gesture could have been shown to clubs in the youth league. In the battle against Covid-19, the biggest casualty may end up being the youth teams. The knee jerk effect across the board will be to reduce budgets at the junior level. The federation must come out all guns blazing to douse the fire.
Read More | Stadiums of Silence: BCCI and Its Perennial Habit of Ignoring the Women's Game | Outside Edge
In the I-League committee meeting, it was suggested that at least three sets of plans be kept ready, since no one has any idea when the next season will kick off. A good idea, but actions of AIFF doesn't always exude confidence. They seem to know more about federation election management than disaster management. 
In a time of social distancing, which is slowly (and sadly) snowballing into an elitist idea, teams like the Durbar Academy require greater protection. The prospect of a truncated season or no season at all would hit each and every stakeholder. But 13-year-olds like Nitish Munda, Prem Mondal or Abhijit Burman would stand to lose far more. 
They were actually hoping to achieve bigger dreams. Many of them can hardly afford to follow the directive of "stay home, stay safe" because home has always been a problem. Football remains their cherished home. The national association should take extra care to see they feel welcome there.
Get the latest reports & analysis with people's perspective on Protests, movements & deep analytical videos, discussions of the current affairs in your Telegram app. Subscribe to NewsClick's Telegram channel & get Real-Time updates on stories, as they get published on our website.
Subscribe Newsclick On Telegram