Stadiums of Silence: BCCI and Its Perennial Habit of Ignoring the Women's Game | Outside Edge
The IPL has been postponed indefinitely. But the BCCI won't stop. Milking the cash cow and trying to find a place for it in a packed calendar takes precedence over sorting out the mess the pandemic has left the women's domestic season in.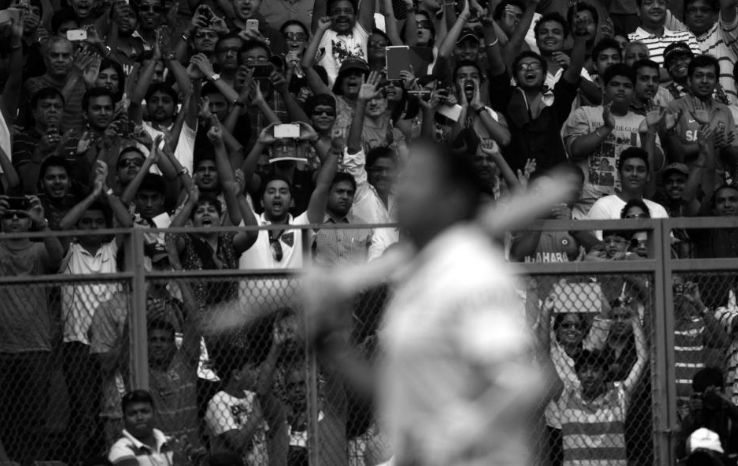 It is hard to imagine Indian cricket team playing in silence, without the fans in the stadium. The stars take it for granted but ask any women cricketer and she would narrate how empty stands is a way of life for them (Pic: Vaibhav Raghunandan).
Silence… Wish we understood it better. We are enveloped by what can be best described as existential technology, and, in this 5G-ready world, silence is nothing but a constant buzz. This goes beyond ringxiety and the days centred around message beeps and caller tunes. The buzz, static from deep within if you may philosophise it, is an unknown entity, difficult to decipher. Various explanations attempt to figure it out though. It could be the workings of a slightly detuned inner-ear mechanism, battered by cacophony and chaos, say some. 
Our ears, though, are decently adjusted to noise — unlike animals who would scamper for cover when humans decide to celebrate anything — from Diwali or while conveying gratitude to nurses and doctors fighting Covid-19 by bursting crackers, shattering the relative silence in their lives. 
In cinema, silence is doom. It is suspense. It is horror. For us, silence is scary. Perhaps that is the real reason behind the escapes we come across so often on our daily commutes — everyone hooked onto Spotify or some other app via Bluetooth. That would overwhelm and kill silence while the personal space remains intact. The fear is real indeed.
Being afraid of silence is okay, though. As long as it does not end up debilitating us. Silence, after all, means complicity. It also means you have given up. And in stadiums, fans hardly give up on their teams. They roar — in angst or disbelief — even in defeat. 
The gift of sound — our limited frequency range notwithstanding — is special. More so when it gets magnified into the realms of epics in a theatre of dreams, where human spirit converges, and not just sports fans. Now imagine what silence could do to Virat Kohli. As things stand cricket organisers are keen to resume action as soon as they can, possibly at quarantined venues. The celebrated skipper would end up leading the side into an eerily silent stadium.
It is hard to imagine a sports venue without a crowd, especially for the Indian cricket team. One does not have to go too far below the elite rung to feel the void, though. Just attend a Ranji match. A match day in one of the oldest tournaments in the world would feel as melancholic as the Andrea Bocelli Easter concert in the empty hall of the Duomo di Milano (Milan Cathedral) a week back. Through the concert, as is customary for singers, the tenor paused as if waiting, longing for the refined applause one associates with such renditions. Silence. Bocelli, then, gathered courage and hope once again — one could see that struggle in his usually effortless singing persona — to resume the 'Music for Hope' in one of the oldest landmarks of a city completely broken by Covid-19.  The Concert of Hope, though, leaves one hopelessly petrified of the silence which awaits us when sport resumes in the stadiums. 
The impending silence is, in some measure, already upon cricket though thanks to how the game — fans, bosses and players alike — is used to being selectively mum. Cricket is comfortable being gagged. The cricket establishment, as it is the norm for anything else one could randomly pick across the world, is numb and reserves its silence for the marginalised and the lesser privileged — from the subdued voices of the lesser cricket bodies, to the fate and future of the women's game. It, ultimately, will, or rather has brought down the stature of the game to very discomforting levels, not to mention the skewed graph of growth of the game in a global space. Cricket has conveniently flattened its growth curve by selective apathy. 
Read More | Fred Pugsley: The Refugee Who Helped Shape the East Bengal-Mohun Bagan Rivalry
The Indian cricket establishment is busy counting the losses from the 'indefinite postponement' of the Indian Premier League (IPL). Their coffers would not dry up because of a skipped season, but still the Board is not ready yet to give up on it altogether and is keeping itself ready to pounce on an opening in the calendar. A cancelled T20 World Cup might do the trick. Empty stadiums and eerie silences won't matter if it brings in some money via the Internet and Television, right?  
However, the patriarchal underbelly of the cricket establishment has been laid bare in this lockdown. The BCCI is yet to talk about or chalk out a plan for the domestic season of the women's game. The narrative and talks have centred around the men's game and, of course, the IPL. The 2019-20 women's season, partly due to convenient postponement or deferring of tournaments, never took off. We are not talking about end-of-season matches here. Over 168 games are pending across various divisions and age-groups.
Only a handful of tournaments have been completed in the domestic season — the senior T20 league, the Under-23 championship, and Challenger trophies for both the segments were completed by December. The Under-19 T20 tournament, which was postponed from last October to March, is firmly placed on the backburner. Accountability for the Board, perhaps, comes from broadcast contracts, and the women's game is devoid of such financial commitments.
Read More | Indian Women's Hockey Team Pulls Together To Raise Funds For Migrant Families
For the willow-wielding women — clearly the less privileged cricketers in the country — these matches are more than professional engagement. These ties — played with empty stands, where deafening silence is routine — keep them in the reckoning for bigger platforms and better paydays. 
This was best conveyed by a former India cricketer, who plies her trade domestically after ending her international career a couple of years back. She was going through the motions, recounting the turmoil a step down in hierarchy entails. Of course, we are all worried about MS Dhoni's future in the Indian team. But then, the future is dear for each and every player — regardless of their gender and stature. She, unlike Dhoni, wanted a job. "A television expert, perhaps. I know the game and could talk about it if I polish myself a little, you see," she said, asserting quickly that being on a TV panel is a dream-case scenario and realism would be to get into coaching. 
Women do tend to get a grip of reality much faster, perhaps aided by the very real struggle they cope with to get things that are a given for the men in cricket. They are strong enough, implied former player and national coach Purnima Rau while explaining how her immediate wards — she was coaching the Arunachal team till March — would cope with this sudden uncertainty.
"Younger or older, first match or last match, the strong ones will survive for sure," she said. "They will come back more hungry, more passionate and more strong. There will be many who will value the game from now on. These players will excel. The rest will wither away."
Also Read | An Irrelevant, Sad Stade of Existence Beckons Cricket
Rau, a veteran from a time when there was no system in place for women in Indian cricket, understands how things roll. She comes from an era when the players were used to fending for themselves, with the Board coming into the picture with ad hoc interventions — a tournament here, a World Cup there. Things have changed in the past few years for sure — starting with central contracts and some semblance of a structure in the domestic circuit. Then again, things are barely out of square one too and this lockdown might drag them further back. At this point one can't help but notice how the IPL reminds us of the favoured, well-fed, school-going son of a typical household steeped in patriarchy.
The bright side (sarcasm intended) is that if these matches get staged, the women will not find quarantined stadiums alien. Virat Kohli or Rohit Sharma would. Across the world, we have been hearing how this novel coronavirus has exposed fault lines across social, political and economic fabrics of society. It has also been an eye-opener for many.  If indeed things would boil down to playing at empty venues, the spoilt stars of Indian cricket will learn a lesson in humility. They would step into the shoes of the working-class cricketer — from club players to Ranji veterans, and the women of course — for whom empty stands are a reality, and matches are important for sustenance and skill. Not riches.  
Click here for more Outside Edge cricket columns
Get the latest reports & analysis with people's perspective on Protests, movements & deep analytical videos, discussions of the current affairs in your Telegram app. Subscribe to NewsClick's Telegram channel & get Real-Time updates on stories, as they get published on our website.
Subscribe Newsclick On Telegram