International Day of Forests: How India Can Reverse the Damage
Our forests and the communities that protect them are delicately balanced. One cannot be seen in isolation from the other.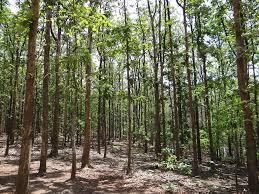 On this International Day of Forests, while we discuss the importance of keeping our forests alive, in India, those safeguarding them for generations, the Adivasi communities, face the threat of losing their land, forests and life to "development" projects. 
In India, almost 60% of forest cover is found in the Adivasi-dominated states such as Jharkhand, Odisha and Chhattisgarh. Nearly 275 million poor people, especially Adivasis, depend on forests for their survival. These are also the mineral-rich states, but they have very low human development indicators. 
Adivasis in these states continue to live in chronic poverty as a result of their being dispossessed from their natural resources. Large-scale displacement from land due to infrastructural development projects, mining, and violence against women, are some factors that have intensified the struggle of the Adivasis. India lost 70% of its forested land to mining in the period between 1997 and 2007. The Ministry of Tribal Affairs' high level committee on status of tribal communities report for 2014 indicates that more than 60 million people have been displaced in India since Independence, of whom 30% were Adivasi.  
A recent report released by the Land Conflict Watch (LCW) mapped 703 ongoing land conflicts, of which 285 related to breach of consent—where people are fighting the failure of authorities to seek their consent and, in many cases, the manipulation of Gram Sabha documents before commencing a project.
Free, Prior and Informed Consent or FPIC is one of the most important principles embedded in the right to self-determination, primarily for indigenous people. Under international law, governments are obligated to consult and seek the consent of indigenous communities before setting up any development project that can affect their lands and resources. The United Nations Declaration on the Rights of Indigenous Peoples requires that the Free, Prior and Informed Consent of Indigenous Peoples be obtained in matters that are fundamentally important for their rights, survival, dignity and well-being.
While India does not have a FPIC framework, its Constitution and laws have acknowledged that the right to self-determination, especially of the Adivasi communities, is key to ensuring basic human rights and justice. Yet, the burden of "development" policies falls differently on different communities due to the inherent asymmetry of power between the state and large corporations on the one hand and local communities on the other.
Some Indian laws, such as the Panchayats (Extension to the Scheduled Areas) Act, 1996, the Forest Conservation Act read with the Forest Rights Act 2006, the Land Acquisition, Rehabilitation and Resettlement (LARR) Act 2013, and the public hearing provisions under environment regulations have provisions for public participation which provides people the space to voice their opinion on development proposals and projects.
However, land can also be acquired if the state invokes its 'eminent domain' power, which presumes that the state can make a development project a priority, even over the interests of landowners and users, when a larger "public purpose" is involved. Projects with large profit-margins are often posited as a greater public purpose. In such cases, to seek a community's decision on the project and its consent is labelled as disruptive or "anti-development". The trend is that these laws are often modified through guidelines and notifications. For instance, a central or parent law is amended by changing the state-level rules. 
Even when the consent clause was introduced in the progressive LARR, 2013, five major categories of projects, including industrial corridors and PPP infrastructure projects, were exempted from the consent clause and another critical requirement, that of conducting a Social Impact Assessment (SIA) before commencing a project. A Centre for Policy Research-Land Rights Initiative study has found that these exempted categories account for half of all contested land acquisition cases currently before the Supreme Court. 
The Comptroller Auditor General, in its 2016 report on environmental and post-clearance monitoring, observed that in many cases EIA reports did not comply with the terms of reference. Moreover, many final EIA reports did not include the concerns and reservations expressed by local people during the (mandated) public hearings. 
Communities have very little prior knowledge of proposed projects and their impact until public hearings or gram sabha meetings are organised and conducted. There is also a huge trust deficit between governments and the people. The issue at the core of it all is—whose consent matters and how is it taken. 
The process of seeking consent cannot be one-time activity. Local communities need to be involved in monitoring the social impact, and the environmental and land-related compliances on a regular basis. Post-approval compliances need to be strengthened and monitored, with data placed in the public domain. Regulatory and financial institutions need to look beyond "financial viability" and the basis of regulatory procedures should shift from approvals to compliance. 
Long-term investment in community processes related to the project information and monitoring goes a long way in establishing trust and processes for negotiations. Importantly, community decisions have to be respected, even when they reject projects. 
Often, government and the private sector address conflicts through the financial compensation route. While compensation is very critical, communities who depend on forest and other natural resources view them as an economic, social and cultural resource. Forests are not just physical assets for them, but a way of life which shape their identity. The future of our forests and survival of the communities that protect them are so delicately balanced that one cannot be seen in isolation from the other. 
The author is programme coordinator–Natural Resource Management, Oxfam India. The views are personal. 
Get the latest reports & analysis with people's perspective on Protests, movements & deep analytical videos, discussions of the current affairs in your Telegram app. Subscribe to NewsClick's Telegram channel & get Real-Time updates on stories, as they get published on our website.
Subscribe Newsclick On Telegram