J&K: Unemployment, Ad-hoc Employees' Plight Unchanged in Newly Formed UT
More than three months after J&K became a Union Territory, workers ranging from contractual lecturers to engineering and JKPSC employees are on the streets demanding minimum wages and regularisation.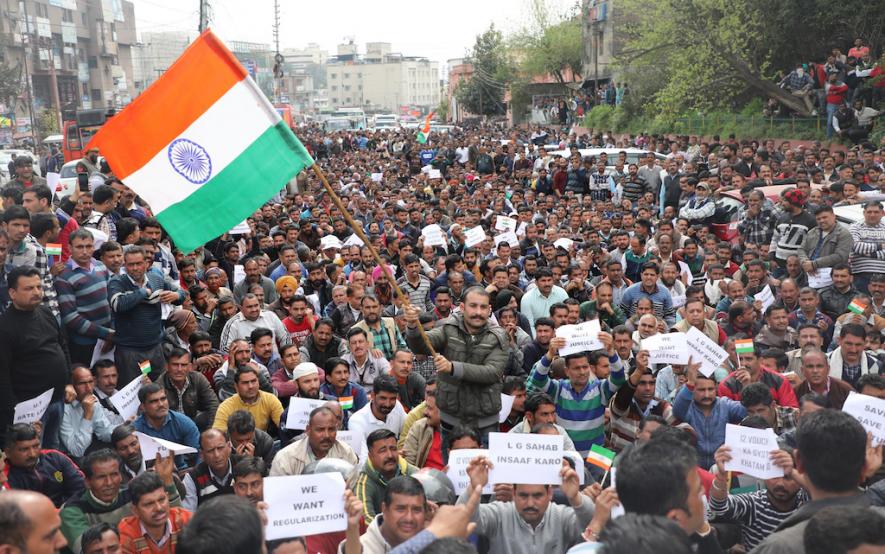 A strong contingent of Jammu and Kashmir Police—that included scores of Special Police Officers (SPOs)—rained lathis on "casual employees" of Public Health Engineering (PHE) department on the afternoon of Wednesday, February 19, in the winter capital of the newly created Union Territory of Jammu and Kashmir.
Raising slogans against the UT administration and the Narendra Modi government, the highly underpaid and overstretched workers were demonstrating in favour of their longstanding demands when they came under the police's attack.
Currently, a casual employee of J&K UT is entitled to an honorarium of Rs 225 as daily wage. However, the employees lamented, they haven't received even this paltry sum of money for several years.
After the change of administrative laws, the Central Government Wages Act—that promises a minimum wage amounting to Rs 520 on daily basis—is yet to be implemented in the UT of J&K.
Talking to the local media, the protesters said, "During the state Assembly elections, the Bharatiya Janata Party (BJP) leaders had promised to fulfill all the demands. However, after winning the elections, they forgot those promises. After repeated reminders, we are left with no option but to protest against the government."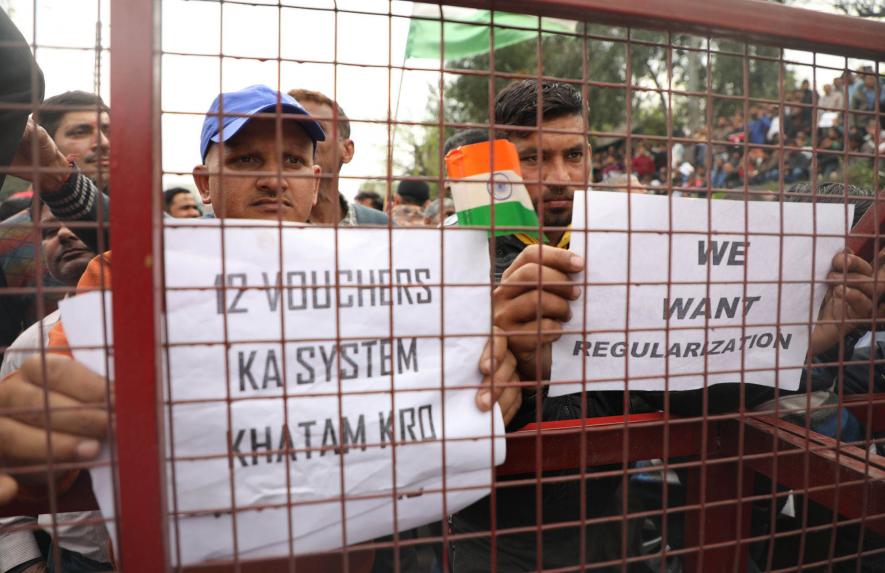 Currently, over 33,000 PHE employees have been observing a strike for the past two weeks in J&K, demanding regular minimum wages. They complained that even after putting over ten years in the service, they have not been regularised by the government.
More than three months after J&K became a centrally administered UT, over one lakh casual employees working in various engineering departments like PHE, Power Development Department (PDD), and Roads and Buildings Department (R&B)—who were expecting "achche din" to usher in—are completely disillusioned today.
Also watch: Thousands of PHE Workers in Jammu Protest Against Modi Government
A representative of J&K PDD Employees' Union in Jammu, Tarun Gupta, said, "Our demands are very genuine. Those who have completed 10 years of service should be regularised and other need-based employees be brought under Minimum Wages Act. The exploitation of workers must stop and all the longstanding issues including the release of pending salaries and implementation of 7th Pay Commission should be addressed without any further delay."
"The government pays Rs 225 as daily wages to its casual workers whereas an unskilled worker in the private sector gets Rs 500 to Rs 600 for a day's work," he said, adding, "All the casual workers of Kashmir, who had completed seven years of service, were regularised last year. But over 13,000 PDD workers in the Jammu region are facing discrimination."
"Ever since the PDD has been reorganised as Power Corporation, the employees including engineers are not getting their monthly salaries on time," he averred.
Ironically, the SPOs—who work like regular police personnel and participate in counter-insurgency operations—are also sailing in the same boat. Those who have less than five years of service are paid a monthly remuneration of Rs 6,000 whereas those who have completed five years of service get Rs 9,000 on monthly basis. And those who have completed 15 years of service, they are entitled to a monthly honorarium of Rs 15,000.
In recent years, there have been several incidents wherein SPOs decamped with the service rifles and joined militant ranks in the Kashmir Valley. Security forces in Kashmir have invariably labelled "militancy" and "stone pelting" in Kashmir as a "lucrative" business for the unemployed and semi-employed youth.
The state coalition government of the Peoples' Democratic Party and Bharatiya Janata Party in 2017 had promised to regularise the services of as many as 62,000 ad hoc employees. In fact, the government had even framed a policy. It had asked heads of the departments to make lists of the employees who had completed 10 years of the service. However, in 2018, BJP pulled out of the coalition government and Governor's rule was imposed in the former state. Since then, there has been no headway on the issue and the casual employees have been left in the lurch.
Also read: Kashmir: Why Amit Shah's 'Development' Argument is a Hoax
In his first media conference following Modi government's August 5 decision, the then Governor of J&K, Satya Pal Malik, had promised that 50,000 vacant government jobs would be filled in a few months. But this promise, too, remained unfulfilled.
At the Grievance Camps, which are being held by the Lt Governor administration in the twin capital cities of the UT these days, most of the attendees have reportedly been complaining about growing unemployment and delay in regularisation of casual and need-based employees . In July last year, as many as 2.5 lakh highly qualified youth including postgraduate, MPhil and PhD degree holders, registered themselves with the former state's Directorate of Employment.
Contractual Lecturers' Salaries Cut  
Surprisingly, at a time when the college contractual lecturers were demanding hike in salaries and regularisation, the government slashed their salaries by over 45%. The monthly remuneration of NET qualified college contractual lecturers was reduced from Rs 28,000 to Rs 15,000 whereas the salary of non-NET qualified lecturers was reduced to Rs 12,000 from Rs 22,000.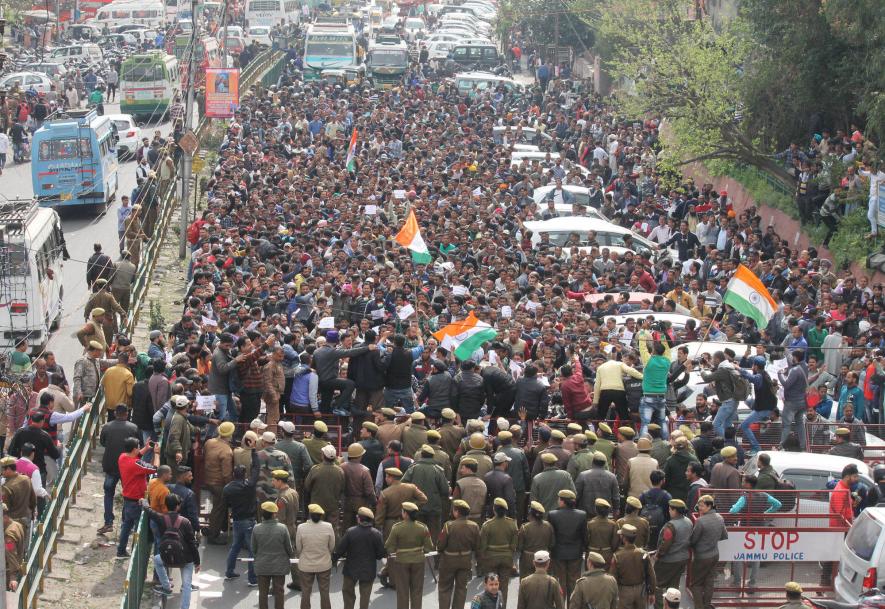 Previously, in December last year, the government had constituted a five-member committee to examine all the aspects related to the hiring and remuneration of academic arrangements in the education sector. The committee noted that "the regularisation of lecturers would be inappropriate in view of the fact that contractual arrangement between government and the people is clear and such arrangement does not amount to regular appointment and would also be violative of equal opportunity to others".
The shell shocked lecturers are yet to come to terms with this development. "Earlier, there was some hope that things will improve. But the initial euphoria surrounding abolition of J&K's special status is now almost gone and reality has begun to set in," said a Jammu-based ad hoc lecturer, who didn't wish to be identified fearing retribution for speaking to the media.
"The fierce competition over the scarce government jobs is only going to intensify in J&K after it has become a UT. Educated unemployed and semi-employed youth are going through a dark time… feeling frustrated and hopeless with life," he added.
Also read: Kashmir Nurtures Jobless Brigade
The J&K High Court, earlier in December 2019, had sought applications from across India for recruitment of non-gazetted posts such as stenographers, drivers and typists. The circular had to be withdrawn following an uproar against the first attempt at opening the doors to government jobs for the outsiders. But the fears of losing jobs haven't really left the residents.
In another decision, which will have a long term impact on civil services aspirants, the government abolished the State Civil Service Cadre and scrapped the age relaxation for the candidates of the former state, earlier this month.
JKPSC, JKSSB Employees Protest 
Hundreds of employees in the erstwhile state of J&K, who were appointed by the former state government after 2015 through JK Public Service Commission and JK Service Selection Board, have also been holding protest demonstrations. They have been demanding revocation of the "highly discriminatory" SRO -202. Under the discriminatory policy, an employee has to work on probation for five years, during which an appointee gets only basic salary and is not entitled to several other service allowances.
"J&K administration must get the rules appropriately amended so that the newly appointed employees of J&K government are not placed at a disadvantageous position," asserted senior leader and former MLA of Communist Party of India(Marxist) leader Mohammad Yousuf Tarigami, in a press statement issued on Wednesday.
Several union ministers have visited J&K since January 18 to spread awareness about the "advantages" of abrogation of semi-autonomous status. Since Modi government's employment schemes have failed to yield desired results in the former state, observers describe the outreach programme as a "futile exercise".
Notably, the unemployment rate in the former state, according to the Economic Survey Report 2016, is almost double the national rate of 13.2% among graduates.
The writer is a freelance journalist based in Jammu and Kashmir.
Get the latest reports & analysis with people's perspective on Protests, movements & deep analytical videos, discussions of the current affairs in your Telegram app. Subscribe to NewsClick's Telegram channel & get Real-Time updates on stories, as they get published on our website.
Subscribe Newsclick On Telegram