Will Kanhaiya Kumar Make History in Begusarai?
Kanhaiya has been trying to dismantle Modi's and Bharatiya Janata Party's propaganda systematically by bringing the spotlight back on issues related to unemployment, demonetisation, GST, unfulfilled promises, and corporate loan waivers at the cost of people's tax money.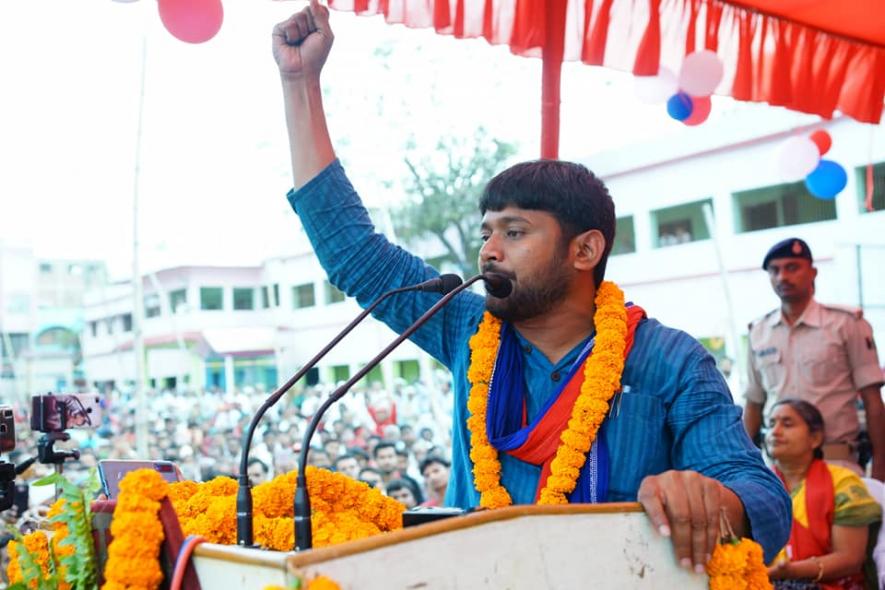 Begusarai: Bihar votes on the basis of caste, is a general perception, which might be true even for the rest of India. One of the slogans from the campaign of Communist Party of India's (CPI's) candidate from Begusarai, Kanhaiya Kumar – Is baar dal se nahi balki dil se vote dijiye (Vote from your heart, not for group/caste) – aims to alter that.
After attending 11 independent meetings arranged by people from varied backgrounds from across the country, and after speaking to more than 90 people – including pan shop owners, small businessmen, Muslim community leaders, Rashtriya Swayamsevak Sangh followers, hotel managers, hotel staff and scores of citizens – it is evident that Kanhaiya has an edge in Begusarai.
Prime Minister Narendra Modi's Balakot narrative seems to be working in some parts of Bihar, but Kanhaiya's campaign has managed to turn the tide against Modi to a large extent. In a public gathering, Kanhaiya said, "Yes, our soldiers are brave. They can do cross-border raids, kill terrorists, but that's to the Army's credit, and not Modi's. He is hiding his failure in preventing the killings of 42 CRPF jawans in our own homeland, by asking votes in the name of jawans. And do you know who are these Jawans who die and, in whose names the prime minister asks for votes later? They are the youth from places like Begusarai. They are sons of the farmers, labourers, and of the common people; not Adani's or Ambani's sons, whom Modi really serves."
Kanhaiya's threefold approach has worked wonders in Begusarai.
First, he has been trying to dismantle Modi's and Bharatiya Janata Party's (BJP's) propaganda systematically by bringing the spotlight back on issues related to unemployment, demonetisation, GST, unfulfilled promises, and corporate loan waivers at the cost of people's tax money.
Second, Kanhaiya counters the highly communal and hateful campaign of BJP candidate in Begusarai, Giriraj Singh, which Rashtriya Janata Dal (RJD) candidate Tanveer Hassan couldn't tackle effectively. This may have possibly drawn a considerable chunk of Muslim votes towards Kanhaiya.
Third, for the last 7-8 months, the CPI leader has been present on the ground in Begusarai, meeting people and, more importantly, explaining to them his 'vision for Begusarai'.
BJP candidate Giriraj Singh's controversial comment targeting Muslims in Begusarai – "If they won't say Vande Mataram, they won't even get three feet of land (for the burial)" – was passionately countered by Kanhaiya, which Hassan hasn't been able to do. This has helped Muslim voters of the constituency switch their preference to Kanhaiya. In response to Singh's communal remark, the CPI leader had said that the land belongs to the people of Begusarai, and it isn't of Giriraj's, Modi's or anybody else's to give.
The BJP's campaign is overtly hateful and communal, which is being countered with the message of love, unity, and peace by not just Kanhaiya, but hundreds of volunteers, retired civil servants, actors, social activists from across the country who are supporting him.
Also read: Elections 2019: A 'Mini India' Crops up in Begusarai in Support of Kanhaiya Kumar
Public figures like Shabana Azmi, Prakash Raj and Jignesh Mevani have been conducting large-scale public meetings, and are explaining to people what the fight in Begusarai stands for, and how Kanhaiya's victory will benefit the country.
On micro level, V.N. Rai, former DGP, Uttar Pradesh, Shabnam Hashmi and other activists, professors from local colleges, educational institutes, community leaders, activists, civil society members of Bihar, ex-journalists, several students from across the country, a musical warrior member from Goa and several others have organised a number of meetings. These people continue to explain how the sedition charges and anti-India sloganeering case against Kanhaiya were fabricated, how the tax money of Begusarai is not being utilised for development, how Begusarai deserves better schools and colleges, roads, hospitals, and how a strong voice like Kanhaiya can realistically deliver on these promises.
A massive chunk of youth from Begusarai is voting for the former student leader, crossing their caste and community lines. A young boy named Kanhaiya, who is a Bhumihar and ironically works with the RSS, said, "How can I not vote for Kanhaiya? Have you heard him speak? The way he talks about people's issues, our issues, nobody else can do it. I am from RSS, but I use my brain, and so do a lot of people from the Sangh. I have watched all the videos of Kanhaiya and I can't believe someone like him can speak of breaking up India. Even if he had said it indeed, the BJP and RSS have made a fool out of us for so long, and it is time to teach them a lesson."
When we asked a mobile shop owner in the heart of Begusarai which candidate he will go with, he waited for a few people at the shop to leave, before saying: "These were the BJP people. They are trying to intimidate us, but Kanhaiya has given us courage. Despite being called anti-national, put in jail, we have seen him standing up to Modi, and asking the right questions." Another customer at the shop, who was purchasing a power bank, joined the conversation, and said, "I am a Muslim, and I can tell you that we are voting for Kanhaiya. We did give Tanveer Hassan a chance before this It is Kanhaiya's turn now."
In a village in Barauni Assembly constituency, a teacher from the fishermen community – who is well respected for the transformation he has brought in the lives of the fishermen community because of his teachings – said, "Kanhaiya has given us a new hope. A boy from Begusarai is on the national map today and that too for standing up against Modi, BJP and their authoritarian rule. He also has a vision and a plan for our constituency. Not only I, the families of my students, major panchayats in our region, all are voting for Kanhaiya."
A journalist of a leading daily, who is supposed to be close to Tanveer Hassan, and who used to manage his media relations, in a video, has declared that Hassan himself seems to have accepted defeat, and doesn't consider himself as a part of the race anymore.
"Modi ji aayenge to bhi fark nahi padega, kyonki hamara beta sansad me un ka jeena haram karega (Even if Modi returns to power, it won't matter. Our son will be the nation's voice, and will make things difficult for him in Parliament)," he said.
By targeting the PM while explaining how the locals of Begusarai are being exploited, by countering the hateful narrative with a strong message of love and unity, and by speaking about his vision with fearlessness, articulation and connect, Kanhaiya Kumar is likely to win from Begusarai, and enter Parliament like a storm.
Also read: Elections 2019: Kanhaiya Breaks Caste, Class, Religious Barriers in Begusarai
Get the latest reports & analysis with people's perspective on Protests, movements & deep analytical videos, discussions of the current affairs in your Telegram app. Subscribe to NewsClick's Telegram channel & get Real-Time updates on stories, as they get published on our website.
Subscribe Newsclick On Telegram