Another Karnataka BJP Minister Gives Communal Speech, Calls Muslim Votes 'Irrelevant'
The Minister Rural Development and Panchayati Raj in Karnataka was addressing a gathering organised by the Hindu extremist group Sri Ram Sene, which has been named in at least 3 terror related cases.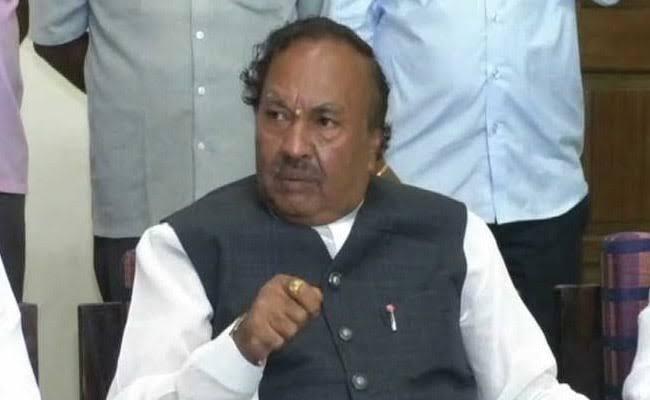 K S Eshwarappa, Minister Rural Development and Panchayati Raj in Karnataka.Image Courtesy : NDTV
Addressing a gathering organised by Hindu extremis outfit, Sri Ram Sene in Bengaluru on September 15, K S Eshwarappa, Minister Rural Development and Panchayati Raj in Karnataka said, "Hindus of this nation are not 'Napunsakas' (impotent). We have been fighting for Ram Mandir for decades now. Babri Masjid was demolished and a Ram Lalla Mandir has been built in its place. We will build the Ram Mandir here." He went on to say that the several MLAs of the Congress had approached Bharatiya Janata Party (BJP) for joining the party; but they finally decided not to because "they wanted votes of Muslims," adding, "there are many such Hijras (transgenders) in Congress."
The right wing party, both in the state and elsewhere in the country has normalised the usage of such language. It is not only demeaning the Hijra communities but it also reiterates the deeply rooted sexism in their party. Being a member and a supporter of a political party that has romanticised violence throughout its history, all that he and Pramod Mutalik of SRS said in the gathering is an indication of what BJP stands for.
Also Read: A History Sheeter Appointed as the President of Women's Unit of SRS
Hindutva Extremists and Karnataka BJP
Sri Rama Sene headed by Pramod Mutalik is a Hindutva extremist group functioning mainly in the state of Karnataka. The group had organised the event to congratulate Prime Minister Narendra Modi for the abrogation of Article 370 in Jammu and Kashmir. The rural development minister addressing the gathering said, "The entire country is feeling proud about the abrogation of 370. The country is willing for making of akhanda Bharat (undivided India). But there are some in the country who are still dependent on Muslim votes. In my region, we have 8,000-9,000 voters of the Kuruba community; and 50,000-60,000 Muslims. Till date, I have never saluted a Muslim and asked him for a vote. Despite this, I have won with a margin of 47,000 votes. Patriotic Muslims would invariably vote for BJP. However, those who wish they were in Pakistan would not."
This speech given by the minister in an event organised by a communal organisation doesn't come as a surprise. There have been instances in the past where BJP ministers have made such communally loaded divisive speeches. For example, Union Minister Ananth Kumar Hegde in his speech at an event organised by Brahmana Yuva Parishad in Koppal district on December 25, 2017, had urged the gathering to identify themselves proudly with their caste, which, according to him, is the identification of one's blood. He said this while explaining the genealogy of caste in Hinduism. He called the caste system to be a "vikruti", a distortion which does not date back to more than a century ago in the country. According to him, it is those who are casteist talk about brahminism and caste discrimination in Hindu society. In this infamous speech of his, he had also said that the BJP would change the Indian Constitution.
Also Read: Normalising the Abnormal is the Strategy of BJP
Extremist organisations like Sri Rama Sene, Vishwa Hindu Parishad and Bajrang Dal have been active in the state of Karnataka for several years now. Ever since the establishment of a first the Rashtriya Swayamsevak Sangh (RSS) shakha in the state on October 23, 1935, in South Kanara region, it has become a centre for Hindutva ideology in the state. The BJP in the state functions in tandem with these extremist groups and their fringe elements. Often ministers and leaders of the BJP are seen delivering speeches which are either communal or casteist in the events organised by these organisations. In his speech, Eshwarappa, just like Hegde before him had, declared that the party considers Muslims irrelevant. Pramod Mutalik, the chief of Sri Rama Sene speaking at the meeting, complimented Eshwarappa's speech by saying, Muslims are being given "undue" importance in the state.
Mutalik accused Congress leader Jamir Ahmed Khan of letting 25,000 Bangladeshi Muslim illegal immigrants settle in Chamarajpet of Bangalore. He also said that these "illegal immigrants" have been given identity cards. Reflecting the main agenda of the Hindutva organisations, gau raksha (cow protection), Mutalik accused Khan of granting licence to 150 butchering shops illegally. He said Sri Rama Sene will protest this and "will make Jamir Ahmed Khan pee in his pants". This meeting was also attended by the leader of the women's wing of Sri Rama Sene. As reported by NewsClick, Sene appointed Yashaswini Mahesh alias Muniyamma, a history sheeter in the Basavanagudi police station of Bengaluru, as the president of the women's unit of SRS. Yashaswini has over 10 cases, including attempt to murder and extortion registered against her, at the JP Nagar Police station.
Also Read: 2014 to 2019: Impunity of Hindutva Organisations
SRS was founded as a Hindutva extremist organisation that would oppose the "soft-Hindutva agenda" of the Sangh Parivar. Though the organisation received attention during the infamous Mangalore pub attacks, it has also allegedly been involved in several cases of saffron terror. The Sene is named in at least in three terror-related cases, apart from several cases of extortion, political murders and cases of creation of communal disharmony. The most recent case in which the SRS is named is that of the political assassination of Gauri Lankesh. Parashuram Waghmare of SRS, who was arrested by the Special Investigation Team (SIT) of Karnataka, has confessed to assassination of the activist-journalist.
It was in 2008 that the name of SRS was first associated with terror activities. Nagaraj Jambagi, an activist of SRS was arrested in an act of terror – of bombing a court in Hubli district on May 10, 2008. Their plan was to kill the alleged Students Islamic Movement of India (SIMI) activists who were scheduled to be brought to the Hubli court hearing.
SRS has also been mentioned in the chargesheet submitted by the Maharashtra Police in the case of 2006 Malegaon blast. There was no evidence found against Mutalik during the course of investigation apart from a transcript of a telephone conversation of Lt Colonel Shrikant Purohit – a prime accused in the case – with Mutalik, congratulating him for his dedication. However, following the blast, Mutalik had made an inflammatory speech at an event, Hindu Dharma Jagruthi Sabhe, organised by the Hindu Janajagruti Samiti (HJS) in Mangalore. He had said, "The Malegaon (blast) incident is just a jhalak (curtain-raiser) for similar events in the future." In the same speech, he had also said, "Imagine what we can achieve if every Hindu woman gives up the cooking ladle for a bomb?"
On January 1, 2012, a communal riot broke out in the town of Sindagi in Bijapur district, after the SRS and Bajrang Dal had called for a bandh against hoisting of a Pakistan flag on the tehsildar's office. The police later arrested six activists of SRS for hoisting the flag with an intention of instigating communal violence.
Also Watch: "BJP Is the Political Front of Hindu Terror" - Nikhil Wagle
Get the latest reports & analysis with people's perspective on Protests, movements & deep analytical videos, discussions of the current affairs in your Telegram app. Subscribe to NewsClick's Telegram channel & get Real-Time updates on stories, as they get published on our website.
Subscribe Newsclick On Telegram