Karnataka: Fear of Intimidation Grips Christian Community Post Anti-Conversion Law Passage
A 75-page report titled "Criminalising Practice of Faith- A Report" by PUCL Karnataka on hate crimes against Christians in the state cites 39 violent instances between January to November 2021 across the state.
Vandalised statue of St Antony/St Joseph's Church/Chikballapur
During the wee hours of December 23, the statue of St. Antony at 150-year-old St. Joseph's Church was vandalised by miscreants in the Susaipalaya area of Chikballapur district, 65 km away from the state capital, Bengaluru. The attack came hours before the passage of the contentious Karnataka Protection of Right to Freedom of Religion Act, 2021. The priest notice the damaged idol when reached the church at 6 a.m for prayers.
The police did not file any case against the statue vandalisation; instead, it suggested replacement of the broken statue,  as informed by a church official on condition of anonymity. The circle police officer did not respond to calls for comments.
Similarly, on Christmas, a Hindu vigilante mob barged into a convent school in Mandya district and disrupted a small Christmas meet. They shouted at the teachers and forced them to stop the celebration, accusing them of "converting" Hindu children to Christianity and ordered teachers to put up posters of Hindu gods on the premises.
After the Chikkaballapur church attack, the number of incidents went up to 40 across the state. The details were made public by the recently released People's Union for Civil Liberties (PUCL) report, which documented attacks on the Christian community from January to November this year.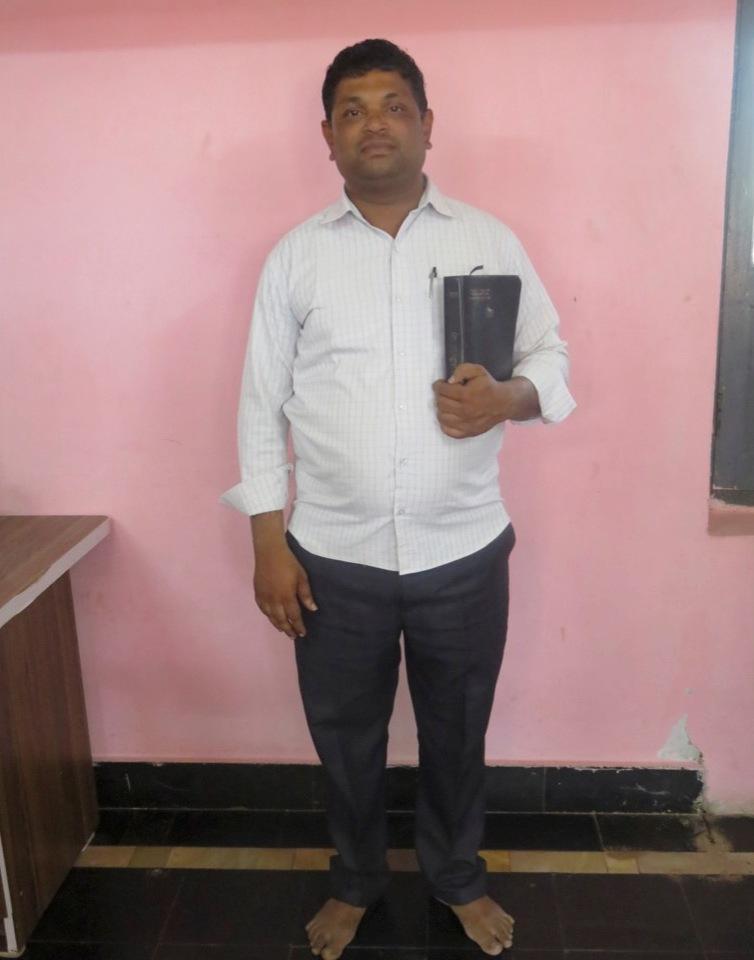 Pastor Devendhrappa Lamani
One of the victims of Right-wing assault in Karnataka is Pastor Devendhrappa Lamani. On January 3, 2021, in Abbigeri village of Koppal district, he was severely manhandled by a mob of about 20 people. The mob dragged pastor Devendhrappa Jamalappa Lamani from a home where he taught the Bible to three other Christian families at about 6 pm. In foul language, they accused him of tarnishing their culture by introducing a foreign faith and castigated him as a traitor disloyal to his motherland. The rampant attacks similar to the above occurred in Vijaypura, Haveri, Belagavi, Kolar, Gulbarga, Hubli and Belgaum districts.
The 75-page report titled "Criminalising Practice of Faith- A Report" by PUCL Karnataka on Hate Crimes Against Christians in Karnataka cites 39 violent instances between January to November 2021 across the state.
It alleges police complicity in nearly all the cases where local police had actively colluded in emboldening vigilante groups who attacked Christians and in pressing charges of Section 295 A (deliberate and malicious acts, intended to outrage religious feelings of any class by insulting its religion or religious beliefs) and Section 298 (Uttering, words, etc., with deliberate intent to wound the religious feelings of any person) of the IPC (Indian Penal Code) against pastors and believers of the community.
Currently, "Freedom of Religion Acts/Ordinances" exist in nine states, including Arunachal Pradesh, Himachal Pradesh, Uttar Pradesh, Madhya Pradesh, Uttarakhand, Jharkhand, Odisha, Gujarat. Karnataka is the 10th state to do so.
Hundreds of people from at least 40 socio-political organisations on December 23, protested in Bengaluru against the Karnataka Right to Freedom of Religion Act, 2021, commonly known as the anti-conversion Bill.
Karnataka's Home Minister Araga Jnanendra, two days before Christmas celebrations, made a controversial statement and said, "If they (Christian clergies and religious leaders) were not doing forceful conversions, then they (right-wing protestors) wouldn't be stopping them and creating a ruckus." The Karnataka minister further said that the state government had data to prove increasing instances of these alleged forced conversions but, upon further questioning, revealed that this data is based on allegations and not registered cases.
The point of instigating the recent subjugation of Christians made a public entry in July when the Bharatiya Janata Party government proposed to survey "official as well as unofficial churches and bible societies aimed at preventing alleged religious conversions." The proposal was backed by Goolihatti Shekar, BJP legislator from Hosadurga and the Acting Chairman of the Committee on the Welfare of Backward Classes and Minorities. Shekhar claimed that religious conversions "by force or through inducement" were "rampant" across the state. The MLA also said that 15,000 to 20,000 people, even his mother, had been converted.
The uproar gained political mileage and transformed into a coercive attempt by the state to hound the Christians. These attempts met vocal resistance by the community and first by the Archbishop of Bangalore Archbishop reverend father, Peter Machado. He is also the President of the Karnataka Region Catholic Bishop's Council.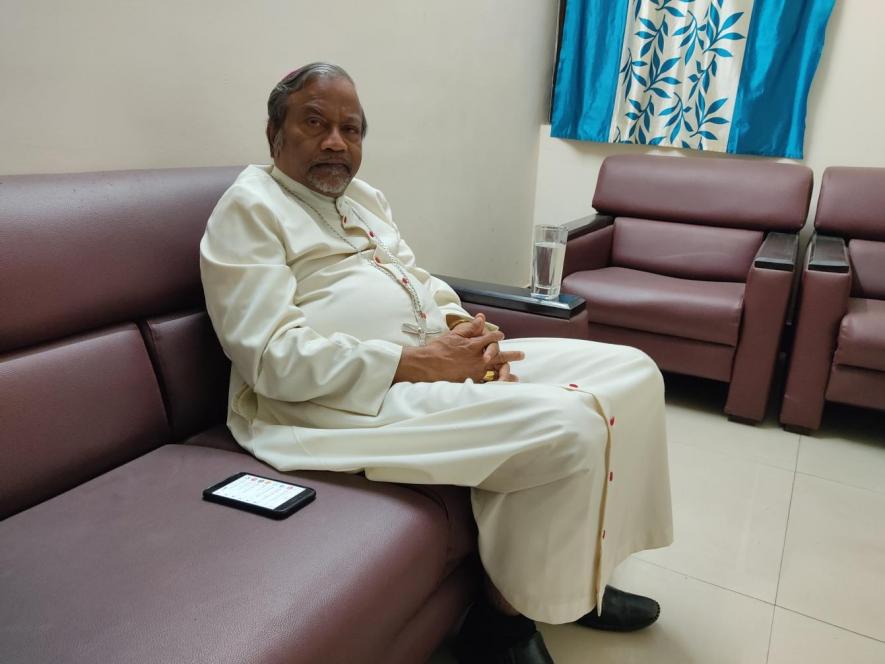 Bangalore Archbishop, Peter Machado
In September, Machado led the very first delegation of Catholic Bishops to meet Chief Minister BS Bommai and expressed grievances on the proposed law to ban religious conversions and "malicious" and "baseless" allegations made by public representatives that would fan anti-Christian sentiments. The concern was proven to be accurate as incidents of assault on the community increased than before.
On December 15, members of right-ring groups set ablaze Christian religious books alleging religious conversion by the church in Srinivaspur town of Kolar district, about 65 km from Bangalore. Police later clarified that The Bible, the holy book of the Christians, was not among the items set on fire by the right-wing members.
In an exclusive conversation with NewsClick, Archbishop Peter Machado said, "The sporadic attacks on Christians across Karnataka have taken place since long but this year witnessed a spike. It aggravated since BJP legislator's in-house allegations on forcible conversion of his mother and villagers. Before this, three surveys of churches and Christians were ordered between July and October, which did not go well with the community as it would have led to misbehaviour with the community people. Still, it happened. The villages with allegations of 15-20,000 conversions were surveyed, and in-charge tehsildars had found 45 cases of conversion- that too on free will without force or incentives, etc."
"The law would result in organised vandalism by the vigilante groups who violate the law by conducting searches, enquiries and troubling the people. It would give a free hand to groups to assault anyone. It was unnecessary as existing rules are sufficient to control any wrongdoing like forceful religious conversion. Still, it's pointedly marking the Christians and making them vulnerable," added Machado, while speaking on to the situation after the passage of the anti-conversion law.
The intention of the government to hound the community got exposed when Y Thippeswamy, the tehsildar, or tax officer of Hosadurga in Karnataka's Chitradurga district (who probed on allegations of BJP MLA of forced conversions)n got transferred without reason being cited. He revealed this in an interview with a media house.
The writer, an independent journalist based in Bihar, is on a visit to Karnataka.
Get the latest reports & analysis with people's perspective on Protests, movements & deep analytical videos, discussions of the current affairs in your Telegram app. Subscribe to NewsClick's Telegram channel & get Real-Time updates on stories, as they get published on our website.
Subscribe Newsclick On Telegram