MCD Elections: Education, a Key Issue, is Missing in Poll Discourse
The issue of education in government schools that dominated the last Delhi Assembly elections, is largely absent in the 2022 corporation elections.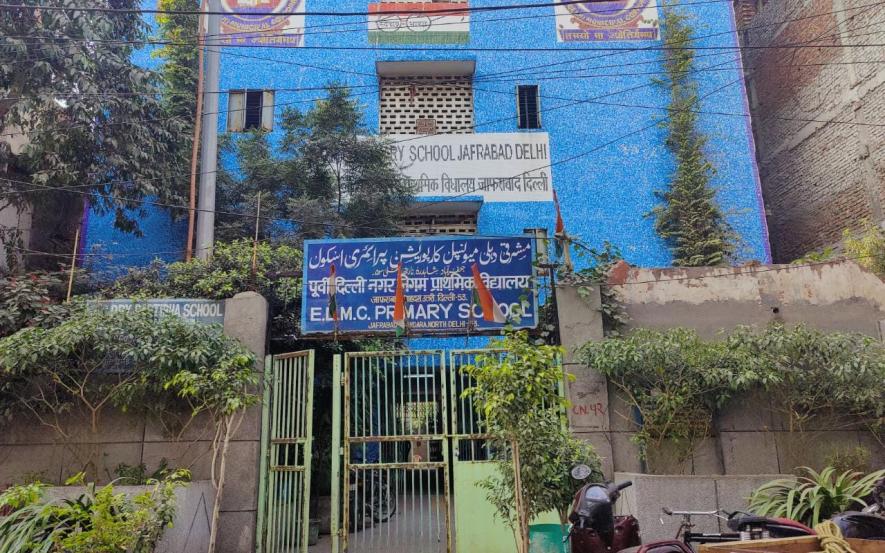 New Delhi: The political slugfest is at its peak during the campaign for Municipal Corporation of Delhi (MCD) elections in the capital. Both the Bharatiya Janata Party (BJP) and the Aam Aadmi Party (AAP) have drawn arrows from their quivers on their respective issues. While AAP (which runs the Delhi government) is campaigning on the issue of garbage mountains as well as poor health and education systems under MCD run by BJP, the saffron party is trying hard to defend itself and expose AAP's claims.
Interestingly, the way the issue of education in government schools dominated the campaign in the last Delhi Assembly elections, is largely absent in the corporation elections. What is the reason for this? Amid the din of MCD elections, why has any talk about the education system has disappeared? Has education in Delhi's MCD schools changed, or has its system changed.?
Newsclick tried to find some answers to these questions from the children, teachers and parents of MCD schools.
Notably, the administration did not allow us to go inside MCD schools, but several children, teachers and parents spoke to us on the condition of anonymity on various issues.
Posh Areas Have Two Kinds of Schools
In Malviya Nagar's corporation school, MMTC, we saw good facilities from outside, such as a clean ground, swings etc. for children to play. The condition of the building and classrooms was also satisfactory.
However, a teacher, requesting anonymity, said that due to the MCD elections, a lot of attention is being paid to these schools since the month or two. Never before have these schools got such attention on cleanliness and teachers, the teacher said, adding that some new teachers had also been recruited and salaries were being disbursed on time for a few months.
Another corporation school in Malviya Nagar, which is located in Hauz Rani, was a picture in contrast. The school is built in a very small space, and no classes were visible from the gate, and the cleanliness was minimal.
A parent, who was waiting outside the gate, said  it was only a few days ago that the school was whitewashed and painting was done on the. Before that, the school was in a dilapidated condition, with nothing working right, from drinking water to toilets. Many times children did not get mid-day meals and books to read here, the parent added.
The parent also appealed to Newsclick not to reveal his identity, adding that his child was harassed in school for interacting with the media during the last elections. He said he does not mind the formation of any government, and only wants that his child should study.
There are about 1,535 municipal schools in Delhi, while the Delhi government runs 1,100 schools. The responsibility of primary education lies with the corporation schools.  After the pandemic, while enrolment in MCD schools has increased, the number of schools has decreased.
According to a recent report by Praja Foundation, the enrolment of children in Class 1 in MCD schools has increased by 21%, while the total number of municipal schools has decreased by 8%. The shortage of teachers in corporation schools, lack of infrastructure and facilities provided to students have often made newspaper headlines, but this time round, no one is thinking about school children because they are not voters.
Many Schools Unsafe for Children
In Kadam Sharif area of Paharganj, about 15 kilometers away from Malviya Nagar, there are many kiosks in front of the girls' primary school, where people come to buy paan-masala and gutkha, which is unsafe for the school girls. A class 5 girl studying there told us, while hiding from the guards, that talking to any mediaperson was not allowed in the school. "Now we get good things to eat here as well. Teachers also come every day and teach dance and songs," she said, but when we asked if this was always the case, she ran inside while nodding her head in the negative.
Some parents of children studying in different MCD schools said there were no proper gates, or arrangements for guards, toilets were in bad condition.  They said as most children in these schools belong to poor and vulnerable sections, the administration does not pay any attention to them. These children do not even get books and dry rations for months. Some parents also said that they were afraid to send their children to schools due to several reports of harassment of girls.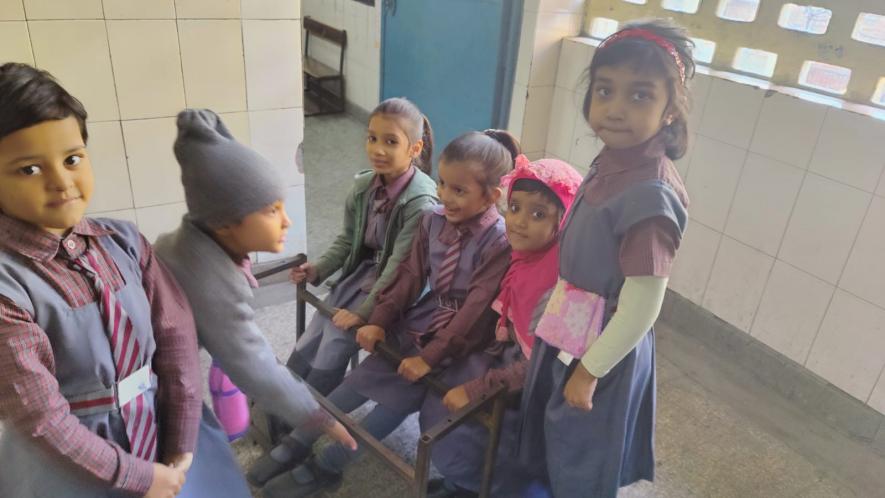 It may be noted here that the Delhi Women's Commission had recently started an inquiry regarding security in MCD schools. The team found that the condition of the schools was pathetic, unsafe and worrisome. Gates of all the schools were open and there were no guards either. There was no proper arrangement for the children to sit and play.
High Court had issued notice to MCD
Recently the Delhi High Court had sent a notice to MCD regarding a petition related to its schools. The petition demanded that the schools should have proper facilities like permanent buildings, classrooms, drinking water and toilet facilities and computer labs.
The petition had claimed that due faculty shortage students in MCD schools were not receiving quality education. Similarly, due to vacant posts of security guards, children in these schools are vulnerable, especially as there have been many cases of misbehavior with girls in schools.
During election season, the issue of the shoddy system in MCD schools is a matter of concern, which lie dilapidated in posh areas even though they have been brightened up during polls, but in backward areas, the marginalised children are being further pushed to the margins.
Far away from Paharganj, the condition of corporation schools in North East Delhi was worse. When NewsClick visited Nagar Nigam Vikas Pratibha School in Jaffrabad, the building's facade was shining, but the condition inside was dismal. The crumbling education system was evident, as over 1,000 children study in this school, but there are only 11 teachers.
Second, there are more children in a class than its capacity. A teacher has to teach more than one class of children.
Some children told us that they had not received money for uniforms for two years. Along with this, books had also not been provided. Some books landed up last week, otherwise these children were studying without books.
A teacher, on condition of anonymity, said the situation was "very bad". "We have not received salaries for two months now. We are not able to teach properly because of the high number of children in the school. Over three children sit on a desk meant for two children, and its condition is also bad. Apart from this, there is seepage and dampness in many places in the school.
Similarly, when we visited Municipal Corporation Pratibha Vikas Vidyalaya in Sonia Vihar, its condition was worse. This school is also running with more children than its capacity. There is no proper arrangement for drinking water because there's only one water cooler in the whole school, as the other two are damaged. The desks are so few that some children have to sit on the floor.
Not only this, we were told a shocking thing. Children of this school are not being given question papers in the examination. Instead, parents are sent question papers on WhatsApp the night before the exam and they have to get these printed and give it to their children!
Although this arrangement was for the corona period, it seems to have become a permanent one. Also, children here are not getting the stipend for school uniforms and teachers, too, are waiting for their salaries.
A leader of the Delhi Municipal Corporation Teachers Association told Newsclick on the condition of anonymity that around 5,000 posts of primary teachers are vacant in Delhi, while there is a shortage of 3,000 nursery teachers.
Along with this, there are no counselors in these schools and there is a huge shortage of special teachers for children with disabilities.
"The MCD has withheld two months' salary of East Delhi teachers and one month's salary of North Delhi teachers. There was hope that integration of the corporations would solve this problem, but things remain the same," he said.
Speaking to NewsClick, Ashok Aggarwal, an activist working for Right to Education, said that the crisis in the education system is man-made, with some systemic flaws in its roots. "Under Section 7(b) of the Right to Education Act, it is clear that the cost of education will have to be borne by the MCD and Delhi government together. Despite this, our children are neither getting books nor stipends."
He added: "When I went to Pusa Road schools recently, I found that the children did not even have desks to sit on. Are the administrators unable to see what basic facilities the children need? As far as the systemic reasons are concerned, 12 years ago, a committee of NCERT, chaired by me, found that all irregularities were due to not being under one government. MCD has its own schools, Cantt Board has its own schools, Delhi government runs its own schools. If all these are brought under one government, then many problems will be solved". For instance, he said: "Delhi government is short of land, while MCD has a lot of land. If it is under the Delhi government, then the problem can be tackled by building a multi-storeyed school."
(Translated from Hindi)
Get the latest reports & analysis with people's perspective on Protests, movements & deep analytical videos, discussions of the current affairs in your Telegram app. Subscribe to NewsClick's Telegram channel & get Real-Time updates on stories, as they get published on our website.
Subscribe Newsclick On Telegram