MCD Elections: In Mustafabad, CPI(M)'s Poll Campaign for Peace and Harmony
The leaders of the left party argue that the politics of hate by the BJP has led to violence time and again.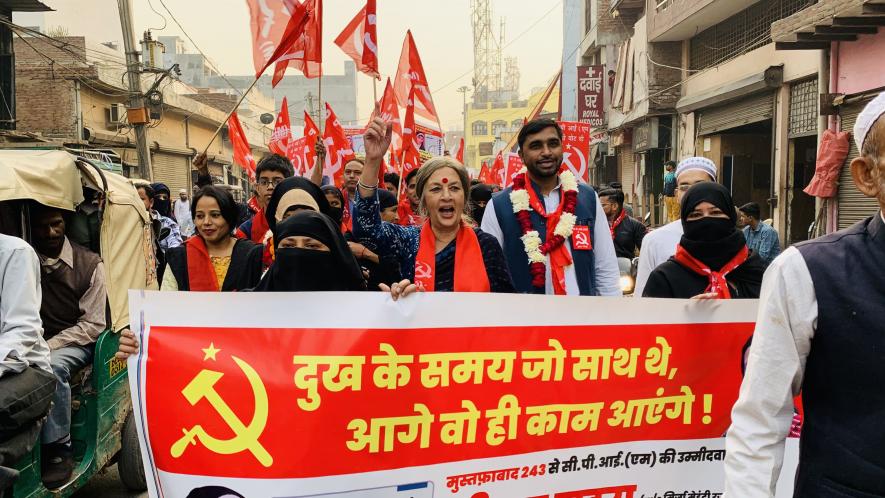 A small gathering made up of different groups waited eagerly for their leader, Brinda Karat, in a dilapidated parking lot in Mustafabad in Northeast Delhi. Much like the rest of the national capital, this area is too gearing up for civic body elections with candidates from Congress, Bharatiya Janata Party (BJP), AIMIM, and Communist Party of India (Marxist) in the fray. The chatter among the gathering revolves around the lack of schools and dispensaries – contradicting the claims of Chief Minister Arvind Kejriwal who has based its entire campaign on the "best education and health facilities".
Mohd Naeem, who had come to be part of the march, maintains that the residents have witnessed the biggest casualty of the Delhi government's school merger policy forcing thousands of students to go far to pursue studies. Naeem said, "The school was run in a hutment made of asbestos sheets and brick walls. They demolished it. Ministers came and laid the foundation stone. Now, students go to Gokul Puri to the new school. Many girl students dropped out because their parents were apprehensive about their safety, particularly at Brijpuri, over the bridge."
He told NewsClick that mohalla clinics – the much-advertised health centres – are also located in farthest areas like Karawal Nagar, Gokul Puri, and Khazoori Khas.
However, the campaign of the CPI M) candidate, Zeenat Zehra, seems to be based on something different – healing touch to the victims of the Delhi riots in February 2020, which claimed the lives of 53 people.
Tabassum lost her cousin Musharraf in the riots. Talking to NewsClick, she said, "They dragged my brother from his home and killed him. The Hindu neighbour families hid us in their homes. When they were threatened, they safely escorted us to our mosque at night. It was like D-day for us when all believed that we would not be alive. Look, I am getting goosebumps! Then, the people from the CPI(M) came and helped us. During the coronavirus pandemic, they gave us food supplies and other relief material. In a sense, they gave us the confidence to stand up and begin life from scratch."
The leaders of the left party argue that the politics of hate by the BJP has led to violence time and again. Talking to NewsClick, Rajeev Kunwar, state secretariat member, the Communist Party of India (Marxist) Delhi unit, said that it is correct that the entire discourse in these municipal elections should have been around civic amenities to make people's lives better. "Cut how would you ensure development when there is no peace and harmony?" he questioned.
"Any election – be it for MPs, MLAs or local councillors, we are observing that no one is challenging the divisive politics of the BJP. Aam Aadmi Party leaders are saying that if we are Hindu, we have to talk about Hindutva. Congress is maintaining complete silence. In this context, we have a clear understanding that the politics of development will begin only by putting an end to this divisive politics. The people in this area suffered in riots due to this politics. So, it is the need of the hour to question this politics and issues of development will be discussed once this hate campaign is put to an end. Our slogan reflects that people can overcome any obstacles if they are united," said Kunwar.
When asked about whether the residents in this area are mentally prepared for the elections, Kunwar said, "We were stuck in a traffic jam nearby and people started noticing that Brinda Karat was travelling with us. Even though they were clad in Congress's badges and mufflers, they said that they will support us because she dared to speak when others are simply deaf and silent. This credibility may not translate for now but persistence in questioning divisive politics will work for us. Let me remind you that everything remains intact in collective memory. The cycle of life keeps going."
Karat was instrumental in stopping the demolition drive by the MCD that targeted Muslim homes in Jahangirpuri following hate campaigns in the form of religious processions.
 Kunwar went on to add that the challenges pertaining to development are different in this area. He said, "It is a fact that the working-class population, be it Hindu or Muslim, lives in miserable conditions. When the majority of resources are devoted to the few, it is obvious that the other areas would be full of filth. However, communalism has made things worse. Even after 75 years of partition, you see partition here in every street; municipal bodies ruled by the BJP have denied dignity to residents of these areas for the last 15 years."
Brinda Karat, Politburo Member, CPI (M) addressed the gathering and said: "It is certain that the bulldozer politics of BJP must stop. The point is about the alternative. AAP leaders are complicit in this campaign whereas Congress leadership is acting like an ostrich. So, our message is clear; those who comforted you in your misery will only help in the upcoming days."
Get the latest reports & analysis with people's perspective on Protests, movements & deep analytical videos, discussions of the current affairs in your Telegram app. Subscribe to NewsClick's Telegram channel & get Real-Time updates on stories, as they get published on our website.
Subscribe Newsclick On Telegram