MGNREGA: Nearly 1.5 crore Job Seekers Refused Work Till Now
Funds squeeze causes 14-17% refusals every year.
The rural jobs guarantee scheme has emerged as a lifesaver for millions of Indians as they struggle with relentless unemployment. But official data shows that a very large number of job seekers are being turned away and not given work. In the first six months of the current financial year (April to October 2022) nearly 1.5 crore applicants for work were refused work. 
This situation has existed for many years past as shown in the chart below derived from the progress report available on the official website of the scheme, maintained by the ministry of rural development.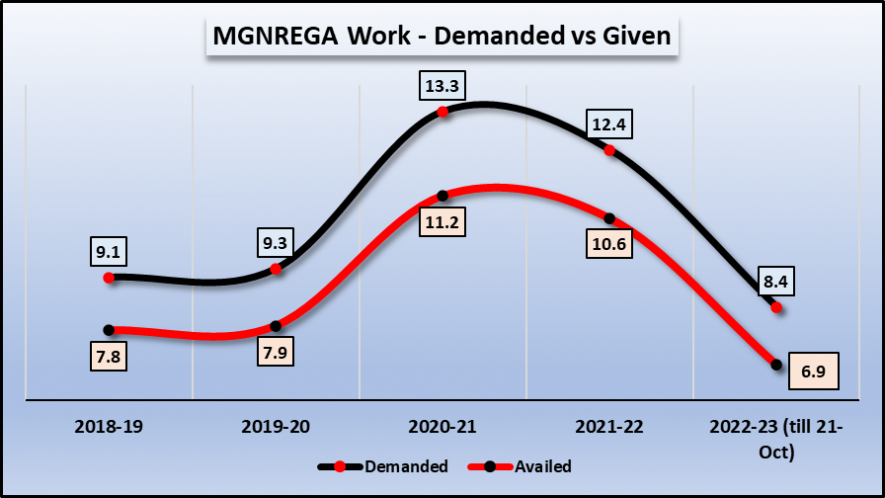 Even during the pandemic years 2020-21 and 2021-22, when work under the scheme shot up, the refusals continued and their numbers became shockingly high. In 2020-21, due to the first total lockdown and then the continued restrictions on normal activity, people were desperately looking for any source of earnings and over 13.3 crore persons sought MGNREGA work. Out of these recorded applicants, 11.2 crore were actually given work. That is, about 2.1 crore persons were turned back. In the second pandemic year of 2021-22, 12.4 crore persons applied for work but again, only 10.6 crore got it – about 1.73 crore were refused work.
This gap existed before the pandemic too but it was not so high. For instance, in 2019-20, 9.3 crore people applied for jobs out of which 7.9 crore got it leaving about 1.5 crore empty-handed. In 2018-19, those refused work numbered some 1.3 crore.
In the current financial year, the rate of refusal appears to be higher with about 18% of total applicants refusing work till October 21.
Note that these are official numbers, which may not reflect the true extent of refusal or discouragement from work under the scheme. Many people are told informally that there is no point in applying for work as no work is available at a particular point in time. So, while the need for work (or 'demand', as it is called) exists, this part is not recorded anywhere in the MGNREGA records.
Why this refusal?
Before investigating why this refusal takes place, it should be noted that the popular argument that the scheme is 'demand driven' is junked by this data. This is argued to maintain a tight squeeze on fund allocation for the scheme. Actual demand is not being reflected at all as people are either discouraged from applying for work or turned back after they do apply. So, to argue that work in MGNREGA reflects the actual state of work demand is not correct – demand far exceeds it.
The real reason why applicants are not given work is that allocated funds are insufficient and their release is tardy. Also, over the years, a system of carrying forward dues from one year to the next has been institutionalised so that at all times there is pressure to use less funds. Mostly, the year starts off with limited allocation and then somewhere down the line additional funds are given, usually after a hue and cry has been raised by State governments, political parties and advocacy groups.
Take a look at the current year's situation, shown in the chart below, based on data as on October 22. At the beginning of the financial year, Rs.59,795 crore was available for the scheme. This was made up of Central and state grants and whatever was carried over or released late from the previous year. Total actual expenditure till October 22, was Rs.57,801 crore while Rs.6,247 crore were due under various heads, including wages. That leaves about Rs.4,254 crore pending or deficit.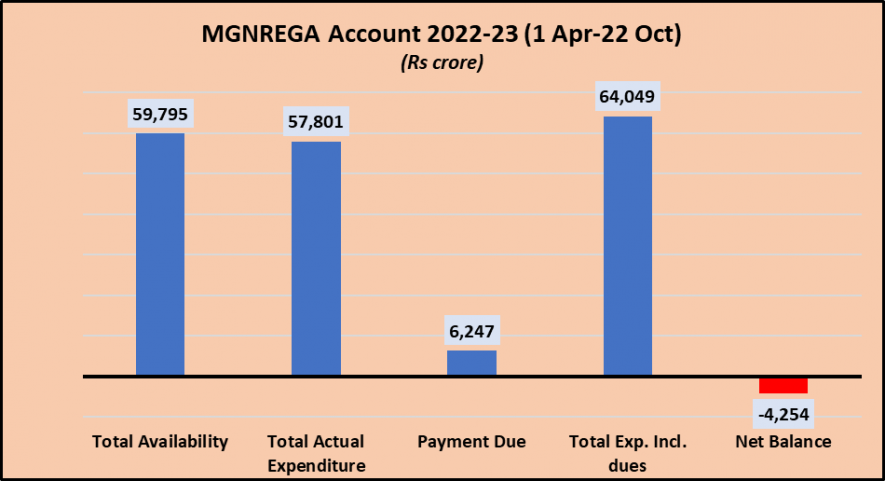 This is when half the year has passed. By the end of the year, the deficit will likely be more. Not only has all the money released and available been spent already but many states are running in deficit. Adding up each state's account has evened out things but some of the states already have huge deficits – Tamil Nadu (-Rs.1.79 lakh crore), West Bengal (-Rs.1.3 lakh crore), Rajasthan (-Rs.31,223 crore), Maharashtra (-Rs.35,663 crore), Madhya Pradesh (-Rs.1.22 lakh crore), Karnataka (-Rs.65,573 crore), etc.
This funds squeeze thus cascades downward and gets reflected in the refusal of work to many people who come knocking at the doors of the MGNREGA scheme.
The only way out of this dire situation is for the Central government to increase the allocation for the scheme and release the amounts in a timely manner.
Get the latest reports & analysis with people's perspective on Protests, movements & deep analytical videos, discussions of the current affairs in your Telegram app. Subscribe to NewsClick's Telegram channel & get Real-Time updates on stories, as they get published on our website.
Subscribe Newsclick On Telegram