Why NOTA Came Second in 2 Maharashtra Constituencies
Possibly for the first time in the country, the electorate gave NOTA second position -- in Latur Rural and Palus Kadegaon. Here's an interesting buzz about why this happened.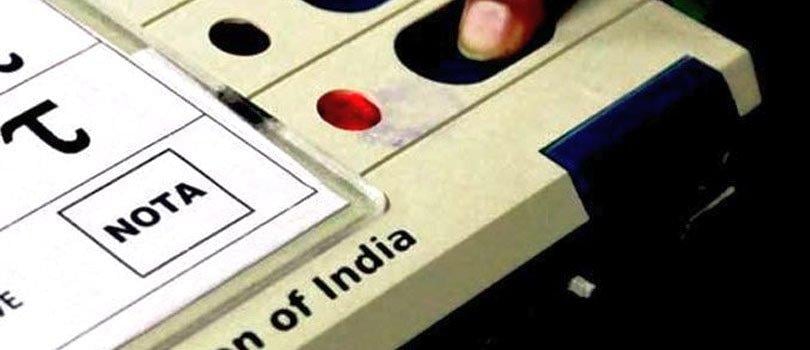 Image Courtesy: Money Life
In Latur Rural constituency, Congress's Dhiraj Deshmukh pulled 1,35,006 votes. He 'defeated' NOTA (None of the Above), which bagged 27,500 votes.
A similar story ran in Palus Kadegaon of Sangli district in Western Maharashtra. Congress's Vishwajit Deshmukh pulled 1,71,497 votesRun, with the runner up being NOTA, with 20,631 votes.
This could be the first time in history of Indian elections that the NOTA option has come second. People in the state have already started talking about it. Did the voters have no better option or was there something else? Or, was there some politics behind it?
In Latur Rural, Dhiraj Deshmukh is the son of Congress's state stalwart, late Vilasrao Deshmukh. Dhiraj became Zilla Parishad member in 2017. That was his entry into politics. His brother, Amit, first became MLA in 2009, repeated this in 2014 and also in 2019. This time he was contesting from Latur Urban seat.
In the earlier polls, Latur Rural seat had been with Bharatiya Janata Party (BJP), which also had strong candidate, Ramesh Karad, who has is strong in the sense of money as well as personal contacts in constituency. But BJP left the seat for Shiv Sena this time. It actually exchanged Ausa, another seat from Latur district, with Shiv Sena. In Ausa, Sena has a strong base. But, Sena too accepted BJP's offer to contest in Latur Rural, where it had no base. The question being asked is: Why did BJP leave its fortress to Sena and vice-versa?
Here is one story doing the rounds behind the 'good' performance of NOTA in Latur Rural.
In Ausa, Congress state executive president, Basavraj Patil, was contesting against Abhimanyu Pawar of BJP. Abhimanyu was Officer on Special Duty for five years with Chief Minister Devendra Fadnavis. So, Fadnavis wanted his OSD to become MLA. Abhimanyu was first looking for Latur Rural seat, which has been a strong BJP constituency. But when it became clear that Dhiraj would contest from Latur Rural, Fadnavis shifted Abhimanyu to Ausa. Now Ausa was also tough for BJP, but Latur Rural was tougher, as Dhiraj is known as Vilasrao's 'favourite' son. Since Vilasrao is no more, the sympathy was with Dhiraj. But that still doesn't explain why NOTA came second.
Here comes the last part of the backstory.
Vilasrao Deshmukh and Gopinath Munde were close friends. Before delimitation of Assembly constituencies in 2009, Munde used to contest from Renapur Assembly constituency. A sizable portion of Renapur constituency now comes under Latur seat. The friendship was so open in state politics that both the leaders used to help each other in their respective constituencies. That relationship continues in the second generation as well, with Amit Deshmukh and Pankaja Munde .
So, Pankaja was obviously not eager to see a BJP candidate contesting from Latur Rural. That is said to have changed the equation on ground. Sena put up a weak candidate against Dhiraj, who ended up getting some 13,000 votes.
So, it is not that people chose NOTA as an ideal option because they had no choice. It is mainly because a huge chunk of BJP voters didn't want to vote for the Sena candidate, and instead went with NOTA. The number of NOTA votes, therefore, reflects the anger within BJP voters against Devendra Fadnavis, who was main force behind this barter politics.
A somewhat similar story runs in Palus Kadegaon. There Congress's Vishwajeet Kadam is the son of late Patangrao Kadam. Patangrao died in 2018. Vishwajeet was elected unopposed in the 2018 bypolls. That time, BJP's Sangram Deshmukh, who had been from a rival family of Kadam from Palus, had filed the nomination. But he withdrew saying he would contest Assembly elections. This time, he had done all possible preparations. BJP was hoping Vishwajeet would ditch Congress and join BJP. But that didn't happen.
Meanwhile, even after having strong candidate, Fadnavis again gave away the constituency to Shiv Sena. He gave the seat to Sangram's brother and traditional opponent of Kadam family, Prithviraj Deshmukh. Now, Sena didn't have any base on the ground, so it put forward a weak candidate, who could pull only 8,937 votes. Vishwajeet won the seat by 1,62,000 votes, which is second highest margin after Ajit Pawar's 1,65,000.
The point is, here too voters chose NOTA because they were supporters of the Deshmukh family and were upset to see a possible strong battle becoming cakewalk for Kadam.
The question now arises: Why did Devendra Fadnavis leave two strong possible BJP seats for Congress candidates? Simple. Both these candidates are children of strong Congress leaders. At the same time, both are Marathas. In this election, Fadnavis was trying to pacify Maratha dominance sentiment against him. So, as per the buzz, his strategy was to not stage any tough fight against strong Maratha dynasties in Congress so that Maratha pride does not become unifying cause within the caste.
This strategy seems to have worked for Fadnavis in Marathwada and part of North Maharashtra , but ended up making NOTA coming second in two constituencies, creating a history of sorts in the country's electoral politics.
Get the latest reports & analysis with people's perspective on Protests, movements & deep analytical videos, discussions of the current affairs in your Telegram app. Subscribe to NewsClick's Telegram channel & get Real-Time updates on stories, as they get published on our website.
Subscribe Newsclick On Telegram