Maharashtra: 7 Months After Favouring Verdict, 41 Public Service Aspirants Wait for Appointment Letter
These 41 candidates, who were on the waiting list for the tax assistant posts, had earlier missed out on the recruitment opportunity owing to the administration's goof-up.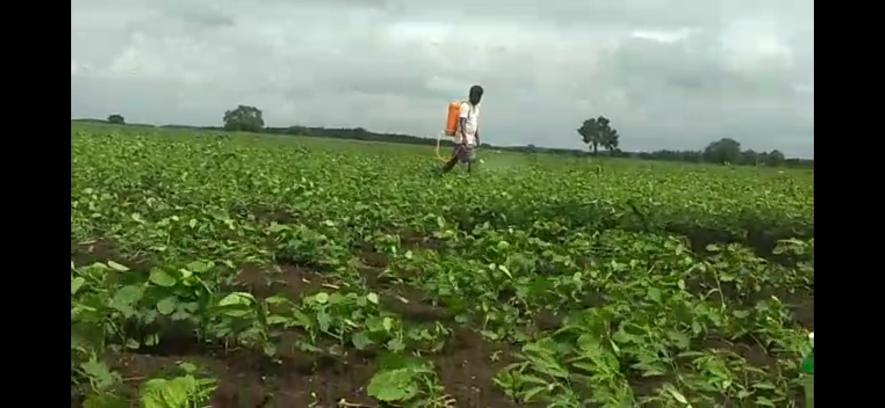 Shivanand Kokane in his farms.
Shivanand Kokane studied for seven years to land a civil service job. But the difference between his employment and unemployment boiled down to nine days. "I can't believe my rotten luck," he says from his remote village of Kasar Balkunda in Maharashtra's Latur district.
Born to modest farmers in the village located 13 kilometers from Karnataka border, Kokane, 28, thought that the years of hard work had finally paid off when his name appeared in the list of 41 people that would fill up the post of tax assistants in the government of Maharashtra – then headed by BJP's Devendra Fadnavis.
But the administration goofed up.
On July 5, 2016, the Maharashtra Public Service Commission (MPSC) had published an advertisement for 450 job openings as tax assistants. MPSC, a body created by the Constitution of India under article 315 to select officers for civil service jobs in Maharashtra, subsequently held exams and published a merit list of 450 people on February 17, 2017. Kokane narrowly lost out.
But when the commissioner, Sales Tax Department, began the verification process of the selected 450 people, 41 of them didn't turn up. On December 14, 2017, the commissioner requested the Finance Department of the state government to fill up the 41 posts from the waiting list. Kokane was one of them. "The salary of a tax assistant is around Rs. 35,000 a month," says Kokane. "My parents worked unimaginably hard so I could prepare for the exams. I thought I could finally support them."
The Finance Department had to forward the request to MPSC regarding the 41 posts to be filled from the waiting list. But it intimated the MPSC on March 17, 2018 – over 90 days after it first received the correspondence from the commissioner, Sales Tax.
MPSC, in response, informed them that the list of 450 people had been published on March 8, 2017. According to the rule 10 of the MPSC, Rules of Procedure, 2014, "The reserve list (waiting list) shall be operative for the period of one year from the date of declaration of the result."
The deadline to fill up these 41 posts had lapsed. The Finance Department missed it by a tantalising nine days. "What was our fault?" asks Kokane. "The lethargy of the Finance Department cost us our jobs."
Many of those 41, like Kokane, come from marginalised families of farmers and labourers. They fought poverty and privilege to crack the extremely competitive exams only to be undone by the carelessness of the state administration. In June 2018, VN More, then chairman of the MPSC, had told this reporter that the total candidates "appearing for different kinds of MPSC exams [every year] are 12-14 lakhs and the jobs available are 4,000-5,000".
For the job of tax assistant, which Kokane is aiming for, over 40,000 people had applied when the vacancies were 450. "It is a really difficult exam to crack," says Kokane. "You can't do it with a part-time job. You have to dedicate your years to even have a shot at it. It is particularly difficult if your parents are farmers struggling to make ends meet."
Kokane's parents have seven-acre farmland in the village where they cultivate soybean and tur. "Farmers are badly suffering with climate change, inflation, and dwindling prices of crops. My parents, therefore, doubled up as agriculture labourers to make sure I could study," says Kokane. "They slogged for Rs. 300 a day so I could make something of myself. I feel guilty that I can't support them even after all that they have done for me."
For the two years 2014 and 2015, Kokane lived in Pune preparing for the exams. "I have studied in Latur in a Marathi medium school," he says. "My English is not that great. One of the subjects you have to clear is English grammar. There is a particular teacher in Pune who prepares students like me so I shifted for two years to hone my English."
In Pune, Kokane's expenses would come up to Rs. 8,000 a month, including tuition fees and rent. "My parents sent half of it and my younger brother who does odd jobs in Pune would send me the other half," says Kokane, gratefully. "I desperately need that job. My parents are in their 50s, and I want to look after them. There is no future in farming."
Also read: Where are the Humane People Among Those in Authority Today?
After being dejected over unfairly losing out on the job, Kokane decided to take the legal route. "I thought, why should I let someone else's mistake ruin my life?" says Kokane. He reached out to the rest of the 40 who had missed out with him. Eight of them got together and approached the Maharashtra Administrative Tribunal (MAT) towards the end of 2018. MAT, established in 1991, is supposed to ensure speedy remedies of the grievances of state government employees. It has all the powers of the High Court.
The case lasted for just over a year. On December 12, 2019, MAT passed a verdict that said the "candidates in the waiting list need not be punished" for "the administrative lapses", and ordered MPSC to act within four weeks on the requisition the Finance Department sent on 17 March 2018. "In view of the peculiar circumstances in the present case where the Finance Department has stated that it is urgently looking forward to fill in the vacancies because of the implementation of GST and admitting that there is a delay of nine days in the communication, it is necessary to deviate from the rules of procedure in the present case. Moreover, the State Government has also taken action against its staff for the delay," MAT concluded in a huge relief to Kokane and the others.
However, more than seven months later, MPSC has still not enforced the MAT order. Forty-one people on the waiting list continue to wait for the appointment letter. MPSC Chairman Satish Gavai's numbers were either busy or unreachable for over two days. He did not respond to text messages either. Undersecretaries VS Deshmukh and BP Mali did not respond to phone calls either. An email has been sent to the MPSC seeking its response. The story will be updated if and when NewsClick receives a response.
Advocate SS Dere, who argued the case for the applicants, said the MPSC has insulted the court order by disregarding it. "We have sent them a contempt notice," he said. "But things have slowed down because of the lockdown."
Reshma Kashid, 30, one of the applicants on the waiting list, said they heaved a sigh of relief when they got a favourable verdict. "We thought our wait and struggle had finally come to an end," she says from her hometown of Chinchwad in the district Pune. "But something keeps coming up. Some of the 41 people are even doing odd jobs to stay afloat."
Kashid, who has a 10-month old daughter, says her husband works for a salary of Rs. 20,000, which has also been getting delayed after lockdown. "Expenses increase when you have a child," she says. "I worked as a clerk in RTO in Mumbai. But I can't do that anymore being a mother. I have to be in Chinchwad, where there are family members to help us out. The job of tax assistant would provide us the stability that we need."
Kokane has a bigger worry. "I had borrowed Rs. 50,000 from a private moneylender to pay for the lawyer's fees," he says. Private moneylenders are unlicensed strongmen in the village who loan money without asking for documents, but charge unreasonable interest rates in return. The failure to repay the loan often leads to harassment and humiliation. "My parents are good people. Even after all of this, they don't ask me about my job repeatedly because they know it would only make me feel more guilty," Kokane added.
As part of the arrangement with the private moneylender, Kokane dumped his entire soybean harvest at his feet at the end of the season to cover Rs. 30,000 of the debt. He is repaying the rest of the Rs. 20,000 at an interest rate of 2 percent a month, or 24 percent a year. "It is particularly difficult to repay the loan with the lockdown," says Kokane. "Even the labour rates have halved. Men get Rs 150 per day, and women Rs 100. I got my family into this mess all because I could get the job that was rightfully mine."
Also read: 'Criminal' of Delhi Government to Withhold Salaries of Teachers, Employees: DUTA
Get the latest reports & analysis with people's perspective on Protests, movements & deep analytical videos, discussions of the current affairs in your Telegram app. Subscribe to NewsClick's Telegram channel & get Real-Time updates on stories, as they get published on our website.
Subscribe Newsclick On Telegram