Why Mayawati is Right in Questioning Modi on His Wife
While the dalit leader has raised a vital social issue – of abandoned wives—that Indian politics has always avoided, the BJP's reaction to her smacks of a savarna mindset.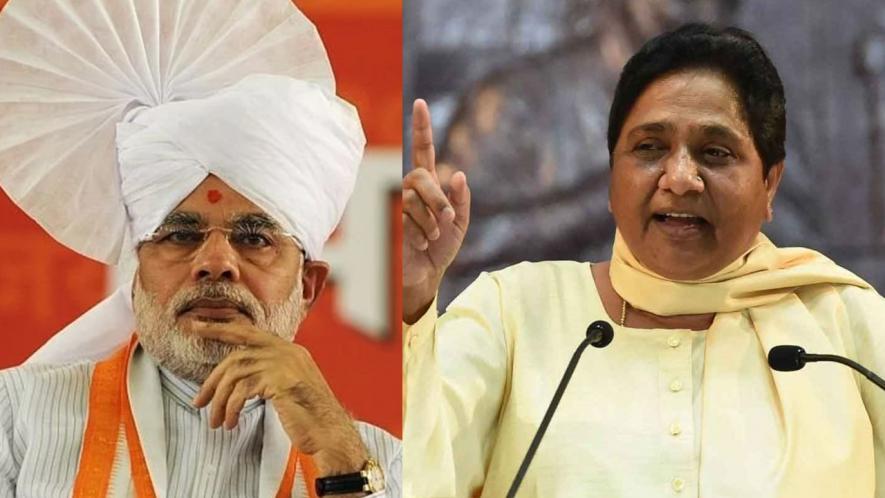 Bahujan Samaj Party supremo Mayawati has stirred a hornet's nest by questioning Prime Minister Narendra Modi about his wife. The Bharatiya Janata Party (BJP) and the media have described Mayawati's attack as a personal slur. But is it really a personal attack?
The game was started by Modi. He targeted Mayawati after the fifth phase of polling. There were strong reports from eastern Uttar Pradesh that Mayawati-Akhilesh Yadav's Mahagathbandhan was performing better. Modi began by creating suspicion about Mayawati's commitment to alliance. BJP circles were agog with rumours that Mayawati may support Modi after May 23. Some of these rumours were carried as "news" by a section of the media. When these efforts failed, Modi directly attacked Mayawati in a Rajasthan rally on the issue of the Alwar rape case. Mayawati addressed a press conference in Lucknow to counter Modi. It was a reaction to Modi's action.
Mayawati read a written statement in Hindi where she took Modi head on. The translation in Indian Express on May 14, 2019 runs like this: What does he (Modi) know about respecting sisters and daughters given that he abandoned his own innocent wife for his political interests. Not only this, I have come to know that especially the married women in BJP get very worried when they see their husbands near Modi, at the thought that Modi might make them leave their wives like he did with his wife.
This is undoubtedly a harsh dressing down for Prime Minister Modi. But is it really a personal matter? Modi's marital status has always remained a topic of discussion, which the BJP has wanted to sweep under the carpet. Modi himself is quite hypocritical about it. In his first election affidavit, he refused to even acknowledge his marital status. In the 2014 affidavit, he admitted about it using a technical loophole. The Election Commission has no infrastructure to verify each and every affidavit of all candidates.
But that is not my point. In an article published in The Wire on August 12, 2016, Abusalleh Sharif and Syed Khalid have dealt with the issue of abandoned wives in detail. According to the latest census, there are 2.3 million wives in India, either separated or abandoned by husbands. This is more than twice the number of divorced wives. Amongst them are two million Hindu women, 2.8 lakh Muslim women, 0.9 lakh Christians and 0.8 lakh of other religions.
These figures show how important the issue of abandoned wives in India is. Last year, Parliament tried to bring a Bill against NRIs (non-resident Indians) abandoning their wives. But this is not just restricted to NRIs. In a male dominated society like India, no section of the society can remain immune from this. The lives of abandoned women are pathetic and they want to go back to their husbands. Modi's wife Jashodaben said this publicly in 2014: "If he calls once, I will go with him." But Modi did not respond.
Mayawati has raised an important social issue, and there is nothing wrong with it. Yes, she has used it as political weapon to attack Modi. But she has paid Modi in his own coin. Is this not Modi's old trick? He has used the issue of triple talaq for his political gains. It had nothing to do with reforms in Muslim society. He was just concerned about the appeasement of his Hindu constituency. Otherwise, he would have addressed the issue of separated and abandoned wives and started with his own family. Mayawati has raised the right issue, which Indian politics has always avoided. The media is afraid of raising it for obvious reasons.
As far Modi's respect for women goes, his record is shady. He called Sonia Gandhi 'Congress ki Vidhva' and taunted Shashi Tharoor '50 crore girlfriend' in a public meeting. The people he follows on Twitter give rape threats to female journalists critical of Modi. He has no moral right to object about the Opposition's abuses and attacks.
BJP's response to Mayawati has exposed the real face of the party. Blog minister Arun Jaitley says Mayawati is 'unfit for public life'. Did he ever say that when hundreds of insulting comments were made by the leaders of his own party? From Modi to Adityanath to Sakshi Maharaj to Varun Gandhi, everyone has inflicted poison in this election. Some of the Opposition leaders are not far behind either.
 
But nobody called them unfit for public life. Because they were not dalits. Jaitley can say this about Mayawati, who is a dalit icon. This is the typical mindset of a brahmin-baniya party. BJP has tried to accommodate OBCs (other backward classes) and other deprived castes in its fold. But that seems to be only for the benefit of electoral arithmetic. The savarna mindset remains well and truly intact. Defence minister Nirmala Sitharaman has demanded an apology from Mayawati. In fact, the BJP should apologise to Mayawati ji for this casteist slur. Imagine, what would happen if Mayawati becomes Prime Minister of India!
Get the latest reports & analysis with people's perspective on Protests, movements & deep analytical videos, discussions of the current affairs in your Telegram app. Subscribe to NewsClick's Telegram channel & get Real-Time updates on stories, as they get published on our website.
Subscribe Newsclick On Telegram