"Modi Govt Will Not be Able to Stop Our Movement"— Punjab Farmers on Dilli Chalo
Where red flags were already flying high, now saffron dupattas have flooded in too, as Punjabi women join the struggle to save their lands.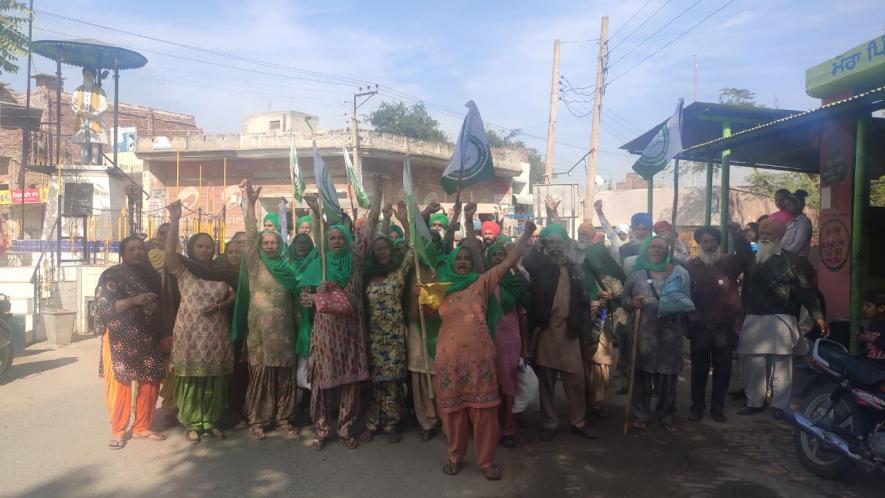 Image of a protest held in Bathinda, Punjab.
On 21 November, around thirty farmer's organisations of Punjab allowed the Indian Railways to run its passenger trains in the state, apart from its goods trains, but preparations for a march to Delhi ("Dilli Cooch") on 26-27 November are on in full swing. Every single section of Punjab is standing with farmers in the ongoing protests against the Centre's new farm policies. People are offering donations, food supplies such as flour and pulses etc. to farmers as they head for their demonstration in the Capital tonight.
Farm leaders say they they have collected enough ration and supplies for six months, because they do not know how long their movement will last in Delhi. They hope that their campaign on Delhi will be successful and the anti-farmer laws will be withdrawn. The Delhi Police and administration have not allowed the farmers' protest. In neighbouring Haryana, Chief Minister Manohar Lal Khattar has announced strict bans on movement between the Punjab-Haryana and Delhi-Haryana borders and other clamp-downs. But the farmers of Punjab are tough! Women, youth and children are taking part in their "Delhi Cooch" and plan to reach the Capital's border.
The message has been spread by peasant women, who have been marching door-to-door through villages under the flag of farmer unions, to build up a large and united front for their march. They are mobilising people, shouting slogans against the farming laws and the Prime Minister Narendra Modi-led government. Farm leaders Charanjit Kaur, Amarjeet Kaur and Malkit Kaur say women are not lagging behind in this struggle at all. They have been on the streets of Punjab, attending and organising sit-ins, for more than one and a half months. Yet the central government did not hear their cries.
The farmers are fighting a battle to save their lands in which women cannot sit silently by. Farm leader Gobind Singh Mangwal from Sangrur district of Punjab said, "A lot of groups of women farmers have come together in our district and they are always sitting outside BJP leaders' homes, before Reliance fuel pumps and in front of toll plazas." Joginder Singh Ugrahan, the head of the Indian Farmers Union (Ugrahan), said his organisation has mobilised women from 351 villages in ten districts and they have jumped into the struggle whole-heartedly.
A flood of saffron scarves (traditionally worn by Sikhs) has taken over the villages of Punjab, where red flags were already raised and swinging high. Wherever you turn, green and saffron turbans are visible from a far distance. There are flags in the hands of the youth, and emblems stitched on their pockets in solidarity with farmers. The youth have joined hand with farmers and together they are daring the central government. Sema, a young man from village Maluka in Bathinda district, cannot speak or hear. He has been struggling since his childhood, but now he is struggling against Delhi's impositions. Some youth from Barnala district have been protesting in front of toll plazas for several weeks. They are now preparing to go to Delhi too.
Women from Mansa district are busy gathering and cleaning up flour. Trolleys are being specially prepared in village Malkalan in Moga district so that the protesters travelling on them to the Capital do not catch a chill. In village Jyund in Bathinda, little children are marching to the beat of drums against the Modi government. Karanvir, a child studying in the fifth standard in Sangrur, says he will go to Delhi with his farmer parents too, where he will walk around carrying a red flag.
In the four districts of Narma Patti, widows of the "farming martyrs" (farmers who died due to indebtedness) are preparing to go to Delhi, clutching on to the photographs of their husbands. Singers Kanwar Garewal and Harf Cheema are singing the songs "Khichha le jatta, khichch taiyyari, Pecha pe giya Center naal" in the villages of Punjab. Balwinder Soni is reciting his poem, "Kaso kamaran khicho lo prakashan, Delhi vall kuch kareye". Lachman Singh Sewwala of the Khet Mazdoor Union says not only are farmers going to Delhi, so are farm labourers, the unemployed youth, non-farm workers, the widows and poor.
Farmers have been decorating the tractor-trolleys at their homes. In each trolley, flour, pulses, winter bedding, water tanks and generators have also been arranged. Farm leaders say if they are stopped en route, they would sit right there, creating a firm front. Announcements are being made from Gurudwara loudspeakers in the villages to join the "Delhi Front" on the evening of the 25th. The youth are collecting ration, fuel and other essential items from their villages. A youngster from district Ludhiana (New) said he, along with his friends, has arranged rations, wood, cylinders, flour, pulses, rice, sugar and medicines as well as medical kits in the trolleys. Many social service organisations have also gotten involved in this work. "Social organisation have also helped us," he said. The young student leader Ajayab Singh says, "We have been telling people about the black laws made by the Modi government by distributing leaflets and holding public meetings for two months."
Jaswinder Singh Sema of the Indian Farmers Union (Ugrahan) says special buses have been arranged to take farmer women to Delhi. A large number of people have made preparations to travel on their personal vehicles and the youth on motorcycles as well. According to Sema, more than one lakh people will leave for Delhi from only five districts—Sangrur, Barnala, Mansa, Patiala and Ludhiana. More than 1,500 vehicles from the district Sangrur alone will go to Delhi. He said the farmers' organisations have started a "langar" or open kitchen at Khanori, a town on the Punjab-Haryana border. There are reports that many Punjabi singers, Punjabi theatre workers and socio-political activists are going to join the demonstration in Delhi. Farmer leaders are making last-minute appeals to farmers that the central government is playing many tricks to ensure their Front fails—so they must ignore the rumours.
Bharatiya Kisan Union (Revolutionary) leader Ashok Bharti, who is from the Majha region of Punjab, said their Delhi Cooch is getting full support from people in this area too. "People are coming forward to provide donations, rations and water in a big way," he said. Balbir Singh Rajewal, the head of the Bharatiya Kisan Union (Rajewal) said, "Our Delhi Chalo movement will create history in the world. The Modi government has now started making such laws by which everything is being sold to corporate houses."
In this way, with full preparation to stay away from their homes for weeks or months, on 26 November, farmers from Punjab, Haryana, Uttar Pradesh, Rajasthan and various other states will march towards Delhi by the million. "In the next stage, state legislators and Members of Parliament representing seats in Punjab will also be asked to march towards Delhi in batches. The Modi government will not be able to stop this mass movement," Rajewal said.
The central government has said it will meet farmers again on 3 December, but the farmers of Punjab and other states have decided they will put up a united front on 26 November.
Shiv Inder Singh is an independent journalist. The views are personal. This is a translation of the Hindi original.
Get the latest reports & analysis with people's perspective on Protests, movements & deep analytical videos, discussions of the current affairs in your Telegram app. Subscribe to NewsClick's Telegram channel & get Real-Time updates on stories, as they get published on our website.
Subscribe Newsclick On Telegram