NEP Sidelines Values of Freedom Struggle, Say Teachers and Activists at AIFRTE Convention
At a meeting to strategise on building a pan-India movement against NEP, experts opined on the grave implications of various aspects of the policy.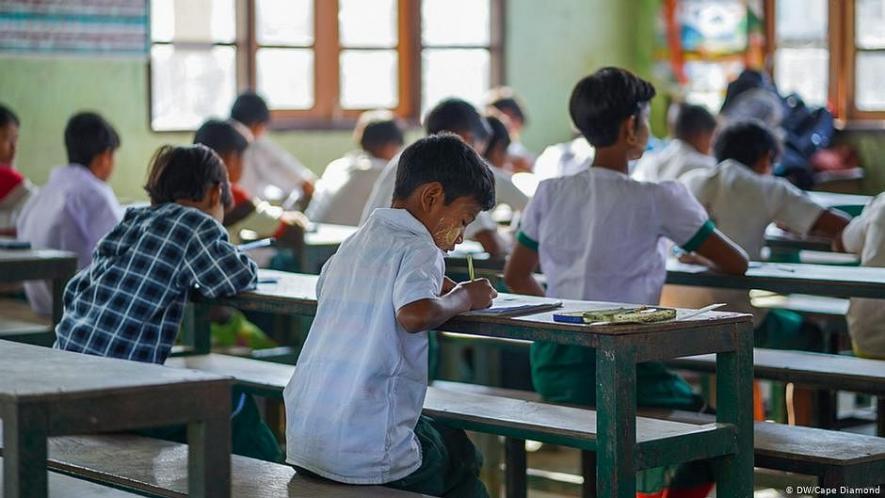 New Delhi: "How do you imagine an education policy which seeks to lay the path for 1.3 billion people and it does not include cherished values of freedom struggle. This can be anything but not an education policy document. Is it a crime to celebrate values of pluralism and anti-untouchability struggle and teach them in schools and universities," the hard-hitting words came from Jagmohan Singh, grandson of legendary freedom fighter Bhagat Singh on Friday, May 25, at the All India Forum for Right to Education Convention at Gandhi Peace Foundation.
Singh was joined by hundreds of activists who assembled in the national capital to deliberate on strategies to build a pan-India movement against the New Education Policy (NEP).
Commenting on the policy document, Singh, who taught computer science at Punjab Agriculture University, Ludhiana, said that the freedom movement created a hope among our forefathers that upcoming generations would get an education which would inspire them to build a society without any bias on caste, class or gender lines. Unfortunately, he believes that the new education policy has foregone all reference points of freedom struggle.
Addressing the assembly, he said, "If we look at the history of the freedom struggle, we find a unanimity among freedom fighters that education should be accessible to the people of India. Be it Bhagat Singh, who wrote his pamphlet on education or Mahatma Gandhi, who asked citizens to take oath post-independence. This document fails to bring the questions into consideration which are rooted in the Independence movement. Are the present rulers ashamed of this glorious past?"
Echoing similar sentiments, Madhu Prasad, former Professor of Philosophy at Delhi University and spokesperson, AIFRTE, said that earlier education policies in India never looked away from the questions of equality and equity.
She said, "There must be some reason that Dadabhai Naoroji and Mahatma Phule recommended free education in the first education commission in 1882 under British rule. They knew its impact on society and emphasised that the state should take responsibility for education. In 1920, we saw a national call from the Indian National Congress, which categorically said that education should not be for empire worship but own intellectual development. This is why we see that Bhagat Singh left British colleges and joined National College established by Lala Lajpat Rai."
"Today's regime finds these words dirty! They are talking about the civilisational state. What are civilisational values? We have our own constitutional values. When we read this education policy document, we find that it is not only turning upside down our history of Independence struggle but the struggle itself," she added.
Vikas Gupta, Associate Professor of History at Delhi University, said that the policy's rationalisation directions make it hard for teachers to design a cohesive course where a student can learn the subject in its totality. Currently, we are running sixteen courses in the department, which comprises eight courses in world history and another eight in Indian history.
"We have new dictates now to get the number of courses to eight, and teachers are perplexed about which to lose and which to retain. Designing and preparing courses which once remained an exhaustive work have been reduced to a joke. We are teaching students during the day and discussing components of a course at night. The courses are not designed this way. Similarly, we are finding it increasingly problematic the way different schemes are given Brahminical names like Vidyadan and Deeksha. I am sorry to say that these names denote, as if, a student is seeking some alms. I am sorry, but we are seeking our rights, not alms," Gupta said.
The convention saw the participation of teachers from state universities who highlighted that the implementation would find it hard passage in a situation when teachers are not getting their salaries for months. Chaturanan Ojha from Gorakhpur University said that the teachers have already started saying that the policy is destined to fail.
He said, "I am teaching in a self-financed college, and I can tell you from my experience that the colleges are being run without teachers. There may be annual exams conducted, but we know that these students cannot contribute to building society. Currently, we are teaching two semesters, and teachers are not being paid. How would they teach students when the new policy recommends multiple internal assignments, tests and external examinations?"
He continued, "If I were to cite an example, let me remind you that the temple from which Yogi Adityanath hails runs about 36 colleges, and none of the teachers teaching postgraduate courses get more than Rs 8,500 per month, and they have to toil like animals from teaching students to checking copies and conducting examinations. Anybody who tried to raise his voice would find him sacked. This is happening under the rule of bulldozer baba. The whole scenario could be understood from the single fact that there are 331 government-aided colleges and 6,000 odd self-financed colleges in Uttar Pradesh alone."
Professor Joga Singh, a veteran linguist from Punjabi University Patiala, said that even though the policy suggests a preference for teaching in Hindi and other regional languages, the practice is distant from recommendation.
He said, "It is our universal experience that the teaching in mother language enables students to learn quickly, and this skill will remain with him throughout his life. However, when looking at the conduct of the BJP, we find that more than 300 Hindi medium schools in Haryana were converted into English medium and the government happily advertised this in all newspapers. There are no proposals to make Hindi a mandatory medium for teaching. English remains the language of the market, and the market always decides the fate of the language. So, we need to understand that the whole idea of centralisation and privatisation can be pushed through English only and BJP knows it well. So, it is just pure chest-thumping rhetoric that Hindi will be promoted through NEP."
The participants also reflected that the question of gender-based discrimination was not treated in its totality, leaving hardly any scope for improvement in girls' education. Shivani Nag, Assistant Professor of Education at Ambedkar University Delhi, said that all social groups who faced oppression had been clubbed together as Social Economically Disadvantaged Groups (SEDG) without understanding the difference in their oppressions.
She said, "Any policy which does not talk about public education or common school education cannot do justice with the gender question. The policy has strongly advocated for a four-year undergraduate programme with multiple entries and exit points. Please explain to me who will be the first group to face pressure to exit the courses. It will be the girls who will be suggested to exit if they face any difficulty. During my studies, I found several girl students who negotiated with their parents to complete their graduation. Here is a government which is saying you need not complete graduation, just exit at certificate level and get married."
Nag added that "Another problem that I see in this policy is digitisation. It considers the challenge of the digital divide. Even if we consider that this divide vanishes, the parents will again ask girls to be at home and need not go to an educational institution with the excuse that if they are getting an education at home, why do they need to venture out. We all know educational institutions are not only for classes. The students see and feel diversity there. They get to know their world better. All seems to have been thrown under the carpet in new education policy."
Get the latest reports & analysis with people's perspective on Protests, movements & deep analytical videos, discussions of the current affairs in your Telegram app. Subscribe to NewsClick's Telegram channel & get Real-Time updates on stories, as they get published on our website.
Subscribe Newsclick On Telegram