As NREGA Workers Protest Against Delayed and Low Wages, Union Government Blames Corruption in States
Activist Nikhil Dey shares his views on low budget allocation, NREGA's financial crisis, and how workers are punished for it.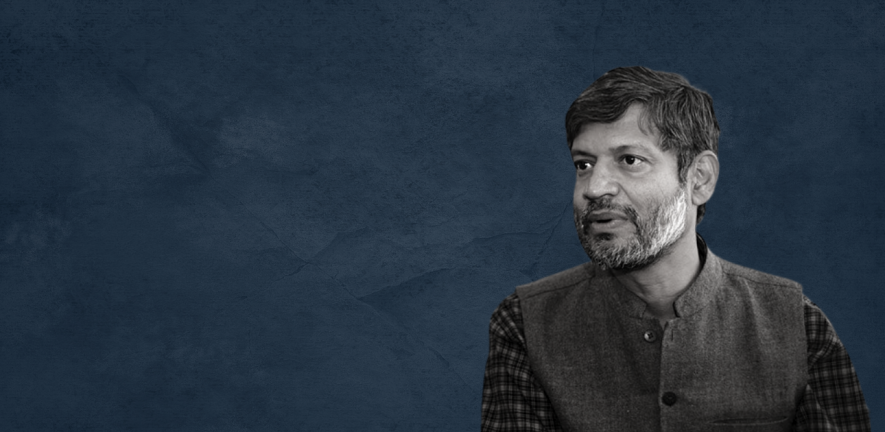 ON August 2, hundreds of Mahatma Gandhi National Rural Employment Guarantee Act (NREGA) workers, brought together by the NREGA Sangharsh Morcha, gathered at Jantar Mantar, New Delhi,  to protest against the failure of implementation of the employment scheme. As per the NREGA of 2005, 100 days of wage employment is guaranteed to every rural household whose adult members volunteer to do unskilled manual work, and are promised wages within 15 days from the date on which the wages become due for payment. NREGA was passed with the goal to provide social protection to the vulnerable in rural areas by guaranteeing employment opportunities and due wages. 
The NREGA protesters have raised the issues of long delays in the payment of wages, inconsistent work opportunities, considerably low wages, and no assistance or compensation for work-related injuries. According to them, the Union Government has failed in its duty to ensure that the promises under the Act are met. The workers have urged the government to ensure timely payment of wages or to provide due compensation for the delay as per the directions of the Supreme Court in Swaraj Abhiyan – (II) versus Union of India & Ors (2016). 
Nikhil Dey, a human rights and social activist, is a Founding Member of workers and farmers solidarity group Mazdoor Kisan Shakti Sangathan, and National Campaign For People's Right to Information, a network of RTI activist  organisations and individuals  Along with actively working to further the causes under NREGA, Dey works towards the advancement of the right to information, the Lokpal bill and the right to food, and with other human rights organisations.
Dey spoke with The Leaflet on the issues surrounding the protests by NREGA workers. 
Edited excerpts from the interview:
Q: Can you throw light on the inconsistency of work opportunities and wage-related issues which have led the NREGA workers to agitate?
A: The first major issue surrounding the NREGA scheme is the low budget. Due to this, the Union Government is looking for excuses to cut the flow of money into states. The one big excuse made is corruption and mismanagement by state governments. 
There are two parts to this – firstly, the issue of corruption should be sorted out as people have repeatedly raised the issue of corruption. 
Secondly, the workers cannot be punished for the prevalence of corruption. For instance, the state of West Bengal is facing its own political battles, and workers have not been given a single rupee to account for wages this year. Workers are not paid for months on end. 
The systemic way to deal with corruption and the allegation of the state government hiding and misusing resources is by setting up independent social audit units run by people. Such social audit units, if enabled, are supposed to be funded directly by the Union Government. The audits are not liable to the state government, and hence no state can suppress or repress a social audit unit based on money. 
However, the Union Government has not paid many social audit units for a period of over a year. The Union Government accuses the state governments of not conducting social audits, and thus does not release funds for the NREGA scheme. At the same time, it does not provide funds for social audit units, and the audits are not conducted. This represents a constant state of a vicious cycle. 
The second issue is that even if work is given under NREGA, there is a delay in the payment of wages since fewer amounts of money are left to be spent by the governments. The MGNREGA (Paragraph 29, Schedule II of the Act) provides for payment of compensation for delays in payment of wages, and the workers are not given that either. Thus, neither unemployment allowance is paid to those who are not getting work (as per Section 7 of NREGA) nor compensation is given to workers with delayed wages. A mockery of law, that is, the NREGA law and the Constitution are being made with no accountability enforced. 
There is a lack of transparency in calculating wage rates, and a failure to keep track of the rising inflation rates. The salaries of the government officials are linked with the Consumer Price Index, wherein they get paid twice a year, and much more compared to the NREGA workers. 
Q: You've referred, in an article published in the Times of India on August 3, to the annual financial crisis with respect to NREGA. Can you elaborate?
A: The biggest problem is the lack of resources that have been put in. This year's budget allocated for NREGA is 73,000 crore rupees. Whereas, two years ago it was around 110,000 crore rupees and there was still a pending liability of around 1000 crore rupees. With the allocation of 73,000 crore rupees and two-thirds of the budget already being used in just one-third of the year, just one-third of the budget is left. 
Thus, last year's expenditure is more than one lakh crore rupees and the allocation for this year is only 73,000 crore rupees. Moreover, only small labour budgets of the states have been approved. 
Q: The NREGA provides that "the actual employment must be driven by the demand for work". Can you share your opinion on how has this translated in reality in light of the high unmet demand for employment?
A: The core issue of the NREGA programme is that it is based on being a demand-driven scheme. To meet demand, there must be adequate resources available. The atmosphere is made difficult for the workers with late payments and not getting work easily. Despite this, people are coming in for employment. Demand for employment has not gone down even after the pandemic. Even now, when there is less money and delayed payment, people are asking for employment with high levels of distress. It is completely clear that there is a huge demand, and there is a need for employment. 
NREGA is the only employment programme, and a crucial one, that gives a guarantee of employment. This year – with 15 crore active workers and more than 10 crore households – the number of people and families this programme touches is phenomenal, and yet the budget is very low. 
Q: With protestors losing spirit in the scheme, what constitutional guarantees stand failed?
A: With the NREGA's guarantees failing, the right to life is affected, since if work and wages are not available, Article 21 of the Constitution is abrogated. In the case of Swaraj Abhiyan – (II) versus Union of India & Ors. (2016), the Supreme Court itself has said that delay in payment and non-payment of minimum wages is an abrogation of Article 23 of the Constitution, wherein NREGA workers are made to work, given late wages; workers have no choice but to work due to the severe constraints of economic circumstances – amounting to forced labour. 
Further, while the salaries of government officials are paid on time, the workers are not given their wages. Hence, there is a clear lack of equality, and Article 14 of the Constitution is violated. 
Q: What immediate steps need to be taken to ensure that the promises under the NREGA and the grievances of the workers are met, particularly in the context of the pandemic and  monetary inflation?
A: Firstly, measures need to be taken to improve the Management Information Systems, particularly to improve their transparency. The government has broadened the law where it wants photos of workers taken every day, as a condition to give attendance. The workers face connectivity issues in their phone devices and the servers are constantly down, and yet the photos are mandated. All these steps are taken to throttle the system. 
Secondly, instead of taking action against the people, that is by denying workers their rightful and timely payment of wages, action needs to be taken against the practice of corruption. 
(With inputs from Sonali Ahuja, a law student at Vivekananda Institute of Professional Studies, GGSIPU, and an intern at The Leaflet.)
A Timeline of recent protests across India:
August 17, 2021: Four-day protest by NREGA workers in Lucknow, Uttar Pradesh, to demand an increase in wages.
November 6, 2021: NREGA workers in Tamil Nadu protest against delayed payment of wages.
September 29, 2021: NREGA workers in Sambalpur, Odisha protest against the non-payment of wages, due for months. 
November 15, 2021: Hundreds of rural labourers from across the Kalaburagi district in Karnataka protest against the denial of rightful work under NREGA by Panchayat Development Officers.
February 28, 2022: NREGA workers in Bathinda, Punjab, stage a protest to demand an increase in wages, a quality check of wheat crops, and restoration of electricity metres. 
May 1, 2022: A body of village heads in Varanasi, Uttar Pradesh threaten to boycott the NREGA against non-payment of labour wages and material suppliers.
May 4, 2022 to July 9, 2022: Protests in Rajasthan with the demand for regulation of NREGA workers.
May 30, 2022: NREGA Engineers Association hold protests to demand an increase in salary, and a policy for their regularisation.
July 25, 2022: Protests by members of the Mahatma Gandhi National Rural Employment Guarantee Scheme Implementing Agency Association in Manipur and Nagaland to demand the release of remuneration for NREGA workers.
August 7, 2022, and August 8, 2022: All India Trinamool Congress (TMC), a political party, is set to conduct a two-day protest against the Union Government for withholding funds meant for NREGA workers in West Bengal.
(Contributed by Sonali Ahuja)
Get the latest reports & analysis with people's perspective on Protests, movements & deep analytical videos, discussions of the current affairs in your Telegram app. Subscribe to NewsClick's Telegram channel & get Real-Time updates on stories, as they get published on our website.
Subscribe Newsclick On Telegram