Nitish Kumar Knew War of Words Cannot Last, Split with BJP was Inevitable
Lalu never compromised with the BJP, but Nitish Kumar was uncomfortable with the communal pitch of BJP too, says author of book on Lalu Prasad Yadav and Bihar's subaltern politics.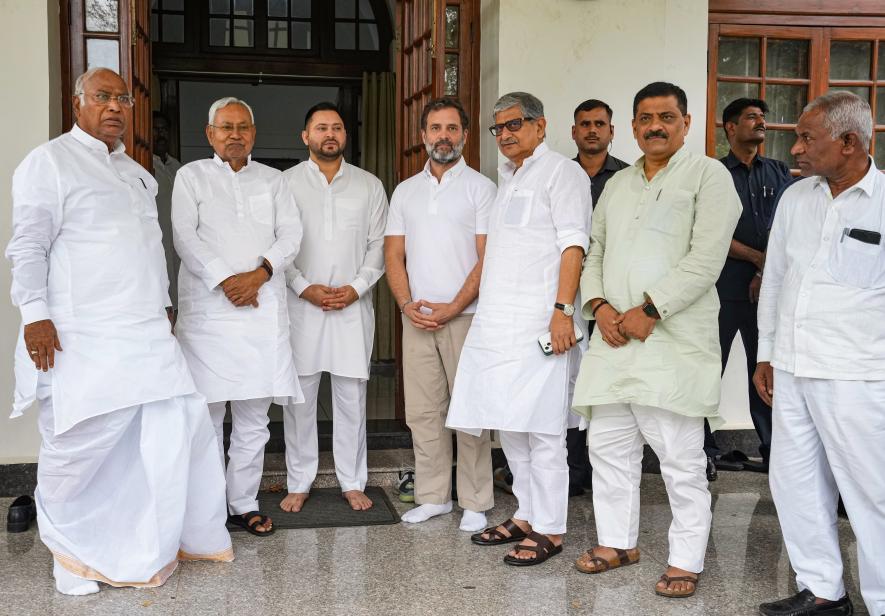 On Tuesday, Bihar Chief Minister Nitish Kumar switched his political affiliation for the second time since the 2015 Assembly election in the state. His Janata Dal (United) is back with former chief minister Lalu Prasad Yadav's party Rashtriya Janata Dal (RJD) and other opposition parties. The development has stunned the Bharatiya Janata Party (BJP) and is regarded as a shot in the arm for the opposition. NewsClick spoke to journalist, author and teacher Nalin Verma, who wrote the well-regarded book, Gopalganj to Raisina Road, about the political trajectory of Nitish Kumar and Lalu Yadav and what to expect in the coming days. Excerpts from a telephonic conversation.
On Wednesday, Nitish Kumar is set to return as chief minister of Bihar for a eighth term, this time with the Rashtriya Janata Dal (RJD) and other parties in opposition since 2017. Will he and Lalu Yadav have to set aside many differences?
Lalu Prasad Yadav and Nitish Kumar go back to when they were in their twenties. When we are in our twenties, going to sleep hungry, struggling together, going to jail, fighting and looking after each other, even when we become towering figures, that connection remains. Lalu and Nitish have personal chemistry that even people close to them would not comprehend, not even Lalu's sons. Lalu first became a Member of Parliament in 1977, when Prime Minister Narendra Modi and many others were not even on the political horizon. Their entire lives, their roots, lie in struggles against feudal forces, and these roots go very deep. Nitish may make politically convenient arrangements, but both are products of the same struggles. I met Lalu when I worked on my book and never found him bitter towards Nitish. He would receive calls from Nitish, never needing a go-between. They speak directly to each other.
But it is Lalu who never compromised with the Hindutva forces or the BJP.
Yes, that is absolutely true. Lalu never compromised with the BJP, LK Advani's BJP, Vajpayee's, or Modi's. He has had an uncompromising and unflinching attitude towards the politics of the BJP. The way he attacked Advani in the nineties, in the same way, he takes on Modi today. Usually, people say in fear, 'jail bhej dengey—they will send me to jail', but Lalu has been to jail already. Despite this, he has not changed his position. Do you recall the zehmat—favours—piled on the jailed perpetrators of the Gujarat riots? Some got bail for things like following their spiritual practice, but Lalu never got bail until after he had served half his sentence. At that point, the law says people must get bail anyway.
Alright, and what are the dynamics of this new transition?
The dynamic here is that Nitish is still viewed as a mass leader in Bihar and the alter ego of Prime Minister Narendra Modi, Union Home Minister Amit Shah, it is believed, was wooing JDU leaders over to his side. The JDU has 16 Members of Parliament, and many were thought to be edging closer to the BJP. Of course, all this had been happening over time, and Nitish had been putting on a brave front. But there comes a time when we cannot just keep engaging in a war of words. We have to take a position.
Do you mean what the JDU is saying about possessing 'evidence' of something akin to horse-trading has truth in it?
After what has happened in Maharashtra, is there any doubt about the intentions of the BJP? After how they toppled the government of [former] chief minister Uddhav Thackeray and now have taken up the case of [Eknath] Shinde? I mean, this is verifiable evidence that the governments run by opposition parties are not safe. It isn't rocket science! In Madhya Pradesh, Kamal Nath of the Congress party was the chief minister, but the BJP took away [Congress leader] Jyotiraditya Scindia and formed a government there. In Goa and the northeast, we saw very similar events.
RCP Singh was a trusted and senior JDU leader who suddenly started badmouthing Nitish and his government. Would not the question arise, where does he get his strength? Certainly, it did not come from the residents of village Mustafapur [Singh's birthplace]! RCP Singh is a talented man but no mass leader. He owes his political identity to Nitish. No, he is not acting on some dream but a genuine threat. Not every state is led by a Thackeray or a Kamal Nath!
What about Tejashwi Yadav? The last time Nitish Kumar switched sides, they had traded allegations.
Tejashwi has matured very well. In 2017, when the opposition mahagathbandhan (grand alliance) broke up, he did not antagonise Nitish. Of course, we learned later that Nitish had grown closer to his friend in the BJP, Arun Jaitley, then an influential minister, who became the architect of Nitish's shift to the BJP despite his sharp differences with Modi and Shah. Now Nitish has said 2017 was a mistake.
But what is in this for the people of Bihar? Would not the constant shifting of alliances by Nitish Kumar create mistrust?
Nitish Kumar has a strong sense of what he can and cannot do in politics. The BJP kept putting pressure of a certain kind on JDU. For example, the Bihar leadership of the party has been clamouring for Chief Minister Yogi Adityanath's 'Uttar Pradesh model' of governance. Then BJP leader and deputy chief minister of Bihar during the just-ended tenure, Tarkishore Prasad, announced The Kashmir Files would be tax-free in Bihar. How would Nitish have felt? It is not a conjecture that he felt hoodwinked by events like these, many statements, and by some of his people. The ideas you have been raised on from childhood will not allow you to accept ideas about Muslims of the kind the BJP espouses. Of course, we can expect BJP to keep piling on this kind of pressure in the coming days.
Considering Nitish Kumar's previous switches in alliance partners, does it not show that Lalu has more readily accepted political adjustments with like-minded parties?
Even in the 1990s, if you remove the politician in Lalu, he and Nitish were very close. They knew each other before Rabri Devi entered the picture and before the children arrived.
OK, but do you think Nitish Kumar will gain stature from the latest development?
Yes, Nitish has gained stature. But when he visited Lalu in hospital in early July, it indicated a lasting understanding and trust others could not easily fathom. Just because Nitish and Lalu were separate does not mean Nitish will become so close to Amit Shah that Lalu will get deleted from his life. At heart, Nitish is anti-RSS.
So you think their alliance is natural?
Yes, no matter how long it lasts! It is a natural alliance. If, in 2009, Lalu Yadav did not allow Modi to campaign in Bihar, even Nitish did not allow the BJP to spread its ideas in the state.
Can you try predicting what may happen if it lasts?
Nitish is an articulate veteran leader, and the opposition does have a vacant position. I have every reason to believe that in 2024, he will go to Lok Sabha. But I am even more definite that Lalu Prasad Yadav and Nitish Kumar will defeat the BJP in Bihar. No matter how much hot air the BJP whips up, it will not be able to cross ten seats in Bihar. Nitish is not a Hawa-Hawai leader; he has 16% of the votes. This alliance has the RJD and left parties, and with over half the votes in Bihar, it is unbeatable.
So opposition parties can be happy with this development?
Yes, the opposition can be happy. All the BJP has is upper caste voters and urban traders' votes. They can make what they will with these.
Will the imprisonment of Lalu Prasad Yadav come in the way of this alliance?
Lalu was the first leader in the history of Indian politics who had to quit and go to jail. By 2000, every allegation that could be raised against a leader had reached a crescendo against him. The court called his time "jungle raj", and Rabri Devi was attacked personally. Still, in 2004, when Atal Bihari Vajpayee was the prime minister—and he had a strong national image—RJD won some 31% votes in Bihar and reduced the BJP to five seats. Lalu had been heaped with corruption charges, and a charge-sheet had been filed, yet his party was instrumental in Vajpayee's 2004 defeat. Even in the 2009 Lok Sabha election, Lalu won handsomely in Bihar—with all the charges still against him. In 2013, he was still a Member of Parliament from Bihar. The law disqualified Lalu from participating in electoral politics, not the people of Bihar.
Are people likely to be satisfied with this shift?
In 2015, Biharis were happy when Nitish and Lalu won. The backward classes get especially delighted when their parties win. They pray in the temples in their homes for their success. When Nitish was with the BJP, upper caste feudal forces felt strengthened. That situation will reverse. Biharis understand what was done to Lalu and RJD as attempts to finish the party. But they have not let this happen.
Get the latest reports & analysis with people's perspective on Protests, movements & deep analytical videos, discussions of the current affairs in your Telegram app. Subscribe to NewsClick's Telegram channel & get Real-Time updates on stories, as they get published on our website.
Subscribe Newsclick On Telegram