Elections 2019: Are We Merely a Vote Bank? Farmers of North Karnataka Ask
All the eight farmers that NewsClick spoke to said that demonetisation was an ultimate stroke by the "anti-farmer" government.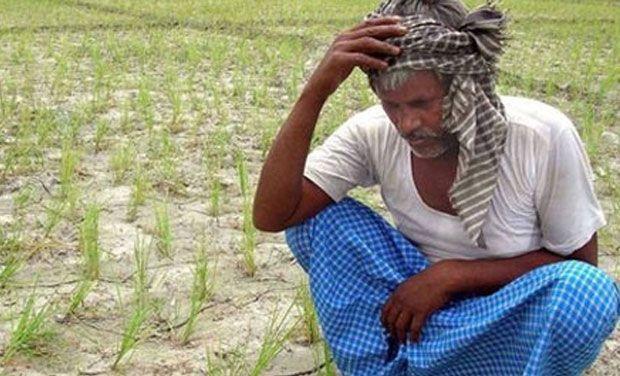 Picture courtesy: Deccan Chronicle
Travelling by road from Davangere to Raichur in the Northern part of the Karnataka, one gets to witness the grave situation of drought and poverty the region is battling. Some men and mostly women and children can be seen carrying plastic water pots and queuing in front of water pumps or water tankers.
As NewsClick has reported earlier, Karnataka is in deep agrarian crisis due to the drought. Pointing to the dry landscapes, Ramappa from Raichur said, "This is how this place has been for many years now. No government has been able to do anything for the drought-hit farmers."
Many news reports claim that this part of the state has been facing severe drought for the past 14 years. To understand the ground reality, NewsClick met with Rudramani, a farmers' rights activist from Karnataka Rajya Raitha Sangha (KRRS).
"The farmers are compelled to buy everything from the markets. Agriculture is no longer agriculture; it is agribusiness. In this agribusiness, farmers have no place. A lot of money is invested by the farmers, but the least the government can do is to provide decent market prices. They are not interested in doing that either," said Rudramani.
He also said that the prices of equipment, manure, and seeds, etc are constantly rising, which means that the expenditure on agriculture by farmers is shooting up disproportionately.
Another issue, according to Rudramani, is that the prices of the produce rise after it reaches the market, and not before.
Also Read: Drought in Karnataka: A Human-made Disaster
"Such a situation, along with this drought, forces the farmers to either commit suicide or end up migrating to cities to work on daily wages, or in the garment sector in the cities," said Rudramani.
Even though the political parties' manifestos talk about all these issues, why has the government not taken any action, he questioned. Citing the example of Pradhan Mantri Fasal Bhima Yojana (PMFBY), he alleged, "Farmers are the source for the corporates, private insurance companies to grow rich."
Farmers, a Mere Vote Bank?
Just like the 2014 elections, the Bharatiya Janata Party (BJP) has yet again made tall promises to the farmers in its current manifesto. As NewsClick analysis observed, "This is one issue on which the manifesto writes prolifically but all based on either falsehoods or wild promises. It makes the usual claim that minimum crop prices have now been raised to 1.5 times the production cost, something that the BJP promised in 2014. This has been shown to be a brazen falsehood. What they have done is to fiddle with the calculation by using a lower production cost (leaving out rent and interest costs). As a result, even today farmers are deeply discontented."
"If they were serious about the MSP, why did they not implement the Swaminathan Commission report?" questioned Rudramani.  
Also Read: Centre Reduces Funds for NRDWP in Drought-hit Karnataka, Has No Money for MGNREGS
NewsClick's analysis of BJP manifesto further said, "BJP has thrown in a whole lot of wild promises like infusion of Rs. 25 lakh crore in the sector, giving pensions to all 12.5 crore small and marginal farmers, extending the PM KISAN scheme to all farmers and interest-free loans for five years. Why they did not do these things in the five years gone by is something that farmers are bound to ask?"
Shiv Murthy, who has six acres of land, says everybody who lives here is dependent on agriculture, and there is an acute shortage of water, while the irrigation system is just not in place. Murthy has grown paddy in one of the six acres, has left two acres of land untouched. He grows green vegetables in the remaining three acres of his land. "What I earn from all of this, is not at all sufficient. Like others from my village, I too have to go hunt for daily jobs," he said.
Hanumantappa, a landless agricultural labourer from Kadlur in Raichur, on the other hand, explained how he has got no job because of the persistent drought in the region. He does not possess a ration card and thus, is not eligible for any perks whatsoever. He said, "Both Congress and BJP here have done the same thing to people like us: they have ignored us."
All the eight farmers that NewsClick spoke to said that demonetisation was an ultimate stroke by the "anti-farmer" government. Manjunath, from Nagnoor, cursed Modi for demonetisation which made him incur huge loses in the market. He, like others, also noted that since demonetisation, prices have gone up and agriculture has become too expensive.
Also Read: Elections 2019: In Karnataka's Drought-hit Bagalkot, Modi Prefers Talking About Balakot Instead
Get the latest reports & analysis with people's perspective on Protests, movements & deep analytical videos, discussions of the current affairs in your Telegram app. Subscribe to NewsClick's Telegram channel & get Real-Time updates on stories, as they get published on our website.
Subscribe Newsclick On Telegram