Olympian Gesa Krause Runs 5K Race While Five Months Pregnant
Germany's Gesa Krause, three-time Olympian and steeplechase champion, is taking on a new challenge — having a baby while maintaining her running career.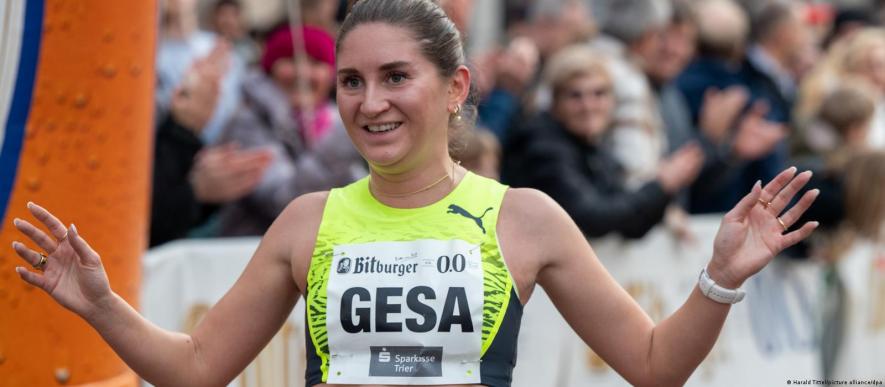 For three-time Olympian Gesa Krause, Saturday's "Silvesterlauf" in Trier, a five-kilometer (3.1-mile) race held annually on New Year's Eve in Germany's oldest city, was beyond special.
The event, being held for the first time in two years due to the coronavirus pandemic, has always been a home race for Krause, who remains a member of the local running club and, to the onlooking crowd, a local hero.
But this year's race was particuarly noteworthy for the 30-year-old, an accomplished distance runner and steeplechaser: for the first time, she was running the race pregnant, the last event she intends to run before putting her career on pause.
She finished 20th with a time of 17:31, an impressive time for most runners, let alone someone who is five months pregnant. But the result wasn't the main takeaway, as spectators cheered her on along every one of the 5,000 meters and sought to take pictures with her after finishing.
"I never expected that I could run so fast in the 22nd week [of pregnancy]," Krause tells DW. "That makes me proud and happy and shows what I have in me, also for the time to come. There is simply joy for this special journey that I am now going on."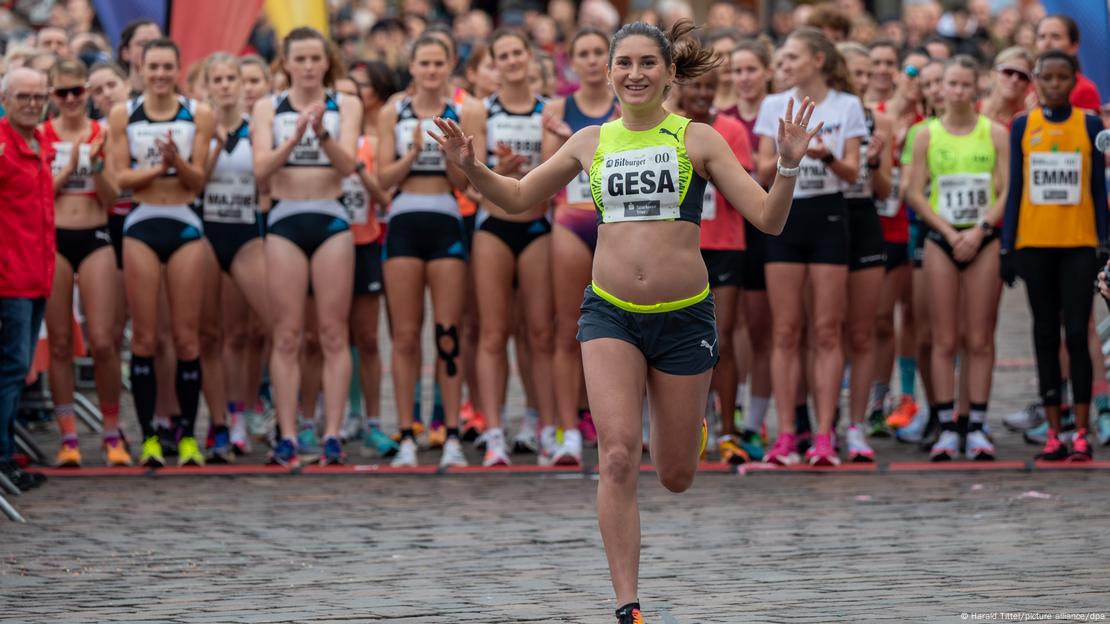 Gesa Krause receives an applause after finishing the Silvesterlauf in TrierImage: Harald Tittel/picture alliance/dpa
Joy and fear
It was always Krause's dream to have a baby during her running career.
Others have shown her it is possible, the best example being Kathrin Dörre-Heinig, a German marathoner and the wife of Krause's running coach, Wolfgang Heinig, whose best times came after giving birth. Krause has also trained with Dörre-Heinig's daughter, Katharina Steinruck, for years.
"That has always given me the confidence that both is possible," she says. "There are many who have done it and it has always appealed to me."
Nonetheless, Krause is not shy to admit that she was overwhelmed when she found out she was pregnant, and that her joy was accompanied by an element of fear.
"When it's real and I realized for the first time what it means for me as a person and my career, it wasn't easy — although, of course, the joy was still there," she explains.
"Basically, how do I go forward with sponsors? How do I continue with my everyday life? Can I still practice the sport?"
The positive response she received from her family, her sponsors and people in her sporting circle has helped to dissipate some of the fear and uncertainty she initially felt. She also admits that, although she is someone who likes to have structure in her life, that she believes there is always a way.
"It may have taken a bit until I felt some security, but I am now really positive that, even if something comes up which doesn't work out as I imagined it, there is always another option."
Krause has also found social media to be useful, whether sharing her own experiences or looking at that of others. But she has found that many focus only on the positive things, so while she hopes her story can inspire others to go down a similar path, it's important for her to show how difficult the journey can be.
"In general, it's very important to me to be transparent, to be honest, to also tell people, 'Hey, this was my journey. It's not always just cool and good, there are also more difficult phases,'" she explains. "I want to do it in a humane and approachable way, and others also help me if I see their authenticity."
But her main hope in sharing her story is to give other runners like her the confidence to go a similar path.
"I am pregnant, not sick," she says. "I have a passion for running, and I believe that there is a way to combine [both running and pregancy] together."
ADVERTISEMENT
Physical and mental adjustment
Adjusting to her pregancy has not been easy for Krause. As a professional athlete, part of her job is to be in tune with her body, but she admits to facing many things that she didn't expect.
"For between four to six weeks I was constantly nauseous — just sick from morning to night. I didn't know what to eat. I just didn't feel well. I had no strength, no energy," she recalls. "As someone who used to do140 kilometers per week, sometimes having days where you can't get up was new to me."
She felt much better in week 12 of her pregnancy and has since ramped back up to between 60 to 70 kilometers per week after changing her diet and her sleeping pattern. She has also sought to diversify her exercise, whether it be cross-country skiing, swimming or using an elliptical machine.
Running longer stretches has become more difficult, she says, especially on her pelvis and her joints, as she feels the weight of her growing belly. She also can't help but notice her tempo runs getting progressively slower when she's used to getting faster.
"The reason for it is very wonderful, and for that reason I am not at all frustrated," she says. "You just have to accept that's the way it is."
Still, the mental adjustment for Krause was just as challenging. Normally her hardest training comes takes place from November to April, but now she has had to come to accept that she has to take days off. But with that comes a new perspective and a new approach to her life — one that she hopes to carry out of her pregnancy.
"It used to be unimaginable to take a day off," she says. "It has given me a new perspective, to listen more to myself and to my body."
Being pregnant means a lot more time at home, something foreign to an athlete who spends much of the year traveling to train and compete. Having participated in her first World Championships at 19 and her first Olympics, the London 2012 Games, at 20, free time has been hard to come by.
"I was always on the go," she said. "For the first time in a long time, I'm home. My home life is boring, but that's a good thing right now."
When it comes to her training, she is keeping her plans open. She intends to continue her current training program until March, after which her goal will be simply to maintain her fitness until her baby is due in May.
"My goal is simply to remain as fit as possible through this pregancy, to maintain my stamina as long as I can," she tells DW. "That will make the way back easier."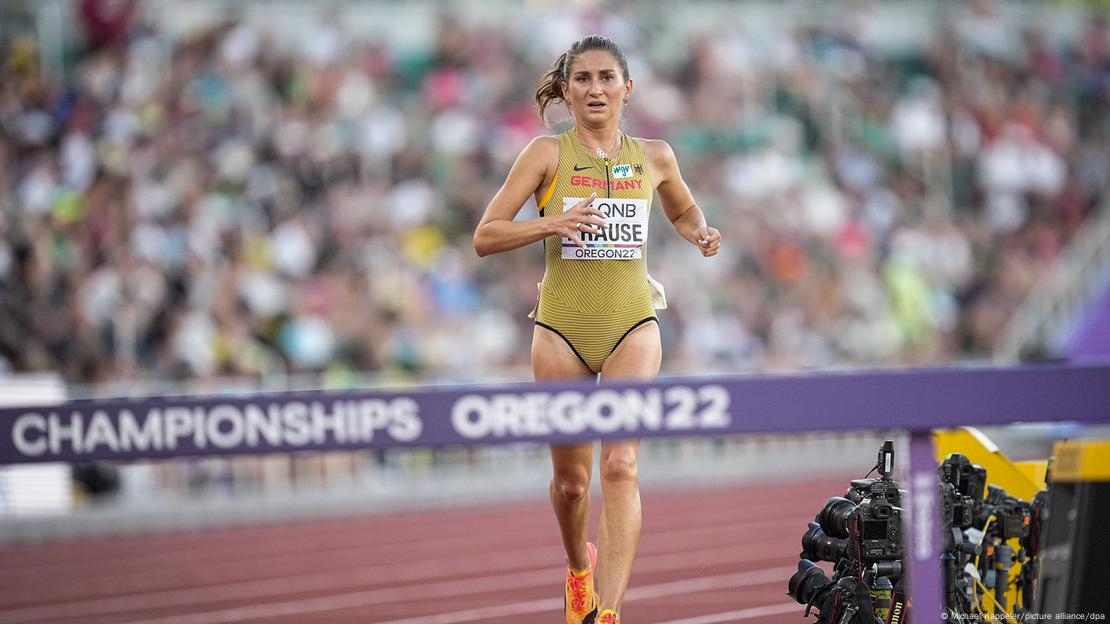 Gesa Krause at the 2022 World Athletics Championships in Eugene, OregonImage: Michael Kappeler/picture alliance/dpa
A new kind of Olympic dream
Krause insists the timing of her pregnancy wasn't something she mapped out, but she concedes that the circumstances have worked out marvelously.
She still has plenty of time to book her ticket for the Paris 2024 Olympic Games, with qualification not set to start until 2024. If she does manage to qualify, she'll be the first female steeplechaser to qualify for four Olympics.
"That is, of course, a lifelong dream and a desire," she says, looking ahead to Paris. "I've competed in Olympics but still haven't had an Olympic moment. That is something I still hope to feel. I'll also just be proud if I qualify after my pregnancy."
She knows that the goal is lofty, that the competition she faces is much tougher than what she dealt with qualifying for her first Olympics in 2012. But her aspiration is not something that gives her fear or apprehension, rather puts a smile on her face.
"The thought of knowing that maybe my baby can be in the stadium with me, that, being over a year old, it will somewhat understand what is going on, that I'm not only running for myself but also for my family, it's something that drives me and makes me happy."
Edited by: Matt Ford
Get the latest reports & analysis with people's perspective on Protests, movements & deep analytical videos, discussions of the current affairs in your Telegram app. Subscribe to NewsClick's Telegram channel & get Real-Time updates on stories, as they get published on our website.
Subscribe Newsclick On Telegram