PM Cares Private, But Owned and Established by Govt: Says Centre
Since its donors are private individuals or organisations, it would not fall under the purview of the Right to Information Act, 2005, according to a reply by the Commissioner of Income Tax (Exemptions).
How can something "owned by, controlled by and established by the Government of India" be private? Commodore Lokesh Batra received a letter from the office of the Commissioner of Income Tax (Exemptions) on December 24, 2020, stating that the PM Cares Fund is "owned by, controlled by and established by the Government of India". Yet, since its donors are private individuals or organisations, it would not fall under the purview of the Right to Information Act, 2005.
The office of the Commissioner of Income Tax (Exemptions) in a response to Commodore Batra on October 19, 2020, refused information sought under the RTI with this explanation: "In this connection, this is to inform that the information sought is personal information in nature which is not related to any public activity or interest and which would cause unwarranted invasion of the privacy of the individual. Hence, information sought is hereby rejected by virtue of 8(i)(j) of the RTI Act, 2005."
The trust deed of the PM Cares Fund was registered on March 27, 2020. The express purpose of it was to gather resources to deal with the COVID-19 pandemic, and "any kind of emergency or distress situation". Just 52 days after it was launched, it had gathered over Rs 9,600 crore in donations, according to an analysis by news website IndiaSpend.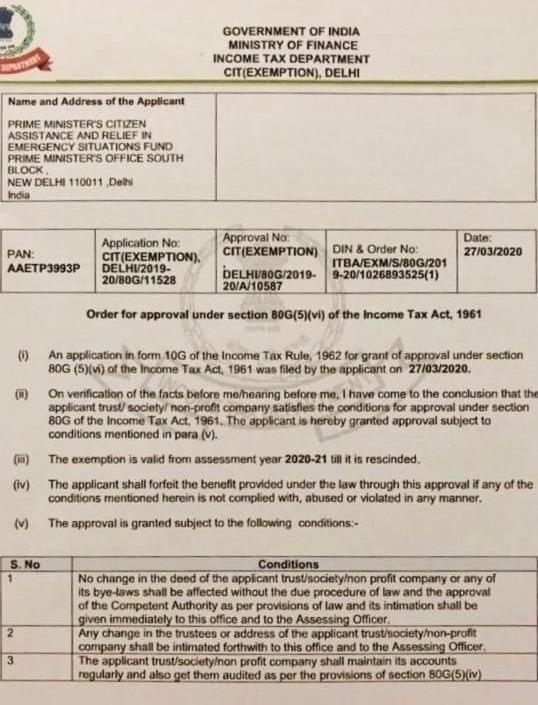 As huge sums flowed into PM Cares, there was evidence of corruption – ventilator suppliers who got money from the fund seemed connected to the Bharatiya Janata Party. COVID-19 patients admitted to hospital in Gujarat died in a fire, suspected to have caused by ventilators going up in flames.
Information about donations to the fund can only be gleaned by collating media reports and announcements from donors. The government does not provide statements of funds gathered. PM Cares is not audited by the Comptroller and Auditor General as it does not take money from the Consolidated Fund of India.
Also see: Why is PM CARES Fund Not Transparent?
In a clarification issued on March 28, 2020, a day after the trust was registered, GK Singh, joint secretary in the Ministry of Corporate Affairs, explained that contributions to the fund would qualify as Corporate Social Responsibility expenditure under the Companies Act, 2013.
In August 2020, Commodore Lokesh Batra, keen that the government remains answerable to the people of India, submitted petitions under the RTI Act seeking documents to show how income tax exemptions were granted to donors to PM Cares.
He sought to know the date on which the application was filed for the Permanent Account Number (PAN) allotted to this fund, and the date on which PAN AAETP3993P was allotted to PM Cares. This PAN is visible on the website of PM Cares. The fact that the trust deed was registered on March 27, 2020, and that PAN number and other details were provided so swiftly, in the span of just one day, made it imperative to understand procedures followed. In the normal course, it takes at least two days to get a PAN card.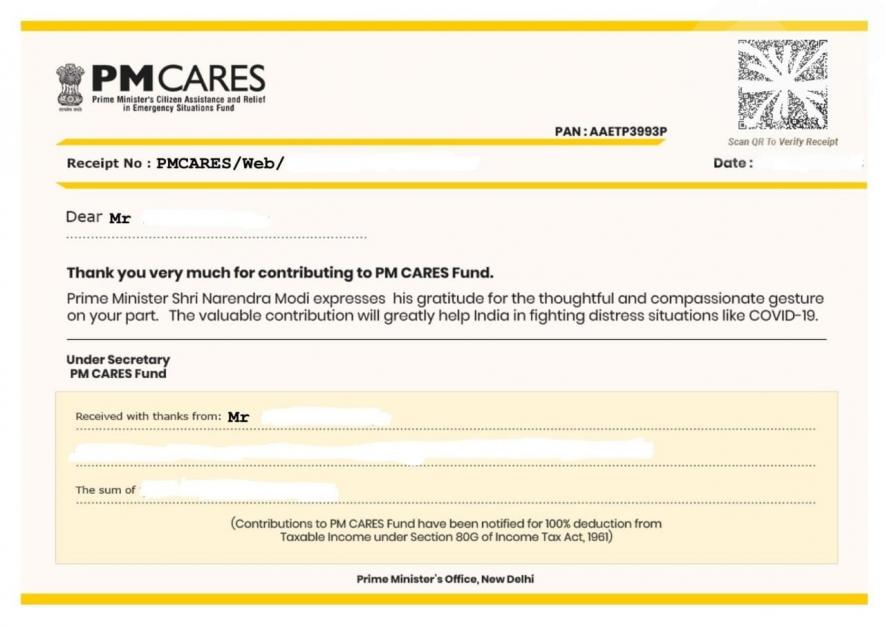 The response noted that the PM Cares Fund is "financed by donations received from individuals/organisations".
In November 2020, Commodore Batra wrote again, explaining that public sector units fell under the purview of RTI, and they have been providing information related to their corporate social responsibility expenditure; even private companies are required to declare CSR details to the Ministry of Corporate Affairs.
Besides, the "private trustees" of PM Cares are actually the Prime Minister of India, the Home Minister and Finance Minister.
Also read: COVID-19:SC Issues Notice to Centre on PIL to Transfer Funds from PM-CARES to NDRF
Section 8(j) of the RTI Act cited in the letter from the government pertained to personal information, not to a "public charitable trust". Commodore Batra noted that this trust operates out of the Prime Minister's Office. It had also been registered on a website under "gov.in". The administration of the fund is by government employees, at government expense. The receipt that one gets on making a donation also has a line that says "Prime Minister Narendra Modi expresses his gratitude for the thoughtful and compassionate gesture on your part."  
It is noteworthy that on March 29, 2020, Defence Minister Rajnath Singh announced that all defence employees would contribute a day's salary to the fund – this was supposed to be voluntary, and those not wishing to contribute would be exempted. This was a strange kind of "voluntary", where those not willing would have to exercise their will and opt out.
Many other government bodies – the power finance corporation, fertiliser PSUs, even employees of the Pension Fund Regulatory and Development Authority – contributed to this fund. Press Information Bureau put out a release on April 3, 2020, listing contributions from employees of government organisations, which in all was worth over Rs 900 crore.
(The author is an independent journalist.)
Get the latest reports & analysis with people's perspective on Protests, movements & deep analytical videos, discussions of the current affairs in your Telegram app. Subscribe to NewsClick's Telegram channel & get Real-Time updates on stories, as they get published on our website.
Subscribe Newsclick On Telegram