Panel Suggests 'Drastic' Changes in Kerala Higher Education System
State-appointed panel has recommended a rise of public spending on higher education from 28.6% to 40% by 2036-37 to achieve 75% GERHE.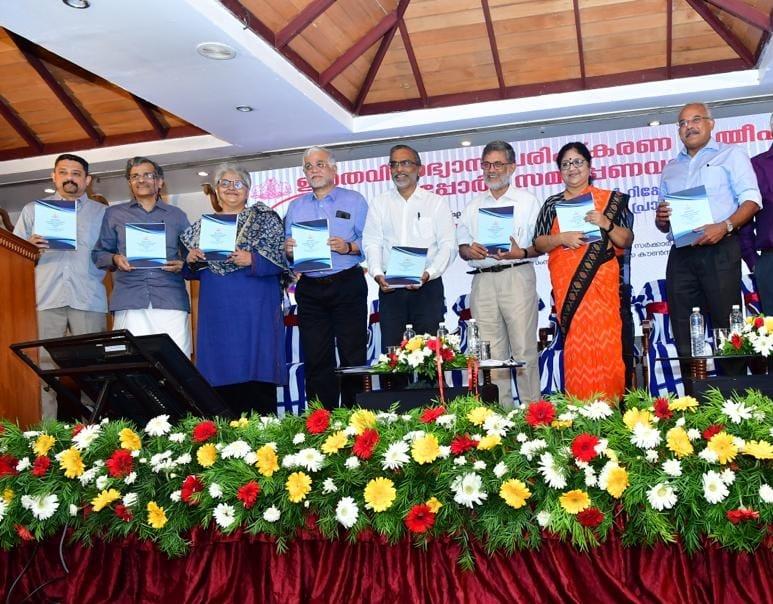 A seven-member commission appointed by the Kerala government to suggest general reforms in higher education has recommended a "drastic restructuring" of the sector to achieve the Pinarayi Vijayan government's target of increasing the gross enrolment rate in higher education (GERHE) from the current 38.8% to 75%. 
The report, titled 'Commission for Reforms in Higher Education, 2022', recommends a comprehensive set of policy initiatives to structurally transform the higher education sector. 
The commission—one of the three panels formed by the state government to suggest measures to improve higher education—made recommendations essentially premised on a goal to promote a higher education ecosystem that guarantees quality and excellence while remaining faithful to the ideas of institutional autonomy, academic freedom, inclusion, social justice, and accountability.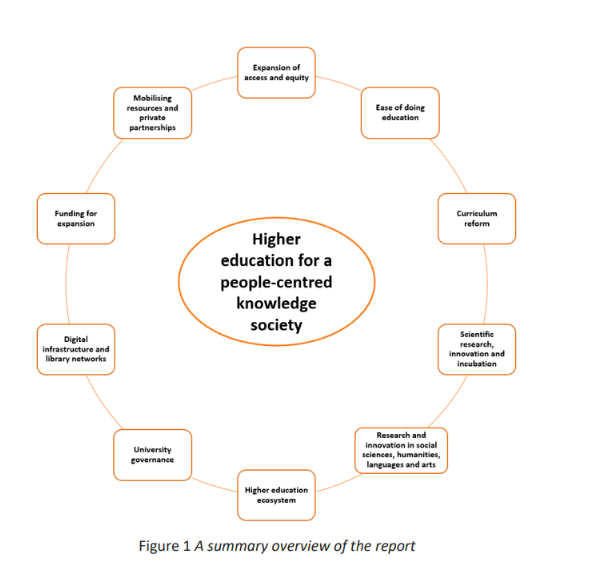 The GERHE, an important summary indicator of the extent of access to higher education, is estimated as a ratio of the number of enrolled students in the 18-23 age group to the population in the 18-23 age group. GERHE is an indicator of socioeconomic development in a society. A higher GERHE is not only associated in history with higher levels of economic growth and lower levels of poverty but also with the advancement in the quality and health of the workforce, the report states.
Societies with higher GERHE have improved skill acquisition in the workforce. As economies develop and as they become increasingly reliant on new technologies and innovation, according to the report, a workforce equipped to meet these new challenges becomes imperative. Over a lifetime, those with a tertiary education degree earn about twice as high a remuneration compared to those with high school education. 
Kerala's GERHE in 2019-20—the latest year for which data are available—at 38.8% was higher than the national average of 27.1%, showing how the state significantly improved the rate from 11.8% in 2006-07. Between 2015-16 and 2019-20, Kerala's GERHE rose from 30.8% to 38.8%, the report further stated.
In 2019-20, Kerala ranked sixth among the major states in the GERHE with Tamil Nadu at first place (51.4%), followed by Delhi (48%), Puducherry (46.3%), Uttarakhand (41.5%) and Himachal Pradesh (40.8%). 
The report provides a road map to achieve a 60% GERHE by 2031 and 75% by 2036, implying a fresh enrolment of 5.35 lakh persons by 2031 and 9.54 lakh persons by 2036. "For this to be attained, Kerala needs a drastic restructuring of the system of higher education," the report recommends.
To achieve 75% GERHE, the required government expenditure in 2036-37 would be between Rs 22,953 crore and Rs 32,771 crore (up from Rs 5,731 crore in 2019-20). To achieve 60% GERHE, the required government expenditure in 2031-32 would be between Rs 15,269 crore and Rs 20,245 crore, the report states.
These targets of expenditure can only be met if Kerala's plan expenditure on higher education rises consistently by 12% per annum till 2036, the commission states. "As a share of the total education expenditure, we recommend a rise of public spending on higher education from the existing 28.6% to 33% by 2031-32 and 40% by 2036-37." 
The report argues that the task of building a knowledge economy in Kerala must imply its people-centred nature. "The government must play a leading role in the process—both as an investor and as a regulator," 
The commission has recommended establishing a few large cutting-edge institutions, new programmes in the existing institutions, expanding student strength in selected existing programmes and optimally using the possibilities of digital education avenues. 
To achieve the GERHE target, Kerala "must also ensure that the spread of higher education is equitable across regions, social groups, gender and the differently abled—these would go a long way in bringing in new sections of the population into higher education as well as ensuring that the expansion is truly mass in character". 
Calling for a transparent, efficient and effective higher education system, the report states that there are "far too many systemic features that restrict possibilities, delay processes, and end up harassing, discouraging and disincentivising the core stakeholders viz., students and teachers". 
The report also suggests a set of major changes to ensure that there is a "dignified student and faculty life". "There must be a Charter of Student Rights and a Charter of Teacher Rights to guide this process in each institution—our view is that services in higher education must acquire the status of a right for students and teachers." 
The report also proposes ending all "unfair practices" in the recruitment of teachers and measures to ensure quality of teachers recruited. "We propose a comprehensive law on prevention of corrupt practices in higher education. We recommend that all faculty appointments in government-aided institutions be passed over to a Higher Education Faculty Recruitment Board (HEFRB)." 
The HEFRB must also periodically conduct an eligibility test and publish a list of eligible candidates, only from which appointments may be made into private unaided institutions. 
Stressing the need for "consistent engagement with curricula and syllabi" to improve the quality of higher education and meeting future challenges, the report recommends an "improved implementation of the semester system, a drastic decentralisation of syllabus preparation and evaluation, and an expanded provisioning of credit sharing and transfer". 
The commission also suggests a "comprehensive reform" in undergraduate curriculum with effect from 2023-24. "A four-year structure with a single lateral exit option must replace the present three-year structure. We build this pathway further into the postgraduate and doctoral programmes, where the fourth year of the undergraduate stream must be integrated with the first year of the postgraduate stream." 
To become a better knowledge economy, the report recommends that Kerala needs to concentrate on science, technology and innovation. "Higher education must play the critical role of a hub in this transformation—by linking universities and industry, promoting entrepreneurship and start-ups among teachers and students and building a strong infrastructural backbone to aid these changes. 
Kerala must build new cutting-edge institutions, knowledge consortiums, transdisciplinary centres, research parks and analytical services, according to the commission. "We argue for a holistic approach to nurture research and innovation; we also provide potential drafts of official policies on innovation and incubation." 
The report proposes establishment of institutional networks and missions for interdisciplinary and transdisciplinary research in social sciences, humanities, languages and arts. "At a time when research on social sciences and humanities is facing hostility from policy quarters across the globe, we believe that the government of Kerala has a unique responsibility to promote research in these fields. We recommend the establishment of new institutions in these subjects." 
The report also recommends building a "network for research on translation of texts as well as in technology and processing in Malayalam". Despite recommending setting up of new institutions, the commission states that the "real thrust to a rise in quantity and quality in higher education" must come from the current university departments and colleges. "This is where the largest share of students is and will continue to be in the future." 
Calling for sweeping changes in higher education, the panel recommends that Kerala must urgently "declutter" its fragmented university network. "We propose an end to monodisciplinary universities and to gradually cluster the existing smaller universities into larger and viable entities. All universities in the state must be brought under the department of higher education for improved coordination and smoother faculty and student mobility."
To improve the functioning of government colleges, the report recommends a specific set of steps—for example, elevation of top 20 government colleges as constituent colleges. "These colleges will not only have autonomy but also will receive specific development grants from the government, have a closer link with university departments, and have freedom to offer their own courses and recruit their own faculty as per needs." 
At the systemic level, the report proposes "strengthening of the Kerala State Higher Education Council (KSHEC) to equip it to discharge the programme of reform that we have suggested in this report. For this purpose, we recommend the creation of an enabling academic and administrative structure for the KSHEC". 
To make access to higher education, adequate number of seats in higher education institutions should be created. The number of colleges in Kerala rose from 962 in 2010-11 to 1,417 in 2019- 20, and the number of colleges per lakh population rose from 29 in 2010-11 to 48 in 2019-20. These represented a faster rise in the number of colleges per lakh population compared to the rest of the country, which has helped Kerala move rapidly ahead in raising its GERHE over the past decade. 
In terms of the number of colleges per lakh population, Kerala's rank improved from seventh in 2010-11 to fifth in 2019-20. 
Though Kerala's rank in average enrolment per college improved from 19th in 2010-11 to 16th in 2019-20, the commission believes that the average enrolment per college must substantially rise in the state from 575 in 2019-20. 
"We recommend that more seats must be offered to students in admission to selected programmes in the colleges of Kerala. Average enrolment per college must be raised from 575 to, at least, 700 by 2031 without affecting quality standards and distributional concerns; this itself can raise total enrolment in higher education by about 1.8 lakh."
While praising Kerala for being at the forefront of affirmative action for underprivileged communities and groups, the report states that the state lags at the 11th spot among the major states in the gross enrolment ratios (GERs) for SC and ST men. "This calls for more focused and protracted action—not only to attract more students from the SC/ST communities to higher 20 education but also to create the environment that will ensure their continuation and success in it." 
The commission suggests adopting a strategy that combines new educational opportunities for SC and ST men and also incorporates a strong component of skill generation and employment potential to increase GERs among male SCs and STs. 
"We will also recommend a complete waiver of tuition and hostel fees for the yet-to-be-enrolled SC and ST students to incentivise them to join the higher education system."
Get the latest reports & analysis with people's perspective on Protests, movements & deep analytical videos, discussions of the current affairs in your Telegram app. Subscribe to NewsClick's Telegram channel & get Real-Time updates on stories, as they get published on our website.
Subscribe Newsclick On Telegram