Patriotism of Social Activists is Increasingly being Punished: Activist Sudha Bharadwaj
India is far from realising the promises of justice and equality made in the Constitution, says the well-known activist, citing her experiences in prison as an under-trial and as a lawyer representing workers.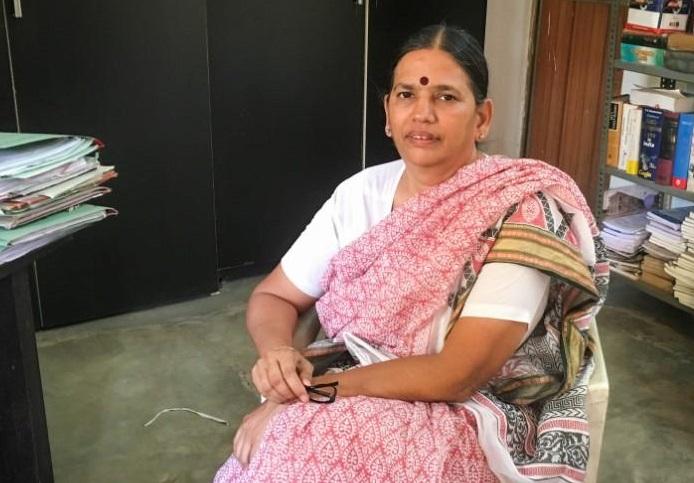 When Sudha Bharadwaj was arrested on 28 October 2018 for her alleged role in fomenting the 2018 Bhima Koregaon violence, a wave of disbelief swept the nation. This was largely because of her class background and impressive academic record. Daughter of a famous economist, Bharadwaj did a five-year integrated course in Mathematics, a subject that awes and stumps most, from the Indian Institute of Technology, Kanpur. The middle class was astonished that she surrendered her American passport and nationality to embrace Indian citizenship. Instead of taking up a cushy job that could have been for her asking, she went to work among industrial workers of Chhattisgarh. In 2000, she became a lawyer with the goal of fighting cases of workers, often pitted against big corporates.
After spending nearly three years in jail, Bharadwaj was released on bail last month. Her bail conditions proscribe her from speaking on the Bhima Koregaon case and leaving Mumbai, although she has now been allowed to live in Thane. NewsClick did not ask her any question on the case, and she politely refused to answer any question she thought was even remotely connected to it. In the first part of this interview, Bharadwaj speaks on the meaning that Republic Day, the Constitution, and the law have for jail inmates, based on her conversations with them.
You spent the past three Republic Days in jail. How was the day celebrated in prison?
We saw the celebrations on Republic Day 2019 and 2020 through prison bars.
We?
Prof Shoma Sen [an accused in the Bhima Koregaon case] and I. In 2019, at Pune's Yerwada Jail, we were in the cells constituting the phansi or death row yard, although it was labelled, euphemistically, as Separate Yard.
Imagine a large cage, with a corridor, beyond which are the cells. Sen was in the cell adjacent to mine. There were two other women there, both sentenced to death. They had been in jail for 25-26 years, and were awaiting their hanging. We were not allowed to step out of the cage-like structure, apart from 30 minutes, between 12 pm and 12.30 pm, to soak in the sun. In those 30 minutes, other prisoners would be inside barracks.
Through the gap between bars, we could see trees and children playing (laughs)… Children below six years old are allowed to stay with their mothers in jail. And so, for two years, we watched the Republic Day celebrations through prison bars.
Was it any different in Mumbai's Byculla Jail, where you and Sen were transferred in February 2020, after the Bhima Koregaon case was taken from the Pune Police and handed over to the National Investigation Agency?
In Byculla, I lived in barracks with others. Byculla was a friendlier place. On Republic Day 2021, we stood with others for the flag hoisting. The ceremony is perfunctory in jails. The jail superintendent and his subordinates, in well-ironed uniforms, salute the flag. Jail superintendents do not deliver lengthy speeches. (Laughs) They would wish all of us Happy Republic Day. We would get boondi and vada. (Laughs)
Compared to Byculla, the ceremony at Yerwada Jail was a little more elaborate, as it is a central jail. They would paint and clean up the place a few days before Republic Day. Some women prisoners would come early morning to make beautiful rangolis for the 26 January ceremony, which, here too, would be short and sweet. (Laughs)
What kind of meaning do Republic Day and the Constitution have for jail inmates?
(Laughs) Jail inmates are not too different from those outside. For instance, the Dalit community and the Ambedkarites have emotional feelings about the Constitution, from which, they think, rights have come to them. This is also increasingly quite true of the Adivasis, who feel the PESA [Panchayats (Extension to Scheduled Areas) Act], the Fifth Schedule and the Sixth Schedule have been given to them by the Constitution – and that these should not be taken away from them. In fact, the Pathalgadi movement in Jharkhand and Chhattisgarh was an outcome of people believing they have innate rights over their land, rights that are enshrined in the Constitution.
I am associated with a workers' union [Chhattisgarh Mukti Morcha]. We would celebrate Republic Day and Independence Day with fervour because of our belief that labour laws were enacted because of the Directive Principles in the Constitution.
But surely, a jail term would change attitudes towards the Constitution?
People in jail do not think about the Constitution. But they are very aware of their rights in criminal law. They deeply feel the injustice done to them, particularly when bail is denied to them, or their side of the story is not adequately represented. Or because investigating officers took money to implicate them wrongly. Or when lawyers cheat them. Or when their cases are inordinately delayed. It is only human for a person to feel the injustice done to him or her keenly.
Did this injustice manifest anytime during your stay in jail?
On 23 March 2020, the Supreme Court, suo motu, ordered that jails be decongested because of the Covid-19 pandemic. On 24 March, the Prime Minister ordered a national lockdown. On 25 March, women in Byculla Jail spontaneously refused to take their breakfast and lunch. They said, "Release us, for the Supreme Court has ordered the release of undertrials." (Laughs) They said they would prefer to die of the virus with family members around them [than in jail.].
There was such a pandemonium that jail officials panicked. The jail superintendent said that he would try to get interim bail for those who, on conviction, would get less than seven years of imprisonment. They requested us to return to our barracks. Every person was extremely agitated.
They seem to follow the news very closely.
They follow news related to courts very closely. When Aryan Khan [film star Shah Rukh Khan's son] was in jail, people watched the TV day and night. They would say, "Poor kid, when will he come out of jail?" The sympathy for Aryan in Byculla Jail was huge. (Laughs).
Of course, there were those booked under the NDPS [Narcotic Drugs and Psychotropic Substance Act] who would say, "We, too, should get as quick a hearing as Aryan got." Overall, though, Byculla was in support of Aryan.
In other words, the Constitution and laws become a touchstone for those in jail to comprehend the injustice done to them, regardless of whether they know the precise provisions?
They are very conscious that justice delayed is justice denied. During the two years of the pandemic, there were barely any court proceedings. There was no mulakaat [meeting with blood relatives]. The cases of undertrials stalled. It had a disastrous impact.
Take Mathurabai Kale, an elderly lady from the Mang community. Its members sing and beg for alms. She should not have been in jail, for she had been granted bail. But she was unable to organise a surety of Rs 15,000. She was, therefore, not released and died of Covid-19. My conservative estimate is that 25%-30% of persons are in jail because they cannot produce a surety.
Can you explain how the surety system perpetuates injustice?
A person who has property in some form can become a surety. It is the surety's responsibility that the undertrial appears during the trial. In case the undertrial disappears, the surety has to pay the money [fixed when bail is granted.] The undertrial has to get a surety who is propertied and has a ration card. The irony is that those who have the ration card are poor. And those with property have either lost their ration cards or no longer qualify for it.
There is an option, though. A person can go to court and get the bail order changed into what is called cash bail. In case the person cannot still pay the bail amount, the court, ideally, should release them on a personal responsibility bond. However, if the person's bail order is from the High Court, the modifying bail order must also be from the same court. If the person is poor and cannot hire a lawyer, then he or she, even after getting bail, cannot get out of jail.
Isn't there a huge class bias in our laws?
(Laughs) Of course, of course. In the Hussainara Khatoon case, the Supreme Court said that if a person is unable to furnish surety or pay the bail amount in three months, it should be assumed the person is indigent. He should, therefore, be released on a personal bond. Those were the days of judges like Justice VR Krishna Iyer. They, perhaps, understood that poor people were languishing in jails and that it was not their fault that they were poor. Class, definitely, plays a very big role in how laws are framed and implemented.
What does that make of our Constitution, then?
(Laughs for good 15 seconds). The answer to your question is Dr BR Ambedkar's observation. In a speech to the Constituent Assembly, Dr Ambedkar said, "On 26 January 1950 [the day the Constitution came into force] we are going to enter into a life of contradictions…. In politics we will be recognising the principle of one man one vote and one vote one value. In our social and economic life, we shall…continue to deny the principle of one man one value." I entirely agree with him. (Laughs again)
In December 2019, countrywide protests broke out against the Citizenship Amendment Act. An element of it was the public reading of the Preamble. What was your response when you read about it in newspapers?
I was happy to see the protest, particularly the one at Delhi's Shaheen Bagh. The anti-CAA protest was of "We, the people of India", the very words with which our Constitution begins. It was unfortunate that the pandemic ended the anti-CAA protest, which otherwise would have won as big a victory as the farmer protest did.
A year later, there were riots in Northeast Delhi. You were a professor of law before you were arrested. How did you react to young men and women who had led the anti-CAA protest being banished to jail under the Unlawful Activities (Prevention) Act?
I was able to read the Delhi High Court order granting bail to Natasha Narwal, Devangana Kalita and Asif Iqbal Tanha. [They are activists accused of scripting the riots and charge-sheeted under UAPA.]
Although in jail, you still expressed interest to read that bail order and even secured a copy of it? That is amazing.
Fortunately, my lawyers provided me with the bail order, which I found very interesting. UAPA has a clause that says if there is a prima facie case, then bail cannot be granted. It means getting bail on merits is extremely difficult. The judges said that prima facie, no case was made out against Narwal, Kalita and Tanha. But, more significantly, they also spoke of the misuse of UAPA.
UAPA has been abused. [Assam leader and MLA] Akhil Gogoi was acquitted of the charges against him under UAPA. In many cases, UAPA has been used against dissenters. Take Tripura, where a group of lawyers investigated incidents of communal rioting. Not only they but also those who posted the lawyers' report on social media were booked under UAPA. The ease with which people are being charged for sedition, terrorism and unlawful activities testifies to the growing intolerance to dissent.
Does the Indian state's conduct go against our constitutional values?
Very much so. In 1962, early in India's constitutional history, the Kedar Nath Singh judgment said Section 124A cannot be invoked unless a speech incites violence. The police have not understood this interpretation of Section 124A over the last seven decades. When the police cannot understand something for seven decades, it is very unlikely they will in the future. Section 124A should, therefore, be struck down from the statute book.
What was your reaction to the young being jailed for opposing the CAA?
When injustices mount, it is inevitable for the young to stand up. I am happy people are doing so.
The Preamble promises to secure for all its citizens "liberty of thought, expression, belief, faith and worship." Do these words seem a cruel joke to undertrials in jail?
In jail, you have the full liberty to worship (Laughs heartily). Those languishing in jail for a long time feel quite hopeless. They take to praying. Muslims offer namaz, Hindus do vrats [fast] and perform the Ganpati puja, and Christians sing Hallelujah. Many women in jail have been abandoned by their families. Men, at least, are visited by their wives. (Laughs). There are people who do not have lawyers. They gravitate to believing that fate put them into jail and fate will take them out. Their piety is not a result of their devotion but their helplessness. That is very sad.
Did you turn to religion in jail?
I am not a believer in god. But I believe greatly in human beings.
Indeed, liberty of thought and expression is a no-no for undertrials?
(Laughs) Certainly, you must not unite and organise. You are not supposed to speak on anyone's behalf.
Is not the constitutional promise of securing the "dignity of the individual" violated whenever an undertrial is sent to jail and, worse, spends years inside it without even being convicted? In our jurisprudence, an accused is presumed innocent unless proved guilty.
When I stepped into Yerwada jail, I was asked to go to the room adjoining the gate. It was evening, the place was eerie, and I was asked to take off my clothes. It then hit me, "Ok, I am a criminal in the eyes of law." (Laughs) There is a striping of dignity at every step. It is not possible to have a bath without someone peering in and saying, "Auntie, jaldi karo [Auntie, hasten]." (Laughs) You are afraid to even snore at night because of the risk of annoying others.
You were under house arrest for two months in 2018 before being lodged in Pune's Yerwada Jail. Could house arrest be a relatively more humane way of treating undertrials than locking them up in jail?
If a person has a house and also has enough bank balance to live in it without going out to work, please house-arrest them. But, of course, there are undertrials too poor to have a house and must go out to earn a living.
What is the way out? We have had so many undertrials locked up in jails for a decade or longer and then exonerated. It is just so cruel.
The question should not be: Do we give bail to undertrials? The question should be: Do they need to be jailed? What should be examined is whether the accused could abscond or have the wherewithal to tamper with evidence or influence the police.
These yardsticks should apply to the poor more than anyone else. When a breadwinner is put in prison, imagine the plight of their families, particularly their children. How are they supposed to survive? How are the undertrials supposed to pay lawyers? The poor among jail inmates had a roof on their head; they had two square meals, they had doctors visiting them--and yet, during the two waves of the pandemic, they wanted to get out. I helped a friend, a homeless beggar, to get bail. She was keen to leave Byculla Jail.
What is the psychology here?
Freedom still remains very precious to people. (Laughs)
As an activist, you have worked with the working class and the poor for years. To what extent have we realised the constitutional promise, spelt out in the Preamble, of securing for all citizens justice and equality?
We are far from realising the promise of justice and equality. Yet their existence as a promise is very, very important. We are presented with a fait accompli that there is no other alternative to India's development model. But the Directive Principles lays down that wealth should not be concentrated among a few and that the country's resources should be used for the good of the largest number of people.
I disagree with those who say the word socialism was forcibly inserted into the Constitution (through the 42nd amendment, by Indira Gandhi] and should therefore be removed. Socialism informs the Constitution, evident from the Directive Principles, the Fifth and the Sixth Schedule and such like.
Do you think the gap between political practices and constitutional promises has increased over time?
Yes, definitely. We, initially, took big strides. But once the rightwing economics took over, the country's situation deteriorated. When I came out of jail, the most shocking thing for me was to see the depth to which hate has seeped into our society. Things were bad enough when I was arrested. Lynching had begun. But now, hate assemblies [a reference to the so-called Dharam Sansads] openly call for genocide.
Do you think there is a better way of celebrating Republic Day than having a parade down Rajpath?
The parade is more about demonstrating our military prowess. Today, when you talk about patriotism, people will immediately think of the patriotism of soldiers. What about the patriotism of social activists, of Asha (Accredited Social Health Activist) workers? Their kind of patriotism is increasingly being punished. I know a soldier who won a medal in the Kargil war. In his hometown in Rajasthan, he has been fighting against illegal mining. The degree to which he has been harassed by the police is incredible. He says he fought for the country, but no one listens to him today.
So how would you want Republic Day to be celebrated?
I think the public reading of the Preamble is a wonderful idea. Perhaps the reading should be organised in every mohalla, in every village. Perhaps people should talk to each other and deepen their understanding of the Preamble. It is not just about equality and liberty. It is also about fraternity, which is quite a neglected word. Fraternity is important because we all are very different. The people of Tamil Nadu are so different from those in Kashmir. And those in Kerala are so different from the people in the Northeast. We need to respect the culture of each other.
(The second part of the interview with Sudha Bharadwaj will be published on 27 January. In it, she speaks on what made her give up class privileges to work for Chhattisgarh's industrial workers, why she relinquished American citizenship, what it meant to unionise workers, life in jail, separation from her daughter, and the uncertain future that awaits her.)
Ajaz Ashraf is an independent journalist.
Get the latest reports & analysis with people's perspective on Protests, movements & deep analytical videos, discussions of the current affairs in your Telegram app. Subscribe to NewsClick's Telegram channel & get Real-Time updates on stories, as they get published on our website.
Subscribe Newsclick On Telegram