'Phantom Votes': 119 of 120 LS Seats in UP, Bihar Under Cloud?
NewsClick carried out an analysis based on the ECI data for total votes counted and on the two states' poll panel's website for the total number of registered voters in each of the 120 constituencies.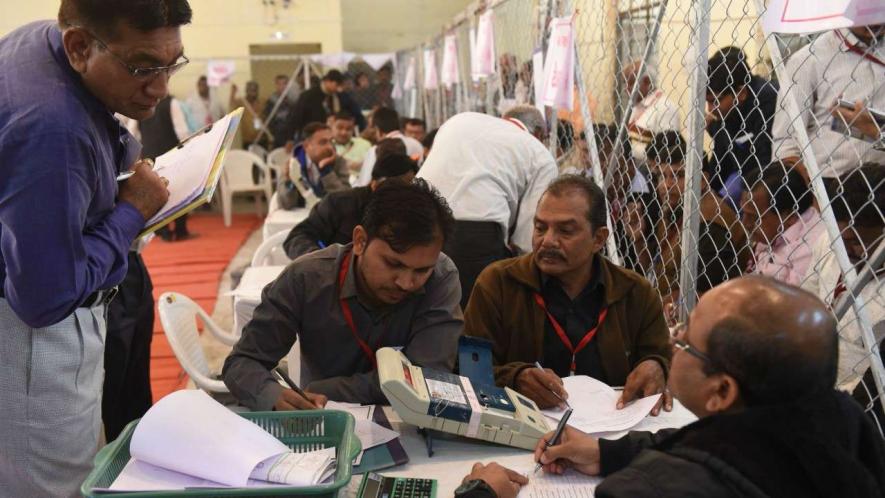 Representational image. | Image Courtesy: dnaindia
Across a bulk of the 120 Lok Sabha seats in Uttar Pradesh and Bihar, thousands of votes in excess of the Election Commission of India (ECI)-recorded figures were found to have been cast. This raises serious doubts about the poll panel's failure to follow a fool-proof accounting procedure, a deeper and more comprehensive investigation by NewsClick has revealed. NewsClick had earlier reported the issue of mismatch and excess votes in a few seats in UP and Bihar, as given in the ECI website.
Relying entirely on official data and other poll-related figures put out by the ECI, the two state poll panel websites and the ECI's Voter Turnout app, it has been found that several thousands of votes in addition to the total ballots (including postal ballots) counted could be traced to as many as 34 of the 40 parliamentary seats in Bihar, the most glaring being Patna Sahib where the BJP's Ravi Shankar Prasad defeated Congress' Shatrughan Sinha.
NewsClick depended on the ECI data for total votes counted and on the two states' poll panel's website for the total number of registered voters in each of the 120 constituencies. The polling percentage was taken from the Voter Turnout App and state websites. Postal ballots were not included in the analysis as they do not constitute the polling percentage and are taken into account only during the counting process. The analysis was carried out for each of the 120 seats across the two Hindi heartland states, among other regions, that propelled the BJP to a final tally of 303 seats in the Parliament.
Also read: Why EC Owes an Answer to the Country Over 'Phantom Votes'
Discrepancies Revealed in All seats of Bihar
An examination of the data for Patna Sahib revealed that it is home to 21,36,800 registered voters. While the polling percentage for Patna Sahib, which went to polls in the last phase on May 19, is 43.1%, meaning that the votes polled stands at 9,20,961. But the total number of votes from the Electronic Voting Machine (EVM) count is 9,78,602, leaving an excess of 57,641 votes. BJP's Prasad won with a margin of 2,84,657 votes.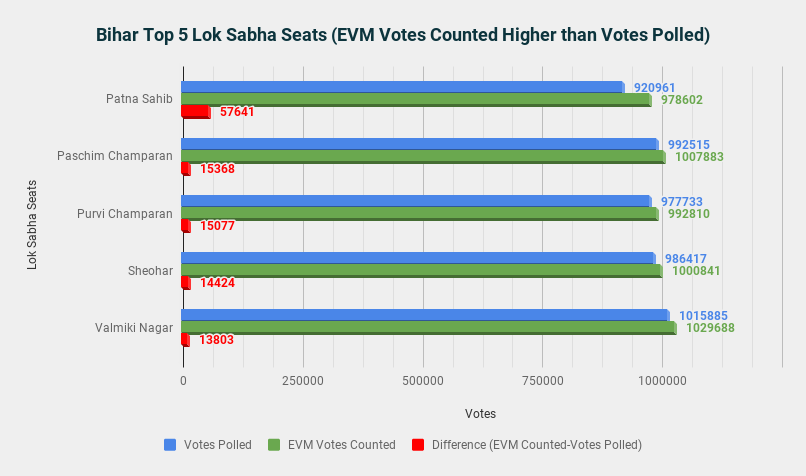 Source: Electors, Polling % - Voter Turn out App, Vote Counted
Following the same methodology, it has been found that in several other constituencies in Bihar, thousands of votes in excess of the counted ballots were cast, which include: East Champaran (15,077, won by the BJP's Radhamohan Singh), West Champaran (15,368, won by BJP's Sanjay Jaiswal), Sheohar (14,424, won by BJP's Rama Devi), Valmiki Nagar (13,803, won by JD(U)'s Baidyanath Prasad Mahto), Ujiarpur (12,742, won by BJP's Nityanand Rai), Muzaffarpur (10,335, won by BJP's Ajay Nishad), Samastipur (13,300, won by LJP's Ramchandra Paswan), Khagaria (11,126, won by LJP's Choudhary Mehboob Ali Kaiser), Araria (10,624, won by BJP's Pradeep Kumar Singh) and Siwan (7,590, won by JD(U)'s Kavita Singh).
The excess votes in the other 17 constituencies across Bihar range from over 4,000 (Kishanganj, 4,265, won by the Congress' Mohammad Jawed) to over 8,000, such as Jhanjharpur (8,847, won by the JD(U)'s Ramprit Mandal), Aurangabad (7,533, won by the BJP's Sushil Kumar Singh), Vaishali (7,256, won by Lok Janshakti Party's Veena Devi) and Sitamarhi (7,556, won by JD(U)'s Sunil Kumar Pintu).
There are as many as six constituencies – Karakat (98,214), Sasaram (49,087), Jahanabad (28,338), Pataliputra (19,410), Buxar (16,804) and Arrah (10,027) – where thousands of votes, it appears, may not even have been counted. While the BJP won four of these six seats, the JD(U) took two. Jahanabad was won by the JD(U)'s Chandeshwar Prasad with a margin of only 1,751 votes, while the party's nominee for Karakat constituency, Mahabali Singh, won with a margin of 84,542 votes.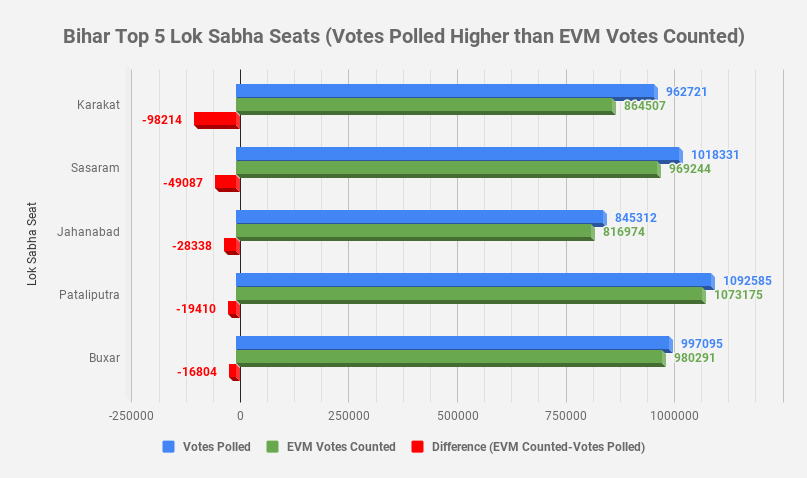 Source: Electors, Polling % - Voter Turn out App, Vote Counted
Interestingly, three different documents are available for Jahanabad seat, with varying polling percentages and total number of votes polled. The document given to the Jahanabad's RJD candidate shows 51.77% polling, while the data uploaded on the website of the Bihar CEO shows there was 54% polling. On Voter Turnout app, the figure is 53.67%. While, the Form 20 of Jehanabad says that it stands at 52.02%. Such discrepancies also occurred across several other seats in Bihar and Madhya Pradesh.
Source: CEO Bihar
Earlier this week, despite NewsClick's repeated attempts to reach the ECI for their comment on these discrepancies, the poll panel spokesperson Sheyphali Saran refused to take any call or reply to any text message, saying she is out of town. Questions emailed to Chief Election Commissioner Sunil Arora and the two Election Commissioners Ashok Lavasa and Sushil Chandra were likewise not responded.
Massive Mismatch in UP
In UP, where the BJP won 60 of the 80 seats, excess votes were traced across 50 constituencies. The most glaring instance is in Lucknow where the BJP won by a margin of 3,47,302. While the number of registered voters in Lucknow is 20,38,725, the polling percentage recorded by the state election commission's website is 53.53%, making the number of votes polled as 10,91,329. However, the EVM vote count throws up a different picture: as many as 15,771 votes were in excess.  
There are two other Lok Sabha constituencies where excess votes is over 9,000 to over 6,000. Mathura has 17,99,321 registered voters of whom 60.48% (10,88,229) exercised their franchise when the constituency went to polls in the second phase (April 18), according to Voter Turnout. However, the total EVM ballots counted stands at 10,98,112. In this constituency, where BJP's Hema Malini won with a margin of 2,93,471, it was found that 9,883 excess votes were cast.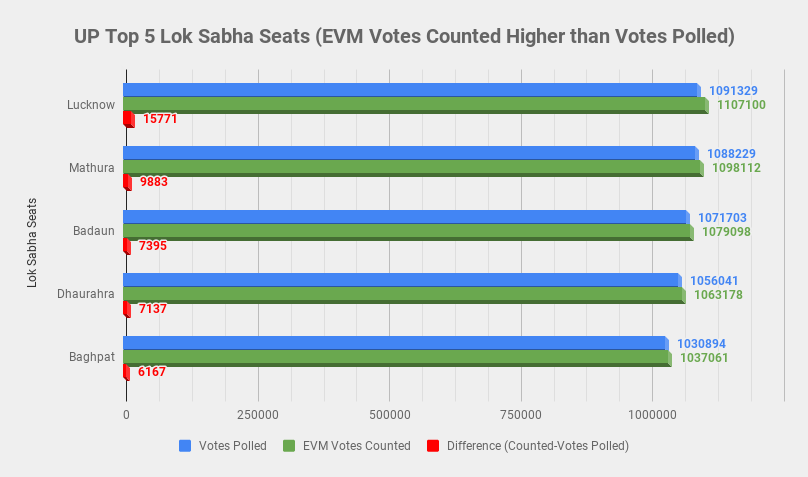 Source: Electors, Polling %, Votes Counted
Since the ECI has maintained complete silence on this vexed issue, no reason for such high numbers of excess votes has been found yet. In Baghpat, excess votes were in the tune of 6,167 and in Badaun it is 7,395. Only Fatehpur Sikri has the enviable distinction of being the only constituency in UP where all the data has matched – neither excess votes were cast, nor is there any discrepancy in terms of ballots not being counted.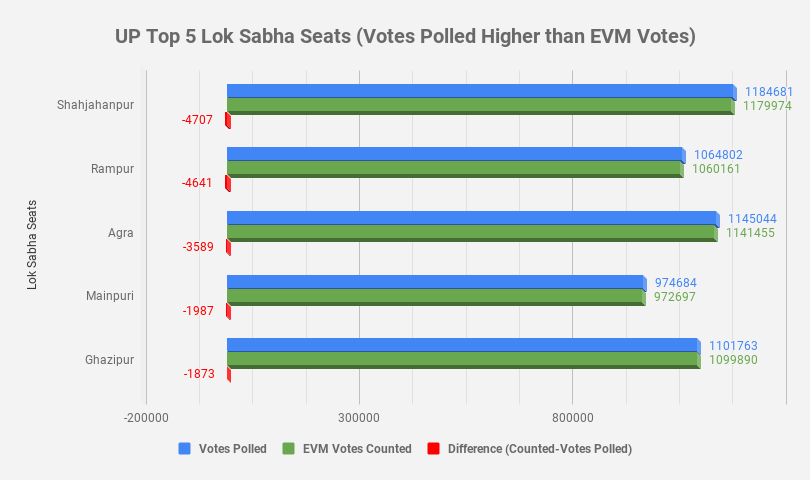 Source: Electors, Polling %, Votes Counted
The results of the data analysis for Machhlishahr constituency is even more interesting. While the registered voters in this constituency is 18,45,484 (in 2014, it had 18,91,969 registered voters), 55.7% of the electorate cast their ballots in the sixth phase on May 12. The number of votes polled across this seat is 10,27,935 but the total votes counted stands at 10,32,111 – an excess of 4,176. The BJP won Machhlishahr with a vote margin as low as 181 votes.
On Friday, May 31, a Noida-based digital news portal reported that the ECI had taken down the election results of phase one to four from the website without stating any reason. However, NewsClick has in its possession screenshots of all data that it accessed in the course of its investigation.
Also read: Thousands of Phantom Votes Suspected Across Lok Sabha Seats in Bihar, UP
It is clear from the analysis of the 120 seats in the two states that barring a few seats, the excess votes would not have made any significant difference to the fortunes of the winners. But what is baffling is that they "show up" across most seats in UP and Bihar, throwing up a host of questions that the ECI has so far been unable to answer. While the non-NDA opposition parties have not taken a public stand on the 'phantom votes', individual leaders across some of the major parties NewsClick spoke with have expressed surprise, unable to fathom the origins of the excess ballots.
Former Chief Election Commissioner SY Quraishi, however, suggested a remedy when talking to NewsClick on May 27, following the first discoveries that excess votes had been recorded across several Lok Sabha seats in northern India: "They (the political parties) should go to court." Quraishi and two other former CECs, HS Brahma and N Gopalaswami, had said that the ECI is liable to explain.
No 'Ghost' Voters, Says EC
Reacting to several news reports on discrepancies, mismatch and 'phantom' votes across constituencies during the recently concluded Lok Sabha Elections, the Election Commission of India has clarified that the voter turnout figures on ECI's website were "only the tentative number", adding that it was "incorrect inference to find Ghost voters when there are none."
In a press statement issued on Saturday, the EC said earlier it used to take months to collate authenticated poll data from all returning officers. "Due to innovative IT initiatives taken by the Commission this time, the final data on votes counted has been made available within a few days of declaration of results."
It added that "reconciliation of voters' data for all PCs have been completed in all states and the Index Forms of all 542 PCs are expected to reach ECI from Returning Officers shortly, which after compilation, shall be immediately be made Public by the Election Commission."
Read the full statement here.
Data mining and extraction by Peeyush Sharma / Kashif Kakvi
Data of all the analysed constituencies can be accessed here:
UP Analysis by Newsclick on Scribd
Bihar Analysis by Newsclick on Scribd
Get the latest reports & analysis with people's perspective on Protests, movements & deep analytical videos, discussions of the current affairs in your Telegram app. Subscribe to NewsClick's Telegram channel & get Real-Time updates on stories, as they get published on our website.
Subscribe Newsclick On Telegram