Residents of Kasturba Nagar Fear Immediate Demolition of Their Homes, Mobilise to Protect Their Future
Kasturba Nagar is a slum area where people have constructed homes after decades of hardship; DDA believes they are encroachers and issues eviction notices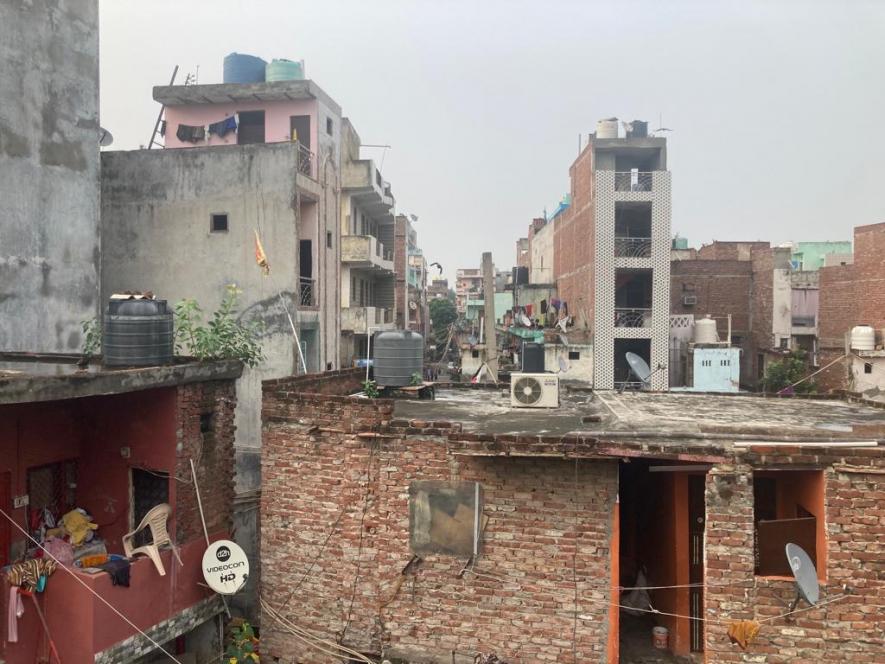 Kasturba Nagar, Shahadara, New Delhi
New Delhi: Gurudayal Singh, an old man living in the old colony of Kasturba Nagar, Shahdara for the past 70 years, laments the appearance of sudden notice of the demolition of houses by the Delhi Development Authority (DDA). "I have lived here for very long, seen generations of my family grow, and now they say we are 'unauthorised encroachers'," Gurudayal Singh says.
Locals inform that on 2nd August, their houses were stickered with a notice that said that they only have 15 days to leave their homes and the colony houses around 1200 families. "The notice is in English, not many here are educated in it. Nobody was informed about this, and suddenly one day they stuck these notices. The authorities do not actually care if we leave or not, they just want to proceed with the demolition," G.S. Manra, a local, said. Kasturba Nagar is a slum area where people have realised some sense of progress over decades of hardships to construct their own homes. Most families who live here have small houses where several members live in a single small room. Few have realised enough capital to build spacious flat-like houses.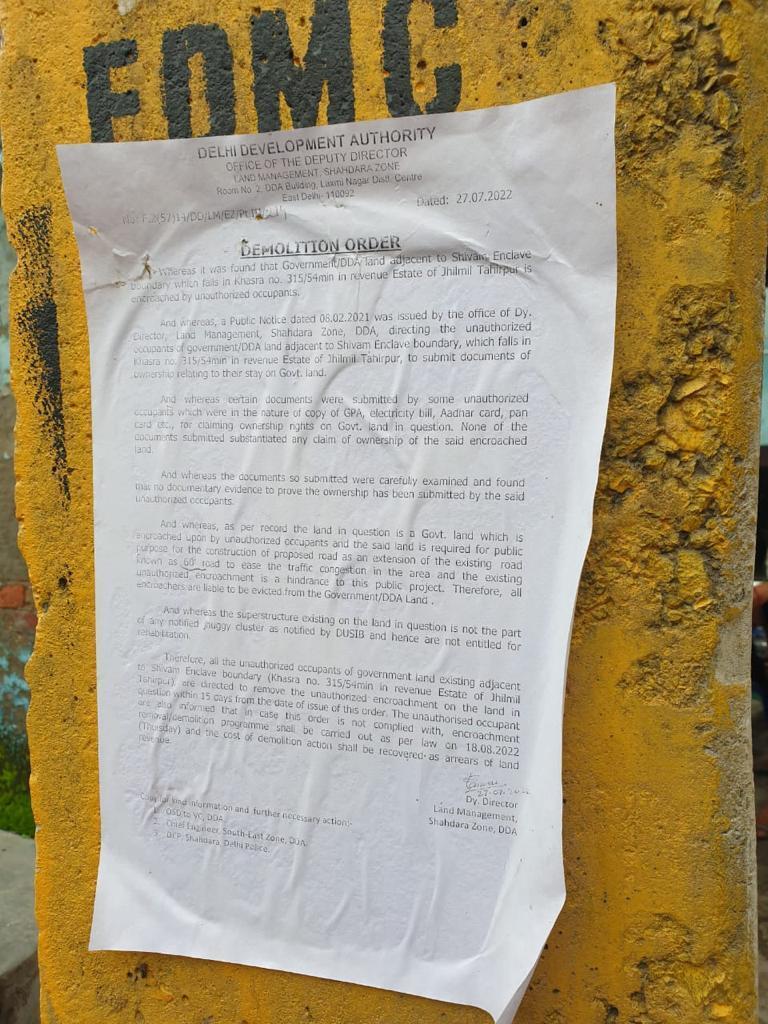 (Demolition order in front of Gurudayal Singh's home)
The abrupt appearance of the notice disturbed the people of Kasturba Nagar, where mostly working-class people reside and today they gather around in their locality to plan to tackle this unforeseen situation. They are making teams to visit the offices of the DDA- framing applications, working with a lawyer, etc. 
"We have met the local MLA, and submitted an application to the DDA office. We haven't got a positive response to it yet. We have talked to some DDA officials as well, and they have told us straight up that our whole slum colony will be wiped out for the project of constructing a road through it," Manra told NewsClick. 
The plan to construct a road through Kasturba Nagar has been in the making since last year. The locals were asked to submit their residential proofs to the DDA. The DDA has rejected those documents and has explicitly noted the residents to be encroachers. "They tell us we are encroachers, even though we have been living here for decades. I have seen 4 generations of my own family, and have lost documents of my residence in the Yamuna floods in 1957," Singh says, adding that people living here have lived here in jhuggis or makeshift homes and it took decades of hard-earned money to construct their houses. Most people work low-paying jobs and work as labourers and auto drivers and a handful of them work in private offices.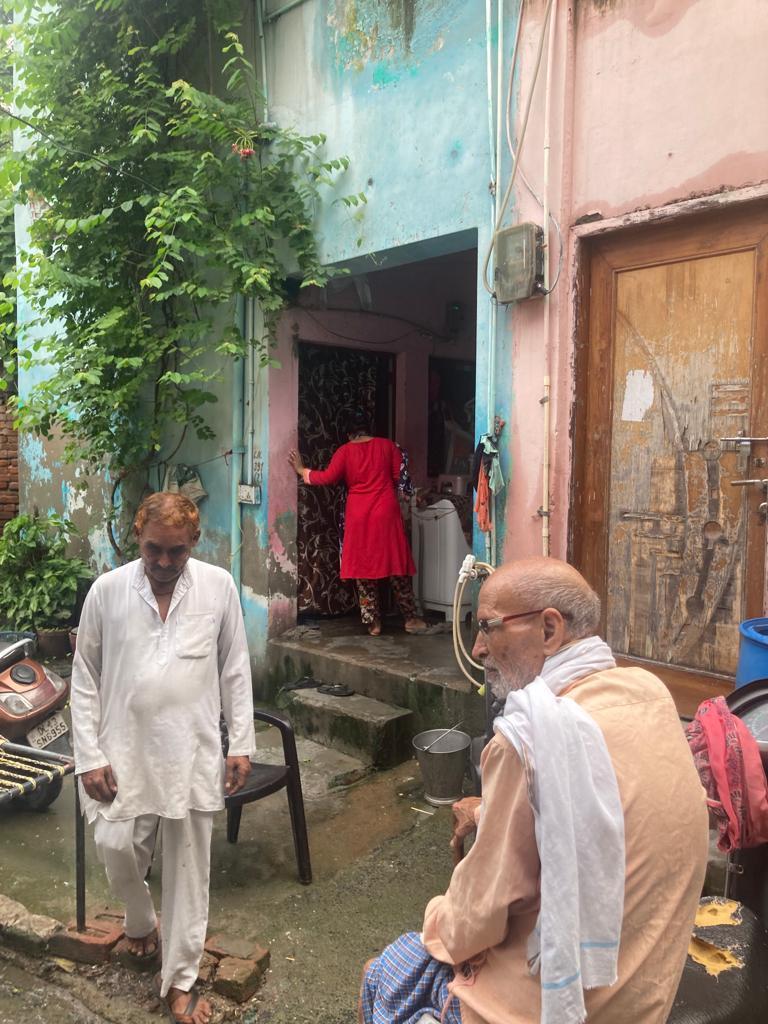 Gurudayal Singh (right) at his home
The government's plan of demolition of Kasturba Nagar aids the expansion of a chowk named Athaara Quarter. In front of that chowk, there is already barren land, which was another slum area in the 90s. The slum's occupants were labourers who helped construct a set of DDA MIG flats, adjacent to the colony of Kasturba Nagar. When the slum was removed, a lot of space had been lying unclaimed, which the government could use to expand the said chowk. Locals say that the space to expand the road is ample, but they have been notified that much of that land will be used to construct a VIP parking space for the occupants of the DDA flats. "If they construct a big road through our colony, the prices of the flats may shoot up, as they will be connected to the main road once they finish constructing the proposed road through Kasturba Nagar," says Ranjit Singh, another local. "This is all for the profit of the few people who live in furnished flats, while the roof over our heads is in peril," he added.
"In their perspective, we are 'low-budget' people, who do not have any rights. And we can see that there is a certain political pressure to do this to us as well," Ranjit told NewsClick. The locals were believed to be Congress supporters before, who later switched to the Aam Aadmi Party (AAP). The local MLA is from the Bharatiya Janata Party (BJP), and people allege that MLA Om Prakash Sharma, who is also a member of the DDA, has put pressure on the authorities to sanction this discourse of constructing the road. 
The people of the colony have been mobilising. A group of women recently went to the CM office to register their grievances. "We went to the office and at first they asked us to sit inside and wait for the CM. When asked what our grievances were, the officials suddenly told us to leave but we stood strong near the gates, sat on the roads while getting drenched in the rain,"  Gopal Kaur, a resident, told NewsClick. Finally, the women were able to submit three applications to the office, asking for a solution to the issue of demolition. "Our people went to the MLA as well, but it seems they have gone into hiding. We haven't been able to meet him," Kaur added. She laments that there won't be any place for their families to go once such a demolition takes place. "Women here are usually at home, taking care of their young kids and family, some also work as domestic workers at other homes to sustain their families," Kaur says. "It is because of the MLA that this is happening." 
Over the past years, a few demolitions have taken place around the area but Kasturba Nagar was not the target. Thus people living here built their houses over time and now are threatened suddenly. Everyone is anxious about the future. "In the notice at the end, it is written that when the houses will be demolished, we would be the one paying for the costs of demolition as well," said Jasveer Singh, a resident. "The absurdity is astonishing," he added. There is no consideration of rehabilitation of the people as well. "If this is how things are supposed to go, should they not at least think of rehabilitating us? There is no provision for the same," Ranjit said. In the coming few days, before the notified day of demolition, 18 August, arrives, the residents plan to hold more meetings and talk to more authorities. They may organise a protest as well, and continue to fight for their rightful ownership of their homes.
The writer is a freelance journalist.
Get the latest reports & analysis with people's perspective on Protests, movements & deep analytical videos, discussions of the current affairs in your Telegram app. Subscribe to NewsClick's Telegram channel & get Real-Time updates on stories, as they get published on our website.
Subscribe Newsclick On Telegram