'Many Secrets Buried': Questions Raised on Encounter of Kanpur Gangster Vikas Dubey
Many have alleged that the encounter was staged in order to relieve the politicians and senior brass who were in cahoots with the gangster so that their links with Dubey won't be probed.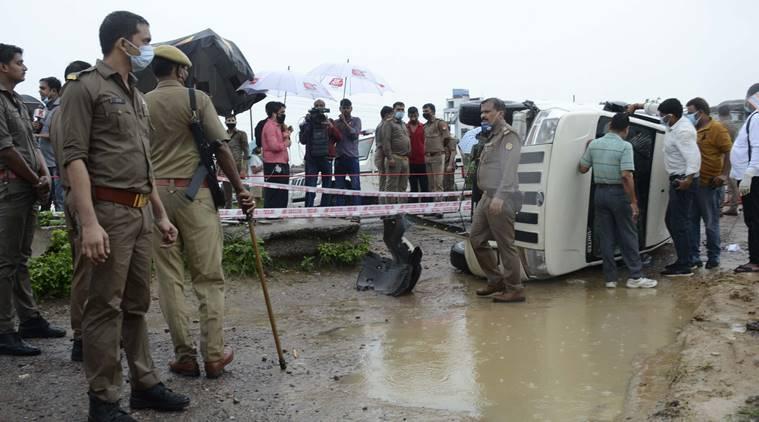 Image for representational use only. Image Courtesy: The Indian Express
Lucknow: Dawn broke on Friday with the news of the sensational encounter of Vikas Dubey, the main accused in the ambush and the killing of eight police personnel in Kanpur last week. He was hunted down and shot dead on the outskirts of the city by the members of Uttar Pradesh Special Task Force (STF) in less than 24 hours after his arrest.
The gangster was reportedly trying to escape after a road accident when he was being brought to Kanpur from Madhya Pradesh's Ujjain by the Uttar Pradesh police. However, questions are being raised on the veracity of this episode by the Opposition as well as the kin of one of the cops killed in the Kanpur ambush earlier. Many have alleged that this was done in order to relieve the politicians and senior brass who were in cahoots with the gangster so that their links with Dubey won't be probed.
Urmila Verma, the wife of slain constable Sultan Singh, said that the news of Dubey's death has brought some relief after suffering the loss of her husband, but questioned how it can be found out who was supporting the gangster.
"Justice has still not been served. How will we know who was backing him? It could have been revealed after questioning him. Had they (the police) prosecuted him properly and if he would have then got death penalty [as punishment] like the other criminals like in the Nirbhaya case, it would have been an honour and justice then would have been served," she said.
Tirath Pal Singh, father of another deceased policeman Jitendra Pal Singh, too, has questioned why Dubey was killed in this manner: "Ye to mar gaya ab lekin jo iski madad kar rahe the sarkar me baith kar unko saza kaise milegi (He has died now, but how will those be punished who were helping him from the seat of government?" asked Pal and further claimed that Vikas Dubey and his entire gang will be "eliminated" in encounters and their nexus will not be unveiled. He added, "Was it because he knew many secrets of several politicians and could have exposed them? Had he been alive, his testimony could have indicted several others who were responsible for the killing of eight policemen in Kanpur, many have believed."
"Unfortunate, many secrets buried with Vikas' death," another family member of a slain policeman told NewsClick.
GLARING LOOPHOLES IN POLICE's VERSION
Vibhuti Narain Rai, Indian Police Officer (IPS) who investigated the infamous Hashimpura massacre, said that this encounter is totally fake prima facie. "As per the police, Vikas Dubey snatched weapons from the cops when he tried to escape, which resulted in four police constables getting injured. This raises a question as to why wasn't Vikas handcuffed or chained while he was being taken in the vehicle?" asked Rai. He also pointed to another loophole, asking if Dubey was trying to escape, how come he did not receive a single bullet on his back and had three bullets pumped into his chest.
"If Dubey himself surrendered, then why would he try to escape as soon as he crossed the Uttar Pradesh border? A question that many have been asking," the former IPS officer told NewsClick, adding that Dubey had an iron rod in his leg. "Then, how did he suddenly run away?"
Former Indian Police Service (IPS) officer SR Darapuri echoed these views. He said that the lawlessness of the police in UP has reached alarming heights. The police kill, arrest and torture anybody with impunity which is completely illegal, he added.
"If the cops will be given that much impunity, they can kill anybody and fabricate a story to justify the killings. The so-called encounter of Vikas Dubey was stage-managed to save many high-profile politicians and police personnel. It was also important; otherwise, criminals-politicians-police nexus could have been exposed," said Darapuri. He also questioned when the Uttar Pradesh Special Task Force (STF) flew from Lucknow to Ujjain by chartered flight, why was he taken by road instead of a chartered flight.
Darapuri added that Madhya Pradesh police should have produced the gangster before the Magistrate. He also said that before handing him over to the UP police, transit remand was not taken from the court.
It should be noted that a plea was filed in the Supreme Court earlier seeking Central Bureau of Investigation (CBI) probe into the killing of Vikas Dubey's aides by the UP police and the plea, which was filed before Dubey was killed, had raised concerns that Dubey too might suffer the same fate.
Many political parties and social organisations in Uttar Pradesh have condemned the "cold-blooded murder" dubbing it as a fake, dubious and "stage-managed" encounter. It has become another addition to the dubious records of the law enforcement agencies in the state.
Vikas Dubey was arrested from Madhya Pradesh's Ujjain a day before his encounter killing. A video of the arrest shows Dubey yelling 'I am Vikas Dubey, from Kanpur', suggesting that Dubey had, in fact, surrendered before the police without much resistance.
Also read: Police Brutalities in Garb of COVID-19 Lockdown Unabated Even After High Court Observation
'YOGI GOVT HAS REDUCED UP POLICE TO AN ENCOUNTER TOOL'
Gangster Vikas Dubey's death has not only raised questions over the Uttar Pradesh Police's modus operandi but has also brought the focus once again on how the Yogi Adityanath government has reduced UP police "to an encounter tool".
Before Vikas Dubey was gunned down, his five close aides were hunted down and shot dead at different places, but the plot of every killing was the same. In most of the recent encounters and even before, criminals tried to snatch the pistol/arms and hence were killed in the reverse firing, is a common explanation offered by the police.
Amar Dubey, a close aide of Vikas Dubey was killed in an encounter by the Uttar Pradesh Task Force (STF) on July 8 when he was trying to escape to Madhya Pradesh when he was intercepted by the STF.

Prabhat Mishra, an accomplice of gangster Vikas Dubey, was being brought to Kanpur on transit remand when he snatched the pistol of a sub-inspector and tried to flee. He reportedly died following retaliatory action.

Praveen alias Bauwa Dubey was shot dead in an encounter in Etawah in an exchange of fire.

Prem Prakash Pandey and Atul Dubey were gunned down by the UP STF—also killed in exchange firing.
In this context, Subhashini Ali, CPI(M) leader and former MP from Kanpur, said that all suspicious encounters that took place in the state should be probed.
"Police encounters in Uttar Pradesh have so far been targeting Muslims and Dalits. Dreaded criminals like Vikas Dubey were not paid much attention, " she told NewsClick, adding that a petition has already been filed in the Supreme Court against this encounter.
The CPI(M) leader also questioned the role of Kanpur's former SSP Anant Dev (in giving protection to Dubey) and said that his role was also quite doubtful.
Not long back, similar 'encounters' in Uttar Pradesh had given rise to a political storm after one Pushpendra Yadav was shot following his alleged role in illegal sand mining in Jhansi and later, Lakshman Yadav was gunned down in an encounter in Azamgarh for his alleged involvement in several cases, including murder, loot, etc. NewsClick had reported earlier how 'encounter politics' is shaping the affairs in the BJP-ruled state ever since Yogi Adityanath took charge in March 2017 as the chief minister.
According to a report published by The Indian Express, Dubey is the 119th accused to have been killed in what police called cross-firing and magisterial inquiries in 74 probes out of 119 have been completed where the police have got a clean chit. The report added that there have been 6,145 operations in which 119 accused have died and 2,258 others have been injured. In these operations, 13 policemen lost their lives including the slain policemen in Kanpur ambush. A total of 885 policemen were injured.
Also read: Police's Chargesheet Gives Chronology of Delhi Riots, Omits Kapil Mishra's Crucial 'Hate Speech'
Get the latest reports & analysis with people's perspective on Protests, movements & deep analytical videos, discussions of the current affairs in your Telegram app. Subscribe to NewsClick's Telegram channel & get Real-Time updates on stories, as they get published on our website.
Subscribe Newsclick On Telegram