Some Myths About Delhi Results….and Some Sobering Facts
In vivid detail, the results show the decline of Congress and how voters shifted allegiances over the past five years.
One of the popular myths about the recent Delhi Assembly elections is that the Congress voters shifted to BJP, thus increasing its vote share from about 33% in 2015 to 40% in 2020, including the three seats contested by BJP allies JD(U) and LJP. Others believe in the opposite – Congress voters shifted to AAP only. Yet another is that BJP has made a massive gain by increasing its vote share by around 7% compared to last elections. And so on – elections are the season of myths and mythology.
Let's look at some of these. But first, have a look at the actual number of votes polled in 2015 and 2020 elections in the Chart below.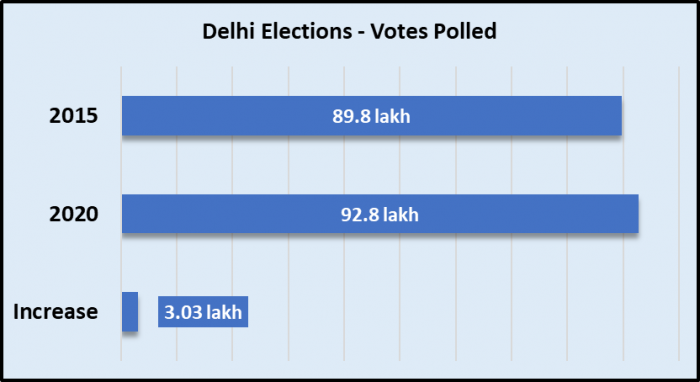 This is official data. So, although polling percentage dropped from over 67% in 2015 to just over 62% this time round, the actual number of votes cast went up. How come? Its very simple: the total electorate had increased between 2015 and 2020. So despite the drop in polling percentage, the actual number of votes cast increased by over 3 lakh. This has bearing for what comes further.
Where did the Congress vote go?
They had polled about 8.67 lakh votes in 2015, revealing that this major party that ruled Delhi for 15 years was but a pale shadow of its former self. In 2020, they got 3.95 lakh votes, just about half of that. In other words Congress lost some 4.7 lakh votes to other parties (or they may have sat at home despairingly).
Analysis of results of six constituencies with a sizeable Muslim population quickly shows that the Congress voters solidly shifted to AAP. These seats are: Chandni Chowk, Matia Mahal, Ballimaran, Okhla, Seelampur and Mustafabad. Congress had not won any of these but had garnered 1.49 lakh votes in these seats alone, over 17% of all the votes they got. But in 2020 they got only 42.8 thousand votes in them, with over a lakh leaving! Where did they go? AAP votes in these seats show a gain of over 1.32 lakh votes. Clearly this part of the Congress voters went to AAP. So, it's a myth that Congress votes went to BJP only.
But analysis of other seats shows that in several seats, BJP has increased its votes apparently at the cost of both AAP and Congress. Data has its limits – it cant show the internal dynamics of one section of voters shifting from A to B, even as another section is shifting from B to C. But based on some guidance from data and some reckoning of the way Delhi-ites were thinking, this is what appears to be the case. Large chunks of voters from poorer sections shifted from Congress to AAP, while in middle clas and traders dominated seats, the Congress voters went over to BJP. One can see this especially in Patparganj, Laxmi Nagar, Vishwas Nagar, Krishna Nagar, Gandhi Nagar and Shahdara, a belt in the central areas of East Delhi. Its largely solid middle class, business people, traders, etc. well settled, once equally divided between BJP and Congress. Now it seems another round of churning is taking place.
In addition, seat level data also shows that there was some shuffling around between AAP and BJP too. In several colonies of West Delhi, which were once rural or semi rural, but are now densely populated by lower middle class and working class people, AAP has lost voters to BJP too.
BJP Gains From Both
In fact, there are 32 seats in Delhi where BJP has gained 10,000 votes or more compared to last Assembly elections in 2015. Among these 12 seats saw over 20,000 votes gained by BJP in each, and over 30,000 in five. Where did this gain of BJP – nearly 7 lakh votes – in these 32 seats, come from? Congress contributed about 3 lakhs and if you take out Mustafabad and Okhla (mentioned earlier among Muslim dominated seats) AAP also lost votes in practically all of them. They didn't lose seats because their margins were still too high – their total votes were still too much ahead of BJP. But the shuffling around is visible.
The bottom line is that there is a churn taking place. BJP has made inroads in both AAP and Congress support bases. They gained about 7.6 lakh votes in all, over all the 70 constituencies. But broken down, it seems they have made a dent across the board. Its not sufficient to upturn the AAP juggernaut but it is there.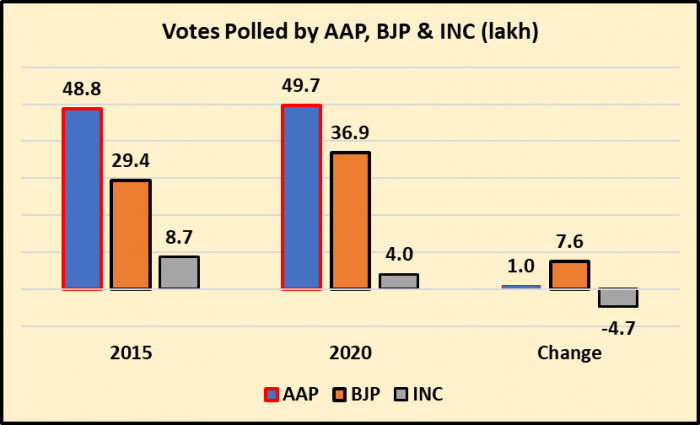 This gain by BJP is the sobering reality of the election. AAP has won and a decisive blow delivered to BJP specially because it had fought on an RSS plank, using naked communal propaganda. Yet the effect of this has shaken up people dangerously. The battle was won, the war is still on – for the hearts and minds of people.
Get the latest reports & analysis with people's perspective on Protests, movements & deep analytical videos, discussions of the current affairs in your Telegram app. Subscribe to NewsClick's Telegram channel & get Real-Time updates on stories, as they get published on our website.
Subscribe Newsclick On Telegram