Landlord Savagery in Sonbhadra on Tribal Cultivators
On July 17, 200 armed men shot dead 10 tribal farmers in an attempt to evict them from fields they had been cultivating for decades.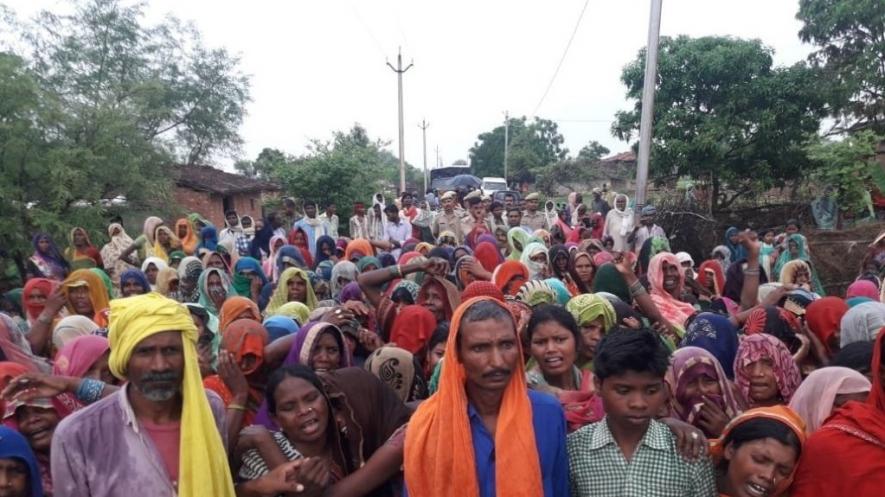 Image Courtesy: SocialNewz.XYZ
On Wednesday (July 17), a squad of about 200 men armed with stout sticks, spears and rifles arrived at Ubhha village, some 60 kilometres from Robertsganj, district headquarters of Sonbhadra district in Uttar Pradesh. They were led by one Yagyadutt Gurjar, village pradhan (headman). They were travelling on 32 tractor-trolleys. Reaching the village, they surrounded about 100 bighas of land and started ploughing it with the tractors.
Villagers, mostly belonging to Gond tribe, who had been cultivating that area at least since Independence in 1947, were taken by surprise at the strength and intent of the raiding party. However, they got together and protested. The altercation quickly got inflamed and the headman's men started beating the villagers, including women, with lathis and ballams (sticks). Unable to turn the villagers away, they got out the firearms and – media reports quoting eyewitnesses say – first fired at a some jamun trees and then straight at the crowd.
Within 20 minutes, the place was strewn with dead and wounded, with slippers and clothes dotting the blood-stained fields. Later, villagers told media persons that they had called every senior police officer but nobody picked. They dialled 100, the police control room number too, after which a couple of policemen had arrived but remained on the sides.
The injured and dead were rushed to the local Community Health Centre at Ghorawal, which is the block headquarter, some 25 kms away. Unable to deal with the sudden rush, personnel shifted the injured to Robertsganj. Seven people had died on the spot, two died on the way and one died in hospital. Besides these, some 29 people were injured, some of them seriously.
Also watch: Adivasis Under Attack, Forced Out of Home
Media reports have used phrases like "gunfight over land", "clash", "bloodshed due to land dispute", and such other anodyne descriptions to describe what happened. That's perhaps because it happened far away in the hinterland, and after all, land was under dispute, wasn't it?
However, even a quick parsing of the events and the background will disabuse any person of these descriptors. It was a savage, well-planned attack by an armed force in order to forcibly rob poor marginal cultivators of their only possession, the land. It is no coincidence that the cultivators were from the Gond tribe, who are considered lowly and face constant humiliation and exploitation.
Back Story of Land
Gond residents from Ubhha have been cultivating the land since before Independence. This northern part of Sonbhadra district is on the fringe of the Gangetic plain, with similar soil and climatic features as the fertile plains. Farming of paddy in the current kharif period is common, along with other coarse grains. The district lies in the south-eastern corner of UP, abutting Chhattisgarh, Madhya Pradesh, Jharkhand and Bihar and is known for its power plants and coal mining plants, all located in the southern part.
According to local Hindi media reports, back in 1955, an entity called Adarsh Society, registered under the Societies Act, supposedly acquired 600 bighas of land near Ubhha village, including the 100 bighas which was sought to be occupied on July 17. The tribal cultivators continued farming on the land unaware of this deal. Probably, the 'transfer' of this land to Adarsh Society was an attempt to acquire the land as well as escape the UP Zamindari Abolition Act of 1950, which was passed in 1951 and the rules under it, framed in 1952. All this is hoary history, which should be investigated now.
Also read: First Fired Upon, Now Criminal Cases Registered Against Tribals in Madhya Pradesh
Whatever be the case, it is reported that Adarsh Society's lien over the land lapsed in 1978. Villagers say that the land apparently was sold off to one Mishra family, who were based in Patna. In fact, they said that a representative of this family used to turn up every year and take 'lagaan' (rent) from all the families cultivating the land. The tribal cultivators, resigned themselves to this system, but continued farming.
Then, in 2017, things took a new turn. It became known that the village headman Yagyadutt had 'bought' the land. It is unclear from whom he bought it or why. Yagyadutt belonged to the dominant class of landlords in the village. It is said that his ancestors had actually migrated to the region many decades ago and occupied land. Since then his family has flourished. He is also reported to have maintained relations with different political parties. In short, he was a typical member of the power elite that dominate rural India.
When Yagyadutt declared his intentions of evicting the cultivators and using the land himself, a legal dispute emerged. A series of threats were received by the cultivators. Some altercations also broke out. According to media reports, the tribal cultivators took the matter first to the Sub-Registrar's Office (SRO) who dismissed it. Then they went to the District Magistrate (Rural) who also dismissed it.
The next step was for them to appeal to the Commissioner's office. Which is where they were planning to go on the fateful day of July 17. According to the cultivators, this fact was known to all – even to the senior police officers at Ghorawal. As it turned out, Yagyadutt, too, knew about it and decided to pre-empt the move by occupying the land himself – with deadly consequences.
Police and Administration's Connivance
Such a well-planned and massive attack couldn't possibly have taken place without the knowledge of the police and administration of the district. That there was a brewing legal dispute, everybody up and down the hierarchy knew. That violence could happen any time, is something any person with rural roots could foretell. After all, over 50% of civil suits in India are property/land related. Any senior officer whether in police or in the administration would know that the fulcrum of land disputes is – who occupies it currently? And they should know that feudal landlords of Yagyadutt's vintage are habituated to settling these things with arms. So, the only conclusion is that there was connivance among the bureaucracy, the police and Yagyadutt.
Also read: Thousands of Tribals March Down the streets of Delhi Demanding Withdrawal of Eviction Order
Since the fallout has been so lethal and shocking, Chief Minister Yogi Adityanath has quickly moved to suspend at least five top officers of the district and issued orders for compensation. Meanwhile, his administration has also prevented Congress leader Priyanka Gandhi from heading to the village, stopping her in the adjacent Mirzapur district. He has also ordered quick resolution of the land 'dispute'.
All this is fire-fighting. All this could have been done months, if not years, ago. But, as in so many other cases of violent attacks on under-privileged, the entrenched system was strongly biased against the Gonds of Ubhha. And, they have paid with blood for fighting against the bias.
Get the latest reports & analysis with people's perspective on Protests, movements & deep analytical videos, discussions of the current affairs in your Telegram app. Subscribe to NewsClick's Telegram channel & get Real-Time updates on stories, as they get published on our website.
Subscribe Newsclick On Telegram