TN This Week: Stalin Stresses on Federalism During Modi's Visit, BJP Says 'Petty Politics'
Tamil Nadu released the draft rules for the three labour codes. CITU raised 51 suggestions and objections in it.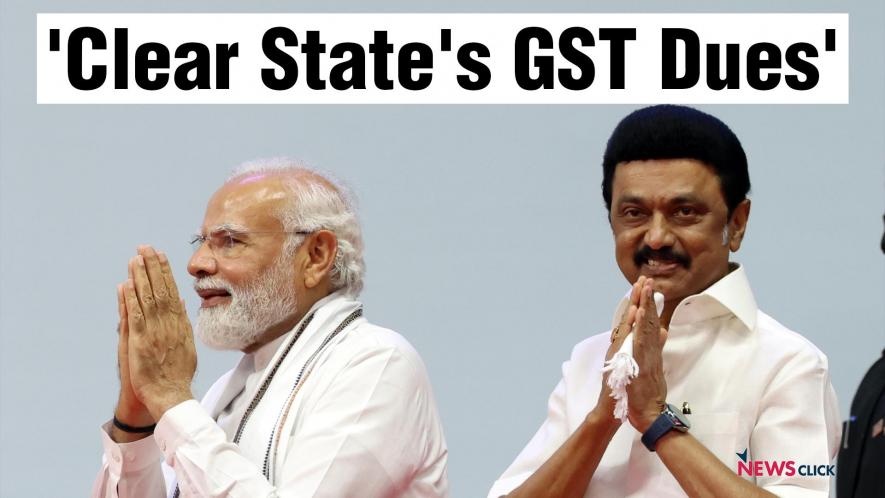 Several instances of brutal murders have been reported in Chennai in the recent days. Opposition Leader Edappadi K Palaniswami of the All India Anna Dravida Munnetra Kazhagam (AIADMK) condemned the failures of Tamil Nadu police. He said that in the past 20 days there have been 18 murders and that incidents like these have made the capital a dangerous city.
Notably, a 30-year-old Bharatiya Janata Party (BJP) functionary was hacked to death by a gang in public at Chintadripet, Chennai.
The Chennai Press Club has strongly condemned BJP state President Annamalai for harassing journalists. In a press meet on May 27 he accused a journalist of being DMK's handyman when raised questions regarding BJP illegally putting up banners during Prime Minister Modi's visit.
Nominations for electing six members to the Rajya Sabha from Tamil Nadu commenced on May 24. So far, Dravida Munnetra Kazhagam has filed three candidates and some independents have also filed their nominations. Polls are scheduled for June 10.
After the state released the draft rules for the three labour codes, Centre of Indian Trade Unions (CITU) state president A Soundara Rajan made 51 suggestions/objections on it. He also demanded that all the draft rules be published in Tamil for broader response.
Bank unions demanded action against S Gurumurthy, a director on the Central Board of the RBI, for making abusive remarks about public sector bank employees in a function in Chennai on May 8. However, there has been no response on this front, neither has Gurumurthy apologised as demanded by the unions. Read more
NewsClick brings you a round-up of the happenings this week.
MODI INAUGURATED PROJECTS
Prime Minister Narendra Modi inaugurated 11 infrastructural projects worth Rs 31,000 crore in Chennai on May 25. It is his first official visit to Tamil Nadu after DMK beat the AIADMK-BJP alliance and came to power last year.
While speaking at the event, Modi praised Tamil Nadu and the Tamil language as eternal and its culture as global.
Tamil Nadu Chief Minister MK Stalin, in his address at the same event, highlighted the state's contribution to the national economy and said the Centre must increase its contribution to do justice. "Only then will the true spirit of cooperative federalism be upheld," he stressed.
Opposing Stalin's attempt at making use of the opportunity to reiterate the state's demands, Tamil Nadu BJP president K Annamalai blazed against Stalin saying the ruling government staged a "political drama" when Modi visited Chennai.
MIGRANTS ACCUSED OF FISHERWOMAN'S DEATH
A 47-year-old fisherwoman who went to collect sea weed on May 24 was found dead after she was allegedly gang-raped and burnt by a few unidentified men. The incident took place near Vadakadu fishing town in Rameshwaram, Ramnad district.
The locals set a shrimp farm on fire and attacked some workers whom they suspected were responsible for the crime. Police have arrested two migrant workers from Odisha in the case.
FIR ON MEDIAHOUSE FOR CRITIQUING GOVT?
Chennai Police, based on a complaint by G Square real estate firm, had filed an FIR in an extortion case against Ananda Vikatan Media Group, YouTuber Maridhas and journalist Savukku Shankar.
However, the police faced a backlash, and several political leaders called it an attempt to muzzle the voice of the media.
Ananda Vikatan magazine notably published an article regarding corruption and extortion in G Square, a firm that is closely associated with the state Chief Minister Stalin's son-in-law Sabareesan. The mediahouse name was later dropped from the FIR.
COPS CLEAR SANITATION WORKERS' PROTEST
The ten-day-long sit-in protest by the Chennai Metropolitan Water Supply and Sewerage Board's contract workers seeking permanent jobs came to an end on May 25 with the police forcefully disbursing them. Read more
FOURTH ANNIVERSARY OF STERLITE FIRING
Activists in Thoothukudi district had organised a meeting to pay homage to the anti-Sterlite protesters who were killed in a police firing on May 22, 2018. The convener of the National Alliance of People's Movements (NAPM) Medha Patkar participated in the meeting on May 24, she appealed to CM Stalin to not push for reopening the Sterlite plant.
Patkar also urged the State government to stop the construction of coal-fired Udangudi super critical thermal power plant in Thoothukudi district citing environmental concerns.
Participating in a protest held on May 23 condemning evictions, Patkar said she did not expect that the DMK government would carry out eviction of working class people like the one that happened recently in Govindasamy Nagar.
PROTEST AGAINST ANTI-PEOPLE POLICIES
Demonstrations were held across the state on May 26 and 27 in Tamil Nadu by VCK and the Left parties over economic hardship and social disturbances created by right-wing groups in India under the BJP-led central government.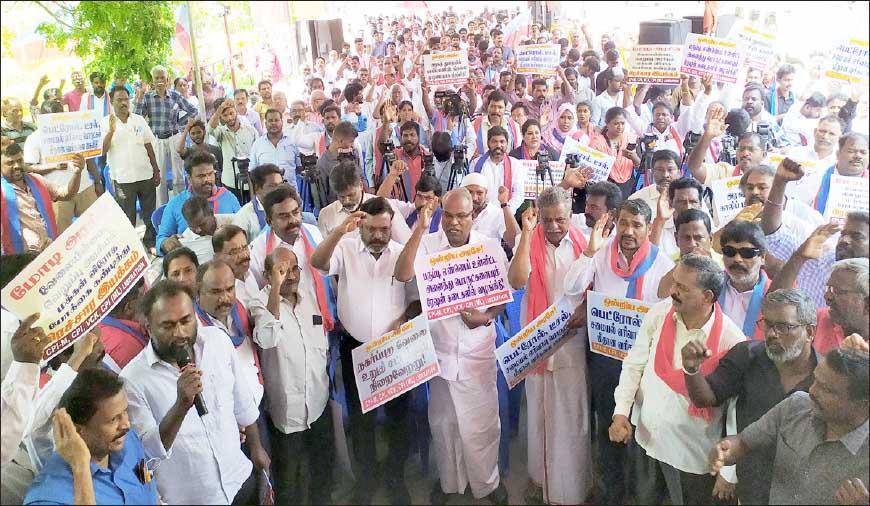 Left parties and VCK protest against the Centre. Image courtesy: Theekkathir
This was part of the nation-wide campaign and protest against the Union government's anti-people economic policies and the uncontrolled rise in the prices of essentials, such as petrol, diesel and cooking fuel.
Moreover, concerns in the textile sector continue as the Union government has not controlled yarn prices. The industry is on a 15-day strike, which began on May 22. Read more
Get the latest reports & analysis with people's perspective on Protests, movements & deep analytical videos, discussions of the current affairs in your Telegram app. Subscribe to NewsClick's Telegram channel & get Real-Time updates on stories, as they get published on our website.
Subscribe Newsclick On Telegram