UP Govt Admits 37% of 'Criminals' Killed in Encounters in 3 Years Were Muslims
The list has been released after the government was accused of targeting mainly the Brahmin community following the encounters of gangster Vikas Dubey, his associate Amar Dubey and Rakesh Pandey.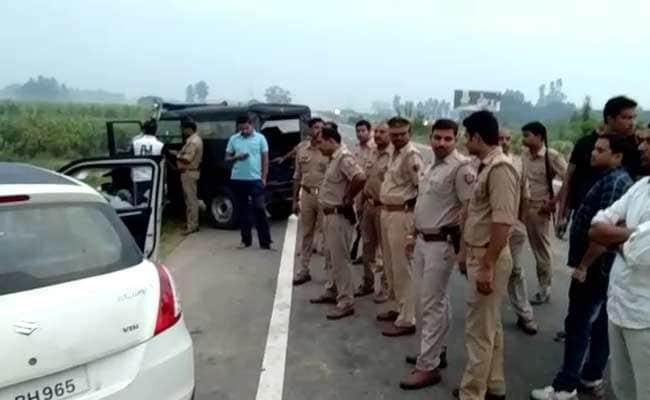 Representational image. | Image Courtesy: NDTV
Lucknow: After Yogi Adityanath came to power in Uttar Pradesh in March 2017, the number of encounter killings has increased in the state, with most of the victims belonging to vulnerable communities, such as Muslims and backward castes, as per a list compiled and released by the state government.
The Yogi Adityanath-led-BJP government in Uttar Pradesh has released a list of the alleged criminals eliminated by the UP police in "encounters" during the last three and a half years of the Bharatiya Janata Party (BJP) regime.
The list has been released after the UP government was criticised for targeting mainly the upper caste brahmin community following the recent encounters of gangster Vikas Dubey, his associate Amar Dubey and Rakesh Pandey, accused for murdering BJP leader Krishnanad Rai.
According to the official data accessed by NewsClick, about 37% of persons killed in "encounters" carried out by the UP Police in the past three years were Muslims.
Out of the 124 people gunned down, 47 were Muslims and 58 were from the backward castes, Scheduled castes, Scheduled tribes, vaishya and thakur communities with only 11 being brahmin and eight yadavs in more than 6,476 encounters, as per the data. 
Most of these encounters were related to cases in Western UP, including Meerut, Shamli, Aligarh, Muzaffarnagar and Saharanpur. Police records also revealed that 13,837 persons were arrested during these encounters, which led to injuring 2,419 accused persons.
In an attempt to prove the claim of "brahmins' persecution" as wrong, the government has admitted that it is, in fact, the minority community that has witnessed the maximum casualties in "encounters" despite the fact that Muslims account for just 18% of the state's population.
In the first year of the Adityanath government, nearly 45 persons lost their lives in police encounters, of which 16 were Muslims, as per the data. In 2020 alone, nearly 21 people have been killed in UP Police-related encounters. Apart from the three cases related to gangster Vikas Dubey, the other accused who died were from Muzaffarnagar, Aligarh, Bahraich, Meerut, Bareilly, Varanasi, and Basti.
Experts' Contrasting Views
Former IPS officer S R Darapuri, who is also the vice president of People's Union of Civil Liberties in UP, said these encounters were mostly 'staged', as they did not stop crimes.
"These encounters bring more harm. If a state starts treating encounters as a government policy--as the encounters happened in Gujarat and are currently happening in UP--the possibility of killing innocent people is high. In my opinion, most of the encounters are fake. Only 1-2% are genuine. I'm telling you this from my experience," said Darapuri, who has dealt with only one encounter during his service in which the criminal had surrendered.
The former IPS officer told NewsClick  that these encounters have not reduced the rate of crimes in the state, alleging that UP still topped in crimes against women. He added that these encounters weew also a reflection of Yogi Adityanth's "anti-Muslim and anti-dalit" policies as they numbered the highest among those eliminated.
Rajeev Yadav, a human rights activist based in Uttar Pradesh, said: "The list of encounters released by the Yogi government to show that the UP police were not casteist, has instead proved that it is deeply communal, as Muslims have been key targets."
"This is the part of Yogi Adityanath's plan to make Muslims second-class citizens and establish a brahmanical and Manuvaadi hegemony. On the one hand, they snatch their citizenship and, and on the other, they kill them in the name of encounters. Look at how frequently the government invokes the draconian National Security Act against Muslims and dalits. They want to convey that Muslims and dalits are a threat to national security. Why don't they invoke the NSA against thakurs and pandits when they attack dalits?" questioned Yadav, who is the secretary of the rights group, Rihai Manch.
On the police's plea that these people had been killed for allegedly being criminals, Yadav said: "What about Chinmayanand and Kuldeep Sengar? Were they not criminals? Why have they not been killed in police encounters?"
Mohammed Aslam, professor of political science at Allahabad University, however, said that in the present environment of "hysteria around nationalism and Hindutva", Muslims felt "more vulnerable and demonised" when members of the community are targeted by the law and order agencies.
"My fear is that this will highly demoralise them, which will also affect their access to legal and judicial intervention. Even if they know they are not criminals, will their voices be heard?" he said.
Aslam said "the Muslim community in UP has its internal conflicts and is very stratified. Besides, it lacks education and social empowerment. This adds to their problems as political voices speaking in their interest have also gone silent. This will also affect the way others see Muslims and increase the animosity against the community."  
Also read: Facebook Employees Take on Bosses on Hate Speech Tolerance in India
Get the latest reports & analysis with people's perspective on Protests, movements & deep analytical videos, discussions of the current affairs in your Telegram app. Subscribe to NewsClick's Telegram channel & get Real-Time updates on stories, as they get published on our website.
Subscribe Newsclick On Telegram