UP: Dalit Families in Azamgarh Flee as UP Police Allegedly Vandalise Homes, Harass Women
Even as police claims it was the villagers who attacked them after local dispute, the issue stirred a political furore, with Congress, BSP and Bhim Army demanding action against the police personnel as well as compensation for families.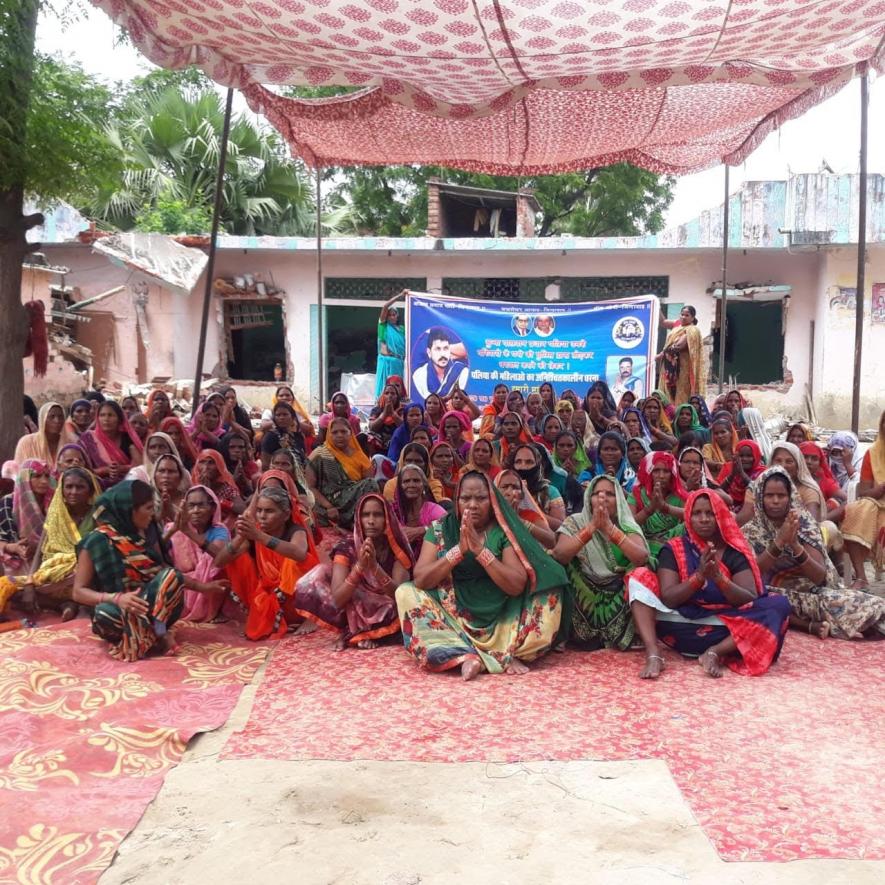 Lucknow: At least half dozen houses belonging to the dalit community in Palia village of Azamgarh district, including the village head, were allegedly demolished and furniture and other household items were ransacked. Even women and children were not been spared from cruelty when local police raided the houses on June 29.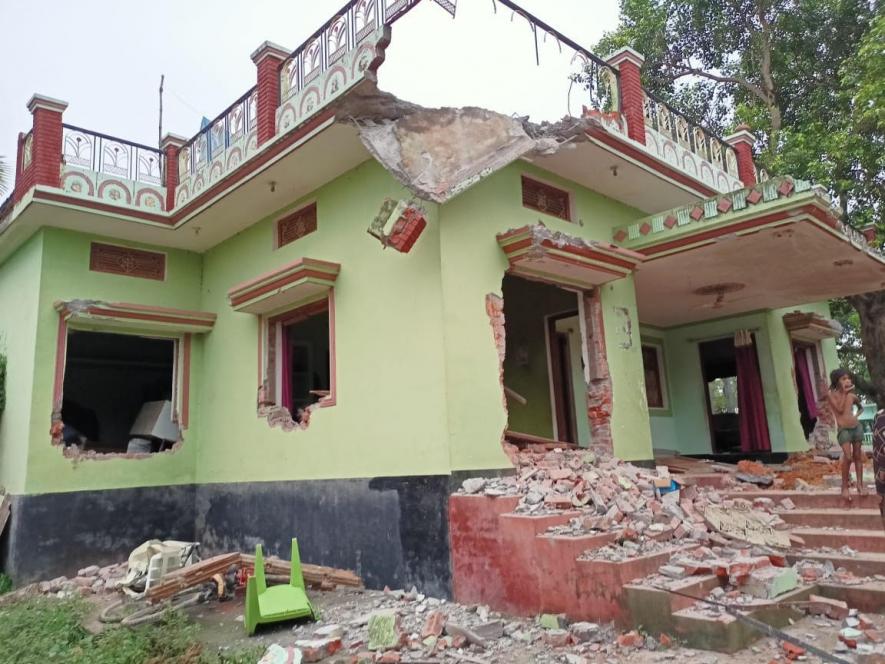 Photo: Special Arrangement
According to the police, the trouble began following a dispute between a doctor and some people in Palia village under Raunapur police jurisdiction on June 29, after which two policemen posted at a picket in the area. However, the villagers claimed that the same night, police surrounded the dalit hamlet and damaged the houses and looted them following which, the villagers fled.
Police alleged that the village 'pradhan' and his aide attacked them, leaving policemen injured one of whom is still in critical condition.
"The village chief Munna Paswan's sons and his aides were passing lewd comments at girls at the village market. A local Littan Viswas started making a video of it. Munna along with his supporters arrive at the spot and beat up Littan mercilessly. Two constables reached to intervene in the matter but they too were attacked by village head," Tarkeshwar Rai, station house officer (SHO), Raunapur told NewsClick.
When asked how Munna's house and two other houses were demolished, the SHO claimed: "Munna and his associates themselves demolished their houses and ransacked their furniture in a bid to mount pressure on police administration for not taking action registered against them. They vandalised so that they can skip trial. However, efforts are being made to arrest the accused."
The police have registered a case against 28 named and 143 unknown people in for "attacking" police.  The police have made people accused in two cases. The first action has been taken on the complaint of head constable Mukhram Yadav and the second on the complaint of a doctor Anand Vishwas' son Litton. 
Contrary to the SHO's statement, a member of the dalit community, whose house was damaged, told NewsClick on the condition of anonymity, that: "The two cops reached the spot where the scuffle took place. As the altercation heated up, police pulled Munna's collar and slapped him, even tried to take him to the police station. That angered the locals and they attacked policemen."
He said they had "never imagined of such consequences in their wildest dream that they (policemen) would come with JCB machines to demolish houses and would ransack household items." 
"The policemen, along with some others, demolished my house with JCB machine. They hurled abuses at us, made casteist remarks and threatened to kill us. My family members, including women and children, were present at the time of the incident," he said, alleging that the cops had come with heavy reinforcements to demolish their houses.  
The houses of half a dozen people, including Munna Paswan, Swatantra Paswan, Rajpati and Brijbhan Paswan, were vandalised by JCB machines. The windows, doors and walls of the houses were demolished by the police. Every item kept in the house was allegedly broken with a hammer, villagers alleged. The tractor parked in front of the pradhan's house was also damaged by a JCB machine, they alleged.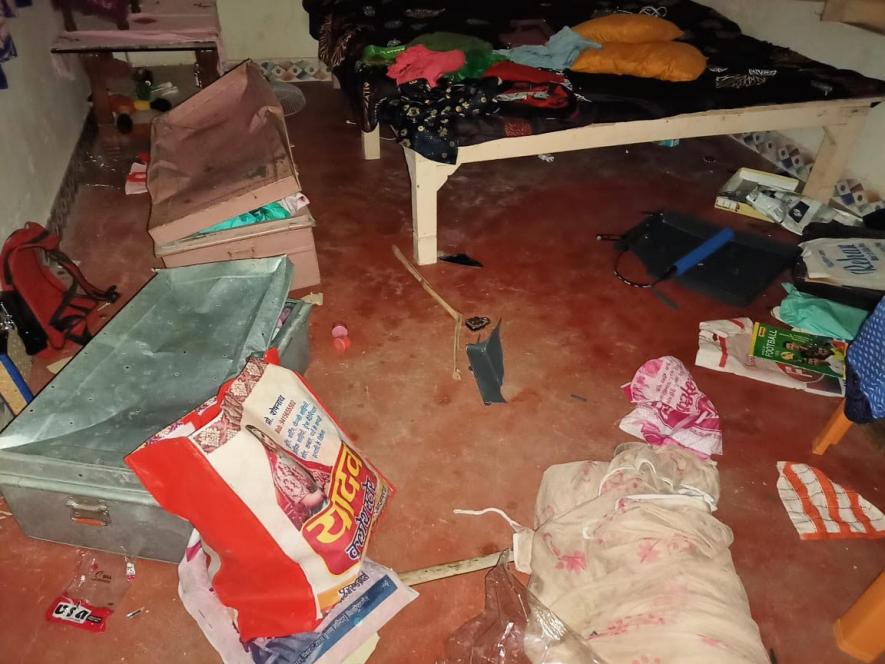 Fearing more police high-handedness, several dalit families, especially youth, have fled the villages, after alleged harassment by local upper caste persons and police. However, the SHO has denied the allegation of "looting", terming it as completely "baseless". 
Meanwhile, scores of women whose houses were allegedly demolished began sit-in protests against the police administration and their "brutality", demanding an FIR against the police under the SC/ST Act.  
Sunita, sister-in-law of village head Munna Paswan, alleged: "The police who demolished our houses said that: 'Chhoti jati ki aurtein sirf maza lene ke liye hoti hain (women of lower caste are only to have fun). A police officer also asked me for physical favours during the raid, and a CO groped me. They even snatched my gold locket. There is no respect for dalits in the eye of police. If we are moving ahead in life after doing hard work, is it a crime?"
She said: "Women are not safe in the village. We want Chief Minister Yogi Adityanath to come to our village and see for himself how these policemen are making fun of government's 'Beti Bachao Beti Padhao campaign. If he does not address our plight, we, along with our children, will kill ourselves," she threatened.
Read Also:  'Could not Stand Dalit Man Saying No': Kin of Murdered Pradhan in UP Allege Murder by Upper-Caste Men
Last year in August, a dalit village head, identified as Satyameva Jayate alias Pappu Ram, was allegedly murdered by four members of the thakur community. He was taken to a nearby tube well in the village by one of the accused, where he was allegedly shot dead by the upper caste men, according to his family members.
According to the National Crime Records Bureau (NCRB) data from 2018, in crimes against dalits – ranging from rape, murder, violence and land-related issues – Uttar Pradesh topped the list, followed by another Bharatiya Janata Party-ruled state, Gujarat.
Meanwhile, the alleged attack on the dalit pradhan and his relatives has created a political furore in the state where Assembly polls are due early next year. Several political leaders, including Congress general secretary Priyanka Gandhi Vadra, Bahujan Samaj Party (BSP) supremo Mayawati and Bhim Army Chief Chandrashekhar Azad, took Twitter to express their anger and demanded compensation.
"News about attack on Dalit families in Palia village in Azamgarh by UP police. Several houses were damaged, and cases were registered against hundreds. This indicates the anti-Dalit mindset of the government. Immediate action should be taken against the accused, and compensation should be given to victims," Priyanka Gandhi tweeted.
आज़मगढ़, रौनापार के पलिया गांव में यूपी पुलिस द्वारा दलित परिवारों पर हमला करने की खबर आ रही है। वहाँ कई मकानों को तोड़ा गया, सैकड़ों पर मुकदमा दर्ज किया। 

यह सरकारी अमले की दलित विरोधी मानसिकता का परिचायक है। तत्काल दोषियों के ऊपर कार्यवाही हो और पीड़ितों को मुआवजा दिया जाए। pic.twitter.com/eOUUZuH5yL

— Priyanka Gandhi Vadra (@priyankagandhi) July 5, 2021
Bhim Army chief said in a tweet, "We will not tolerate insult to our mother and sisters. We demand that all the guilty policemen of the police station including Raunapar SHO should be sacked and FIR should be registered against them and Munna Paswan should be given compensation of Rs 5 crore for breaking the houses."
हम अपनी मां बहनों का अपमान बर्दाश्त नहीं करेंगे। हमारी मांग है कि रौनापार SHO सहित थाने के सभी दोषी पुलिसकर्मियों को बर्खास्त कर उनपर FIR दर्ज की जाए और मुन्ना पासवान को घर तोड़ने के एवज में ₹5 करोड़ की क्षतिपूर्ति दी जाए। @myogiadityanath @dgpup (2/2) pic.twitter.com/wreWE68kBh

— Chandra Shekhar Aazad (@BhimArmyChief) July 6, 2021
Get the latest reports & analysis with people's perspective on Protests, movements & deep analytical videos, discussions of the current affairs in your Telegram app. Subscribe to NewsClick's Telegram channel & get Real-Time updates on stories, as they get published on our website.
Subscribe Newsclick On Telegram