UP Elections: Deprived of Basic Facilities, Bahriach Villagers Await Development
Bahraich is included in NITI Aayog's list of 100 most backward districts. Vatangiyas who inhabit the villages here allege lack of roads, hospitals, electricity, and schools.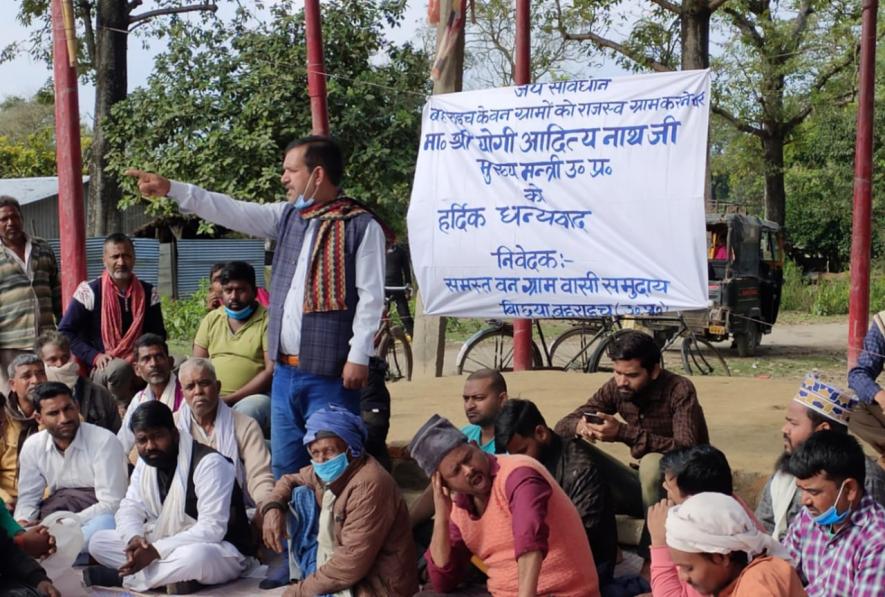 Bahraich: The Katerniaghat wildlife sanctuary, famous for its flora and fauna, attracts millions of wildlife enthusiasts every year, but a substantial 7,000 people population of Vantangiyas who live in the vicinity are waiting to see the light of the day in terms of development.
Villages Bhawanipur, Tedhiya, Dekiya and Bichiya are located in the vicinity of this wildlife sanctuary, and they show a stark contrast, with villagers surviving in pitiable conditions without any basic facilities. These villages have not seen any development because these were vangrams of forest villages where any construction is strictly prohibited. However, on January 8, 2022, the district administration received a notification from the government that now these four villages have the status of revenue villages which means the villages will get roads, hospitals, schools, electricity and more.
Sohanlal, a resident of Bhawanipur village, told NewsClick that due to the non-availability of any resources, the villagers have to take their patients on charpoy to the nearest hospital, which is about 45 kilometres from the village.
"If a woman gets pregnant in our village, then we take her on charpoy because there is no facility in our villages, and this is the scariest part of living in a vangram. Had this notification come earlier, we would have got basic facilities in other villages. Not having a toilet in the house and going out in the day to answer nature's call in 2022 is a shame for us," says Sohanlal.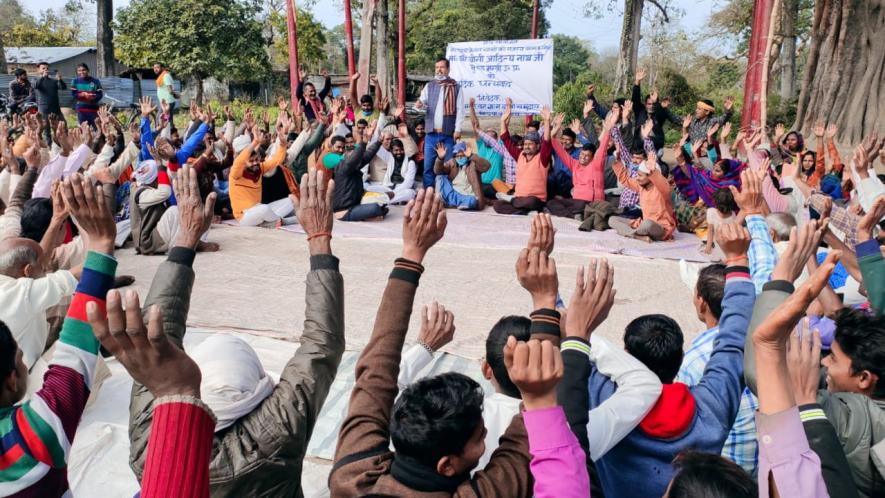 File photo of protest for declaring Bichiya as revenue village. Photo by Azeem Mirza
'KAHA HAI SAUCHALAY' (WHERE ARE THE TOILETS?)
'Jaha Soch Waha Shauchalaya' is the most common tagline used by the ruling Bharatiya Janata Party for promoting Prime Minister Narendra Modi's Swachh Bharat Mission. The Prime Minister launched the countrywide programme in August 2014, but four villages in the Bahraich district are yet to get their toilets.
Bahraich is included in NITI Aayog's list of 100 most backward districts. It has 14 development blocks, of which Mihirpurva is at the bottom.
The Vangram villages are those hamlets that are situated in and around the villages. The villagers or the forest dwellers depend on the forest products, labour jobs for running their households. These villages also prohibit doing any concrete construction, be it school, hospital, road or even toilets.
THE HISTORY
There are not many records about the history of Vantangiyas, but it is believed that in 1865, the British decided to develop forestland and introduced a forest management system because the government needed a huge quantity of wood to lay railway tracks for which it needed a large number of unpaid labour or Begaar. Hence the then British government announced a resettlement plan under which these people were given the uninhabited land near the forests on lease at the cost of 37 paise per Bigha.
Compared to other communities residing in jungles across the country, the resettled farmers were not given social and lawful recognition. They were not even considered citizens of India.
These four villages these Vantangiyas inhabited were not considered part of any village panchayat or district panchayat in Uttar Pradesh Panchayati Raj Act, 1995. Their names were not included in the Families Register Part 2, which was essential for establishing their official identity, making them deprived of the benefits of several welfare schemes. In the absence of proof of residence, income, or caste, they could not even open bank accounts, let alone seek bank loans for self-employment opportunities.
NO JOBS DUE TO STATUS OF REVENUE VILLAGE
Bhanmati, a resident of Tedhiya village in Bahraich, who was awarded the prestigious President's award in 2016, says that her getting the award could not help the town get basic facilities.
"We want to live in a pucca house which has toilets. We want to get the benefits of NREGA and other schemes. There are no schools in the village, and we welcome the government's step for giving us the status of revenue village, but it came very late. I am disheartened with the government," she said.
"Adhikari sirf rang-birangi saree pakda deta hai, samasya nahi sunta hai hamari" (The officers gift us the saree, but they do not listen to our problems), she says, adding, "There is no electricity also, and it is hard to survive under such conditions. We feel scared stepping out in the dark to answer nature's call because of the wild animals. Had we got these facilities, our lives would have been a bit easy."
According to senior scribe Azeem Mirza, "ninety-five years ago the Britishers brought labourers to protect the forests. Some of the labourers were from eastern Uttar Pradesh, while a large portion was brought from foreign nations, especially Burma, now Myanmar. These people were responsible for protecting the forests, and they were given the rights to consume forest produce for their livelihood."
"Post-independence, the Forest Rights Act was brought into power in 2006, and after that, these forest dwellers started raising their voice for giving their villages the status of revenue villages. The Yogi government declared 35 vangrams as revenue villages after coming to power, but four of the villages were not given the status, and later people from these four villages started raising their voices."
It may be mentioned that these forest dwellers were given the right to vote in Panchayat elections only in 2011, and before that, they did not have the voting rights for panchayat elections.
According to the Economic Survey 2018-19, which was tabled by the Finance and Corporate Affairs minister Nirmala Sitharaman, over 9.5 crore toilets were constructed in 5,64,658 villages across India. All these villages were declared open defecation free.
Bahraich District Magistrate Dr Dinesh Chandra said that the demand for making these vangrams in revenue villages was long overdue. Since the notification has come, it will help the administration develop these villages. He declined to comment further on queries raised by NewsClick.
With inputs from Azeem Mirza in Bahraich.
Get the latest reports & analysis with people's perspective on Protests, movements & deep analytical videos, discussions of the current affairs in your Telegram app. Subscribe to NewsClick's Telegram channel & get Real-Time updates on stories, as they get published on our website.
Subscribe Newsclick On Telegram