UP Elections: Shift in Public Discourse Shows BJP's Polarisation Attempts may not Work this Time
Across the state, especially in the cane belt in western UP, people are raising issues of jobs, economic hardships, giving a go-by to attempts at religious polarisation.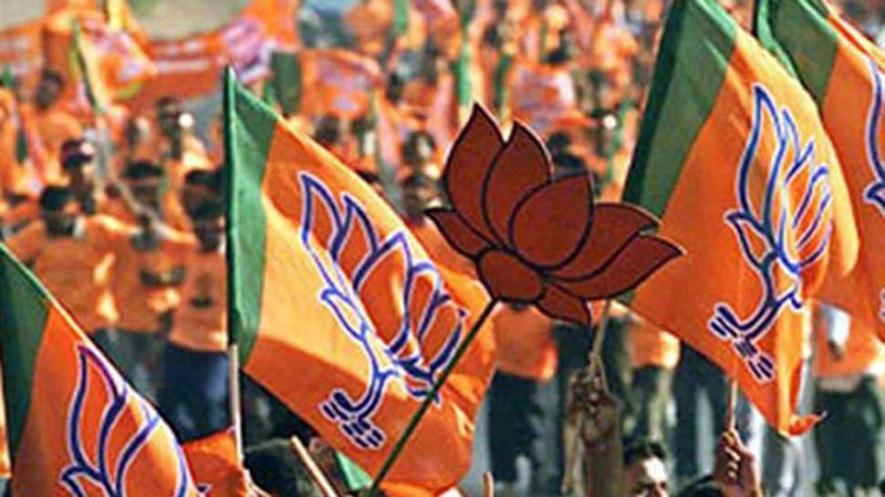 Representational Image. Image Courtesy: Zee News
Lucknow: "This country is like a bouquet of multi-coloured flowers. Its vibrancy emerges from the diversity that resides within this mainland. Different religions, languages, cultures and customs make this glorious nation diverse. Our plurality is at stake under the current dispensation, but we can no longer live in an atmosphere of hate and bigotry." says a young man who sells headgear, dresses and rosaries used to decorate and worship Lord Krishna in the premises of the magnificent temple in the Krishna Janmabhoomi complex in Mathura, Uttar Pradesh. 
He says farm distress, rising unemployment and economic hardship has been the centre of public discussion ahead of the Assembly elections in India's most electorally significant state of Uttar Pradesh. 
The young man's statement indicates a shift of discourse in the state, which until recently was most polarised on religious lines. It also reflects that the Right wing groups' impassioned attempts to divide voters communally do not seem to be working this time. 
The first phase of the seven-phase polls in UP will be held on 58 seats of Western Uttar Pradesh — where communal polarisation politics of the ruling Bharatiya Janata Party (BJP) magically worked in its favour last time round across the state in general and in the agrarian belts of Meerut, Saharanpur and Moradabad in particular. 
The saffron party won all 14 parliamentary seats in the 2014 general elections and registered victory on 51 of 70 seats of the region in the 2017 Assembly elections. It had won only 11 seats in the 2012 elections. Polarisation in 2017 elections gave it a direct benefit of 40 seats. 
But the political atmosphere in this election appears to be different. Instead of the politics of hate, issues directly impacting people's daily lives have taken a centre stage. 
"Since the BJP claims it has done a lot of development work across Uttar Pradesh and handled the COVID crisis effectively, it should seek votes on the basis of that work. But they will not do so, as they know that farmers are in distress, there is a worst ever stray cattle menace, people are being forced to sell their yields at throwaway prices, unemployment is rising with each passing day, qualified youth are jobless, health infrastructure in the state has collapsed and prices of everything are skyrocketing. This is despite the fact that BJP is ruling both the Centre and the state. Therefore, unnecessary controversies such as the alleged exodus of Hindus from Kairana, construction of a temple in Mathura, etc. are being stoked to create a communal atmosphere," alleges Mathura resident Rajendra Singh Sisodia, adding that these tactics are not going to work anymore as people have now realised that communal divisions have cost them a lot. 
The BJP is once again trying out its old formula of polarisation in Western UP. Union Home Minister Amit Shah kick-started his party's election campaign from Kairana and raised the issue of alleged 'palayan' (exodus). He met families of those who migrated. Appreciating the Yogi Adityanath's government, he said the chief minister "improved law and order situation in the area, which gave people a peaceful atmosphere to live in". 
A group of people in an Agra village are discussing local politics. When this correspondent asked an ardent BJP supporter to list five good steps the Yogi Adityanath-led government in the state has taken for the welfare of people, he stammered and said: "Go to Ayodhya and see how magnificent the Ram temple is being built." 
Another young man interrupts and tells this correspondent: "This is the achievement of the BJP government. This boy should be talking about unemployment, instead he is mentioning temple-mosque issues. How will he help his family economically if he does not get a job? How will he eat if his parents, who are farmers, do not get fair prices of farm produces?" 
"Despite passionate attempts to polarise these elections on religious lines, the electorate are sticking to their issues. They will vote out those who have betrayed and backstabbed them," he adds. 
Even potato farmers in Farrukhabad, who are selling the yields at Rs 4-5 per kg, said that the "tried and tested strategy" of  BJP is set to suffer a big jolt as the 13-month-long farmers' movement against the contentious farm laws and minimum support price (MSP) have made peasants aware of the losses they have suffered.
A cane farmer in Muzaffarnagar's Jaula village said: "The communal conflict here in 2013 sharply divided jats and Muslims, but the two communities are still bearing its brunt. The agitation has brought them on a single platform again, irrespective of caste and religion. The movement has also facilitated harmony between Hindus and Muslims," he added.
He said the 'bhaichara' (brotherhood) conference led by the Rashtriya Lok Dal, which enjoys a good support base in Western UP and is fighting the upcoming elections in alliance with the Samajwadi Party, played a significant role in bridging the gap between the two communities in the region. 
RLD leader late Ajit Singh had organised many such conferences in several districts of the sugarcane belt. As a result, Tabassum Begum from Kairana registered a victory as RLD's candidate in the Lok Sabha bypoll after the demise of BJP MP Hukum Singh. The locals here call it a victory of 'ganna' (sugarcane) over 'Jinnah', the BJP's poll pitch. 
After Ajit Singh's demise, his son Jayant Choudhary carried forward similar 'bhaichara' conferences to promote harmony among people. 
Bharatiya Kisan Union's national spokesperson Rakesh Tikait, too, says the voters in the agrarian belt of the state will support only those candidates who will talk about farmers' welfare. The politics of polarisation, he says, won't work. 
Tikait says peasants are going through a "tough time" as they are not getting fair prices of what they produce for the country. They are forced to pay high electricity bills. "Farm crisis, unemployment and inflation are the issues of this election. But efforts are on to divide Hindus and Muslims through regular statements on Jinnah and Pakistan. But, those who are doing it are perhaps not realising that it will harm their prospects instead of helping them," he adds. 
He was referring to Uttar Pradesh Chief Minister Yogi Adityanath's statement, targeting SP and its president Akhilesh Yadav, calling them supporters of Pakistan and "Jinnah's worshippers". 
Adityanath's remark ostensibly refers to the SP national president's recent statements on Pakistan and its founder Mohammad Ali Jinnah. 
Tejbeer Singh, a BJP supporter and pradhan of Harshauli village in Muzaffarnagar, also admits that the farmers' movement succeeded in "reviving the broken communal harmony in the region to an extent", though he believes it will not have any impact on the poll outcome, and the BJP will easily be able to retain Lucknow. 
Rohit Jakhar, state president of the Rashtriya Jat Mahasangh, says the political atmosphere had changed in western UP. "Divisive politics", he said, had been exposed and the BJP will suffer loss after three elections of 2014, 2017 and 2019. 
"People, especially in rural areas, are not allowing polarisation on the lines of religion. Soon, jat leaders would be deployed in Muslim areas to mobilise communal harmony during elections," he adds. 
His arguments that BJP is unable to effect polarisation despite efforts get strength from the fact that BJP candidates from constituencies Shamli, Purkazi, Khatauli and Siwalkhas and their supporters were chased away during campaigning. 
The UP election results will be crucial to understand public sentiments ahead of the 2024 Lok Sabha elections. The state grabs nation's attention not merely because of its size but because of it being a centre of the Hindutva project. It would decide whether the aggressive Hindutva line pushed by the ruling party over the last five years will still work. It will be also be a test of the influence of the Opposition, which has taken a shape recently. 
Last but not the least: in electoral arithmetic, two plus two may not necessarily equal four. It can be less, or more.
Get the latest reports & analysis with people's perspective on Protests, movements & deep analytical videos, discussions of the current affairs in your Telegram app. Subscribe to NewsClick's Telegram channel & get Real-Time updates on stories, as they get published on our website.
Subscribe Newsclick On Telegram