UP: Outrage Over 'Rape-Murder' of Dalit Sisters, Lakhimpur Turns Into Fortress
Fear-stricken families stop girls from going out, attend school; Dalit bodies blame easy bail for rise in such crimes.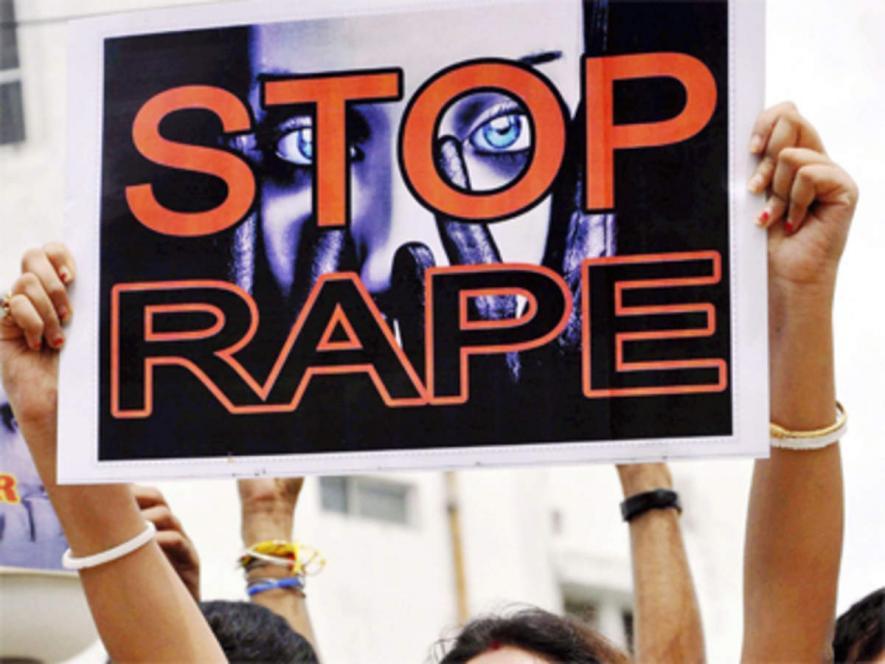 Lakhimpur/Lucknow: In what has brought back memories of the chilling 2014  Badayun dalit sisters' death case, two minor sisters, also dalit and aged 14 and 17 years, were found hanging from a tree outside Tamoli Purwa village in Nighasan area of Uttar Pradesh's Lakhimpur Kheri district on Wednesday evening. 
The Incident
The mother of the girls said her daughters were "kidnapped by three bike-borne men at around 3 p.m on Wednesday and three hours later they were found hanging from a tree in a cane field". 
"I resisted when they were trying to abduct my daughters in front of my eyes but they kicked in my abdomen and I lost consciousness; villagers witnessed them being dragged and forced to sit on bikes which then sped away. Around two hours later, their bodies were found tied with a scarf from a tree a kilometre away in a sugarcane field," the girl's mother told NewsClick.
Commenting on the "deteriorating law and order", she further added, "there should be some strict law to prevent such incidents. Daughters should be given a world where they can become teachers, doctors or pursue a career of their choice, not to be killed this way."
Families in the village are shaken by the events of the dreadful Wednesday evening. Many have locked up their young girls at home, wary of the crowds outside. "We are so scared, no one imagined something like this to happen to minor girls. We are so terrified that we are not letting our children go outside, not even to even school or play with their friends," Sarika, their neighbour, told NewsClick, standing in front of a tiny window.  
Read Also: 'UP Not Safe': Dalit Body Protests Rise of Caste Violence, Extends Support to Farmers
One victim was a student of class 7, whereas the other was a class 10 student. The neighbours claimed that they were good in studies  and the elder one wanted to become a teacher. 
Family members of the deceased claimed political leaders were "offering them money as compensation. We want justice for my daughters. We want the safety of hundreds of young girls living out there," Ram Gautam, the uncle of the girls and a construction worker in Lakhimpur Kheri , told NewsClick
"My daughters wanted to become teachers but were killed. The same fate should await the culprits. We want justice. A government job should be given to any member of the family and we should get at least one crore as compensation," he demanded.
Six Arrested, One Shot in Leg
Meanwhile, Sanjiv Suman, SP Lakhimpur Kheri told the media about the arrests and sequence of incidents. He said six accused had been arrested in this connection so far. He said a local villager, identified as Chhotu Gautam, and five youths of adjoining villages have been arrested in the case. The five others were identified as Junaid, Sohail, Hafizur Rahman, Karimudeen and Adil, from neighbouring Lalpur village. 
The SP said Sohail and Hafizur Rahman allegedly raped and murdered the sisters while Chhotu acted as the alleged facilitator. The police claimed the girls had a "love affair" with Junaid and Sohail.
Junaid was reportedly shot in the right leg in retaliatory firing during a police encounter.
"On the day of incident, Junaid and Sohail took the girls to a field on some pretext and then raped them. When the girls asked them to marry them, they allegedly strangled the victims to death. They later called Hafizul, Karimuddin and Arif to help conceal the crime," the SP told NewsClick on the sidelines of a press conference, adding that Chotu wasn't present on the spot where crime took place. "The investigation revealed that Chotu had introduced the victims to Junaid and Sohail."
A copy of the First Information Report (FIR), accessed by NewsClick, said Chhotu Gautam and three unidentified youths have been booked under Indian Penal Code Sections 302 (for murder), 323 (for voluntarily causing hurt), 452 (for criminal house trespass) and 376 (for rape). Sections 3 and 4 of Protection of Children from Sexual Offences (POCSO) act have also been included. The FIR was lodged as per the sequence of incidents told by the girls' mother and allegations levelled by her. 
Meanwhile, on Thursday, the victims' post-mortem was conducted that suggested they had been raped. It also confirmed that the women were strangled to death and were hanged later.
Outrage Grows Louder
With the incident gaining more attention, the narrow lanes of the slum saw a slew of visitors, including politicians, social activists. It was even the site of a protest.  
Poonam Baudh, an advocate who heads the Savitribai Phule Mahila Adhikar Manch that was at the forefront of protests during the Hathras rape, said that such incident won't stop until the government take serious action against the accused so that and future generations could not dare to commit such heinous crime.
"In almost every rape case against dalits, you see the same pattern that accused either walk free or are granted bail easily that lead to more such crimes. In many cases, including Hathras case, upper caste group hold a panchayat in favour of the accused. The government must set an example for any petty crime being done against dalit otherwise this won't stop," she told NewsClick. 
Read Also: From Khairlanji to Hathras, Rape Story Repeats Itself for Dalit Women
Baudh added: "Attacks on dalits have been happening for centuries and are being reported every day. However, now with the help of social media and alternative media, especially run by dalit communities, many cases are coming forward. The travesty is that even 75 years after Independence, successive governments failed to make good this constitutional pledge to several sections of people. Even after so many years, dalits are among the most oppressed in this country."
Meanwhile, the National Crime Record Bureau released its report for crime statistics on August 29, 2022, showing that atrocities against dalits and adivasis had increased by 1.2% and 6.4% in 2021 with Uttar Pradesh and Madhya Pradesh leading the tally.
Read Also: NCRB Report Shows Rise in Atrocities Towards Dalits and Adivasis
The report revealed that atrocities or crimes against Scheduled Castes (SCs) have increased by 1.2% in 2021 with UP reporting the highest number of cases of atrocities against SCs accounting for 25.82% followed by Rajasthan with 14.7% and Madhya Pradesh with 14.1% during 2021. Further, the report reveals that atrocities against Scheduled Tribes (ST) have increased by 6.4% in 2021 with Madhya Pradesh reporting the highest number of cases accounting for 29.8% followed by Rajasthan with 24% and Odisha with 7.6% in 2021.
The data also suggest that cases of rape against SC women, (including minors) account for 7.64% and ST women account for 15% out of the total cases reported. The report has also tabled detailed numbers for cases of rape against dalit women, cases of minor rape, attempt to rape, assault on women to outrage her modesty, and kidnapping of women and minors which cumulatively stood at 16.8% in SC women and 26.8% in ST women.
The BJP-led Uttar Pradesh government faced intense criticism from the Opposition leaders over the death of two minor sisters. Congress general secretary Priyanka Gandhi Vadra asked the reason behind the "increase in heinous crimes against women" in UP, saying "false advertisements in newspapers and TV" do not improve the law and order situation.
"The incident of murder of two sisters in Lakhimpur (UP) is heart-wrenching. The relatives say that those girls were abducted in broad daylight," she tweeted in Hindi.
Get the latest reports & analysis with people's perspective on Protests, movements & deep analytical videos, discussions of the current affairs in your Telegram app. Subscribe to NewsClick's Telegram channel & get Real-Time updates on stories, as they get published on our website.
Subscribe Newsclick On Telegram