UP Polls: Farmers Most Deprived of MSP in Double Engine State
Just 15% of wheat and 32% of rice was procured by the government at MSP rates. The rest was sold below MSP to traders.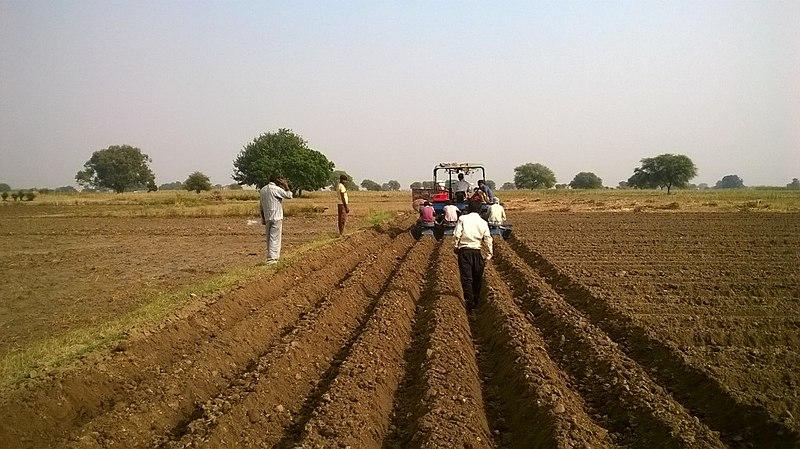 Uttar Pradesh (UP) produced 58.32 million tonnes of food grains in 2020-21, the highest among all states. It was nearly 19% or one-fifth of the country's production. Foodgrains include wheat and rice, the two major crops, and various coarse cereals and pulses. UP was the country's leading wheat producer, ahead of Madhya Pradesh and Punjab, and it is the second-largest rice producer after West Bengal, but ahead of Punjab. The current year is likely to see a similar output.
UP had a mind-boggling 23.8 million (2.38 crore) operational holdings of agricultural land according to the last Agricultural Census in 2015-16. Of these 92% holdings were in the small and marginal range, that is, up to 2 hectares only. This proportion is higher than the countrywide average of about 86%. Also, the average size of land holdings in UP is 0.73 hectares, less than the all India average of 1.08 hectares.
In short, UP is a state dominated by small and marginal farmers, with less than average landholdings. Yet it leads the country in food grain production because of the sheer scale of numbers. So, it is but natural that farmers and their economic condition will play a key role in the coming seven-phase Assembly elections, slated to start from 10 February.
LOW PROCUREMENT IN UP
Minimum Support prices (MSP) are given to farmers as a way of ensuring that they get a somewhat just and fair return for their produce. It is not really enough, but still, it provides some measure of compensation to their labours. It is a harsh reality of 'market' dominated India that MSP is given only by government agencies when they procure produce from farmers. Private traders usually do not give MSP level prices.
So, a crucial measure of how much MSP is actually reaching farmers is – how much is the procurement. Low procurement means less number of farmers get MSP, and high procurement implies a higher number of farmers getting a better price.
In UP, government procurement is consistently low. Compared to the all India average, it is far less, as shown in the charts below for wheat and rice, respectively.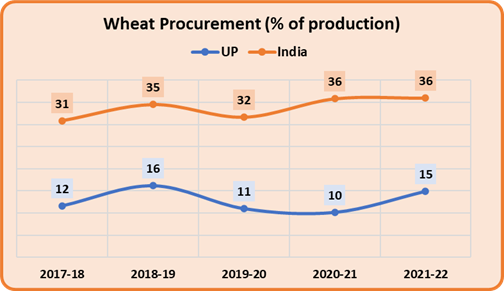 While procurement has increased somewhat under the Yogi Adityanath regime in UP, the increase is erratic and too less, as shown in the chart above for wheat. In 2018-19, and then again in 2021-22, wheat procurement rose to touch 15-16% of total production. Perhaps this was related to the fact that 2019 and 2022 are election years, the former saw Lok Sabha elections, and the latter is having state Assembly elections. But in 2021, amidst the Covid pandemic, the state held panchayat elections, and it was suggested by many that more attention was given to holding the elections than to set up procurement centres, hence the drop in procurement.
Whatever be the case, a drop in procurement means that more farmers are forced to sell their produce at lesser prices to traders and contractors. A similar story can be seen in the case of rice procurement, as shown in the chart below.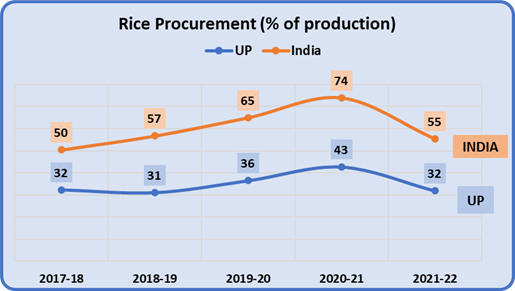 Again, UP's procurement is much lower than the average for the country as a whole. In the current year, for example, an estimated 32% of the rice produced has been procured by government agencies, whereas at the country level, this was 55% of the total produce.
In both wheat and rice, states like Punjab and Haryana, and of late, Madhya Pradesh too, procure far more than most other states, including UP.
HUGE LOSS TO FARMERS
How much loss do farmers suffer, and how many of them are forced to sell at prices lower than declared MSP? It is difficult to find a precise answer, but some estimates can be made with reasonable legitimacy.
Take the case of wheat and rice procurement in UP during 2020-21. Out of the 157 lakh metric tonnes of rice produced, a "record quantity" of 66.84 lakh metric tonnes was procured, for which farmers received Rs 12,491.88 crores as per MSP of Rs 1,868 per quintal. This means that about 90 lakh metric tonnes of rice were likely not bought at MSP but sold below that rate. The government said that around 12.98 lakh farmers sold their paddy crop at MSP. Going by the same proportion as paddy sold below MSP, some 13 lakh farmers were thus deprived of MSP.
Similarly, 56.41 lakh metric tonnes of wheat was procured by the government out of a total production of 355 lakh metric tonnes. That means about 319 lakh metric tonnes of wheat was sold by farmers to traders at lower prices than the MSP, which was then fixed at Rs 1,925 per quintal. About 10.22 lakh wheat farmers got Rs 11,141.28 Crores in terms of MSP from government procurement agencies. By the same proportion, about 120 lakh remaining farmers would have sold below MSP.
Estimates of difference between MSP and private trader prices vary from region to region and day today. There were reports of rice being sold at as low as Rs 1,150 per quintal when the MSP was Rs1,868 per quintal. The aggregated loss to farmers is unimaginably high – just because the government failed to procure.
SIMMERING DISCONTENT
The story described above is of the two main crops, wheat and rice (paddy). When it comes to other crops, the Yogi government's record is even more dismal. According to a reply given by the Sadhvi Niranjan Jyoti, state minister for consumer affairs, food and public distribution, in the Rajya Sabha on December 10, 2021, procurement of jowar, bajra and ragi – three popular coarse grains – has been nil in UP since 2017-18. Only some paltry quantity of maize was procured in some of the years. The procurement of mustard seed and groundnut, two oilseeds grown in UP at a significant scale, was also measly. Mustard seed procured was nil in 2017-18, followed by 1,211.41 metric tonnes in 2018-19, 1,455.75 MT in 2019-20 and just 319.20 MT in 2020-21.
Coarse grains are mostly grown inland with less irrigation facilities, which are usually owned by small and marginal farmers, usually of socially backward sections. It is these sections that bear the brunt of government neglect.
Sugarcane is a major crop in Western UP and some other pockets. But not only has its Fair and Remunerative Price (FRP) not been increased for several years, but the dues accumulated with sugar mills are stupendous. Recently as elections approached, some of the dues have been paid, but farmers still await full clearance.
The state of UP, despite being at the forefront of agricultural production, is thus also home to one of the most dissatisfied and angry farmers community. It is this simmering anger that may well tilt the balance against the so-called double engine government in Lucknow, led by BJP.
Get the latest reports & analysis with people's perspective on Protests, movements & deep analytical videos, discussions of the current affairs in your Telegram app. Subscribe to NewsClick's Telegram channel & get Real-Time updates on stories, as they get published on our website.
Subscribe Newsclick On Telegram