UPTET Paper Leak: Despair, Anger Dominates Aspirants, "We Don't Trust This Government"
Emotional scenes were witnessed across Uttar Pradesh on Sunday afternoon where students and parents broke down on hearing the news about the paper leak.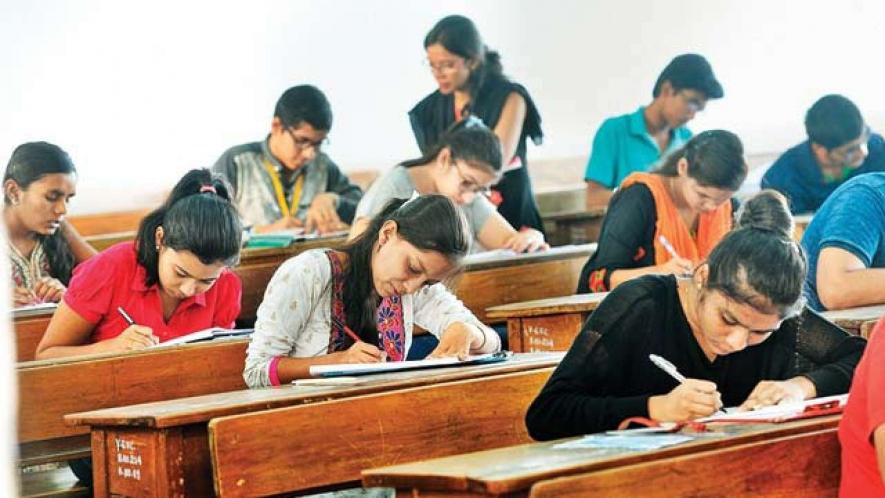 Representational Image. Image Courtesy: DNA India
Lucknow: "Why should students and their parents suffer for the State government's mistakes?"
A question an angry mother asked on behalf of her child, who had appeared for the Uttar Pradesh Teacher Eligibility Test (UPTET) 2021 exam and now would have to take a retest.
Despair, disappointment and anger dominated most of Uttar Pradesh for parents and aspirants who took their UPTET 2021. The exam was cancelled on Sunday, with the Yogi Adityanath-led State government confirming that the papers had leaked just before the exam was about to begin. The question paper went viral on several WhatsApp groups. Students will have to appear for a re-conduct within a month.
Pallavi Mishra took coaching for many years. For the last three months, her world was reduced to a corner of the house surrounded by books. Due to her studies, she hardly gives time to her husband and her kid. On Sunday morning, she left her one-year-old son at home for the UPTET exam. She had solved more than eighty questions, but suddenly it was announced that the paper had been leaked and a retest would soon be announced.
"She travelled 45 km from Basti main city to rural areas for her exam. She solved more than eighty questions, but suddenly examiner asked her to submit the paper since it had been leaked. She prepared for the UPTET for the last five years and took coaching separately for maths, biology and social studies. Even during the COVID-19 pandemic, she took online classes so that she could crack the competition. For the last 15 days, she isolated herself in a room for preparation. Our family members don't disturb her so that her study could not distract, but all went in vain," distraught Prashant Shukla, husband of Pallavi, told NewsClick.
Questioning "prompt reaction" by the chief minister Yogi Adityanath who said that all accused booked under the National Security Act (NSA), Shukla said, "It is known that those being arrested are small pawns and it can not happen without the collusion of senior officers, but their accountability won't be questioned, nor they will get arrested," said Shukla, adding that her wife had appeared for Uttar Pradesh Trained Graduate Teacher (UPTGT) last year and her examination centre was in western UP's Firozabad district, that exam was also leaked.
Another aspirant Amit Prakash who comes from a marginal background in Prayagraj, had given his four years to prepare UPTET and was very confident to crack the competition, but his dream to become a teacher has shattered. His months of hard work and sleepless nights during the preparation went futile when the news of the alleged question paper leak reached him. Screenshots of a UPTET question paper, along with answers, were found circulating on social media.
"Soon after the news spread out about UPTET examination was leaked, chief minister Yogi Adityanath said that free services will be provided by the State Road Transport Corporation buses to the students, and no additional fee will be charged from any candidate. But is it enough? How insensitive has this government become that they don't even care about anything apart from exam fees? We put our efforts for many years; we did coaching for every subject to crack the competition, but the government and its leaders think they can compensate with bus fair and everything sorted out; if the government thinks like this, they are sadly mistaken. We will hit the road this time," Prakash told NewsClick while his voice quivered in trepidation.
Emotional scenes were witnessed across the state on Sunday afternoon where students and parents broke down on hearing the news about the paper leak.
Another candidate from the chief minister's home-turf Gorakhpur, who filled her OMR sheet and solved almost half of the questions, said: "We did hard work for the competition and sitting for hours in the exam hall, we were informed that paper was leaked. What was the education department doing for many years for its preparation when it was supposed to get leaked?" she told NewsClick and burst into tears.
They alleged that the government is playing with students' future, and they (government) will not give any jobs to the youth.
NewsClick spoke with over dozen of applicants who were appeared for UPTET on Sunday. Many of them said they travelled 100-200 km to reach their examination centre. Many of them left their kids at home and reached the centre, but all efforts were ruined due to the paper leak. They are now uncertain about their future.
DATES TO BE DECIDED
While the dates for the re-conduct will be announced on the Uttar Pradesh Basic Education Board (UPBEB) website soon, a group of students and parents and are gearing for demonstration in their respective districts against the government's "mismanagement" and failure to tackle the "nexus".
"This is wrong and unjust towards the students who gave their best by burning the candle from both ends. We feel cheated by the government. The CM ordered for reconvening of the exam within a month, but from the next month, model code of conduct will come into force due to poll dates announcement, we don't have trust in this government anymore," Santosh Singh, whose daughter appeared for UPTET, told NewsClick.
Students are also calling for a protest in the state capital Lucknow next week.
Meanwhile, Additional Director General (ADG), Law and Order, Prashant Kumar, said, "UPTET 2021 examination was scheduled to be held on Sunday but stands cancelled due to alleged paper leak. Dozens of suspects were detained by the special task force (STF) in the paper leak case. The investigation is on. UP government will conduct the exam again within a month," he told media.
Kumar told reporters here that the Special Task Force (STF) arrested as many as 23 persons last night using technical and other intelligence from different cities of UP.
On the exam cancellation, Exam Regulatory Authority Secretary Sanjay Upadhyay has said that a fresh date for the test would soon be announced. He has cited "unavoidable reasons" as the cause for the cancellation.
A total of 12,91,628 candidates were registered to appear in the test in the first shift in the state, while 8,73,553 were registered to appear in the second shift.
The exam was scheduled to be held in two shifts from 10 am to 12:30 pm for the primary level and from 2:30 pm to 5 pm for the junior level. The test for the primary level was to be held at 2,554 centres across UP, followed by a test for the upper primary level at 1754 centres.
This exam was scheduled to be held earlier but was postponed by the government due to the second wave of COVID-19.
MENTAL HARASSMENT
About half a dozen major examination papers have been leaked at the state level in Uttar Pradesh in the last few years. The activists questioned that not a single top official of the state was terminated, nor was any officer sent to jail; the government neither attached anyone's property in the matter.
The back to back paper leaks under the Yogi regime have forced lakhs of job aspirants to undergo traumatic mental torture after years of hard work without any fault at their end. This alleged paper leak has affected the efforts and hard work of over 20 lakhs of the students who appeared on Sunday. For them, it was a massive loss of months of hard work and money spent on their preparations.
Rajesh Sachan, convener of Yuva Manch, while speaking with NewsClick, claimed that over a dozen exams have been leaked under the current regime, including tubewell operator, UPPCL, LT and sub-inspector.
Here are some of the exams leaked in the last four-five years.
August 2017: Sub Inspector Paper leak
February 2018: UPPCL Paper leak
April 2018: UP Police Paper leak
July 2018: Subordinate Services Selection Board Paper leak
August 2018: Health Department Promoted Paper leak
September 2018: Tubewell Operator Paper leak
July 2020: 69,000 Teacher Recruitments' Paper leak
August 2021: BEd Entrance Exam Paper leak
August 2021: PET Paper leak
October 2021: Aided School Teacher/Principal Paper leak
August 2021: UP TGT Paper leak
NEET Paper leak, NDA Paper leak, SSC Paper leak
(Data provided by Rajesh Sachan)
Get the latest reports & analysis with people's perspective on Protests, movements & deep analytical videos, discussions of the current affairs in your Telegram app. Subscribe to NewsClick's Telegram channel & get Real-Time updates on stories, as they get published on our website.
Subscribe Newsclick On Telegram