EXCLUSIVE: Ukraine Connection? New Twist to the Rafale Affair
French publication, Le Monde, has raised doubts about Anil Ambani group's association with an aircraft manufacturer in Ukraine that could compromise France's military security, raising concerns about the its association with Dassault that's supplying Rafale to IAF.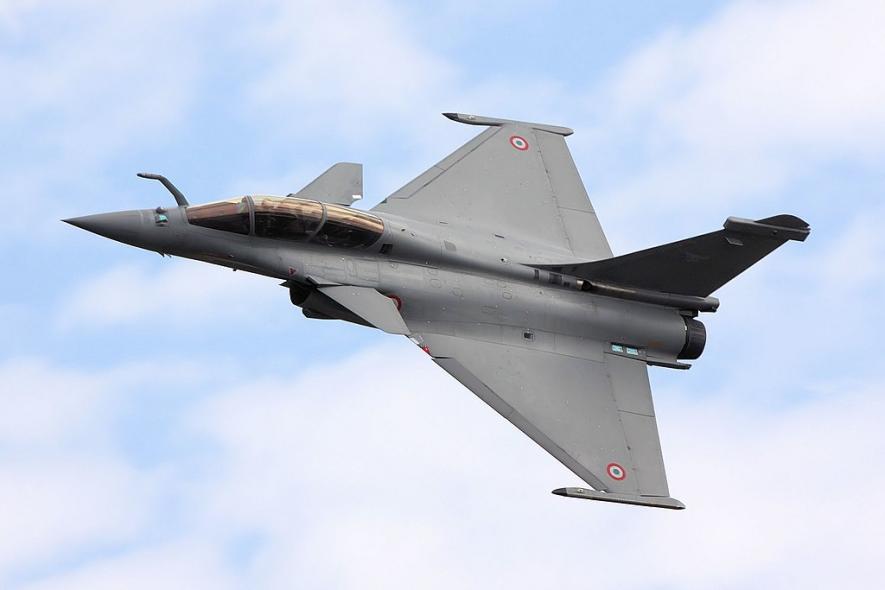 On May 10, a Ukrainian cargo plane, an Antonov An-12, breached Indian airspace through the Rann of Kutch, 70 km from a base of the Indian Air Force (IAF). It entered the country from Pakistan without authorisation at a time when both countries had closed their airspaces for civilian air traffic after the Balakot attack in February. General elections were on in India at that time.
That day, the Ministry of Defence put out a statement at 5.42 p.m that is reproduced here in full (in an unedited form): 
"An unknown aircraft entered Indian Air Space in North Gujarat Sector at 15:15 hrs with its IFF (Identification, Friend or Foe) 'on'. The aircraft did not follow the authorized Air Traffic Services (ATS) route and was not responding to Radio calls from Indian controlling agencies. Since ATS routes in the area were closed due to the current geopolitical situation, and the aircraft entered Indian Air Space from an unscheduled point, the Air Defence interceptor on operational readiness was scrambled and vectored towards the unknown aircraft for investigation. On visual contact, the aircraft was identified as Georgian An-12 flying at twenty seven thousand feet. The aircraft neither responded on international distress frequency nor to visual signals during interception. However, when challenged, the aircraft responded and informed that it was a non scheduled An-12 aircraft that had got airborne from Tbilisi (Georgia) for Delhi via Karachi. The aircraft was shadowed and forced to land at Jaipur for necessary investigation." 
This particular An-12 aircraft had been made in Ukraine and registered in Tbilisi, Georgia. 
The news agency ANI, quoting an IAF spokesperson, reported that the heavy cargo aircraft was carrying "spares" and "was being leased by Ukrainian engine manufacturer Motor Sich."
NDTV reported that after the aircraft took off from Karachi, it was spotted when it entered Indian airspace and thereafter, two Sukhoi Su-30 fighter IAF jets forced the plane to land at Jaipur.
The same night, at around 11:30 p.m, India Today published an article that stated: "The Ukrainian aircraft which had breached the Indian airspace this afternoon has now been released." 
It quoted an Assistant Commissioner of Police, Jaipur, saying: "It was a minor route violation; the plane was made to land in Jaipur due to security concerns. It wasn't a serious violation. It's been released."
Flight tracking website, Flightera, shows that the Motor Sich An-12 took off from Bourgas in eastern Bulgaria and landed at Tbilisi in Georgia. After an hour, it took off from Tblisi for Delhi and stopped over at Karachi. The subsequent route details are not available on the website, which said: "This flight is performed irregular (sic)."
In short, after the foreign cargo aircraft violated Indian airspace from Pakistan through an unauthorised route and was forced to land, investigations were completed in less than five hours and the plane was allowed to take off. The date of this incident is important: the country was in the middle of general elections, the sixth phase of which was less than 48 hours away on May 12. The incident attracted very little media attention. 
Why France is Unhappy 
In France, however, news about this incident was not received well for several reasons. An article published on October 5, by the leading French newspaper, Le Monde, stated: "In March 2016, Reliance Defence (a company in the Anil Dhirubhai Ambani Group) announced the creation of a joint venture with Ukrainian aircraft manufacturer, Antonov, a long-time supplier of equipment to the Indian Air Force. The new company is located in Nagpur, where Dassault Aviation will soon be teaching the basics of aviation to (officials of) Reliance Defence. The Indian partner of the Rafale manufacturer thus works with Antonov, whose engine supplier is its compatriot, Motor Sich." 
Motor Sich is a Soviet era company, which can reportedly make an aircraft engine from scratch. It is currently based in Ukraine. It manufacturers and assembles engines for different kinds of aircraft, helicopters and missiles as well. Its engines are used in the Mi family of choppers and Antonov cargo aircraft that are widely deployed by the air force of many countries. 
The Antonov An-12 is a four-engine turboprop transport aircraft designed in the Soviet Union – it is the military version of the Antonov An-10 and has many variants. For over three decades, the An-12 was the standard medium-range cargo and paratroop transport aircraft of the air force of the erstwhile Union of Soviet Socialist Republics (USSR). 
Motor Sich has been at loggerheads with the government of Ukraine for supplying engines to Russia after the alleged annexation of Crimea in February 2014, following which trade and economic sanctions were imposed on Russia by the United States, the European Union and others.
Vyacheslav Aleksandrovich Boguslayev was Director General of Motorobudіvnik, located at Zaporizhia at the time of the collapse of the Soviet Union, which is in present-day Ukraine. In the early-1990s, immediately after the fragmentation of the USSR, he scooped up majority shares in Motorobudіvnik, which was later renamed Motor Sich. He is the winner of the highest civilian award in Ukraine, "Hero of Ukraine," a Parliamentarian, a four-time member of Ukraine's National Security and Defence Council and a leader of the pro-Russian Party of Regions. Boguslayev was a member of the Ukrainian government's Group for Inter-Parliamentary Relations with countries, such as Russia, China, India, the United Arab Emirates, Kazakhstan and Sri Lanka. 
Radio Free Europe/Radio Liberty (RFE/RL) reported that Motor Sich "received the right to export its products, a rare privilege for private Ukrainian defence companies and a sign of Boguslayev's power." It added that "shares of Motor Sich are owned by several onshore and offshore holdings, so it is hard to say how much Boguslayev owns." 
The company reportedly employs more than 20,000 people in Zaporizhia in south-west Ukraine where it is headquartered. RFE/RL, quoting an industry analyst, stated that although the company was very important for the Ukrainian defence industry, no law could prevent Boguslayev from selling his stake in the company because such a law did not exist in Ukraine.
In July this year, Bihus Info, an anti-corruption and information platform created by a group of journalists, published an article on the dealings of Motor Sich with Russia. Its investigations revealed that Boguslayev owns a number of companies in Russia along with Petro Kononenko, who is a director of the Motor Sich, and other entities associated with Boguslayev that are based in Moscow. These companies include one called Borysfen. 
The article added that information from the Russian government's public procurement portal indicated that Borysfen received contracts worth millions of dollars between 2015 and 2017 to extend the life of the engines of AI-9B auxiliary power unit systems used in aircraft in Russia.
The article stated: "(A joint stock company) JSC Borysphen maintains engines for the Universal-Aviation Crimean Company. It is a state-owned enterprise engaged in air transportation and aviation service in Crimea. After the occupation of the peninsula (Crimea), this company was 'nationalized' by the Russians. In turn, the EU, US and Ukraine have imposed sanctions on it. But the Russian company of Boguslayev – Borysfen – continued to work with Universal…"
According to the Russian government, this company has received five million roubles from it since 2015.
Motor Sich and Boguslayev have repeatedly stated that the company's products are indeed exported to Russia but are meant only for civilian, not military, use. In 2018, the company stopped the supply of aircraft engines and parts to Russia. But the Bihus Info journalists alleged that this was just an eyewash. 
Their report claims: "From 2018, Motor Sich has started to supply bulk engine parts to Bosnia and Herzegovina to the newly formed (company) DOO Inzeniring BN… (In) 2018, the Ukrainian manufacturer has sent more than 600 (consignments of cargo)… with parts of (Klimov) TV3-117 (civil and milirary helicopter) engines to the Balkans. According to Import Genius International Customs (a website which tracks the trading activities of importers and exporters around the world), this Bosnian company has subsequently shipped similar helicopter parts to Russia –exclusively to … two Russian companies of … Boguslayev…" 
In July, Ukraine's InterFax news agency reported that "the SBU (or State Security Service, the Ukraine government's main agency responsbile for law-enforcement, counter-intelligence and combating terrorism) (had) thwarted illegal activity of (the) PJSC (public joint stock company) Motor Sich to fund the Russia-supported separatist group Donetsk People's Republic."
Why China is Interested in Motor Sich
Radio Free Europe put out more details on the problems being faced by Motor Sich on August 27 this year. According to the website of this radio station, Boguslayev has been trying since 2016 to sell his company to Chinese investors backed by Beijing, which led to Ukraine's SBU raiding the company's headquarters in April 2018 and confiscating its shares. 
It was suggested that the raid was ordered by the then Ukrainian President Petro Poroshenko. On the day of the raid, the Ukrainian stock exchange halted trading of the company's shares. The RFE/RL website quotes Ukrainian media reports stating that two Chinese companies had reached an agreement with the Ukrainian state-owned military company, Ukroboronprom, to jointly purchase Motor Sich. As per these reports, the Chinese companies would hold controlling stakes with Ukroboronprom owning 25% "blocking" stake in the entity.
Military analyst Reuben Johnson, who is based in Kyiv (also spelt as Kiev, the capital of Ukraine), says that if Chinese companies acquire Motor Sich, Beijing would be able to make advanced fighter jet engines domestically, thereby enhancing its air defence capabilities manifold. Denys Kalachov, a board member of the Association of Ukrainian Defence Manufacturers believes that China is particularly interested in Motor Sich's facility to manufacture engines for Cruise missiles. 
Another report published by RFE/RL in September states that Ukraine's SBU disclosed last year that "foreigners have a majority of Motor Sich shares kept in six offshore companies and in the hands of one individual." It added that the Chinese company, Beijing Skyrizon Aviation, had renewed its efforts to obtain a controlling stake in the company.
On August 23, The Wall Street Journal quoted an unnamed American government official saying that the then "US national-security adviser John Bolton is seeking to scuttle the pending Chinese acquisition of a Ukrainian aerospace company on grounds that it will give Beijing vital defence technology." The official added: "We would just as soon keep the Chinese from mastering that technology."
The WSJ report read: "The company, Motor Sich, is one of the world's foremost manufacturers of helicopter and airplane engines, and for years has supplied engines for the bulk of the Russian military-helicopter fleet. A sale to a group of companies, including Beijing Skyrizon Aviation, controlled by Chinese businessman Wang Jing, is pending." 
A senior research fellow at the Institute of Far Eastern Studies of the Russian Academy of Sciences, Vasily Kashin, told WSJ: "For China, aircraft engines are the biggest problem in upgrading their air might and helicopter engines, a weak spot." 
Beijing Skyrizon Aviation has reportedly already built a factory in Chongqing, China, which is yet to start production because it is awaiting permission to use Motor Sich's technology. 
In August, on a visit to Kyiv, Bolton told reporters: "This is an issue that I think is significant for Ukraine, but (also) significant for the US, for Europe, for Japan, for Australia, Canada and other countries. I do think a government operating in its own sovereign sphere has the right to protect its defence industries and to look out for the well-being of the Ukrainian people. So, I think (Ukrainian) President (Volodymyr) Zelenskiy's new government obviously has that as its highest priority, and he's going to make sure before some transaction is allowed to go through that it is really the Ukrainian people who benefit." 
RFE/RL quoted an unnamed US official saying "US officials were 'freaking out' about the sale."
In another article, published on August 30, the website wrote that Bolton had "made clear that the US administration disapproved of the transaction." He told journalists: "We laid out our concerns about...unfair Chinese trade practices, threats to national security we've seen in the United States."
Ukraine cannot ignore the American stand easily. Since the alleged Russian annexation of Crimea, the US has given nearly $3 billion in aid to that country which includes $1.5 billion worth of military aid. The Trump government was in discussion with Kyiv to enhance its support as recently as August. Kyiv had already received $250 million this year from the US.
Too Many Coincidences
Returning to the Le Monde article, this is how it mentioned the landing of the Motor Sich An-12 aircraft in Jaipur. "On May 10, an incident reported by the Indian press revealed the name of a company that could soon become a new protagonist in the 'Rafale Affaire'."
The aircraft's unauthorised entry into Indian airspace and its subsequent and immediate release rang alarm bells in France. The newspaper repeated the question that had earlier been raised as to whether the Narendra Modi government "forced" Dassault Aviation to form a joint venture with the bankrupt Reliance Defence Limited in the group led by Anil Ambani. This company had already signed a memorandum of understanding (MoU) in 2016 to set up a manufacturing facility with Russia's Antonov –that is now based in Ukraine – adjoining the facility the group was setting up with Dassault Aviation (manufacturer of the Rafale aircraft) in Nagpur. 
The Le Monde article raises a question and seeks to answer it: "What did the Motor Sich plane carry? Nobody knows. But the Ukrainian operator, whose main activity is the construction of aircraft engines, intervenes in India in a curious way."
It added: "According to its website, its 'liaison office' is located at 24 Feroze Shah Road in New Delhi… (but at the location of the office) there is no Motor Sich nameplate. And for good reason: this address is that of the Cultural Centre of the Russian Embassy in India. This is surprising since we know that Ukrainian companies are not supposed to trade with Moscow since the annexation of Crimea in 2014."
The article went on to state: "In addition, several internal documents of Motor Sich accessed by Le Monde, indicate that since 2008, this Ukrainian company has had another 'mailing address' at the Community Centre of Zamrudpur, one of those innumerable characteristic villages in the suburbs of the Indian capital. The building, rather shabby, belongs to Influence, a ready-to-wear export house headed by Gautam Thadani, head of the pharmaceutical group, Global Healthline. Again, the name of Motor Sich is invisible, including at the 4th floor (of the building) mentioned in the papers of the company.
"There is no trace of a lease. On the other hand, another company has officially leased premises in the building, from 2011: the television production company Big Synergy Media, headquartered in Mumbai (West). And who owns this company? Reliance Entertainment – an Anil Ambani group company. This is a disturbing coincidence, knowing that the billionaire has notorious relations with Ukraine."
In its official website, Motor Sich says it's liaison office in India is at the same New Delhi address as that of the Russian Centre for Science and Culture on Feroze Shah Road. The website of the Indian government's Ministry of Corporate Affairs (MCA) also indicates the same address. 
Curiously, a document of the Reserve Bank of India titled "Details of Liaison Offices existing as on November 13, 2018" stated that Motor Sich's India liaison office address is "School, Greater Kailash-II" without providing any additional details!
An old Motor Sich document, dated March 14, 2008, stated that the "postal and legal address" of its India representative office is 4, Kailash Colony Community Centre, Zamrudpur, New Delhi – 110048.
This is also the address of Engro Construction Company Private Limited. According to the MCA, the directors of this company include Gautam Thadani and his brother-in-law Rajan Madhu. 
In October 2012, the Central Bureau of Investigation (CBI) had questioned Thadani and Madhu along with Lieutenant General Tejinder Singh and Vectra Group Chairman and the UK-based director of a company called Tatra Sipox, Ravi Rishi, following allegations that they had sought to bribe the then Chief of Army Staff General, V K Singh (now a Union Minister in the Modi government). 
General Singh had then alleged that heavy vehicles manufacturer Tatra Sipox had supplied substandard trucks to the Indian Army and Lt Gen Tejinder Singh had offered him a bribe of Rs 14 crore on behalf of Rishi. In the same month, the CBI raided the residences of both Thadani and Madhu and recovered Rs 98 lakh from Thadani's residence. In 2016, Madhu's name appeared in the Bahama Papers that were leaked out of the office of accounting firm Mossack Fonseca.
The chain of coincidences does not end here. Rajan Madhu is Director of the India Ukraine Chamber of Commerce and Industry, which is a private limited company incorporated on February 17, 2014. In the website of the MCA, the registered address of the company is 5, Zamrudpur Community Centre, Kailash Colony, New Delhi.
The writer of this article contacted Motor Sich's India representative, Andriy Milyukov, on his mobile phone and requested him for a meeting. He refused, saying he is not authorised to speak to journalists. 
During the two-minute long telephone conversation, Milyukov said the company's office had moved out of Zamrudpur "long back", but did not remember "the exact year." He added that Motor Sich had shifted out of the Russian Centre for Science and Culture and said his office was now on Tolstoy Marg. He was unwilling to share the address. A person at the Russian Centre confirmed that the Motor Sich office had moved out "two-three months ago."
Whereas the Le Monde article raises various questions, some of the information contained in it seems dated. For instance, Reliance Defence's MoU with Antonov signed three and a half years ago, is yet to take off. The office of Big Synergy Media Limited, the ADAG Group company, too shifted out of Zamrudpur Community Centre over three years ago. A call to the company's headquarters in Mumbai confirmed that its Delhi office has been closed since 2016. 
But, the mysteries surrounding the unauthorised entry of the Motor Sich An-12 aircraft from Pakistan to India on May 10, the reluctance of its pilot to respond to instructions from Air Traffic Control (ATC) officials, the swiftness with which the aircraft was allowed to fly out and, importantly, the exact nature of cargo it was carrying, are issues that are yet to be fully resolved. 
Baseless, Says Reliance ADAG
In response to the story by Ravi Nair titled "Ukraine Connection? New Twist to Rafale Affair," Daljeet Singh, Group Vice President, Corporate Communications, Anil Dhirubhai Ambani Group, has issued the following statement:
"The reference to Reliance Defence and its relationship with Motor Sich or existence of any company jointly with Antonov is completely baseless, devoid of any truth, and based on the figment of the reporter's imagination.
Reliance Group also categorically denies any relationship with Gautam Thadani."
(Research and writing assistance: Paranjoy Guha Thakurta)
The writer is an independent journalist.
References:
https://www.flightera.net/planes/UR-11316/May-2019#flight_list
https://www.lemonde.fr/economie/article/2019/10/05/inde-l-affaire-rafale-rebondit-en-ukraine_6014324_3234.html
https://www.rferl.org/a/ukraine-motor-sich-military/30147732.html
https://www.rferl.org/a/ukrainian-aircraft-motor-sich-u-s--china-rivalry/30132082.html
https://timesofindia.indiatimes.com/india/CBI-questions-Tejinder-Singh-Rishi/articleshow/16920583.cms
https://www.business-standard.com/article/current-affairs/bahamas-papers-expose-on-475-india-linked-names-with-offshore-accounts-116092200365_1.html
https://www.tatraworld.nl/2012/10/21/tatragate-india-tatras-army-truck-monopoly-investigated/
https://economictimes.indiatimes.com/news/politics-and-nation/tatra-case-cbi-files-documentscourt-to-consider-closure-report-on-november-20/articleshow/44800526.cms?from=mdr
http://www.motorsich.com/eng/profile/contacts/offices/
https://bihus.info/motor-sich-nardepa-boguslaeva-postachae-detali-dlya-dviguniv-viyskovim-rf-pracyue-u-krimu-i-tzv-dnr
https://uawire.org/media-ukrainian-defense-company-supplying-parts-to-russian-army
https://www.wsj.com/articles/u-s-aims-to-block-chinese-acquisition-of-ukrainian-aerospace-company-11566594485
http://www.motorsich.com/eng/profile/contacts/offices/
http://www.reliancegroupindia.com/documents/8354046/8354252/Defence_business_28feb17.pdf/a8d0b94d-2502-bd71-e070-2bd56c816b19
Get the latest reports & analysis with people's perspective on Protests, movements & deep analytical videos, discussions of the current affairs in your Telegram app. Subscribe to NewsClick's Telegram channel & get Real-Time updates on stories, as they get published on our website.
Subscribe Newsclick On Telegram