COVID-19: UP's Jobless Poor Migrant Workers Charged Double Fares on Their Way Home
Migrant workers are being charged Rs 1,000 per seat for a 300-400 km journey. Those who can't afford full fare allege they are being deboarded mid-way.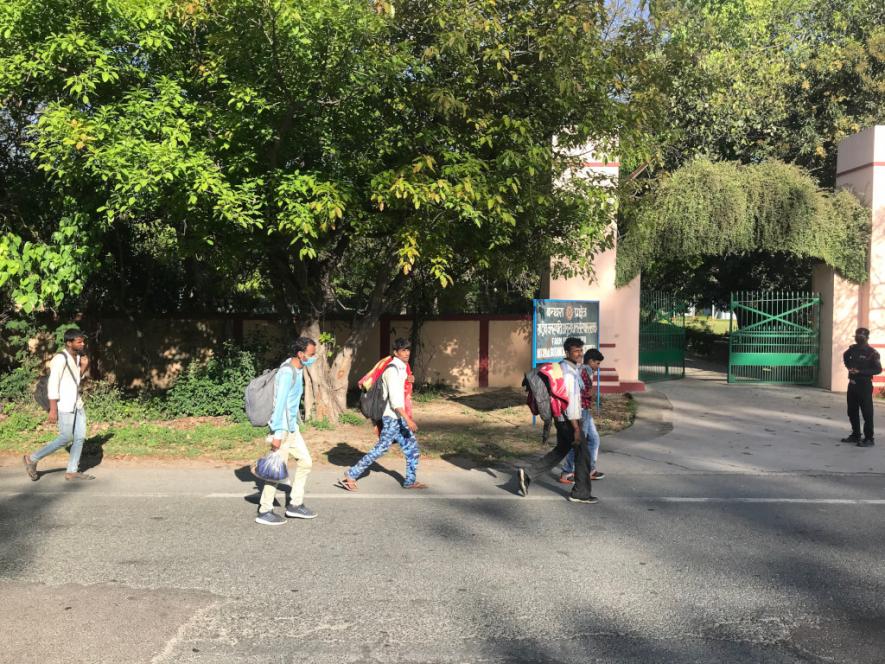 Lucknow: The plight of poor migrant workers of India's most populous state -- Uttar Pradesh – has no parallel. They were compelled to walk hundreds of kilometres to reach their hometowns after losing livelihood and suspension of transport services. To add to their woes, arbitrary fares were demanded by those offered bus services. Also, bus drivers harassed them, asking them to show their Aadhaar cards, and also deboarded some of them in the middle of highways. 
While the Yogi Adityanath-led Uttar Pradesh government claimed it had arranged 1,000 buses to ferry migrant worker stranded on the border districts owing to a countrywide lockdown and would not to charge any fares, the buses and transportation services are charging four to five-times the actual fare. 
It was a hot afternoon on Sunday on the Lucknow-Kanpur highway, but Ramraj , Shivraj, Ravindra and Vinay had been continuously walking for 500 km in the scorching heat. With sweat dripping and anxiety writ large on their faces, their steps were staggering. They said they had to cover 150 km more to reach their homes.
Also Read: The Govt's Package was Too Little, Too Late. We Had Already Left, Say Migrant Workers
Ramraj (42), a daily wager had left Nangloi in Delhi on March 26 for his hometown in Gonda. He was tired as he had been walking and hitch-hiking since Thursday night and was eager to reach home as early as possible. He was very disappointed with the government's towards daily wagers, who he said had always been victims of government decisions, such as demonetisation and lockdown.
Puncturing every claim of Chief Minister Adityanath on free bus service for stranded workers, Ramraj told NewsClick: "Buses are charging arbitrary fares from migrant workers. Rs 700 is being taken from Delhi to Lucknow, which is thrice the actual fare. On any normal day, we pay Rs 280 from Delhi to Gonda, but they (government and bus drivers) don't ever forget to steal from people,e even during an emergency."
Daily wagers who somehow succeeded in hitchhiking rides in trucks with the help of police, had to cough up Rs 200-300. "When we don't have money, what would we give it to a bus or truck driver? So we got down started walking. Some, who couldn't pay full fares, were asked to get off mid-way. If this is called free service then it's better to walk," Ravindra, a native of Azamgarh district, told NewsClick. He had walked 500km from Delhi to Lucknow, and had to cover 300km more.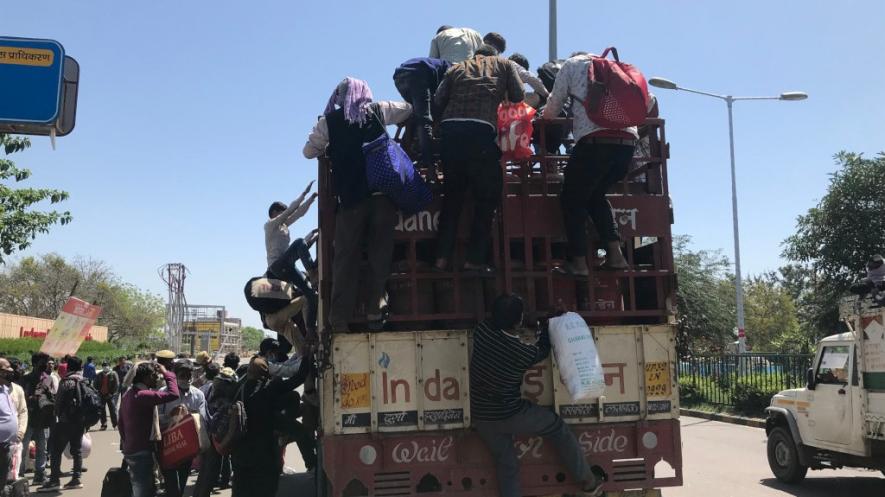 Ram Milan (50), said he started walking at 9 a.m on Friday from Bhiwadi in Rajasthan along with six others. Facing the prospect of no work due to the 21-day lockdown, the jobless daily wager decided that heading home to Akbarpur in Ambedkar Nagar district of Uttar Pradesh was his best option. Even if it meant walking most of the 175 km, spending four days on the road, and risking police wrath.
Ram Milan, while initially pretending he was fine, broke down and said he never expected the administration to be so inhuman. "We are being treated inhumanly at every police checkpost. They are making us realise that we are not only poor but are useless too." He asked if bus service was free, as claimed by the CM, why were workers being charged Rs 800 instead of Rs 200?  
With India completely under lockdown for 21 days over the novel coronavirus pandemic and no way to left to earn money, migrant workers face a grim choice: either walk home or die hungry. Millions of migrant workers have been left jobless and penniless by the full shutdown, which has sparked an exodus from major cities. 
NewsClick also learnt that workers were being made to pay Rs 300 each to perch themselves on the roofs of the buses and trucks, risking their lives.
When asked where they got energy and courage to walk 300-400km, Shivraj said: "We had only one option left before dying due to starvation, keep walking. We are daily wagers, we don't have work, money or rations, how could we have survived for 21 days? How would we have paid rent to our landlord?"  
'TOLL-FREE NUMBER THAT NEVER WORKS'
Some workers alleged that the toll-free number provided by the government never works for them as it always gives out a busy. Sometimes the caller is just put on hold and then the phone gets disconnected. 
Shvitri Devi said they hadn't eaten for two days. Devi said the little money they had, quickly ran out. "I dialled the toll-free number at least a hundred times for food and help, but it always gives a busy tone and if luckily someone picks up the phone, they either abuse us or keep us on hold before the call disconnects."
"We keep walking and are scared of this coronavirus. We will stay hungry, but how can we watch our children starve?", he said.
Rajendra, too, said he was disappointed with the toll-free number, alleging that it was fake. "We have been abandoned, as our life has no importance."
Get the latest reports & analysis with people's perspective on Protests, movements & deep analytical videos, discussions of the current affairs in your Telegram app. Subscribe to NewsClick's Telegram channel & get Real-Time updates on stories, as they get published on our website.
Subscribe Newsclick On Telegram