'Suspension of Labour Laws Undemocratic, Unconstitutional...Will Create More Unemployment'
Trade unions based in UP say move will only benefit corporates, small businesses also sceptical.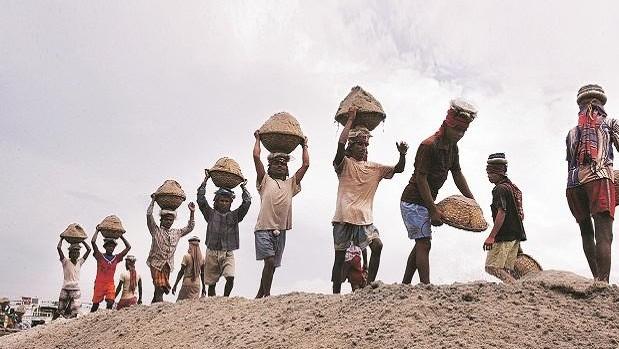 Representational image. | Image Courtesy: NDTV
Lucknow: Following in the footsteps of the BJP-led Madhya Pradesh government, the Uttar Pradesh has also passed a controversial ordinance suspending labour laws for three years in order to woo foreign investors and balance the economy.
With state earnings not even 50% of the income being generated every month due to the lockdown, UP is staring at a financial crisis during this pandemic. As per official data, the state's income per month stands about Rs 17,000 crore, while it has so far generated only Rs 550 crore. Hence, the Bharatiya Janata Party-led UP government is hell bent on suspending labour laws for three consecutive years, sending shock waves among labour, trade unions and other stakeholders, except industrialists.  
Prem Nath Rai, general secretary of Centre of Indian Trade Unions (CITU), said the government had now found an excuse to do what it wanted to do for long -- crush labour rights. 
"Why are people surprised? The government was already bringing in changes on a daily basis and now they have got this excuse of corona and its impact on the economy. This decision will usher in 'jungle raj' in the country and end up in the exploitation of labour. The only people to benefit will be industrialists, especially the big ones, and also political parties who receive huge amounts of donations from corporates," he said.
Rai said workers in India had for long fought and struggled for their rights. This sudden suspension of all their rights is totally against the fundamental rights given by the Constitution of India, he added.
"The end product, after suspending the laws, will be underpayment to labourers, increase in the working hours, exploitation of labours and non-payment of gratuity, bonus," he said.
Uma Shankar Mishra, general secretary of Hind Mazdoor Sabha, was angry with the suspension, adding that after the ordinance concerned is accepted by the President of India, everyone in the private sector will become a bonded labour. 
"The labour or the working class will become an orphan because he/she will have no place to raise minor disputes, and there will be no one to pay heed to their problems. Everyone will become bonded labour because they will have to work in an imperfect working environment and will be underpaid. The working class will become daily wagers, as there will be no job and social security. Getting pension will also become uncertain and discrimination will also increase," Mishra said, adding, "Everyone will become like a girmitiya (agreement) labour and there will be a lot of exploitation."
Uttar Pradesh Chief Secretary, R.K. Tiwari, told Business Standard that the move would help provide employment to workers who have migrated back to the state.
"The idea is that in the present circumstances, where we need to provide employment to workers who have migrated back to the state and to protect the existing employment, some flexibility has to be given to business and industry," he said. He claimed that workers would "continue to be protected", as some of the labour laws had been kept intact.
However, smaller industrial players are sceptical. An office-bearer of the Indian Industries Association told Newsclick on the condition of anonymity that the government's decision would only help big players may result in increased cases of industrial unrest.
"Small businesses are already reeling under a major financial crisis and it will take a long time to recover from it. The present changes are only going to help big players or even people coming to invest in the state from outside India," he said. 
H N Tiwari of the Indian National Trade Union Congress, in a telephonic conversation with NewsClick, said this decision would create more unemployment in the country, which will be more dangerous than the pandemic. 
"Labourers are born to be exploited and this suspension of labour laws will lead to greater exploitation. The government cleverly chose this time when the entire world is reeling under the corona pandemic and we labourers are feeling helpless as we do not know how to gather on streets and protest against this draconian decision," he said.
Tiwari said workers had earned their rights by fighting for these for a very long time and now every right would be snatched away. "Instead of suspending the laws, the government could have taken an alternate route, like decreasing taxes among other things. The cost of labour in any industry is low, what is expensive is the raw material. This act of the government is undemocratic and should be withdrawn immediately," he added.
Get the latest reports & analysis with people's perspective on Protests, movements & deep analytical videos, discussions of the current affairs in your Telegram app. Subscribe to NewsClick's Telegram channel & get Real-Time updates on stories, as they get published on our website.
Subscribe Newsclick On Telegram