Weeks After Violence, a Shaheen Bagh Re-Run in Delhi's Jafrabad-Seelampur
The sit-in at Jafrabad-Seelampur has motivated myriads of women – from students to housewives – in a Muslim-dominated area to come out on the streets and make their voices heard.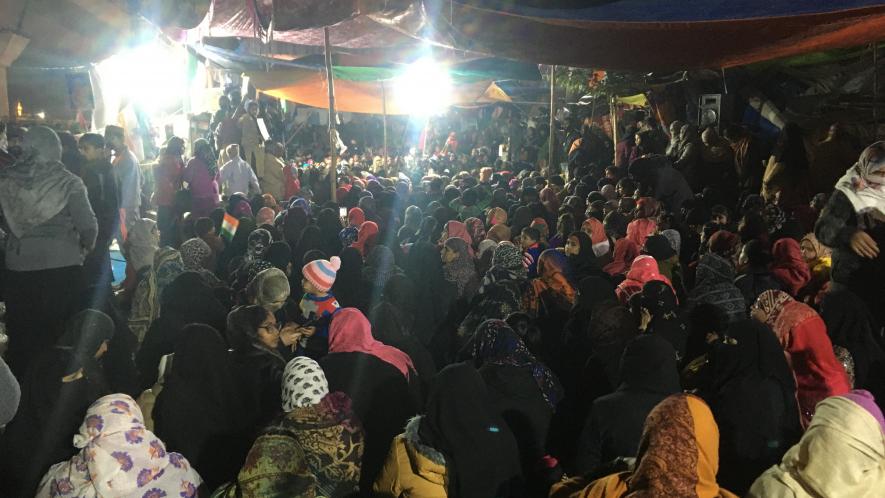 Hundreds of women staging an indefinite sit-in against CAA/NRC at Jafrabad-Seelampur area.
New Delhi: Women in hundreds sitting under a tarpaulin shed, adorned with Indian flags. Volunteers in-charge working in shifts. Everything – from food, bedding to crowd control – being taken care of by the community. This intricately organised operation being carried out at Shaheen Bagh against CAA-NRC, has inspired similar protests across the country.
The latest to join the list of sit-in venues, which already includes Delhi's Khureji, Kolkata's Park Circus, and Patna's Sabzibagh among others, is Jafrabad-Seelampur, another locality in the national capital.
Residents, mainly led by women, gathered on Wednesday night and staged an indefinite dharna on the sides of a busy road that connects Seelampur to Jafrabad. Started with a few hundred, the participation of locals in the protest reached as many as 2,000 on Friday evening.
"If the women of Shaheen Bagh can, why not us," said the women protesters, many of whom came with their children in tow. Despite the chilling cold, the women are determined to stay put. Their demand: complete revocation of the recent amendment to Citizenship Act (CAA) and a 'no' to the subsequent exercise of preparing a National Register of Citizens (NRC).
Among the protesters on Friday evening, 103-year-old Ferozan was also present, who spoke for many while sharing her fears. "Born here in this nation, I will die here. And so will my grandchildren. We won't step back," she told Newsclick. She soon joined the chants of "Aazadi, Aazadi" that reverberated through the night.
103-year old Ferozan with an Indian flag joined the protesting women of Jafrabad-Seelampur.
The sit-in at Jafrabad-Seelampur has motivated myriads of women – from students to housewives – in this Muslim-dominated area to come out on the streets and make their voices heard.
Yasmin, 25, a housewife, has been camping out in the open since Wednesday night. Carrying her two-year-old and holding hands of her five-year-old child, she explains why she is protesting. "We are here to save our Constitution. We are here to save our nation."
Like Yasmin many housewives, with anti-CAA anti-NRC placards, stay put round the clock, every day. They engage in discussions, educate themselves in the morning. In the evening, they join slogans and songs – from "Hum kya chahtein? Azaadi" to "Saare Jahan se accha Hindustan humara".
Despite the chilling cold, the participation of locals in the protest reached as many as two thousand on Friday evening.
Neither the recent rain nor their daily chores have stopped these women from taking the frontline of the protest, same as seen in other venues. However, this is significant in the Jafrabad-Seelampur locality, where violence erupted in December last year, leaving 21 people, including 12 cops injured, during the anti-CAA-NRC protests.
"Soon after the December clash between the police and protesters, local women started carrying out marches in their localities," Romsha Rahman, a 21-year old student told Newsclick. "The marches that initially saw only 20 women joining them, soon swelled to hundreds. We also saw students from Delhi University and Jamia coming and partaking in the march," she said.
Aperiodic marches gained regularity over the weeks. As the number increased, young males of Jafrabad and Seelampur joined the peaceful and organised protests led by women.
"We condemn the police brutality on the students of Jamia and Aligarh Muslim University," said Sheikh Faizan Khan, 25, a law student, who alleged that even during the Seelampur-Jafrabad violence, it was the police that first provoked the crowd.
Youth of Jafrabad-Seelampur holding a candle, formed a human chain.
The peaceful daily marches, however, were not enough for garner media attention. As a result, complaints with the "godi media" (pliant media) could be heard.
"The media showed a 30-second clip of violence for two days, but gave zero coverage to our peaceful demonstrations," Khan told Newsclick. "The youth hurling stones in the clip do not belong to Jafrabad-Seelampur," he said, pointing towards an army of male volunteers, some of whom were feeding the protesters, while others were ensuring that traffic runs smoothly.
While one side of the road is occupied by the protesters, the other side has police and paramilitary teams. Eyeball to eyeball with them, as the street lights came on at night, the protesters formed a human chain. In their hands were the candles and posters carrying photographs of B.R. Ambedkar and Bhagat Singh.
Get the latest reports & analysis with people's perspective on Protests, movements & deep analytical videos, discussions of the current affairs in your Telegram app. Subscribe to NewsClick's Telegram channel & get Real-Time updates on stories, as they get published on our website.
Subscribe Newsclick On Telegram