WB: Lakhs of People Take Part in 'Insaaf' Rally Organised in Kolkata
Rally was called by SFI and DYFI activists for justice for Anis Khan and other activists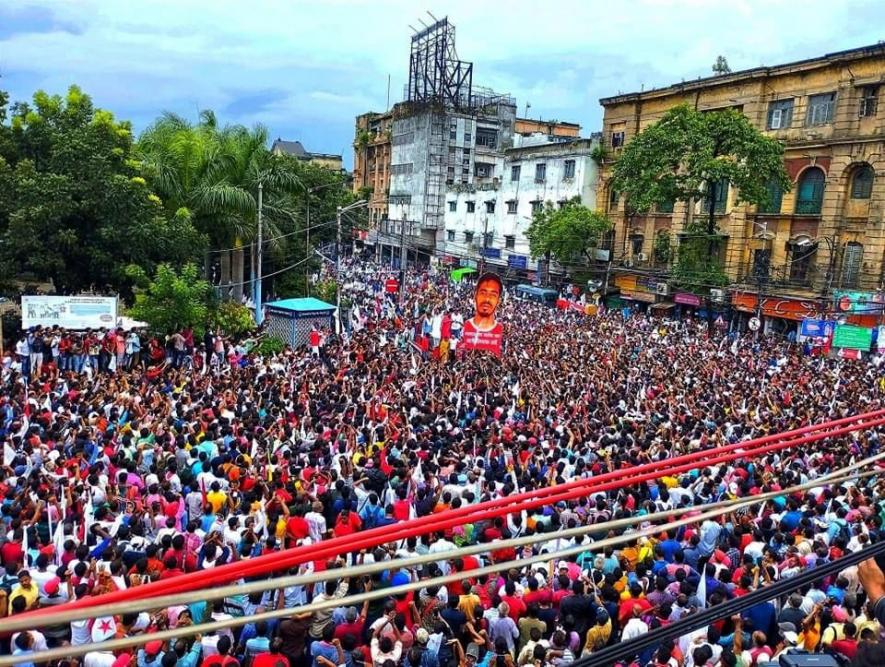 Kolkata: It was a tsunami of people yesterday in Kolkata at the call of the Students Federation of India (SFI) and the Democratic Youth Federation of India (DYFI), red and white flag bearers today took virtual control of all thoroughfares in the heart of Kolkata metropolis at Esplanade east.
People from all walks of life especially young people flocked to Kolkata on the account of the Insaaf rally wearing masks of Anis khan (the student leader who was thrown from the roof of his house allegedly by the police on 18th February at midnight). They also sought Insaaf (justice) for the others dead like Barun Biswas of  Sutia, Student leader Sudipta Gupta, DYFI activist  Bidyut  Mondal and others.
Police as usual had dilly-dallied with giving permission for the rally before the Victoria house at Kolkata in the junction of the city's heart. Ultimately, they gave permission for the rally to be held at Y channel where a stage was constructed. However when the rally started the Y channel was crammed with people, and DYFI leaders announced that the rally will shift to Victoria House despite prohibitory orders by the police in this regard.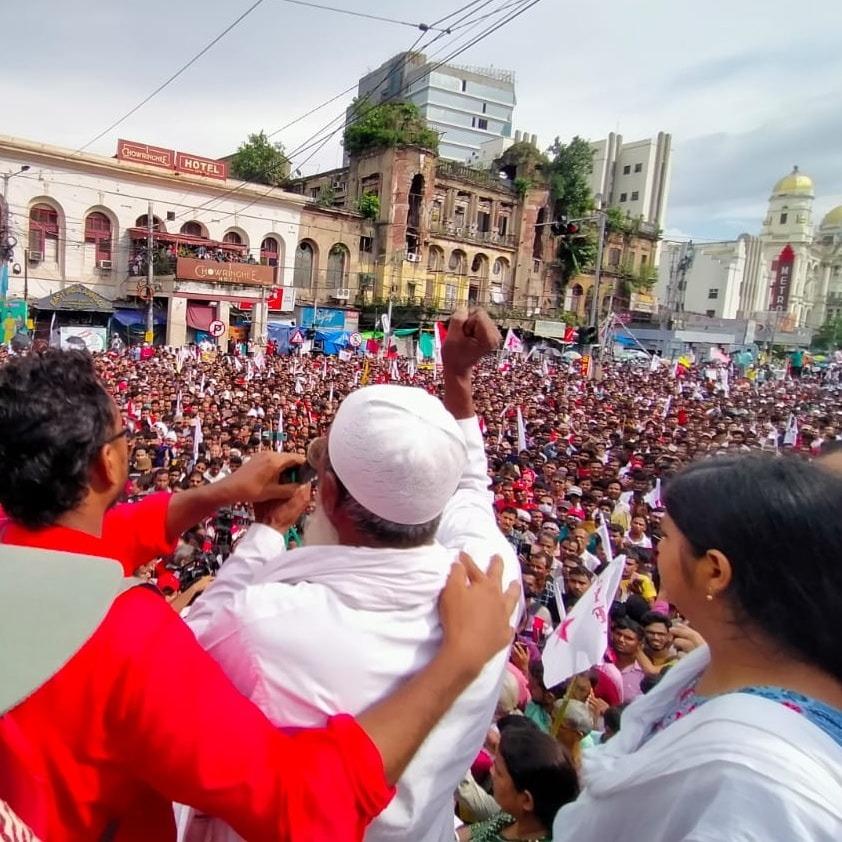 The entire crossing of Jawaharlal Nehru road (chowringee) was then thronged with common people carrying red flags or dressed in red attire. Three huge rallies each from Sealdah,  Howrah and from Kolkata south came to the rally venue filling the venue to the brim.
They carried placards seeking freedom from the kingdom of thieves as they said and greeted the SFI-DYFI leadership with constant slogans like Pishi chor Bhaipo chor, Trinamool er sobai chor ( Aunt thief- nephew thief, Trinamools' are thieves ) in an apparent reference to the number of scams which were unearthed in Bengal implicating Mamata Banerjee and many of their  immediate family in them.
Present in the rally was injured Salman Khan- Anis Khan's brother who was recently attacked by miscreants as he is a major witness in Anis Khan's murder. His father Salem Khan, the late Bidyut Mondal's mother, and Barun Biswas's sister were also present at the rally.
In his speech, Anis Khan's father Salem Khan highlighted that one Anis Khan has gone but has given birth to thousands of Anis Khan. He spoke of the police oppression still looming over his family members and requested that they be served justice.
Present at the rally was All India Democratic Women's Association (AIDWA) leader Fullora Mondal who was imprisoned for 2976 days in jail with frivolous charges and has become an icon in the state. She caught a train at 3 am in the wee hours of Tuesday morning to attend the rally today.
NewsClick spoke with  Runu Banerjee, 45, a teacher with Douglas Memorial School of Barrackpore who had come to the venue. She spoke of oppressive conditions that exist in the state. To Sayeed Gurfan Ali of Howrah, a silk screen printer, it is a matter of prestige for the state of West Bengal. 
For Tamal Sil, a daily wage earner who works on a construction site as a mason, today's rally is an eye opener that so many people want Insaaf together in a disciplined manner. 
Piru Sheikh from ward number 134 of Kolkata corporation area. He, a left activist has been tortured much, in the last 10 years as his son's shop was attacked as he is a Communist Party of India (Marxist) (CPI(M) supporter. To him, "Insaaf means the end of this torturous reign of thieves," he told NewsClick.  
'Mamata has surrendered to Modi'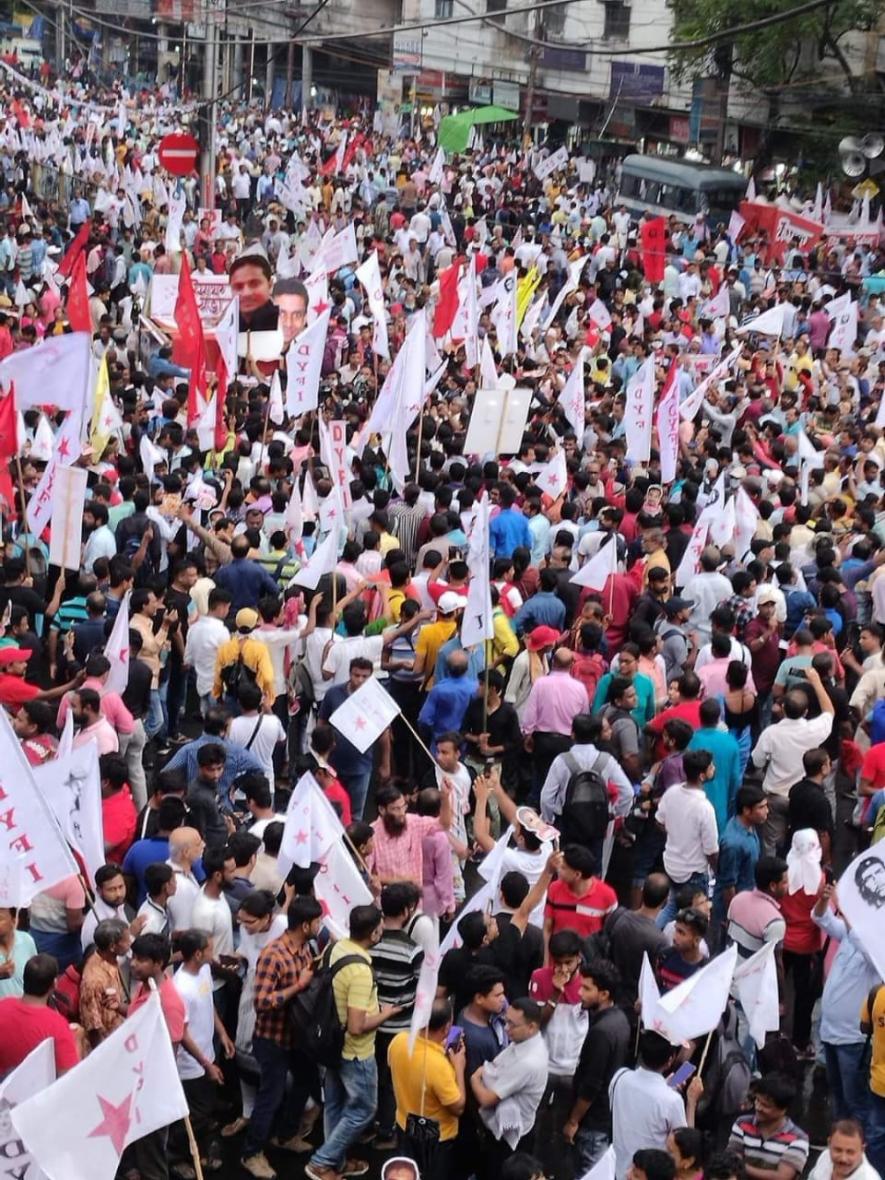 Speaking at the rally CPI(M) State secretary MD Salim who is also the Former General secretary of DYFI said that Mamata is not any soldier against the BJP Government rather she has surrendered to Modi. 
In reference to Mamata's recent comment in the assembly that she does not believe that Modi is at all bad, he said that Mamata recently has also said that the Rashtriya Swayamsevak Sangh (RSS) is not bad. 
However, the common people won't allow the  RSS to rise from the water and they will have a water-borne death in the state.  "How can the next gen of Nathuram Godse  (Gandhi's killer ) evaluate the next generation of Martyr Khudiram bose?"  he said. "Mamata is now finding good in Modi who is wreaking havoc in the country by giving freedom to the rapists of Bilkis Bano, and taking bulldozer policy throughout the country in the BJP ruled states. RSS has done a BPO through the TMC in the state," he quipped in the rally.
The rally was presided over by DYFI state President Dhrubojyoti Saha and by Abhas Roychoudhury former secretary of the DYFI state committee who the state Government wrongly imprisoned for taking part in a law violation programme in Burdwan city recently. 
He also saluted the unarmed people of Burdwan that day who fought like war horses that day against the oppressive police with empty hands for over one and half hours in a true valiant manner.
Speaking at the rally  DYFI state President Meenakshi Mukherjee highlighted that the government in the state is a rotten one and in the new Bengal that is going to come the cow smugglers and coal smugglers won't have any place to live.
Get the latest reports & analysis with people's perspective on Protests, movements & deep analytical videos, discussions of the current affairs in your Telegram app. Subscribe to NewsClick's Telegram channel & get Real-Time updates on stories, as they get published on our website.
Subscribe Newsclick On Telegram