WB: From Durgapur to AIIMS, the story of Saraswati Rajak's Unyielding Struggle
Hailing from a low-income family, Saraswati Rajak has topped the AIIMS All India Entrance examination in the reserved category.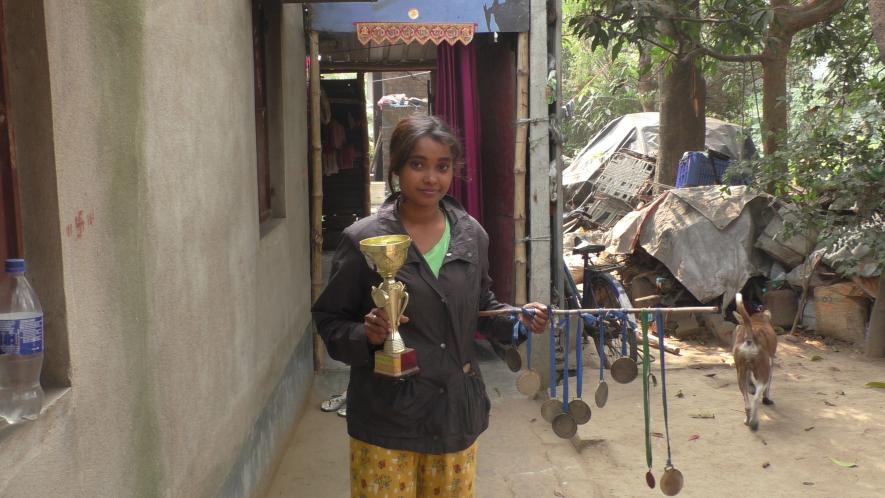 After a long struggle, Saraswati Rajak of Sagarbhanga, Durgapur, has reached the All India Institute of Medical Sciences (AIIMS) in Delhi. Saraswati Rajak, daughter of Nityanand Rajak and Meena Rajak, will study medicine there. Hailing from a low-income family, Saraswati Rajak has topped the AIIMS All India Entrance examination in the reserved category. People from all walks of life praised her. Saraswati talked to NewsClick about her struggle.
Your success did not come overnight. Behind this, there has been a long struggle and indomitable persistence. Tell us something about that.
My family contributed a lot to get me where I am today. Pursuing an education in a low-income family is a challenging task. Although we could attend government schools and colleges, my family couldn't afford good tutors for us. However, we had a goal; something had to be done. We had that persistence or stubbornness. It came from seeing our parents struggling financially. We did not want them to suffer similarly in the future.
What kind of discrimination has to be suffered to cross this long way?
I come from a scheduled caste (SC) category. However, I did not get any government scholarship despite my category. I applied for scholarships several times during my school and college days but could not get any. I did not even get the Kanyashree scholarship from the state government. It could have been due to political reasons. There were two payments of Rs 500 each, but nothing after that. Considering my background and academic performance, I deserved Kanyashree. Multiple teachers helped me pay school fees. A teacher taught me for free till class 10th. A few tutors did not take any fees during the 11th and 12th classes. But, I received little help from the government. I often wondered why I was not getting any benefits despite being eligible.
Your family is involved in active politics. What political obstacles have come in the way of your studies?
My mother is an active Left Front worker. This is the only reason my name was not included in the list of beneficiaries of the Kanyashree project. Apart from managing household chores, she performed all the responsibilities of her party. The Communist Party of India (Marxist) (CPIM) is of a different ideology; hence, my mother joined the party. There would always be economic obstacles. If people continue to fight, one Saraswati will emerge from every family.
Should students participate in politics? What do you think?
Yes. Students always want the best for their country and state. If a brilliant student becomes the education minister, they will understand the quality of education very well and what will be good for the students. Every minister, be it the Chief Minister or any other minister, if they are highly educated, the state will progress. Students are the future of the country. If they enter politics, the country or the state will go to such a place that history will bear witness to it.
In which subject do you want to specialise?
I would start with a five-year general MBBS. After that, my dream is to become a neurosurgeon. My father wants me to become a gold medalist. I would fulfil both and continue to work for the good of the state and the country while studying.
You talk about your family's struggle in detail. What did you learn from this struggle?
This fight is so big that it cannot be expressed in a few words. Three months before my secondary exams, my grandmother became so ill that my mother took her to Vellore. I had no tutor then. My younger uncle, who is very good at studies, used to teach me; I passed secondary school very well in the first division. After my 11th class, Dida fell ill again. She was the only one who stood by us; no one else stood by us except Dida in our bad financial situation. My grandmother died due to a lack of treatment during my high school exams. We had no money to treat Dida. Father's factory closed two years ago. After Dida's death, this help also stopped. After that, my parents took great pains to teach my brother and me. They spent all their earnings on our education. In 2018, my brother stopped studying after completing his graduation. Dada earned shoulder-to-shoulder with my father to run the family and educate me. When I passed my exams in 2022, he returned to education.
Saraswati Rajak's mother, Meena Rajak, said: "She has come to this place with great effort. She studied day and night. I want her to go further. Let the dream of becoming a gold medalist come true. I request everyone to stand by us. We have done as much as we could. We don't have a computer or laptop at home. I couldn't give her a good tuition or buy her a good book."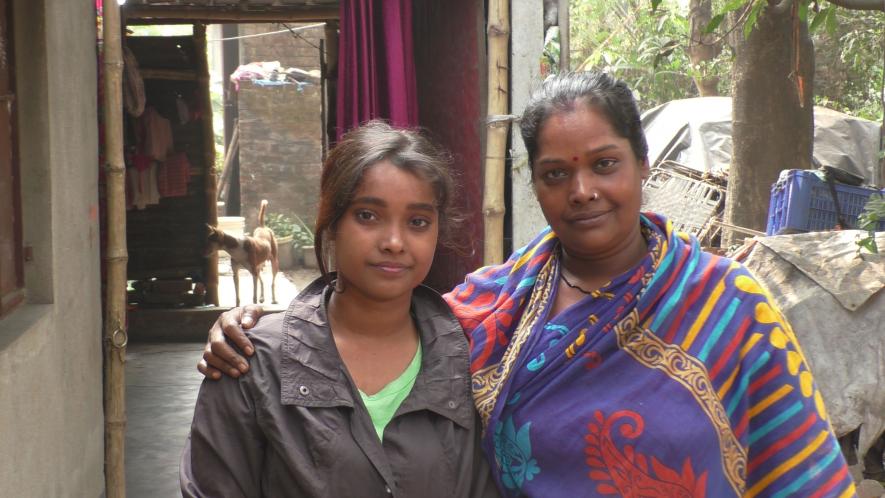 She added, "All the neighbours and party workers are thrilled with Saraswati Rajak's success. Everyone came home and congratulated her with flowers and sweets. All have promised to stand by us. I am pleased to see the happiness of my neighbours."
Get the latest reports & analysis with people's perspective on Protests, movements & deep analytical videos, discussions of the current affairs in your Telegram app. Subscribe to NewsClick's Telegram channel & get Real-Time updates on stories, as they get published on our website.
Subscribe Newsclick On Telegram