WB: Saline Variety of Paddy Successful in the Sundarbans
It is faring better than the hybrid variety of rice.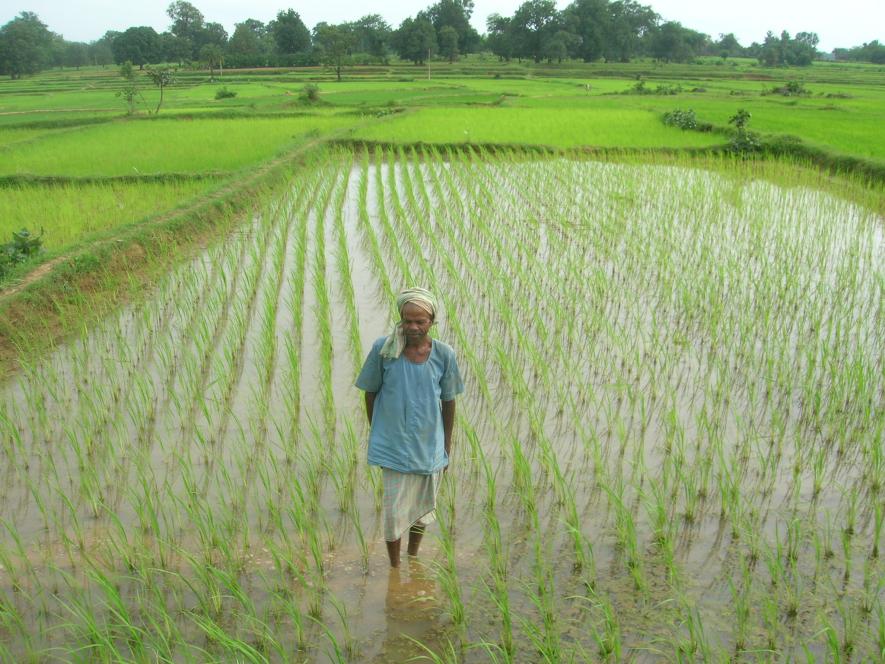 Representational Image. Image Courtesy:  Wikimedia Commons
Debdas Mandal, a 43-year-old from the Rupomari area of the Sundarbans, is happy after planting the saline variety of paddy in his 16 cottas of land. He received it from the local Vigyan Manch workers.
He had also planted the hybrid paddy seeds of the Pratiksha variety, purchased from the local market. Mandal has learnt that the growth of the Talmugur variety of rice (supplied by Vigyan Manch) is better.
Talking to NewsClick, he said he expects a harvest of around seven sacks of rice from his land.
"No weeds are growing during the cultivation time. We don't have to do much khowali (weed separation) during the time of cultivation of this variety of paddy," he said.
Mandal, after being trained during a Vigyan Manch workshop in the Hingalgunj area in July 2021, has stopped using chemical fertilisers on the lands and is using bio fertilisers like cow dung. He is a graduate who took to farming after not getting any jobs.
Rupomari, where one can travel only after nearly 12 kilometres of a bumpy ride from the Hingalgung–Hasnabad road, was fully inundated during the Amphan cyclone.
The salinity level of water is above the threshold level, and normal market available varieties of rice seeds yield less than sufficient quantity of rice.
Mandal has also purchased another local variety of Dadshal paddy seeds from the local market. He is on his way to boycotting the corporate agricultural lobby that supplied paddy seeds that are barren and cannot produce paddy strains for next year's cultivation,.
Sannyasi Sardar, 66, an elderly farmer from Uttar Rupomari areas, also harvested the Dadshal variety of local rice strain last year.
Last year, he harvested around 18 sacks of paddy by cultivating the paddy strain in 2.5 bighas of land. This year, he has reaped that variety of rice in his whole field. He said that compared with the market leader Pratiksha brand of paddy strain, he had not faced any loss by cultivating this local strain. It is much better than the hybrid variety of rice, he told NewsClick.
Kushkumar Sardar, a paddy cultivator and President of the local Vigyan sabha of Paschimbanga Vigyan Manch, has reaped in the Gheos variety of paddy, another local strain supplied by the Vigyan Manch.
Sardar says the local strains are better than the hybrid Pratiksha and other rice strains. Though his land remains fallow most of the year, he cultivates in one bigha during Vaishakh.
"The Pashkathi (the bunch of rice saplings) is healthier in case of local rice strain compared with the hybrid varieties available in the market," he said.
Shakti Sadhan Das, President of Ishwarchandra Vidyasagar Vigyan Chakra, told NewsClick that four strains of rice were supplies to the farmers by Vigyan Manch, namely, Talmugur, Gheos, Kheyurchori, and Dadshal. Initially, the farmers didn't take up these strains as they were used to hybrid ones. However, there is an increasing demand for the indigenous rice strains supplied by the Vigyan Manch as they sustain salinity better.
"Alongside, we also taught the cultivators how to cultivate these rice strains and use BIO fertilisers to cultivate the lands instead of using chemical fertilisers. This movement has also earned sizeable success in the region," he said.
Newsclick also spoke with Partha Mukherjee, a retired school teacher and President of Icchamati Vigyan Kendra of Paschim Banga Vigyan Manch, under which the Hasnabad Taki Hingalgunj area's science movement falls.
"We are trying to improve the lives of the peasants of the distant areas of the Sundarbans by imparting knowledge and focusing on using bio fertilisers and cultivating salinity-prone high-yield rice varieties. " This year, we earned sizeable success in our endeavours," he said.
It can be recalled that salinity is a problem for cultivation in the region, with local soil regularly being inundated with salt waters. Organisations like MSSRF (MS Swaminathan Research Foundation) had handheld farmers' communities in various coastal areas of South India to irrigate saltwater paddy. Still, it is the first of such attempts in West Bengal, which now, if taken on a larger scale, will alter the livelihood of the common people of the Sundarban region.
Sundarban is one of the largest mangrove forest regions in the country and boasts a unique habitat which remains very near to nature and is home to a rich flora and fauna, including the royal Bengal tiger.
The majority of the lands in the Sundarban islands are fallow or of single crop pattern. After salinity incursion in the lands during high tides or cyclones, there is no cultivation for two to three years. The normal strains of paddy seeds available from the market produce an insufficient quantity of rice here as cultivation is mostly dependent on rainwater in the Hingalgung and Hasnabad blocks of Sundarbans.
"The main problem here is the cropping pattern which includes single harvesting of a particular strain called rup patnai locally; in Tagore society, we are trying to find the second and third crop that can be suitable for this soil," said S Bandopadhyay, a soil chemist.
The Tagore Society had sought help from the MS Swaminathan Research Foundation (MSSRF) to materialise the three-crop pattern in the Sundarbans.
Notably, the MSSRF, a nodal body with international expertise, has recently implemented environment-friendly projects even in Myanmar. Its newsletters pointed out the successful efforts of seeding and harvesting salinity-friendly indigenous varieties of paddy in coastal areas, retaining moisture and re-planting mangroves along the shores.
In all blocks of the Sundarbans region, the salinity in drinking water is much higher than the desired limit. No block reported a level below 300mg/L, as a result of which people in the area are facing several ailments related to constant saline exposure.
The blocks in North and South 24 Parganas have been known for arsenic-contaminated groundwater, and much work has been done to tackle the problem. Still, salinity as a problem has not been taken as seriously by the government till now.
As far as livelihoods are concerned, agriculture is one of the worst victims of rising water salinity, with the buffer zone created by paddy fields and mangroves also facing erosion.
"At just under 6 to 8 feet ground level, yellowish white water has been oozing out, which is excessively saline. As a result, in Sundarbans, we have now nearly stopped construction of shallow tube-wells," said a cultivator talking with NewsClick
Get the latest reports & analysis with people's perspective on Protests, movements & deep analytical videos, discussions of the current affairs in your Telegram app. Subscribe to NewsClick's Telegram channel & get Real-Time updates on stories, as they get published on our website.
Subscribe Newsclick On Telegram