'We Want Peace': On World War II Anniversary, Central Trade Unions Demand Dismantling of NATO
A public meeting was organised in Delhi in which leaders of six central trade unions participated and called for the dismantling of NATO and the abolition of nuclear weapons.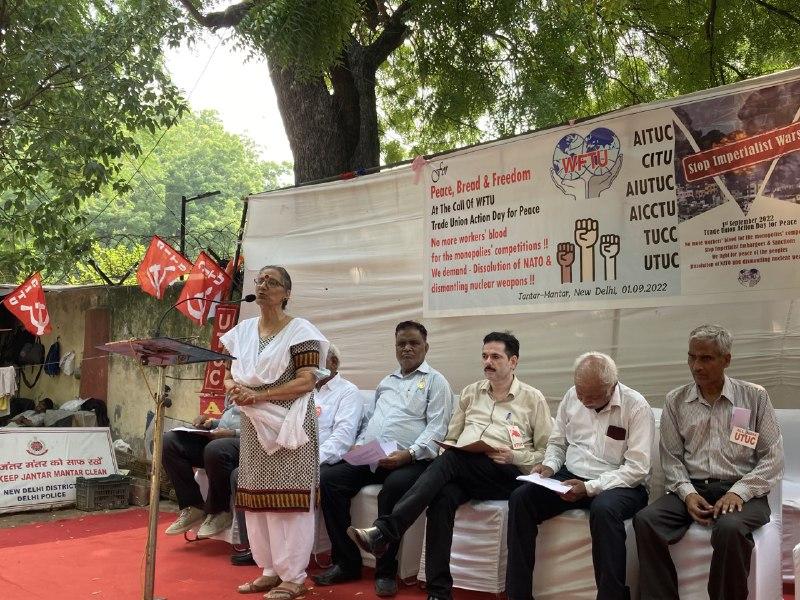 AITUC general secretary Amarjeet Kaur addresses the public meeting at Jantar Mantar on Thursday. Image clicked by Ronak Chhabra
New Delhi: Central Trade Unions in the country on Thursday demanded the dismantling of military coalitions like the North Atlantic Treaty Organisation (NATO) and the abolition of nuclear weapons, as they pressed for the right of people in the world to live in peace. The demand was raised on a day marked as the anniversary of the beginning of the Second World War.
On September 1 in 1939, the German army under Adolf Hitler launched the invasion of Poland, plunging the world into a war that would subsequently continue for the next six years and claim the lives of tens of millions of people.
Since then, the World Federation of Trade Unions (WFTU), an umbrella organisation of various trade unions worldwide, marks the day every year in remembrance and honour of the war victims. Public meetings, organised by its constituent unions, are held across the world and messages of peace are shared.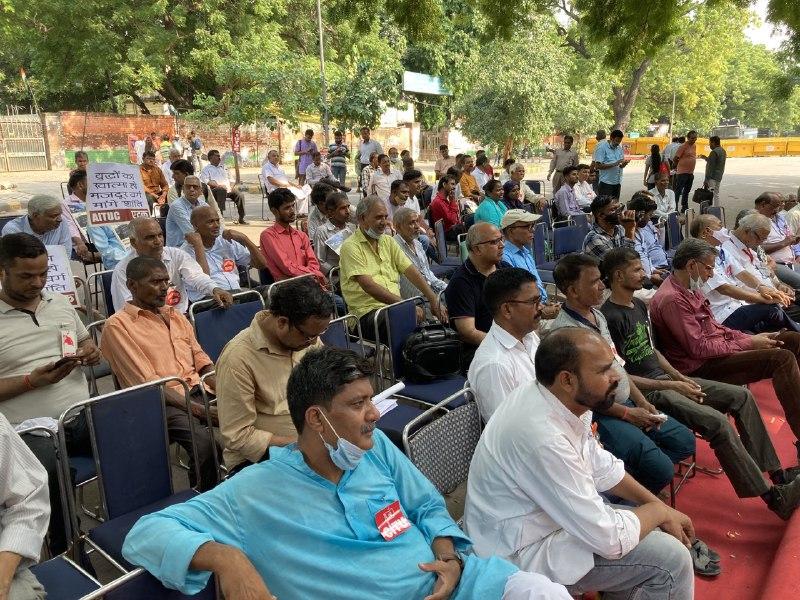 WFTU constituent union members in the country on Thursday pressed for the right of people to live in peace. Image clicked by Ronak Chhabra
Likewise, this year on Thursday, in what was termed as "World Trade Union Day of Action for Peace", the WFTU called upon all its constituents to organise, "anti-war, anti-imperialist actions and mobilizations in defence of peace and cooperation of peoples, against imperialist wars and interventions, against militarism and militarization of international relations, against imperialist practices of sanctions, blockades, and economic wars."
In view of "immense dangers and threats", as demonstrated by the United States of America, the European Union, NATO's conflict with Russia, as well as the US-China confrontation, among others, the world is "facing a phase of extreme intensification of political, economic, and military antagonism for the control and exploitation of our planet's economic resources," the WFTU's secretariat said in a declaration earlier this week.
NATO is an intergovernmental military alliance between 30 member states – 28 European and two North American. It is a USA-led security alliance forged during the Cold War to defend its members from the supposed Soviet expansion.
The declaration added that people are being made to pay the cost of the "imperialist antagonism" with "death, refugeeism, and the deterioration of their living and working conditions."
In Delhi, on Thursday, at the call of WFTU, a public meeting was organised at Jantar Mantar in which leaders of six central trade unions, including AITUC, CITU, AIUTUC, AICCTU, TUCC, and UTUC, participated. Similar meetings by members of these unions were also held in other cities.
The leaders condemned the USA and its European allies for "strengthening NATO", which, according to the former, is "stepping up its aggression and now expanding across the globe." They added that world peace cannot be protected through "militarisation" or "sanctions and economic wars."
"Today, Tensions are running high in the whole of Europe once again, and at the same time, there are attempts being made to create tensions even in Asia," said Amarjeet Kaur, general secretary, AITUC, on Thursday, pointing respectively toward ongoing Russian "special military operation" in Ukraine and recently made controversial visit by United States House Speaker Nancy Pelosi to Taiwan.
On the former, she highlighted that it is "important" to understand the "ground realities" which led to the present situation. "Trade unions do not support any kind of military action. However, it must be understood as to which country's policies have caused it," she said, taking a dig at the US-led NATO for expanding eastward and perching on the border of Russia.
Tapan Sen, general secretary, CITU, said that people across the world "do not want more wars, but peace, bread, and freedom." He highlighted the experience of the victims of wars and interventions in Libya, Syria, and Palestine, among others.
"Unemployment and inflation are undermining the living standards of workers across the world, and even in our country. Trade unions must press their respective governments to shift their focus in tackling these issues," he said.
Get the latest reports & analysis with people's perspective on Protests, movements & deep analytical videos, discussions of the current affairs in your Telegram app. Subscribe to NewsClick's Telegram channel & get Real-Time updates on stories, as they get published on our website.
Subscribe Newsclick On Telegram