WB: Assembly Polls Become Talking Point While State Struggles with Pandemic, Post-Amphan Recovery
The BJP has launched a virtual campaign on an aggressive note with a nine point chargesheet against the TMC government, even as elections are more than 10 months away.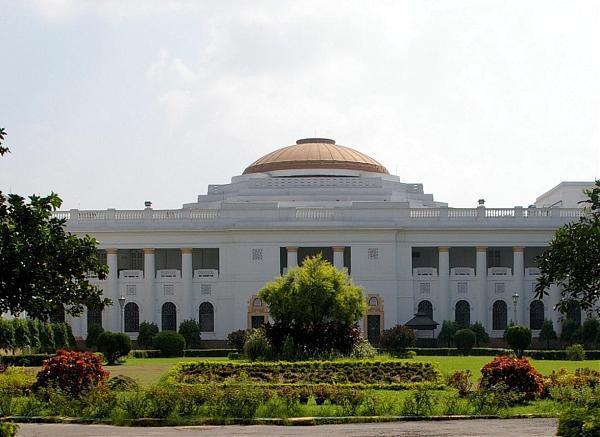 West Bengal Assembly. | Image Courtesy: Wikipedia
Kolkata: Although West Bengal Assembly elections are more than 10 months away, the Bharatiya Janata Party (BJP) has launched its 'virtual' campaign on an aggressive note at a time when the state government and the people are finding it hard to cope with the pandemic-scarred season and the aftermath of the devastating Cyclone Amphan.
The last two weeks have seen BJP sharpening its attack against Chief Minister Mamata Banerjee and her party, the Trinamool Congress (TMC). It began by releasing a nine-point chargesheet – nine-point because the ministry is through nine years in office – and campaign, for now, has culminated with assertive speeches; first by Union Home Minister Amit Shah and then by Prime Minister Narendra Modi. 
The sum and substance of the chargesheet is misrule in every sphere of administration. What Shah and Modi said can be summed up in these words : 'Hame Bangal chahiye (Bengal is important to us)'. Thus, BJP has set the tone well in advance.
Usually combative Mamata, however, limited herself to accusing BJP and the Centre of indulging in "tragedy" politics and her finance minister Amit Mitra accused New Delhi of sitting on the state's Rs 53,000 crore dues and copying state's schemes and launching them after rechristening. After Shah's 'virtual  Bangal' conference speech on June 9, it turned out to be, for some time, Amit vs Amit that day. Banerjee, perhaps, hinted she would regularly field her 'Amit-da' to expose the Centre's "financial bluffs".
In the last few days, there have been hints that the CM herself and her party leaders would shun aggressive posturing against the Centre and Modi-Shah duo for now. As the election is not knocking at the door, they would like to wait for political advisor and poll strategist Prashant Kishore (PK) to finalise the campaign format. The importance PK has been receiving from Banerjee and her politically powerful nephew and MP Abhishek Banerjee suggests PK's rule book will be strictly followed. Meanwhile, the state government will tone up management of the pandemic and accent upon post-Amphan rehabilitation and reconstruction.
The Left Front, as part of the national action plan, hit the streets on June 16 to back up their demand for, inter alia, job card, cash assistance and free ration for an extended period for migrant workers. It was a difficult call because "we had to abide by physical distancing rules, but we managed", said Left Front leaders NewsClick spoke to, who also indicated that a few more programmes were on the anvil. 
The Congress is having internal deliberations and also with the Communist Party of India (Marxist) on the approach. In due course, other Left Front partners will be actively involved. There are reports of stray cases of reverse defection – from TMC and BJP into Congress – happening in some districts.
Also read: BJP Turns to Digital Politics Amid Pandemic
A broad outline of the respective campaign strategies available at this point in time is as follows:
In addition to the charges of misgovernance and corruption in free ration distribution levelled against the Mamata ministry by the state BJP unit, Shah has resurrected the citizenship issue, indicating that the party will as usual bank on polarisation, accuse Mamata Banerjee of indulging in Muslim appeasement and thus, aim to corner a big slice of the Hindu vote. Also, Shah and Modi will assure the voters of all round development if they bring BJP to power. Aiding them will be Governor Jagdeep Dhankhar, a BJP loyalist, who knows how to keep the pot boiling.
The thrust of Banerjee's campaign will be highlighting the misery of lakhs of migrant workers in the pandemic phase, how Modi is destroying the concept of federalism enshrined in the Constitution and how the Centre is weakening states by not releasing their due share of the central funds. It will be for Bengal's 'Amit-da' to articulate how Modi's twin misadventure – half-baked Goods and Services Tax and demonetisation – continue to affect the economy.
For the Left-Congress combine, the targets obviously are both the BJP-led NDA government and the TMC ministry in the state. As for the Union government, the thrust will be on how its wrong economic priorities – continuous de-emphasising the role of the public sector, initiating anti-labour legislations, moves to corporatise large spheres of agricultural activity, regular pampering of the private sector with all kinds of financial concessions – are proving anti-people. A glaring example is the rising unemployment curve. 
At the state level, the Left Front-Congress combine will target the current CM for her autocratic style of functioning, constant neglect of the Opposition and even the state legislature where discussion on the functioning of departments she herself handles has always been cleverly avoided. Their focus will also be on corrupt practices of her party leaders, failure to industrialise the state and create employment opportunities.
NewsClick spoke with several political leaders to find their views on BJP's aggressive stance and the developing political situation in the state.
Asked about Shah's outbursts against the government and state BJP unit's chargesheet, West Bengal's education minister and TMC's secretary-general, Partha Chatterjee, said, "We are focused on tackling the pandemic in all its ramifications and post-Amphan rehabilitation and reconstruction. We have too many tasks on hand. There is no question of avoiding a controversy."
Asked about the timing of launching an aggressive 'virtual' campaign against the government when the state is passing through a crisis, state BJP's general secretary Sayantan Basu said, "We feel this is right time, people are angry, frustrated with the administration. The government's attitude towards the Opposition is unfortunate; be it COVID-19 or Amphan-caused devastation. We are firming up door-to-door campaign." 
Also watch: Protest in Bengal Against Shah's Virtual Rally and Govt's Negligent Approach to COVID-19
In the backdrop of Shah's 'virtual' Bengal and Bihar rallies in a matter of days, senior CPI(M) leader Mohammed Salim observed, "Armed with huge funds, BJP is playing an election-centric political game. See how the party was busy poaching legislators for the Rajya Sabha elections. Do you hear BJP organising programmes to highlight people's bread and butter issues? People are experiencing so much misery, but the party does not hold programmes or voice people's demands even in non-BJP-ruled states."
On the topic of how CPI(M) is gearing itself up organisationally, Salim said taking note of the ground realities, the party has stepped up networking programme involving youth in the frontal outfits. The trade unions and kisan units are stepping up their activity.
Giving an assessment of how the political situation will crystallise in the months ahead, another CPI(M) leader and Rajya Sabha member Bikash Ranjan Bhattacharya told NewsClick that he saw the situation changing fast and turning anti-TMC and anti-BJP. "People's attitude will become more and more clear; they are seeing for themselves that the Left Front is highlighting their existential issues and playing a constructive role," he added.
Asked about the Union Home Minister banking on the citizenship issue, the CPI(M) leader, who is also an eminent lawyer, said that if voter ID card, passport and Aadhaar are made irrelevant, then nobody including Modi and Shah will be reckoned as citizens, adding, "This, when for decades there was no compulsion for birthproof and this when even today deliveries take place in cottages and 'kutcha' houses in villages. It's not that simple, that easy."
Senior Congress leader and Rajya Sabha member Pradip Bhattacharya said that there are several reasons for BJP's thrust on West Bengal Assembly elections. The party secured clear majority in only four states – UP, Uttarakhand, Assam and Himachal. In several other states it failed and took recourse to manipulative politics after the results.
In West Bengal, manipulation after the results will be very difficult. Hence, the party is banking on pre-poll manipulation, that is, engineering defections for which their target is TMC. There is not much scope for defection from the Congress. Also, it is to be noted that BJP is not saying a word against the Left-Congress combine, which suggests that in its reckoning the combine will be a strong factor, the Congress leader argued. 
State secretary of the Revolutionary Socialist Party (RSP) Manoj Bhattacharya is of the opinion that the people will reject BJP's attempt to grab power in West Bengal because Prime minister Modi is using draconian acts to silence contrary views and frighten people. He is pursuing "a perverse system of governance and his home minister is deceiving and duping people through the citizenship legislations. People have seen through their game. It's a pity that we have minimal healthcare facilities for the poor and downtrodden and yet the budgetary provision for healthcare is well below 2% of GDP when it should be at least 5%, the RSP leader said. He also indicated greater involvement of trade union and kisan wing leaders in poll campaigns. 
State secretary of Communist Party of India (CPI) Swapan Banerjee told NewsClick that the Left Front-Congress combine will have to work hard to see that anti-TMC and anti-BJP votes do not get split. "Our job will be to defeat TMC and isolate BJP; the latter will try hard to manipulate using its money power. Judging by the challenges that lie ahead, it appears the secular and democratic forces will have to negotiate a complicated electoral phase in West Bengal, the CPI leader observed. 
General secretary of state Forward Bloc (FB) Naren Chatterjee stated that people are building up resistance as the BJP-led Union government is pursuing anti-worker and anti-farmer policies. "Workers are losing jobs, agriculture is being corporatised and the Essential Commodities Act is being diluted. As government, they are the trustees for public sector assets; they do not have the mandate to sell those assets. But, they are hell-bent on sale. People are bound to resist," the FB leader told NewsClick.
While the next Assembly election have become the talking point, it is to be noted that civic elections, due in April-May, have been deferred and civic bodies have been left to the care of administrators. There is no clarity now on that issue. But, in politically conscious West Bengal the only option is to hold the elections.
Get the latest reports & analysis with people's perspective on Protests, movements & deep analytical videos, discussions of the current affairs in your Telegram app. Subscribe to NewsClick's Telegram channel & get Real-Time updates on stories, as they get published on our website.
Subscribe Newsclick On Telegram