West Bengal: Despite Several Business Conclaves, Investors Reluctant
On conclusion of the latest conclave on December 12, there was no announcement of investment proposals, as were done at the end of each preceding edition.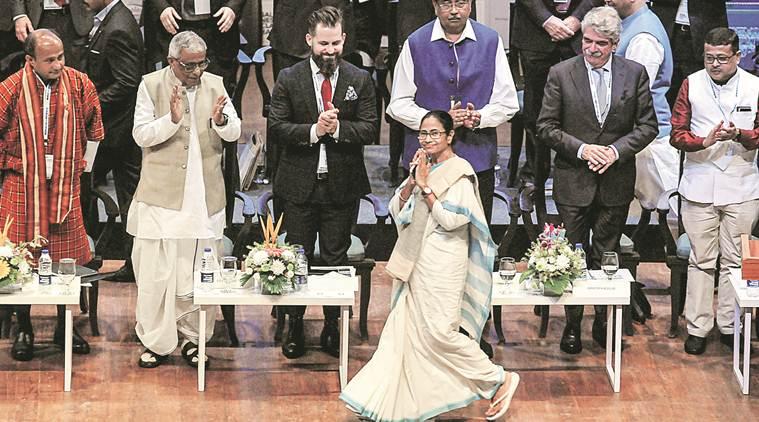 Image for representational use only.Image Courtesy : The Indian Express
Kolkata: In another attempt to attract investment for industrialising West Bengal, Chief Minister Mamata Banerjee organised the Bengal Business Conclave on December 11 and 12. The preceding editions during her regime were called Bengal Global Business Summit.
Three departures marked the exercise this time round. First, the venue was shifted from Kolkata to the sea town of Digha, 190 km away in the East Midnapore district. Secondly, the thrust was on the micro, small and medium enterprises—more popular in the abbreviated form MSME—sector, as against big ticket manufacturing industry in the earlier editions. Thirdly, at the end of each of preceding editions, announcements of investment proposals, business document exchange and expressions of interest (EoIs) were invariably in lofty figures – in lakh crore. Thus, the figures were Rs 2.43 lakh crore in 2015, Rs 2.5 lakh crore in 2016, Rs 2.35 lakh crore in 2017 and 2.19 lakh crore in 2018.
But, on conclusion of the latest conclave on December 12, there was no such announcement. At the inauguration on December 11, Mamata said the state government reversed its earlier decision of not holding a business conclave this year and later decided to hold it but at a new venue. The intention was to promote the sea side town of Digha, which is well connected and where the newly constructed convention centre was ready in all respects.
Before the event concluded, Mamata harped on the state government's role as the promoter-cum-developer for the Deocha Pachami coal block in the Birbhum district which the Centre had allotted  exclusively to West Bengal in September and the Tajpur port project which the state has "taken over from the Centre" citing "lack of seriousness on the part of the Centre in completing steps that should precede commencement of work". The chief minister inaugurated the site office for the Tajpur venture.
Also read: Open Mind on Deocha Pachami Coal Project, Says Paschim Banga Adivasi Gaonta
The other proposals included a five-star hotel by the Neotia group at Digha, a four-star hotel by a local investor Nityananda Kundu also at Digha, a Rs 1,700 crore personal care product unit by ITC at Patton Industrial Park near Kolkata and a 150 megawatt (MW) solar power unit of West Bengal State Electricity Distribution Company Ltd (WBSEDCL) for which it signed an MoU with KfW, the German development bank. 
The other plans mentioned were for an affordable housing project by a Singapore-based firm Infraco Asia at Andal where the Kazi Nazrul Islam Airport is located and a ship building facility of Titaghur Wagons. An MoU was signed between a Dutch consortium and Kolkata Leather Complex Tannery Association. It may be mentioned that the airport at Andal, in which Changi International Airport of Singapore has a sizeable stake, was conceived in 2006-07 during the Left Front regime and was operationalised in May 2015—in the fourth year of Mamata's first term.
ITC and the Neotia group are committed to the state and chances of their proposals fructifying are real. In fact, the Neotias have assured commencement of initial work on the 100-key property early next year and completion in 24-30 months thereafter. This suggests they are confident of getting land. WBSEDCL's solar power project hinges on KfW funds and land is unlikely to be an issue. But, for the other proposals land is going to be an issue. Land holds the key to prospective investors sustaining interest in their proposals. That explains why the state does not receive commitment on commencing work if other loose ends are tied up fast.
Between 2015 and 2018 proposals in several formats, such as, concrete investment intentions, exchange of business documents, EoIs and specific announcements received at conclaves and summits were worth Rs 9.47 lakh crore. But, the state government's response on how much of these has fructified on the ground is not forthcoming.
This raises the suspicion that the state does not have anything worthwhile to report on the progress. An inkling will be available if there were foundation laying functions, greenfield or expansion-cum-diversification project inauguration ceremonies—obviously by Mamata—but such occasions are few and far between. Another pointer if things are positive will be, particularly if manufacturing activity sees a definite spurt, a quantum jump in the demand and consumption of power. But, ground realities do not corroborate and acute power shortage resulting in frequent, prolonged load shedding is a thing of the past.
Also read: Investment Summits: All Dressed Up and Nowhere to Go
After the hefty investment of over Rs 16,000 crore between 2006 and 2015 in the modernisation-cum-expansion of the Burnpur-based integrated steel plant of Steel Authority of India Ltd a few years back, the state is yet to witness a repeat.
Industry circles are unanimous that after the setback Mamata successfully caused to the Left Front government at Nandigram and Singur, by making "forcible" land acquisition the pivot of her agitation and eventually capitalised on that to gain power, things went out of her control. Her "hands off" policy on land acquisition remains the single biggest deterrent even 67 months after she became the chief minister.
At the business conclaves and summits, in addition to fervent requests for investments she has been citing absence of labour agitations and creation of land banks as the positives. She has been going to the extent of blaming the Narendra Modi regime for "tax terrorism and unleashing of oppression by the Central Bureau of Investigation and the Enforcement Directorate on industrialists"; apparently in a bid to gain sympathy of the industry and business community.
Almost 100% of the display advertisements issued by the state government to announce launch of, inter alia, water supply, irrigation, education facility for backward classes, medical care and food security schemes invariably claim that these have been "inspired" by chief minister Mamata Banerjee. This also lends itself to an interpretation that she "inspires" her ministerial colleagues and bureaucrats to formulate schemes of her choice.
Also read: Signs of TMC-BJP Political Transaction, CBI Investigation Acts as Catalyst?
Be that as it may, going by the outcome of annual business meets, the only rational inference has to be that she is yet to inspire industry and business to make West Bengal their destination. Not only that, she and her Finance & Industry Minister Dr Amit Mitra have not yet succeeded in reopening labour-intensive units of Hindustan Motors, Dunlop, Jessop and several other units which are lying closed for a long, long time. With the next Assembly elections due around April 2021 and the Bharatiya Janata Party expected to make a determined bid to get West Bengal in its kitty for the first time, industries and businesses, many of whom are known for their pro-BJP leanings, may think twice before responding to her appeals.
Get the latest reports & analysis with people's perspective on Protests, movements & deep analytical videos, discussions of the current affairs in your Telegram app. Subscribe to NewsClick's Telegram channel & get Real-Time updates on stories, as they get published on our website.
Subscribe Newsclick On Telegram