Why Attempts to Make Indians Accept Just Hindi are Futile
To many, English may not be a convenient language, yet Hindi may not be technically desirable either. Replacing one with the other—or all others—is unnecessary, if not futile.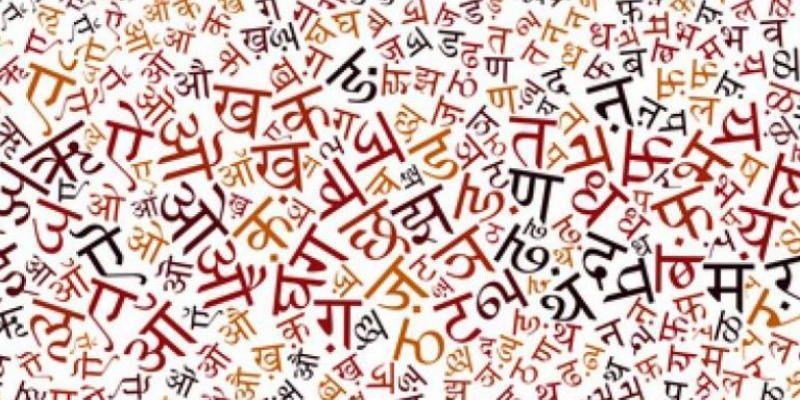 Image Courtesy: Wikimedia Commons
Every language has its momentum and ecosystem. Regardless of linguistic variations and diversities, in India or elsewhere, languages have an operational dynamic inextricably linked with the wish to communicate. Therefore, it is crucial to note that political aspirations directed by residual colonial-era emotions about language exact a price from us. Over time, policymakers, teachers, and governments make students, families, and society pay this price.
As Neil Postman wrote in his 1979 book, 'Teaching as a Conservative Activity', "Even an ordinary classroom becomes a place in which claims of various political, social and economic interests are negotiated." In other words, while policy documents make recommendations about language and instruction, the nature, status, role and functions of language are also based on popular aspirations. And these aspirations are often politically motivated. A policy may appear very promising, yet it needs to be rethought and introspected on based on these factors. With the New Education Policy just off the anvil, evidence, or at least a reference point, for the interplay between politics and language is fortunately at hand.
The English language continues to gain popularity, as the mushrooming of English-medium schools demonstrates. People need access to education, healthcare, jobs and other vital services. These services are increasingly disseminated through digital access tools, for which English remains the lingua franca in India and much of the world. Further, English and Hindi (in the North) operate as connecting forces for various levels of economic activities and players. As "link languages", they perform culturally dynamic roles since they can travel from one corner of the country to the other.
To many, English may not be a convenient language, yet Hindi may not be technically desirable. It does not mean we should raise apprehensions or build rumours about the "massification" of English at the cost of mother tongues or regional languages. Prof Krishna Kumar, writing in The Hindu recently, noted that politics is a "mood swinger" in India. In other words, as a post-colonial State, it is not hard for political actors in India to "invoke the ghost of colonial legacy" that, once awakened, "performs reliable tricks to attract public attention". Kumar cites author Snigdha Poonam's documentation of spoken English in the massive coaching industry to highlight how the language is virtually inalienable from cultural exchanges today. English is driven by the economy and drives the Indian economy. It cuts across regions, classes, and a range of economic activities.
Kinshuk Gupta, a young medical student, also recently described the comparisons with China, Japan, Russia and Norway that India's Hindi supporters are making as simplistic. In demanding that the official language—Hindi—becomes the sole medium of instruction for non-technical and technical courses alike, Gupta says, they ignore that nearly a third of China's 170 medical colleges have English as the medium of instruction alongside Chinese.
Recent developments indicate materials are being developed to teach medicine and engineering sciences in Hindi. However, there is a lack of literature—textbooks—in the language. It effectively means we deny Hindi-medium students access to national or global research. Quite apart is the issue of ignoring the considerable power of Bangla, Tamil and Urdu to also function as link languages. English or Hindi can serve as distinct bilingual resources, yet Bangla and Tamil have demonstrated the ability to withstand the pressure to communicate across language barriers—and they have done this without threatening each other.
Studies have proved bilingualism is advantageous. In 1926, Michael West reported to the Calcutta Bureau of Education in his "Occasional Report No. 13" on the connection between skill-specific (oral) bilingualism and the rural economy. He reported that both operate on different levels than scientific communication. In the seventies, Annie David's findings on bilingualism informed us that English proficiency is a prerequisite to bilingual education. We should not be surprised that the experiment carried out in central schools—teaching science and mathematics in English and social studies and civics in Hindi—actually worked wonders.
English remains an effective medium for scientific communication. It is, therefore, not a hegemonic language that threatens any mother tongue or "regional" language. Our reality is that a vast market exists for employment based on English-speaking skills.
To return to the politics of language, PDT Achary, former Secretary-General of the Lok Sabha, recently commented on why policymakers must ensure both Hindi and English remain official languages Constitutionally-recognised in India. Meena Kandasamy also recently wrote to contest the notion that since Hindi is widely spoken, it can be imposed on all others. The point she makes is that even if the reach of Hindi is uncontested, does it mean it should replace English? Put another way, should English have no place where French, Spanish, Arabic, German, Russian, Japanese, or Chinese are first languages? And will political claims about Hindi bring it the international legitimacy its ardent admirers desire?
Other questions Kandasamy and others raise deserve attention, starting with the scope of Hindi or other Indian languages to meet functional, digital and technical communication needs without replacing English. What will be India's policy direction on bilingual education in the immediate future? Finally, can a multilingual country have a national language at all—and if so, why?
The author teaches English at Aligarh Muslim University. The views are personal.
Get the latest reports & analysis with people's perspective on Protests, movements & deep analytical videos, discussions of the current affairs in your Telegram app. Subscribe to NewsClick's Telegram channel & get Real-Time updates on stories, as they get published on our website.
Subscribe Newsclick On Telegram