Why Hindi Imposition is a Bad Idea and Hurts the Poorest Most
We took our ideas of nation, democracy, constitutionalism, and the rule of law from the British. Why must only the English language be eliminated, that too, only from state-run education?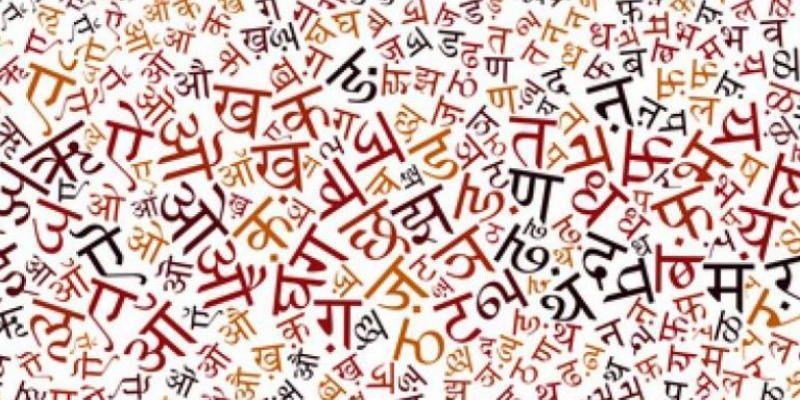 Image Courtesy: Wikimedia Commons
The Rashtriya Swayamsevak Sangh and the Bharatiya Janata Party came to power, riding a wave of sentiments about Indian nationalism they created. Their idea of nationalism is neither originally Indian nor based on our ancient civilisation. Indian literature in Sanskrit or Pali did not introduce the concept of nationalism. We do not know precisely when the Hindi language got structured, but one thing is sure: the alphabet, letter, and word formation systems of Hindi indicate it originated from the Sanskrit language. Its vocabulary, grammar and communication styles are also intrinsically related to Sanskrit.
Hindi may seem the nearest language in many states, but this is untrue. The actual Hindi-speaking states of India are Uttar Pradesh, Bihar, and Madhya Pradesh. The South Indian states, West Bengal, Odisha, the North East region, Kashmir, and Urdu-speaking people have nothing to do with the Hindi language. However, the RSS and BJP want all central institutions to teach in Hindi—a mandate not being extended to private institutions which make money only because they offer education in English. However, with the RSS-BJP plan, the danger of Hindi imposition will reach every non-Hindi-speaking state.
While our ideas of nationalism evolved to take their current meaning, notions about it were not spread by or among those who excelled in Indian languages. True, the British never considered colonial India qualified enough to be a nation in its fullest sense, but it was the British colonial scholars and educationalists who introduced the idea of nationalism in India. They did this through the Indian native English-educated elite. Hence, the first Indian writers or leaders who began to see India as a nation were the early English-educated scholars and leaders, starting with Raja Ram Mohan Roy and Dadabhai Naoroji. The Hindi scholars or writers never imagined such an idea of India as a nation.
When we took our ideas of nation, democracy, constitutionalism, and the rule of law from the British, why must only the English language be eliminated? That too, we want to eliminate English exclusively from government institutions. The English language gave substantial ideas about nationhood and democracy—which have survived 205 years since the first English medium school in India began in 1817—only among the Dwija elite. Today, after all this time, we find that English is making inroads into Indian villages and the homes of the labouring masses.
In Andhra Pradesh, Telangana, and Nagaland, English is the medium of instruction in all government schools. The poor aspire to become rich through learning in English medium schools. Like the BJP leaders, some Lohiaites send their children to private English medium schools but preach about eliminating English. This is being done rather slyly by trying to remove English from government institutions like the IITs, IIMs and central universities. What does this mean? Can they do the same for Ashoka University, Jindal University, Amity University and so on? All private English medium schools, colleges and universities have won several cases in the Supreme Court to teach in a language that the students, their parents and guardians prefer. The problem of reservations in the private sector is the key to this puzzle.
Higher education in the private sector is ruled out for all those who are expected to find a job in Hindi or any other regional language. This will not change even if private institutions provide some students preferential treatment during admissions.
The BJP and Lohiaites are aiming to expel English from government-run institutions in those places where the ruling party has the power to impose a language, irrespective of students' and parents' choices. In these places, the imposition of Hindi strikes the most brutal blow. The Andhra Pradesh government switched to English medium education in government schools after winning judicial battles in the face of opposition from the BJP and the Telugu Desam Party. Telangana could shift to English medium in government schools without any hassles in court because the Andhra Pradesh government had successfully adopted English as the medium of instruction. It has kept one compulsory Telugu subject in all government and private schools in the state.
Both Andhra Pradesh and Telangana governments have adopted mirror-image textbooks for students from classes one to ten. The books feature text in English on one page and Telugu on the facing page. This way, the students keep in touch with Telugu throughout their schooling while learning in English from an early age. More innovative teaching and learning methods will undoubtedly emerge in the future.
However, Prime Minister Narendra Modi's government is slowly trying to set the clock back. A section of Lohiaites now supports its policy of making Hindi the medium of instruction. Even in the past, the educated Lohiaites and Gandhians spoke against English as the medium of education in schools. But they did precisely the opposite when it came to their own children. Since Lohia was unmarried, we cannot accuse him of that duplicity, but we can charge his followers. We know that Gandhi's grandchildren and great-grandchildren studied only in English medium schools, and many live abroad.
The Lohiaites played a positive role in reservations and Shudra/backward class politics in Uttar Pradesh and Bihar. But they played a double-edged anti-English game to stop the upward mobility of the Scheduled Tribes, Scheduled Caste and Backward Class masses. Now in the avatar of the Swaraj Abhiyan, its chief, Yogendra Yadav, is doing the same.
He is playing a funny game of walking with Rahul Gandhi in the Bharat Jodo Yatra and moving along with the decision of the committee headed by Union Home Minister Amit Shah to impose Hindi on other states and higher educational institutions and lower courts, thus impairing the upward mobility of the mass youth.
South India has already shown that English medium education could work well in rural areas. Most families in the South, including the SC, ST and OBCs from rural areas, have somebody in the West or working in a job in which English is the preferred language. This is a post-Mandal phenomenon when a new consciousness about education in general and English teaching and learning spread among the rural masses.
The theory of Hindi medium schools and studying English as just one subject in village schools is bogus. Unless there is a common medium of instruction in government and private schools and rural and urban areas, there cannot be a level playing field. In 21st-century globalised India, English cannot be done away with; forget eliminated. There is no intelligent method to attempt to do this either. Sure, there could be problems for first-generation English learners in English medium schools. But it is proven that such students overcome their issues sooner than if they study in a regional language and learn English later.
For example, only labourer children study in the English medium school established in 2002 in my village, Papaiahpet, in the Warangal district in deep rural Telangana. Yet it has shown that students, though learning from poorly-paid teachers, perform better than those educated in Telugu medium schools. Many students passing from this school have found placements in IT, medicine, and so on. Their levels of competitiveness are no lower than those passing out of public schools in Hyderabad.
English medium education for all children would not hamper their commitment to nationalism and patriotism. The RSS, BJP and Lohiaites are strongly anti-English, mainly regarding education for the poor. In the northern states, their opposition has already created a massive gap in educational attainment between students educated in private English medium schools and those educated in Hindi medium schools. In South India, this social gap is much narrower.
One hopes that many states will oppose this new strategy of the RSS-BJP government and its path followers on the dual—private learning in English and government in Hindi—education model. English is Indian, and every child should have a right to study in that language from an early age.
The author is a political theorist, social activist and author. He has been campaigning for English medium education in government schools for 30 years.
Get the latest reports & analysis with people's perspective on Protests, movements & deep analytical videos, discussions of the current affairs in your Telegram app. Subscribe to NewsClick's Telegram channel & get Real-Time updates on stories, as they get published on our website.
Subscribe Newsclick On Telegram