A Year After Abrogation of Art 370, J&K Continues to Simmer with Discontent
A fresh curfew has been imposed in the region ahead of August 5, which will mark one year since the unilateral abrogation of Article 370, that stripped the erstwhile state off its special status.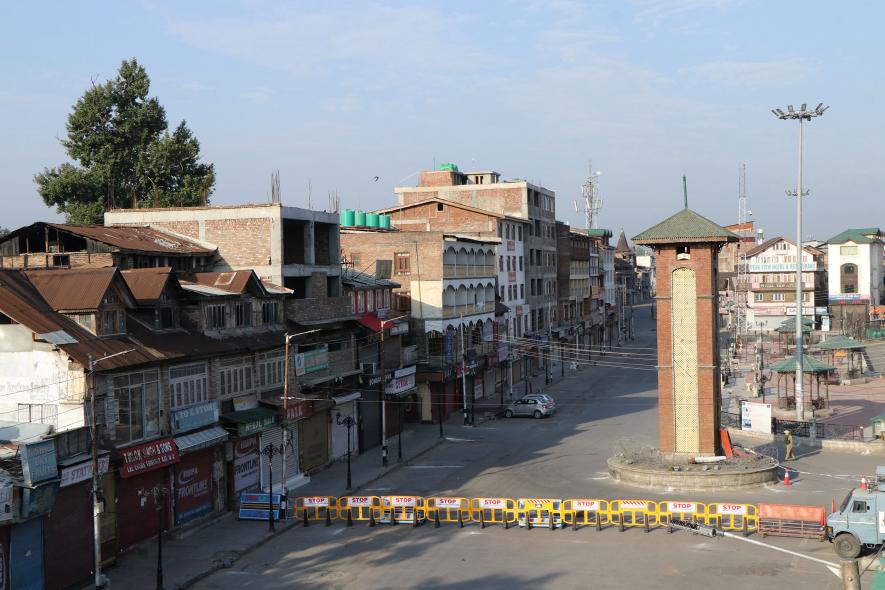 Photos by Kamran Yousuf/NewsClick
Srinagar: After completing his MA in Arabic, 26-year-old Fayaz Ahmad planned to pursue PhD in the subject at the University of Kashmir. To tackle financial constraints, he bought a tractor on bank finance as he was about to get married. But, all these plans were dashed when Fayaz was whisked away by police on August 3 last year leaving his family in the lurch.
A resident of Pahoo village in rural Pulwama area of South Kashmir, Fayaz has four sisters. His family is dependent on homegrown vegetables and the small income from the cattle Fayaz's father raises. This is why Fayaz had taken the loan to buy a tractor and earn from it by working in the local paddy fields. Earlier, he had suffered from an injury while working in the paddy field, due to which he had suffered a year-long delay in studies.
"He had applied for a PhD and was sure about his admission. We were also planning for his marriage. If he would would not have been arrested, he would have been married today," Fayaz's cousin Shahbaz told NewsClick.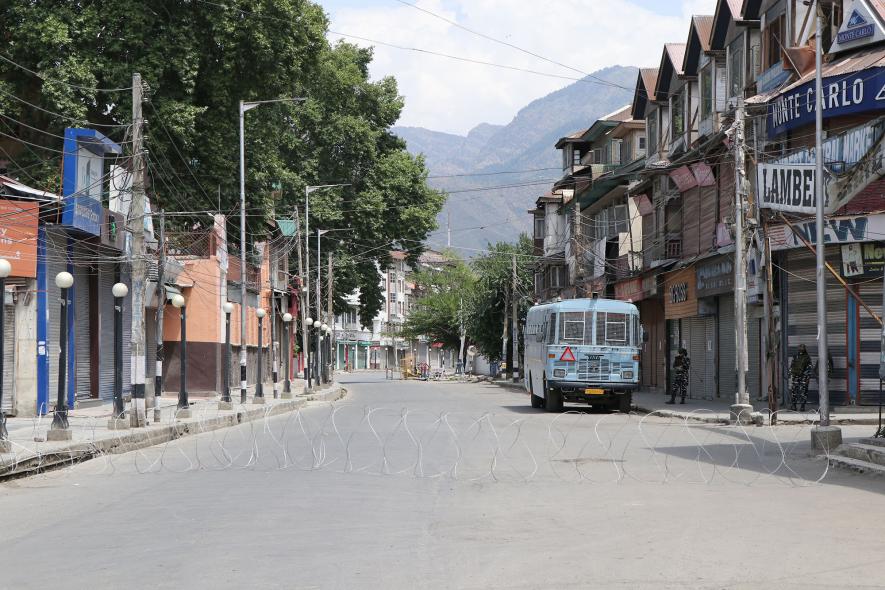 Photos by Kamran Yousuf/NewsClick
"He was arrested on August 3 evening and then on August 7, he was shifted from Kakapora Police Station to Bareilly jail in Uttar Pradesh and has been there since then," Mohammad Ashraf Mir, Fayaz's uncle, said.
For two months, in the absence of any communication and a severe clampdown in Kashmir, Fayaz was on his own in a far away jail in UP. In the meantime, his relatives collected money among themselves and borrowed some amount to help his sister and uncle to visit him. "It took them Rs 25,000 and four days to reach him after two months. They didn't even stay in a hotel all this time to save money," Shahbaz said.
Back home, Fayaz's mother is inconsolable and has fallen in depression, while his fiancee – even though crestfallen – hasn't called off the marriage so far.
Also read: People of Kashmir Are Living in Shock: Tarigami Reflects on the Year Without Article 370
It has been a year since his family awaits his return and are clueless about what exactly did he do to get arrested. According to them, he did nothing. Fayaz was detained like hundreds of Kashmiri lawyers, students, politicians, activists, businessmen, traders, civil society members and countless other youth including children in what the authorities in the region termed as a "preventive measure" ahead of the revocation of Article 370 and subsequent bifurcation of the Jammu and Kashmir into two union territories. The government did not want any opposition or protest this time, so they rounded up people in hordes.
There was an FIR against Fayaz in year 2016, his cousin said, when tens of thousands of Kashmiris protested after the killing of militant commander Burhan Wani in July that year. Nearly 100 civilians were killed by armed forces during these protests, a majority of them in South Kashmir. The crisis continued for nearly six months before winter and fatigue set in.
These protests were spontaneous and spread across Kashmir. Despite massive arrests, torture and other measures taken by the authorities in the region to quell protests in Kashmir ahead of the abrogation, they still occurred. Over 650 incidents of stone pelting were reported in the month of August right after the government announced abrogation of Article 370. There, however, has been a sharp decrease in the incidents since then, numerically.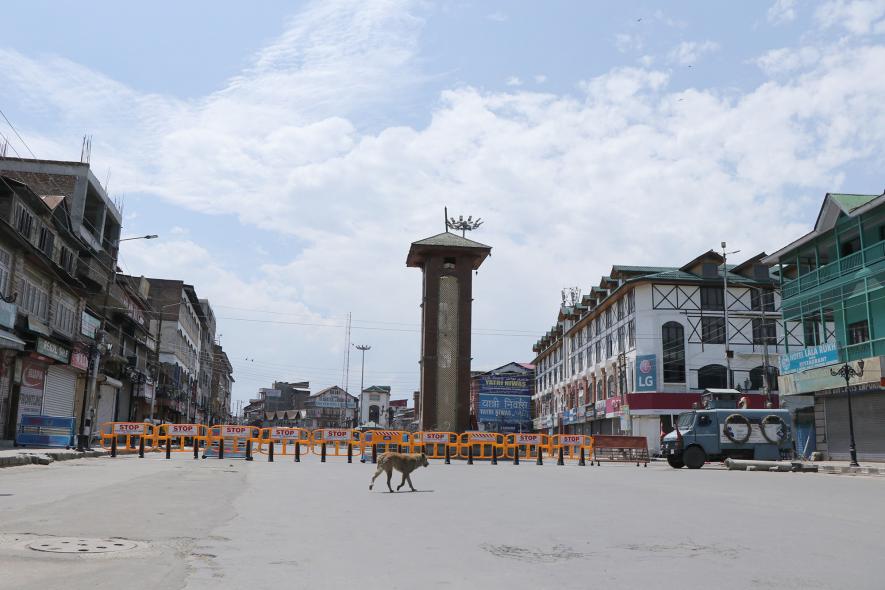 Photos by Kamran Yousuf/NewsClick
On the first anniversary of the revocation, the administration in the region have imposed a curfew in Srinagar on August 4-5 in the wake of inputs "suggesting that separatist and Pakistan sponsored groups are planning to observe 5th August 2020 as Black Day." "There are specific inputs about violent protests endangering public life and property," the administration's order declaring imposition of curfew read.
Since August 5 last year, the situation in the restive region has only worsened. The lockdown imposed in the wake of COVID-19 outbreak further aggravated the crisis. The response to the disease was only militaristic with one lockdown being imposed after another even as the rest of the country began to reopen gradually which has led to a decrease of pandemic related fear among local residents even as the number of COVID-19 related deaths are rising.
"There is no rationale or accountability in what the authorities are doing here. How does one fight a disease by blocking main roads with concertina wires and allowing the traffic through narrow lanes and alleys and they tell me its a measure against Coronavirus," a Srinagar resident Adil said.
Another Srinagar resident who was traveling to South Kashmir said he was stopped at Awantipora for two hours. "I had all the documents and a movement pass but, the policeman did not allow me to pass because he said he did not like the way I was dressed up. I don't know how to respond to this sort of harassment," Mir said. His name has been partly withheld to protect his identity.
That was before the administration imposed a curfew over already existing restrictions. The continuous imposition of restriction since August last year has had a catastrophic impact on the economy. In a year, according to trade body Kashmir Chamber of Commerce and Industries (KCCI), economic losses worth over Rs 40,000 crore ($5.3 billion) have been reported in Jammu and Kashmir with tens of thousands of people losing employment due to the crisis.
Also read: J&K Lost Rs 40,000 Crore Due to Government-imposed Lockdowns After Article 370 Abrogation: Report
Not just the business establishments, the schools have been shut for nearly a year except for a few days in March. Even after a year, the mobile internet still works at a snail's speed as 4G remains out of bounds for consumers despite paying bills for fast internet services for a year now. The fresh ban on high-speed internet has been extended till August 19 after administration reiterated security reasons behind it.
The People's Democratic Party (PDP) has said it will mark August 5 as a "Black Day" and protest on the anniversary. This, after their party president and former J&K Chief Minister Mehbooba Mufti's detention was extended on fresh charges under Public Safety Act (PSA), a few days ahead of the anniversary.
PDP leader Waheed ur Rahman Para, who was detained for six months following August last year, accused the state of threatening "civil liberties". He added that large scale detentions in the region have contributed to "silence" and "fear" in Kashmir.
"We were afraid I was detained for six months without a charge and not just us, we were still lodged in a "good" detention centre, there are others whose whereabouts were unknown for months. Thousands of people were picked up, there is a clampdown on journalists, civil society, judiciary on everything," he said.
The past one year has been hard on people and also on politicians often referred to as mainstream because of their participation in electoral process as opposed to separatist politicians who boycott them.The unilateral decision of the central governmentto repeal Article 370 was seen an act of "betrayal" for the former and "vindication" of the latter.
"I have done everything to defend India in Kashmir, I have done everything to defend democracy in Kashmir and when there was violence, there was pain. I was not part of funeral politics. I have never related to the painful politics of Kashmir personally," Waheed said.
By "funeral politics," Waheed is referring to Hurriyat leadership or separatist who issued protests and condemnation of deaths of those who were killed in violence perpetrated by government forces and termed elections in Kashmir as inconsequential.
"I was part of larger mainstream narrative. But, I don't relate to myself; I don't relate my own statements (anymore)," Para told NewsClick.
While many of them have been released, scores continue to languish in jails while their families like Fayaz's in Pahoo village descend into unimaginable depths of hopelessness, something that has also overwhelmed a pro-India politician like Waheed.
Get the latest reports & analysis with people's perspective on Protests, movements & deep analytical videos, discussions of the current affairs in your Telegram app. Subscribe to NewsClick's Telegram channel & get Real-Time updates on stories, as they get published on our website.
Subscribe Newsclick On Telegram