Absence of 'Cadaver Organ Donation' Rules Impedes Crucial Transplants in Chhattisgarh
As per the state health department data, approximately 250 patients need organs, but the lack of a rule for the same has created a crisis.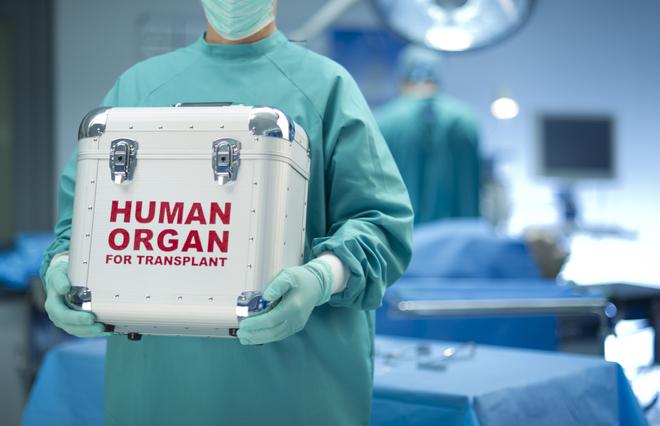 Chhattisgarh, a state that came into existence two decades back, has developed on many fronts but still gasps on to make a few sane advancements in public healthcare. This time, the Human Organ Transplant Policy of the state hangs with an uncertain fate. Despite the existing law, the rules and regulations are yet to be framed and implemented, failing the very purpose of cadaver organ donation.
The organ donation of living patients is allowed in the state, but rules for 'Cadaver Human Organ Donations and Transplantations' are yet to be laid even after four years of the passage of the legislation in February 2018. Chhattisgarh is among 16 states to have adopted the Transplantation of Human Organs Act, 1994 and the Transplantation of Human Organs (Amendment) Act, 2011.
Pankaj, a 40-year-old man, was found waiting in the corridor of Raipur's Pt Jawaharlal Institute of Medical College and Hospital. Having come all the way from Manendragarh district, he was waiting to verify organ donation for his father Pawan Kumar (70), who was declared brain dead (patients whose brain stops functioning) hours back. However, in the absence of rules, the procedure of cadaver donation could not take place.
Thakur Rajeshwar Singh, President of Raipur Chemist and Druggist Association, is one of the prominent persons to have faced the adverse impact of no cadaver organ donation provision. Rajeshwar Singh in a conversation with NewsClick said, "In 2016, after the demise of my father, we decided to donate his body parts to the hospital. But unfortunately, it did not happen as there was no rule for organ donation in Chhattisgarh state but ironically, the law permits it. And still, the situation remains the same because rules for cadaver donation do not exist. The health department must have allowed a sane initiative that could save hundreds of lives daily."
Interestingly, in 2020, the nodal authority National Organ & Tissue Transplant Organisation (NOTTO) submitted a report to Global Observatory on Donation and Transplantation that ranked India in the second position in organ donation but with the most number of living donors.
As per the state health department data, approximately 250 patients need organs, with the majority needing kidney transplants, followed by those needing corneas and liver transplants. As experts claim, one cadaver donation is expected to save and serve at least 11 lives, which could include two kidneys, two lungs, liver, heart, pancreas, bone-marrow, etc. State-run hospitals are equipped to undertake transplantations in alive cases. In Chhattisgarh, two hospitals have facilities for liver transplants, five can do kidney and seven can undertake corneal transplantations.
The state's premier government hospitals in Raipur and Bilaspur are the epicentres of organ donation and transplant demands, but they do not have rules for carrying out cadaver donation. Moreover, the All India Institute of Medical Sciences (AIIMS) in Raipur also stands without any facility for the cadaver procedures. As per rules laid down by the Union Ministry of Health and Family Welfare, the National Organ and Tissue Transplant Organisation (NOTTO) is the apex body under which Regional Organ and Tissue Transplant Organisation (ROTTO) and State Organ and Tissue Transplant Organisation (SOTTO) should coordinate for organ donations. Chhattisgarh comes under the West Regional Organ and Tissue Transplant Organisation and Raipur AIIMS was to be the prime centre for cadaver donations among government hospitals.
NOTTO has approved a budget of Rs 48 lakh to SOTTO to initiate registration and further procedures in organ donation. One month is the expected time to start registering the needy patients and required organs.
However, the state medical fraternity had expressed discontent and concern over cadaver organ donation delay. The head of Indian Medical Association, Raipur chapter, Dr Vikas Agarwal had in 2021 lamented the snail pace of the state's health ministry for not prioritising cadaver organ transplantation and not framing rules for the same.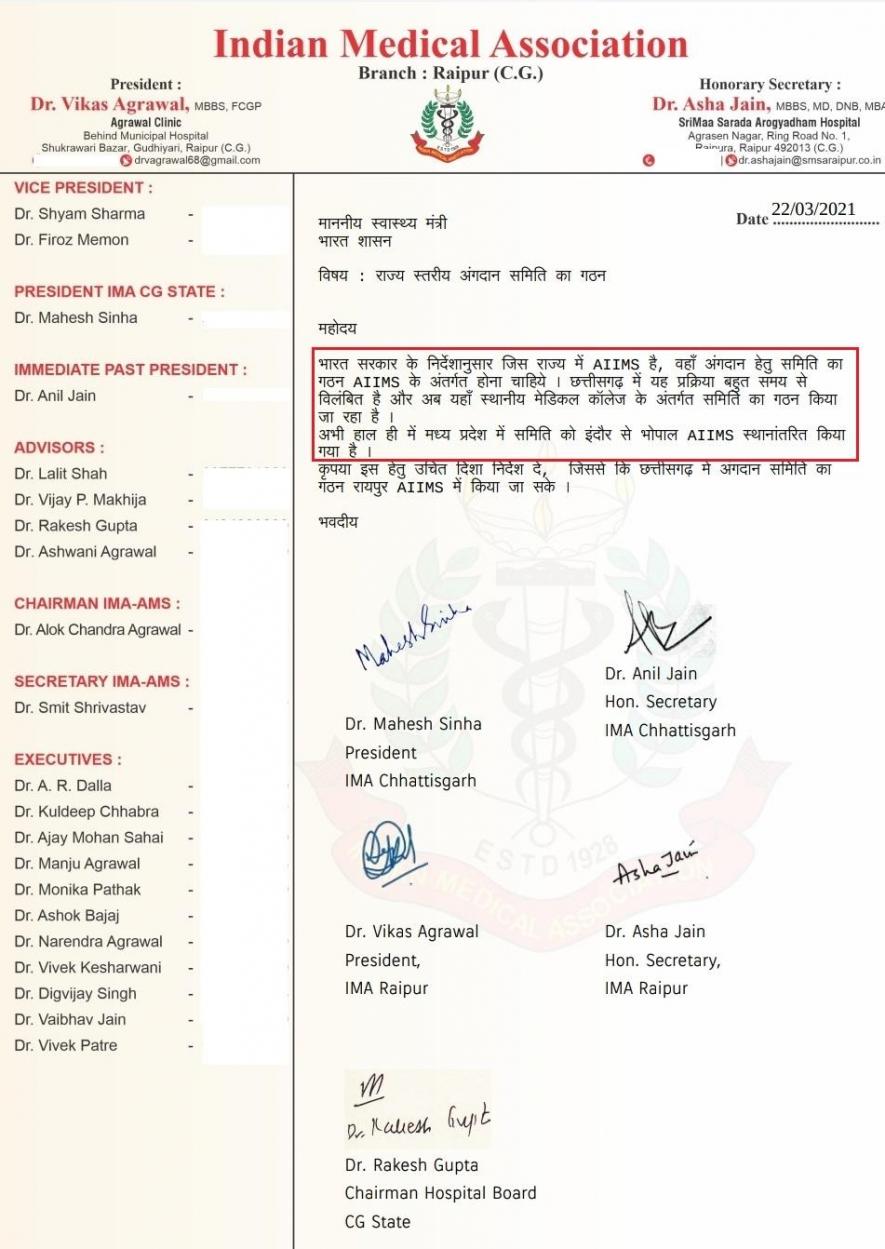 IMA Raipur intimation on Organ donation delay
Moreover, last year, the Raipur IMA wing had written to the central government, flagging concerns over cadaver organ transplants hanging in limbo.
The experts in organ transplantation and donation have found the delay not to be in public interest. Dr Sunil Dharmani, the state's kidney transplant specialist, stressed the need for cadaver organ donations. He said, "Organ donation from brain dead patients, i.e. cadaver donation, gives patients a near-normal life and a new hope to live and a medically a stable condition. But it is also important to address the shortage of organs. Without laid down rules, it cannot be done, but many pending cases might get a solution next month as higher authorities may approve it soon."
In fact, the formation of SOTTO happened in January 2022, after a delay of four years; even the last workshop on cadaver organ donation took place one year back. The gaps between significant steps of implementing organ donation reflect the state health ministry's feet-dragging on the policy.
NewsClick made repeated calls to state health minister TS Deo Singh on the question of no cadaver organ donation in Chhattisgarh but got no response as the minister was on tour in Mahasamund district.
Dr Vineet Jain, a member of State Transplant Committee, informed NewsClick, "As SOTTO is formed, the policy is in the final stage of implementation to enable seamless cadaver organ donations. The policy with a good intent will soon change the lives of many."
But a senior health official, on the condition of anonymity, revealed that "A Senior ROTTO member had presented the blueprint of implementing actionable decisions pertaining to cadaver donation to state's health minister TS Deo Singh last year. But his inputs were not taken seriously, resulting in the delay in organ donations."
Get the latest reports & analysis with people's perspective on Protests, movements & deep analytical videos, discussions of the current affairs in your Telegram app. Subscribe to NewsClick's Telegram channel & get Real-Time updates on stories, as they get published on our website.
Subscribe Newsclick On Telegram