After Fund Cuts, Science Research Heading Towards Increasing Commercialisation
Many researchers and scientists in our country say that although equipment is procured by the government, it's utilisation for actual research is very limited because of the general fund cut in the government-funded research.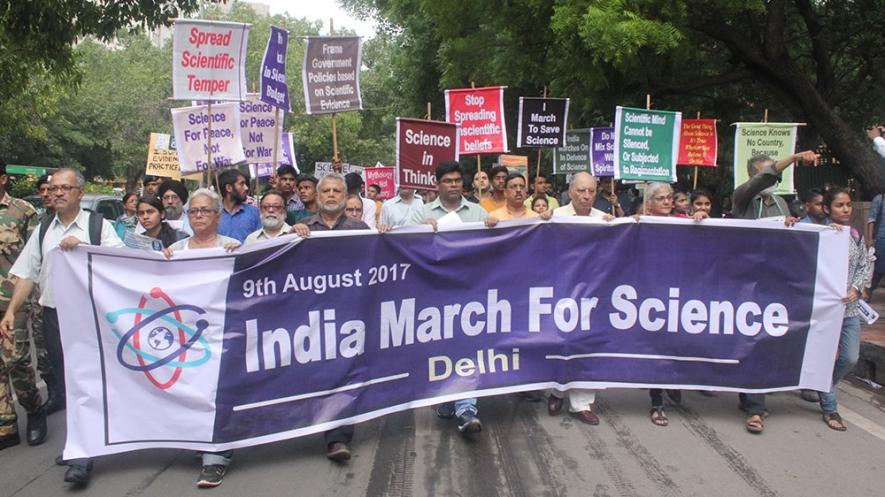 The Department of Science and Technology (DST), Ministry of Science and Technology has recently released a Draft Scientific Research Infrastructure Management and Networks (SRIMAN) Policy which seeks to convert scientific research infrastructure and equipment in government-funded institutions (Universities, Laboratories and R&D bodies) into revenue-generating assets, so that these government research institutions can raise more funds for themselves by 'renting out' their equipment to researchers.
"To promote ease of access, sharing and monitoring, the granting agencies will henceforth tabulate and put all equipment funded by it costing more than Rs.10 Lakhs on the World Wide Web to be accessed by all the researchers through a national portal. This portal will allow online booking of slots during idle time (after due preference to grantee agency)."
The policy applies to "[a]ll scientific departments and agencies of the Government of India and grantee agencies. All ministries and departments of the Government of India and its agencies and organisations that support development of Scientific Research Infrastructure … [except those] funding or receiving funds for conducting scientific research in the strategic sector of Space or Defence or Atomic energy".
Also Read: Can You Do Science in India? Budget Seems to Say You Can't
However, a fundamental question remains unaddressed in this document. Why is there an inadequate amount of funding for science and technology research?
Dinesh Abrol, former chief scientist at Council for Scientific and Industrial Research (CSIR) – one of the major government bodies responsible for funding scientific research in India – had told Newsclick, "For the last four years of Modi government, what we have seen is a dip in investment in science and technology. When UPA gave way to NDA, research spending was around 0.8 per cent of GDP, and now it's 0.69 per cent. It's a huge drop. If we compare ourselves with China, the stark contrast is evident, China is already 2 per cent of GDP. US and others are even above, about 3-4 per cent."
A significant reason for this fund-crunch is that, in 2015, the Modi government directed CSIR to get 50 per cent of its funding on its own, from industry and businesses. Therefore, this government itself is responsible for the lack of adequate funding in the public science research ecosystem.
Secondly, the draft mentions that "SRIMAN will promote creation of a regional ecosystem, by galvanising relevant stakeholders of scientific research infrastructure that provides wider access to scientists, researchers and industry professionals across the country." This is very vague, almost to the point of being misused – intentionally or not is a separate question.
This question needs to be addressed because the draft makes no distinction between these "relevant stakeholders" as either belonging to the public research bodies or private and industrial bodies. Further, "scientists, researchers and industry professionals across the country" is vague enough to beg the question whether government research infrastructure and equipment – procured by the taxpayer's money – will be 'rented out' to private science and industrial research which is necessarily aimed towards generating more profits for themselves.
Thirdly, the policy is primarily aimed at the "effective utilisation of its [government's] research infrastructure" and "easy availability and access of high quality research infrastructure" to all researchers. This begs another question, why is there so much stress on sharing and optimal utilisation of science research infrastructure? Isn't there adequate procurement of research infrastructure in India?
Many researchers and scientists in our country say that although equipment is procured by the government, it's utilisation for actual research is very limited because of the general fund cut in government-funded research. This is because there are many more requirements and expenditures in actually conducting original research, other than just making the capital investment of procuring the equipment.
A faculty member at JNU said that the number of requests for research grants has seen a huge surge. "Two years back, the government used to get 60-70 proposals asking for funding. Now, they get over 200 such requests. They don't have the money to fund all these grants. So many people are now applying for grants and funds because earlier institutes used to have their own funds to facilitate this research. Now, scholars have to apply for grants as institutes cannot support their research."
There is also a push towards commercialisation of scientific research in the country, in synergy with the overall commercialisation drive in the higher education sector, which has reached a dizzying speed in the past four years of the BJP government. This is backed by the following excerpts in the draft policy itself. Namely,
 "A reasonable fee to take care of maintenance and operator time may be levied on researchers. The industry researchers may also be given access but at an appropriate rate … Appropriate usage charges must be levied for use of the equipment depending on the nature of the users and the sample … A reasonable fee to take care of amortized maintenance and amortized operator time may be levied on researchers."
Moreover,
"Academic and research rankings of institutions, accreditation and certification should give due weightage to participation of grantee [a body which receives grants] agency in such a scientific sharing regime … A grantee agency rating system will be developed to rate Project Leaders and agencies on this aspect (sharing and collaboration of equipment) so that future decisions on project funding may be appropriately taken … A National Vendor Rating mechanism in which the grantee institutions can rate the performance of the equipment vendors based on credentials, manufacturing capability, quality control systems, past performance, after-sales service, [and] financial background."
Also Read: India March for Science: People Occupy Streets Against Unscientific Ideas
All these provisions raise valid concerns about the increasing commercialisation of science research in the country. These questions regarding the sorry state of public science and technology research were raised in the "March for Science" that took place last year and again in April 2018, across various cities in the country. Besides demands for increased government expenditure on research and higher education, they also raised the issue of the increasing unscientific and irrational attitude of the government and consequently, the public, and also the intolerance being preached by the BJP-RSS combine and its various fronts – who have also been implicated in the murders of rationalists like Kalburgi, Pansare, Dabholkar and Gauri Lankesh.
Get the latest reports & analysis with people's perspective on Protests, movements & deep analytical videos, discussions of the current affairs in your Telegram app. Subscribe to NewsClick's Telegram channel & get Real-Time updates on stories, as they get published on our website.
Subscribe Newsclick On Telegram